Miley Cyrus Met Her Current Boyfriend On A One-Sided Blind Date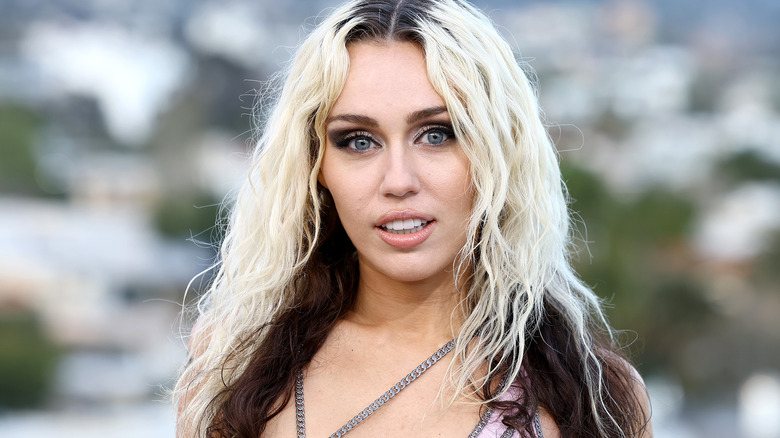 Arturo Holmes/Getty Images
As someone that's been in the spotlight practically her entire life, Miley Cyrus isn't new to the internet being aware of the ongoings of her relationships. From her breakup with fellow artist Nick Jonas — which inspired the hit song "7 Things" – to her steamy fling with model Stella Maxwell, the internet typically keeps up with almost all the people Miley Cyrus has dated.
While those other relationships have certainly garnered attention, Cyrus is keeping her newest relationship with Maxx Morando as private as possible. Following the end of her most high-profile relationship with Liam Hemsworth, the "Flowers" songstress tries to put her partnership out of the spotlight. Cyrus and Hemsworth first met in 2009 on the set of "The Last Song," where the pair instantly hit it off.
They broke up the following year, the first split in their decade-long on-again, off-again relationship. The two called it quits for good following their divorce in 2020.
How did Miley Cyrus and Maxx Morando meet?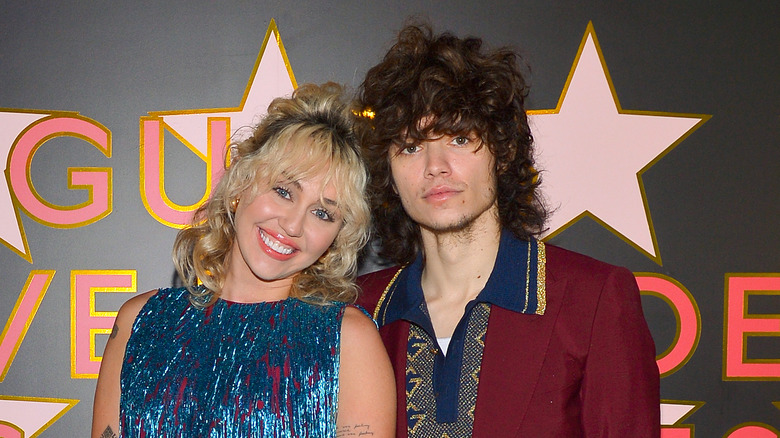 Donato Sardella/Getty Images
In an interview after her divorce, Miley Cyrus lamented the constant scrutiny she was met with after the split. The pushback is most likely what contributed to her keeping her relationship with Maxx Morando under wraps. However, she's opened up about how she first met the drummer of the band Liily. Speaking to British Vogue, she says she wasn't sure who she would meet when she arrived at the date.
"We got put on a blind date," she says of their meeting back in 2021. "Well, it was blind for me and not really for him." Although Cyrus didn't know what she was getting into, the pair are now going on two years together. Since then, the couple have been spotted at a few events together — their first public appearance was at a Gucci fashion show in November 2021, where they were pictured holding hands.
After a very public breakup with Liam Hemsworth, Cyrus is now committed to healing from her past. She's sobered up, gone to therapy, and, most of all, has continued to write music. Fresh off the release of her album "Endless Summer Vacation," she told British Vogue that being open and honest has helped her tremendously. "It's not about being self-serious. I'm just evolved."
What Cyrus' Endless Summer Vacation album says about her love life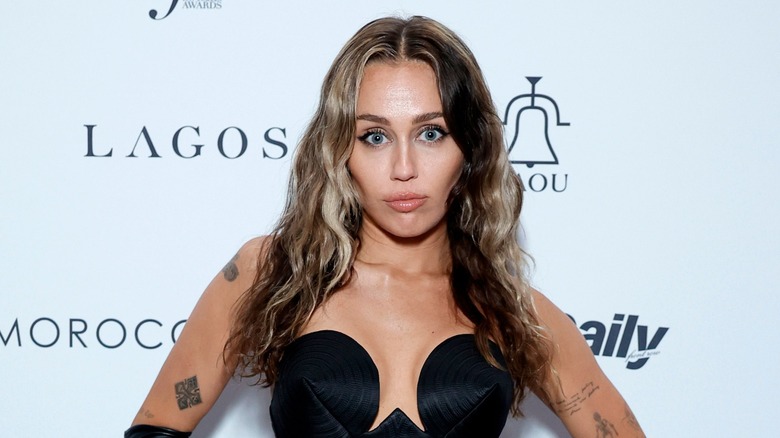 Stefanie Keenan/Getty Images
Before the release of her eighth studio album, Miley Cyrus came out with "Flowers," just one of the songs that fans think Miley Cyrus wrote about Liam Hemsworth. The single, which was released on Hemsworth's birthday, seemingly references several themes that popped up during the pair's relationship. Notably, the line "built a home and watched it burn" is possibly an allusion to the 2018 fire that burned down the former couple's home.
Fans also believe that Miley Cyrus shaded Liam Hemsworth in her "Jaded" music video. A song that reflects on what went wrong during a past relationship, the corresponding video appears to mirror other music videos with songs that were apparently about the Aussie actor.
Whether or not Hemsworth is referenced on the album, Cyrus' new boo certainly played a role in the release. The former drummer of The Regrettes has a producer credit on both "Handstand" and "Violet Chemistry" off of the album.