Floral Accessories Are Trending - Here's How To Embrace Flower Power This Summer
It's officially almost summer, and that means it's time to embrace flower power. You've probably already seen flower power nail art popping up on your Instagram feed, but the flower takeover doesn't stop there. Florals for summer 2023 are bold and large, so what better way to tie into the trend than with flower accessories? Whether you're a ring fanatic or prefer a delicate flower necklace that goes with everything, there's tons of floral jewelry to pick from within the trend.
Florals have been blooming for the past few months, as they are every spring (florals for spring? groundbreaking), but this year's iteration of the floral trend seems to have some staying power. Plus, you can basically guarantee that flower jewelry pieces will come back in style every year, making them a relatively timeless investment. 
From rings to necklaces, bracelets to brooches, here are the key pieces you need to be looking out for to hit the flower power jewelry trend this summer.
Layer up with flower bracelets
Take the flower power trend back to your childhood with a floral bracelet that practically screams vacation. We love the idea of layering multicolored floral bracelets with other slim bracelets (think chain styles) to tie in with the bits and beads jewelry trend. Of course, if colorful or beaded bracelets aren't your thing, opt for a gold or silver bracelet with a flower motif instead to hit the trend in a more sophisticated, understated way. 
Embrace the Y2K aesthetic
Jewelry designer Sally Rong revealed to InStyle that maximalist flower designs are a big part of the trend, especially bright colors and playful themes like cartoon flowers. "This style is about free-form self-expression," she shared, so start looking through your childhood pics to see what was popular back then. The designs don't have to be purely Y2K influenced — a large part of the retro flower power trend also featured bold, oversized floral designs. Don't be afraid to mix and match, as Rong noted, this is also important for nailing the trend.
Gather up your necklaces for a multi-faceted look
Just like how layering bracelets will lend your look an instant textural boost, layering your necklaces will always look good. Though mixing metals is a part of the trend, sticking to one color like gold, silver, or even rose gold will create a seamless look. Additionally, beaded necklaces are a great way to add color. Remember to pick a selection of short, medium, and long necklaces so they layer up easily instead of becoming tangled (we recommend placing your flower necklace in the center).
Take inspiration from vintage jewelry pieces
Pressed flower jewelry has a whimsical and slightly vintage vibe to it, making it an ideal alternative if you're not a fan of maximalist Y2K jewelry. A simple gold or silver chain with a pressed flower pendant is statement-making without needing to be bold or bright, and it will also let the pressed flowers do the talking. You could even have a necklace with your favorite pressed flower within, or one that represents a certain emotion. 
Flower earrings are good for everyday wear
Spotted on celebs like Jennifer Lopez and Gigi Hadid, flower earrings seem to range from earrings the shape of actual flowers to daintier designs. If you prefer an understated look, earrings like the ones above are a good alternative to more in-your-face designs. Much like heart jewelry adds a sweet element to your outfit, flower earrings will bring a touch of whimsy to any outfit. We recommend picking a pair that feature a flower with significance to you so you're reminded of a special moment or memory each time you wear them.
Transform your outfit with a flower brooch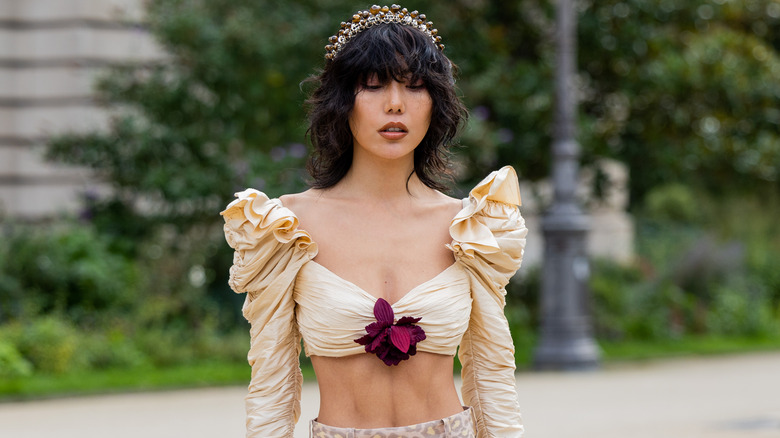 Christian Vierig/Getty Images
Another trend plucked straight from the 2000s, flower brooches bring a little something extra to the accessories table. You don't have to go crazy — just a brooch pinned to the front of neutral top can take your outfit to the next level. Once again, the jewelry world is your oyster here. While a lot of large flower designs, specifically roses, have been worn by celebs such as Zendaya and Anne Hathaway, an elegant gold flower brooch would pair perfectly with some matching earrings.
Top off your look with a floral headpiece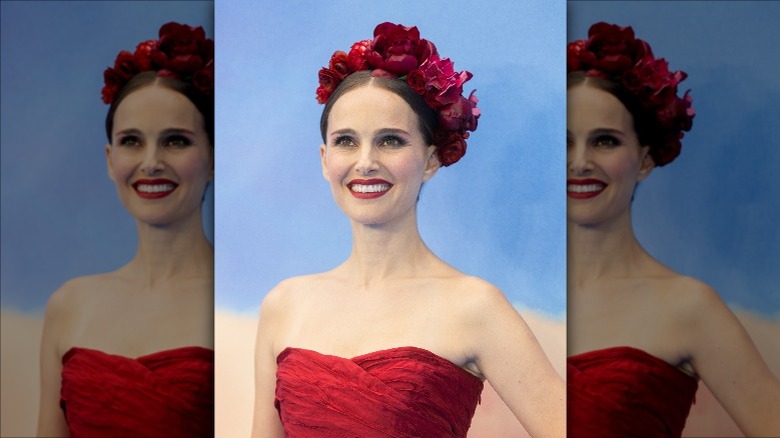 Samir Hussein/Getty
Though not strictly jewelry, a flower headband is an excellent way to try out the trend if you're more partial to hair accessories than rings and necklaces. When we say flower headband, we don't mean the flower crowns often seen at Coachella in the 2010s (iconic at the time), but rather a pretty, textured headband like the one Natalie Portman wore to the U.K. premiere of "Thor: Love and Thunder." Styles like this stunning sky blue headband from & Other Stories are dramatic but still a wearable piece.