Tragic Details About Stanley Tucci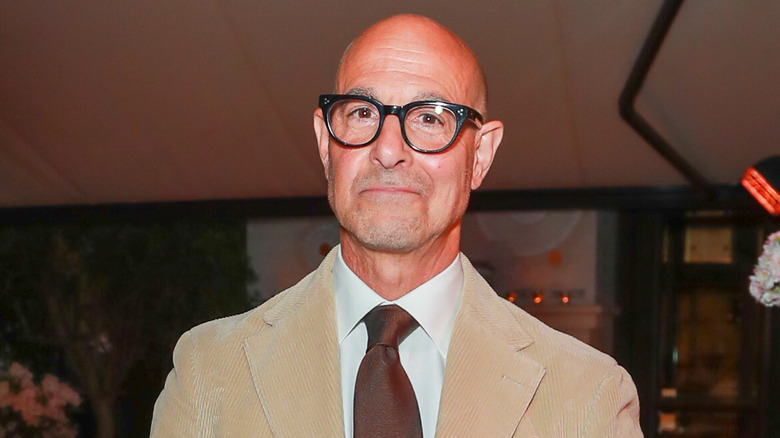 David M. Benett/Getty Images
Stanley Tucci has played various roles, from comedic to dark and serious. His chameleon-like performances are all so believable that you would be forgiven for not knowing who the actor behind the characters was. "We're all multiple personalities, and actors just allow themselves to access those personalities and figure out a way to make a living doing it," he told Reuters of his profession in a 2010 interview. "So you live all of these different lives in one."
As much success as Tucci has enjoyed, he has also carried with him great sadness and feelings of disappointment and guilt. His life has been plagued with difficulties, including his health and losing his first wife, Kate Spath-Tucci, to cancer in 2009. The pain and the grief have never really left him despite finding love again.
"It's there in your dreams. Once you get older, even if you haven't experienced what I experienced, you do have a knowledge of it," he told AP News. "Because you've lost people. You've lost other people, whether it's parents or grandparents or older friends. I've lost quite a few friends over the last few years. I'm hardly old. I'm older but I'm not old yet, I don't think. But, yeah, with Kate, it's always in you. It's a very strange thing. It's not that you dwell on it. It's just a part of you..." These are just some tragic details of Stanley Tucci's life and how it changed him.
Stanley Tucci has survived oral cancer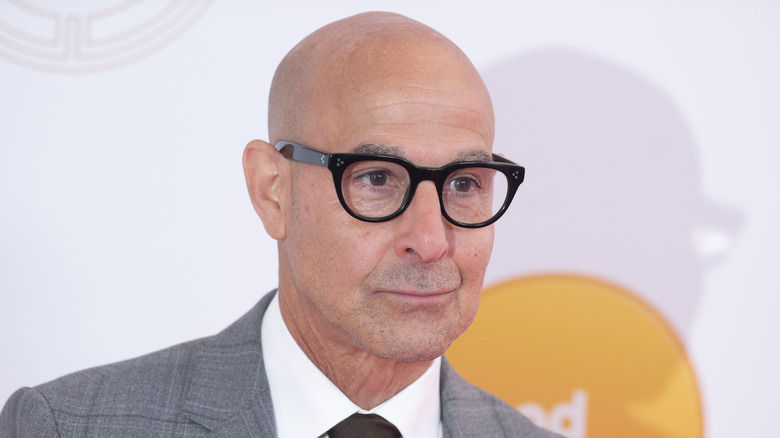 Stuart C. Wilson/Getty Images
Stanley Tucci's had a long and successful career, but in between taking on some of his most memorable performances, he was fighting a battle behind the scenes. In 2017, he was dealt a life-altering blow and was diagnosed with oral cancer; more specifically, a tumor was found at the base of his tongue. Ensuring he would be cancer-free, including radiation and chemotherapy treatments, was unbelievably challenging. It worked, and Tucci stated in a 2022 interview with People he was "incredibly lucky."
Some side effects of his treatment have been lasting, including foods he can no longer eat, like spices. But when asked about his taste and smell in an interview with The Guardian in 2022, he said, "It's actually even better than it was. My senses of taste and smell are more acute." Regaining his taste has been vital for Tucci, who is incredibly passionate about food; he has a television show, "Searching for Italy," and has penned the memoir, "Taste: My Life Through Food."
"There were times when I believed I would never ever be able to cook or enjoy a meal again with the people I love," Tucci wrote in his memoir (via New York Post). "After a week of treatments, anything I was capable of putting into my mouth tasted like old wet cardboard. A few days later, everything tasted like the same old wet cardboard but slathered with someone's excrement."
He struggled with his health because of a misdiagnosis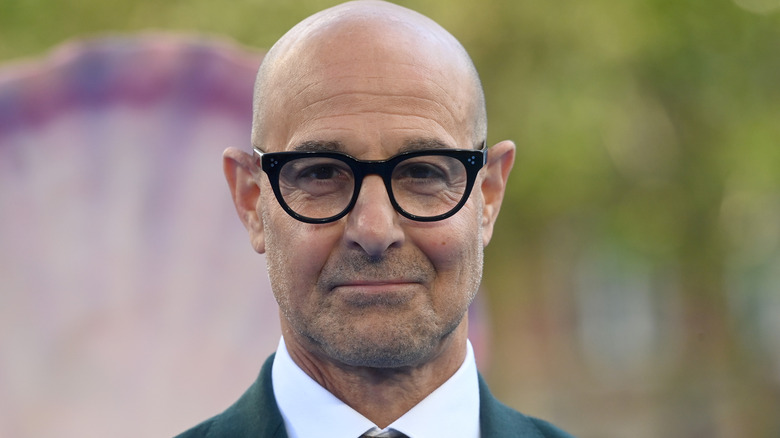 Dave J Hogan/Getty Images
Even before learning he had cancer, Stanely Tucci knew something was wrong because he was experiencing immense pain. Still, it would be a while before he was accurately diagnosed. "I had a scan, but the scan missed it," he told People in 2022. "And, of course, when you think that there might be something wrong, you're also afraid that there is something wrong."
When he finally got his diagnosis, the tumor was massive and had grown to three centimeters. "They couldn't do surgery because the tumor was so big," he said. "It's a miracle that it didn't metastasize. It had been in me so long." When he learned he had cancer, the news was incredibly challenging, especially when coupled with the trauma of losing his wife, Kate Spath-Tucci, to breast cancer.
"It was terrifying. My first wife died of cancer. I've had a lot of friends who died of cancer," he told "Today" host Willie Geist (via Los Angeles Times). "When I got it, I was completely shocked."
It was the support of his wife that got him through his challenges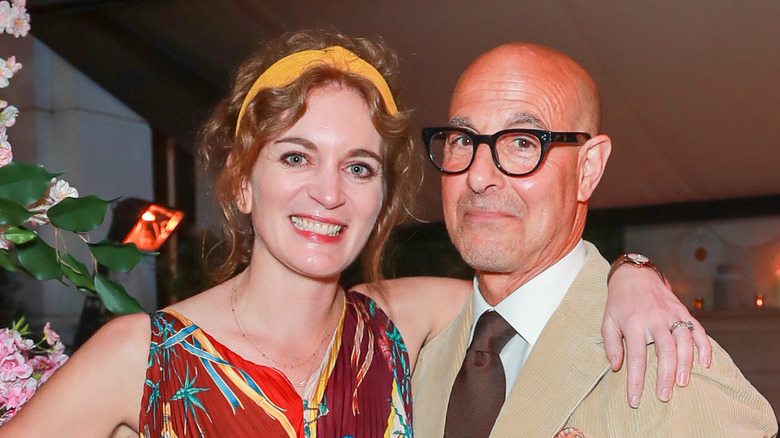 David M. Benett/Getty Images
Stanley Tucci was fortunate to have a support system during his health struggles, and he credits his second wife, Felicity Blunt, for her dedication to him during this time. "Felicity's undying attention, affection, and encouragement got me through it," Tucci told People in an interview in 2022.
Tucci and Blunt wed in 2012 after first connecting at Emily Blunt (her younger sister) and John Krasinski's wedding in 2010 — although they had briefly met at the premiere of "The Devil Wears Prada" in 2006. They have two children together, Matteo Oliver and Emilia Giovanna (and Tucci has three from his former marriage to Kate Spath-Tucci). But his comments about his wife are not the first time he has spoken about her with tenderness and affection.
"I feel very fortunate to be with Felicity," he told The Guardian in 2017. "It is not easy to find somebody who is going to take on three teenagers [twins Nicolo and Isabel and Camilla] and a widower. That's a lot. But she was willing to take on that challenge. She cares for the kids as if they are her own, and it is a tough role, being a step-parent..."
He never felt content when he lived in America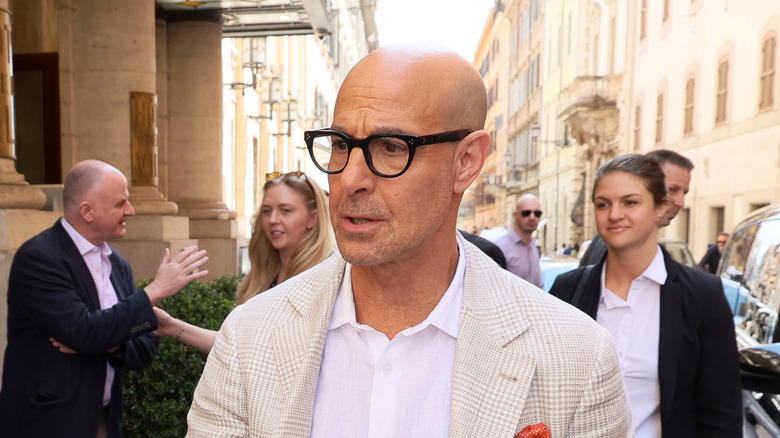 Ernesto Ruscio/Getty Images
Stanley Tucci was born in Peekskill, New York, and he is American. He was raised in Katonah in Westchester, New York, and described his childhood as "wonderful" in an interview with The Guardian in 2017, saying he recalled how he would spend most of his time outdoors. Now he lives in London (his second wife, Felicity Blunt, is from England), and it was a decision he feels has been great for their family.
"Moving to London has been great for everybody. I think we have had so many more opportunities in London than we would have had in the US, where we used to live," Tucci told said. "The kids now have friends from all over the world. That wouldn't have happened in the States. They have a broader view of the world, and it's exciting."
The "Citadel" actor also admitted that America didn't feel like home for him. "I never truly felt comfortable living in America," he later told The Guardian in 2022. "I know that sounds odd because I am American, but we lived in Italy for a year when I was a kid, and in many ways, I felt more comfortable in Europe. America's very uptight, and it's getting uptighter."
Stanley Tucci changed his life after his health conditions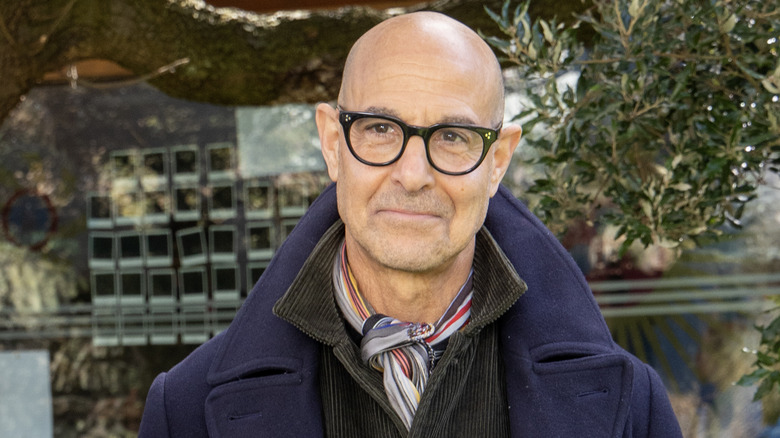 Robert Perry/Getty Images
Stanley Tucci's health impacted his life in several ways. It was not just the initial difficulties he faced; his outlook on various things in his life had also changed. "[Cancer] makes you more afraid and less afraid at the same time," he told Vera magazine (via Us Weekly). "I feel much older than I did before I was sick. But you still want to get ahead and get things done."
In the same interview, Tucci was candid about how challenging his illness was, not just for him but also for his children, and there were important life events he was not sure he would be able to attend. "The kids were great, but it was hard for them," he said. "I had a feeding tube for six months. I could barely make it to the twins' high school graduation."
During this period, he lost a lot of weight and could not eat. "I lost 35 pounds. [...] I couldn't eat. I had a feeding tube for six months and everything tasted like you know what and smelled like you know what," he said during an appearance on Today's "Sunday Sitdown with Willie Geist" (via The Mirror).
Stanley Tucci has suffered great loss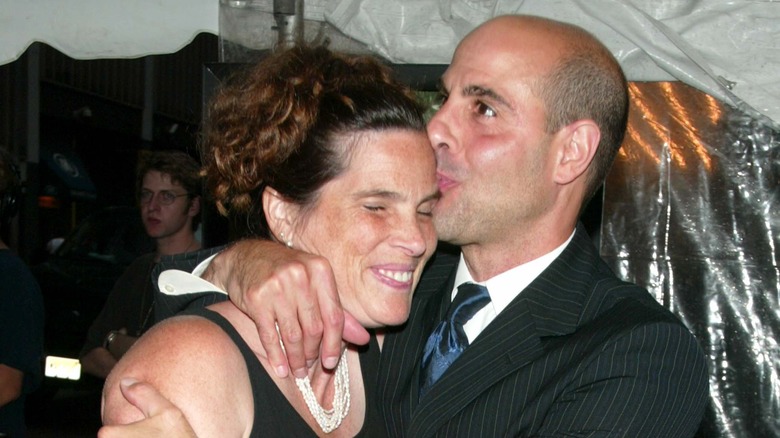 Jim Spellman/Getty Images
Stanely Tucci is in a loving and committed relationship with Felicity Blunt, but she is not his first wife. Long before the couple met, the "Spotlight" actor had been married to Kate Spath-Tucci from 1995 until she died in 2009. The pair would have three children, Isabel Concetta Tucci, Nicolo Robert Tucci, and Camilla Tucci.
After Spath-Tucci passed away from breast cancer, Tucci was reluctant to opt for radiation and chemotherapy when he himself was diagnosed with cancer. "I'd vowed I'd never do anything like that, because my first wife died of cancer, and to watch her go through those treatments for years was horrible," he told Vera magazine (via Us Weekly).
Spath-Tucci and her memory live on, and Tucci has been vocal about how difficult it has been losing her prematurely. "It's still hard after 11 years," he said on the "WTF with Marc Maron" podcast (via Us Weekly). "It's still hard. And it will always be hard. But you can't let it... and she would never want any of us to ever wallow in that grief and let it take over our lives. She would never want that. She wasn't like that."
He has struggled with survivor's guilt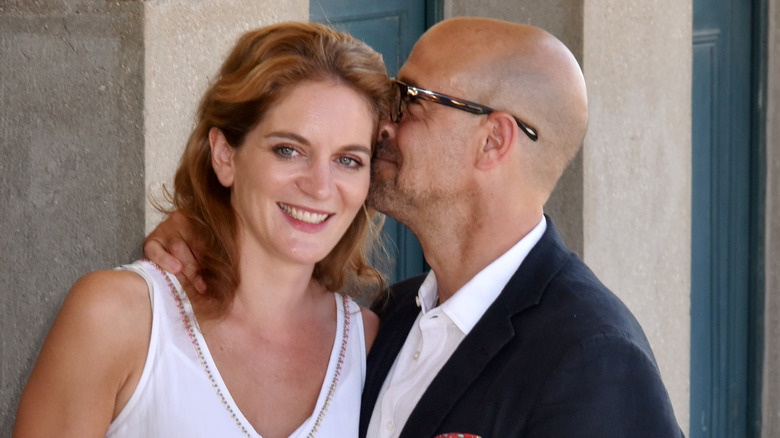 Foc Kan/Getty Images
After losing his first wife to breast cancer in 2009, the loss has had a lasting impact on Stanley Tucci's life, and he still struggles with grief and feelings of guilt. In an interview with The Guardian in 2016, Tucci spoke about the person he would like to apologize to and revealed it was Kate Spath-Tucci.
"We tried everything we could do to save her. I wish that I could have done more and that I could have been with her at the moment she passed away," he said. "I couldn't be in that room because I knew it would be so devastating that I wouldn't be able to take care of the kids after." This is not the only time he has admitted to feeling helpless. In an interview with AP News, he said, "You just wish that you could have done something more to help. There's a guilt. There's no question about that. There's a guilt that you're moving on with your life. You're watching your kids grow up. You're going to see, hopefully, grandchildren. She won't have that opportunity."
He would later marry Felicity Blunt, but when they first got together, Tucci would find himself thinking of his late wife and feeling guilty. "It was very hard to go on vacations at first, really hard to go with Felicity some places. I felt guilty. It's horrible. You always feel guilty," he said (via The Mirror).
Stanley Tucci has been involved in a casting debate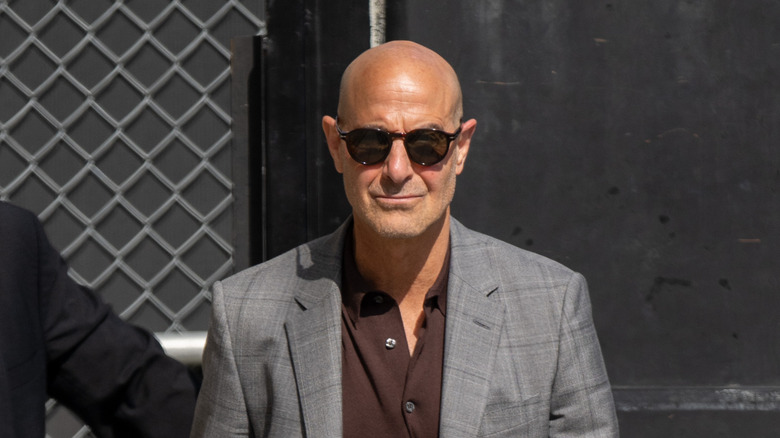 Rb/bauer-griffin/Getty Images
Should heterosexual actors be able to play LGBTQ characters? Or should these parts be reserved for individuals who are part of the LGBTQ community? This is a hot debate within the entertainment industry, and it is a topic that can be uncomfortable for some actors to discuss. However, Stanley Tucci has addressed his own feelings on this topic because he has taken roles as a gay character, perhaps most notably in "The Devil Wears Prada."
"Having played a number of gay characters, you want to do it so that it's, as you do with any character, you just want to be truthful to it," Tucci said in an interview with "CBS Sunday Morning" in 2021 (via Insider). He continued, "I think that acting is all about not being yourself. If we were to use that as a template, then we would only ever play ourselves. I think what we need to do, we need to give more gay actors opportunities." In the interview, he also noted how straight actors are treated and offered all parts. Still, historically, those who belong to the LGBTQ community have had to conceal their preference to be cast in straight or leading roles.
He had an affair which affected how the public and the media viewed him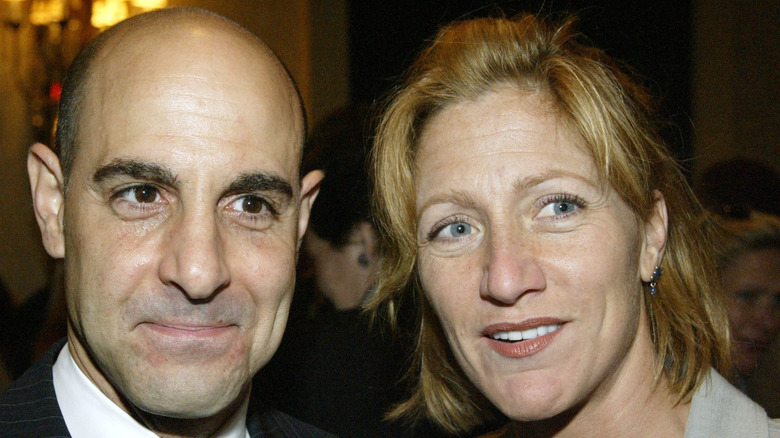 Bruce Glikas/Getty Images
When Stanley Tucci was still married to his first wife, Kate Spath-Tucci, he was reportedly romantically involved with actress Edie Falco. The pair had been cast alongside each other in a Broadway play, "Frankie and Johnny," in 2002 and the risque storyline and nude scenes would have raised eyebrows, even if it were not for rumors that these two were doing more than faking onstage chemistry.
Whatever happened between them was not clear, but it did come to an end. In a 2004 interview with The New York Times (via InStyle), Falco said, "We were together and then we broke up. Because there's no way for that to be a good thing. He's a lovely man, and he's back with his wife and kids, and I'm thrilled." At the time, their coupling did receive backlash, with The Guardian noting in a 2010 interview with Falco how the press reacted to the news of the alleged affair.
Stanley Tucci has tackled tough roles that made him feel 'horrible'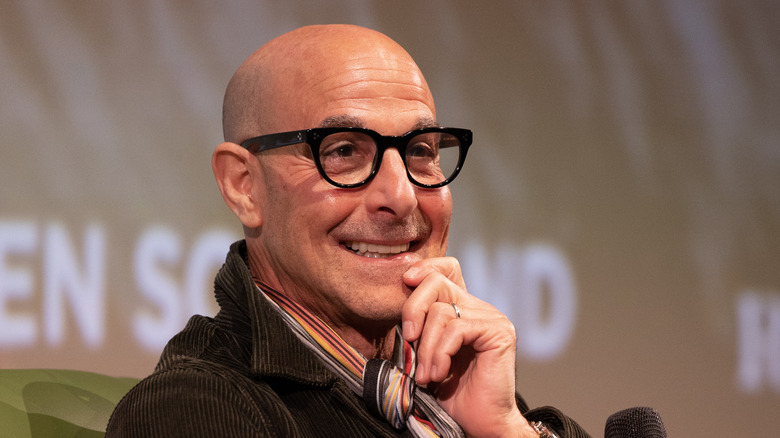 Robert Perry/Getty Images
We mentioned that Stanley Tucci is one of the most diverse actors of his time. Sometimes it feels like there is no genre he cannot tackle, and he's had an impressive number of roles ranging across various genres. But if you asked him if he regretted any or if a part caused him anguish, he would likely answer with "The Lovely Bones" — a 2009 film directed by Peter Jackson and starring Rachel Weisz, Mark Wahlberg, Saoirse Ronan, and Tucci. In it, he played George Harvey, a serial killer. 
"I would not play George Harvey again in 'The Lovely Bones,' which was horrible," Tucci told Entertainment Tonight in a 2023 interview. "It's a wonderful movie, but it was a tough experience. Simply because of the role." In contrast, there are some roles he really enjoyed. "I would happily play Nigel in 'The Devil Wears Prada' again. It was a really great experience," he said. "I would play Paul Child again, when we did 'Julie & Julia.' Those are really wonderful roles to play."
He has not always been a successful actor (at least not straight out of college)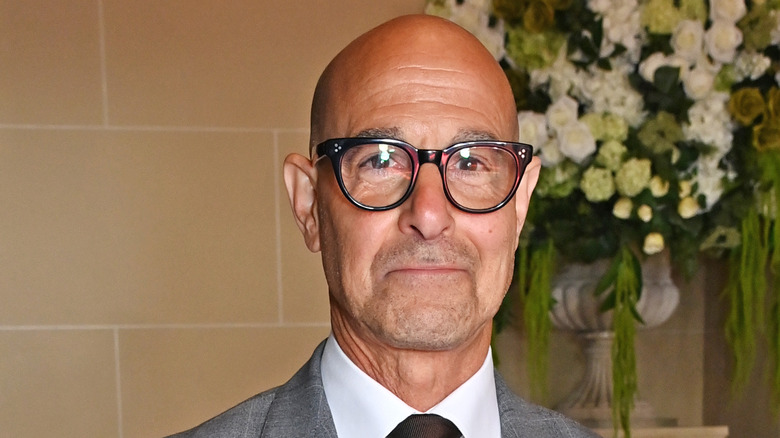 David M. Benett/Getty Images
Stanely Tucci has worked steadily in Hollywood for many years. He has been incredibly successful, and this is undisputed, but acting has not been his only job. When Tucci was fresh out of college, he had a very different job to make ends meet, which he never intended to revisit.
"I was a maintenance man at a county park in Westchester, New York, after my freshman year in college, and I had to clean the toilets, which didn't have running water. It's too disgusting to describe," he told The Guardian in a 2016 interview. Although it was an honest day's work, it has been a long time since Tucci was at college, and his acting career has continued to go from strength to strength. He also believes his skills as an actor have become better with age.
"I feel like I've gotten better, yeah. That was the goal, just to keep getting better. I'm more relaxed now because I've just been doing it for so long," he told AP News. "A lot of it is technique. And a lot of it is realizing the more often you do it, the less you really have to do — that economy is everything. You don't need, a lot of times, to expend the energy that you thought you needed to when you were young."
He still views himself as a disappointment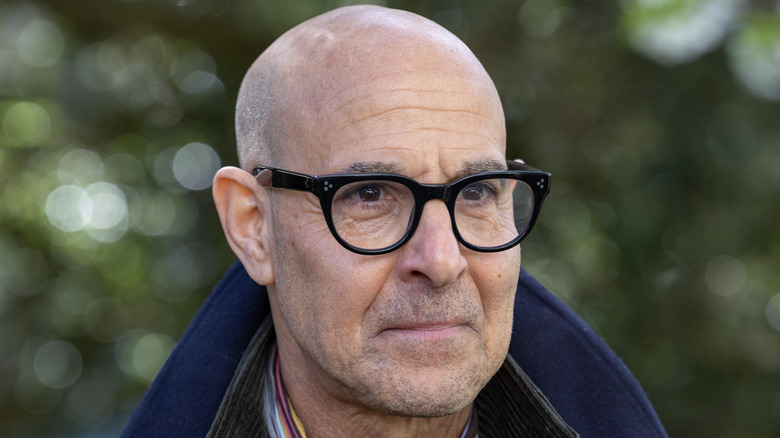 Robert Perry/Getty Images
After all that Stanley Tucci has achieved in his life and the struggles and losses that he has overcome, you would think that he may view himself as a success. While others may use this word to describe him, the "Julie & Julia" actor is reluctant to do the same, and the comments he made in an interview with The Guardian in 2016 suggest that he still has self-doubt.
"I am always disappointed in myself. I always feel that I haven't achieved enough, or been as good a parent as I could be," he said. Of course, Tucci is not the only person to have ever second-guessed how they are doing with their career or their relationships. And this is not the only time that he has spoken about fatherhood. While there are obvious challenges with being responsible for another human, Tucci's comments about his kids make him sound like a truly dedicated and loving dad. "My kids don't really like to watch me in movies," he told Reuters. "They just want me to be me. They're great kids. They're incredible. And they're all really funny. Thank God."