Logo Sandals Are Beyond Dated For Summer 2023 - Try Out A Simpler Look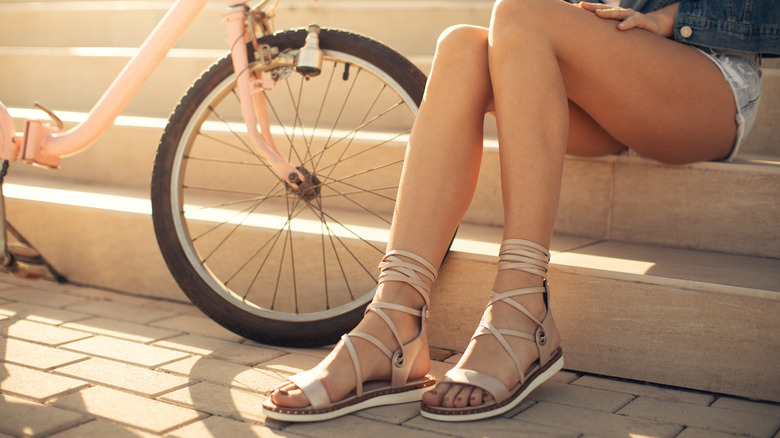 Miljko/Getty Images
Fashion trends move in and out, and what's currently "in" depends on the year and season. In the summertime, what sandal is trending is a must-know for every fashionista before they start shopping. From Katy Perry's colorful Peep Bunny Collection to lace-up espadrille wedges to throw-them-on-and-go flip-flops, there are many options to choose from. Consequently, it's hard to decide what style to choose, and how many you even need to complete all your cute new summer outfits. 
Expensive designer shoes, especially those with a brand logo present, have always been popular. With a designer name, you have the comfort of knowing you're getting a quality product — and everyone can see that you splurged on your outfit. But, this summer's designer or not, people are opting for a simpler design that you can take from day to night and will remain a staple in your closet for years to come. 
Sandals of the past
For years, everyone has opted for sandals with logos. Nikes and Adidas were the top sporty choices, whereas Tory Burch and Michael Kors were a little more high-end and expensive looking. This sandal phenomenon is much like sneakers. The need to rock Rocawear or Phat Farms in 2004 was real. With shoes, consumers actually want to have the same pair as their friends, with perhaps some slight variations such as color, unlike clothes. With clothes, consumers want unique items that no one else has. However, logos on clothes are popular, as well — think back to Juicy Couture sweatsuits and American Eagle polos. 
Choosing to wear a pair of shoes with a logo (or a purse or a dress), automatically categorizes you into a societal group that allows people to get a first impression of who you are before you even meet. Of course, wearing a pair of Nike sliders doesn't necessarily mean you're a soccer or basketball player, but it certainly gives you a chill, sporty, cool vibe that draws a certain type of person to you. Along with it putting you into a specific community, whatever logo you choose also shows status because designer shoes are a symbol of wealth. But, even though designers are putting out new sandal designs for the summer, consumers seem to be gravitating away from logos and moving on to something much more subtle. 
What to try in summer 2023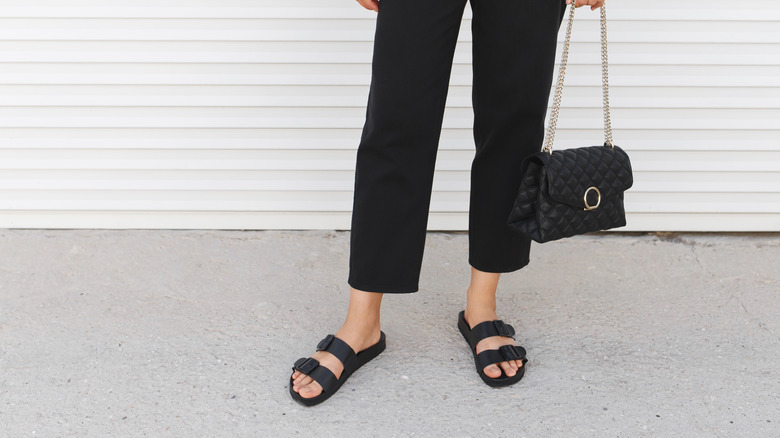 Nesolenaya Alexandra/Shutterstock
Lately, more and more are embracing minimalist styles, and this includes their footwear. Sandals with clean lines and neutral colors, with function and practicality as their main purpose, are what's on everybody's feet. It's a fashion must-have if you like simple style. Simple and sleek thongs, gladiators, and sliders not only offer a classic style that looks expensive, but they also go with practically everything in your closet. 
Another reason people are jumping on the minimalist sandal train is because they look like an expensive staple piece. No matter if they're actually fast fashion or not, these simple sandals give the chic look of slow fashion. Because slow fashion is more expensive because of the production and manufacturing process, and kinder to our planet, minimalist sandals work much like the logos did in the past, putting you into a category of wealth and eco-consciousness. Minimalist sandals will definitely become one of the most sustainable fashion trends of the summer, if consumers opt for the slow fashion brands that create these durable classic looks.