The Coldplay Smash Hit Gwyneth Paltrow Claims Credit For Inspiring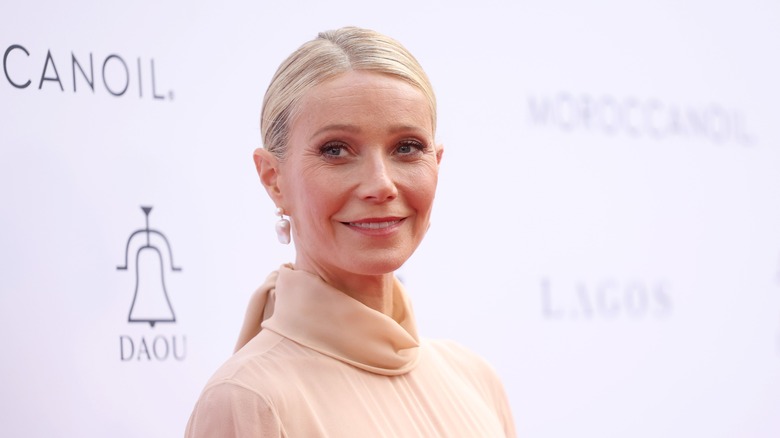 Monica Schipper/Getty Images
It's hard to listen to a Coldplay playlist without wanting to hear their famous hit, "Fix You." It's the power ballad most Coldplay fans seem to want to propose to at the band's concerts and it's the song that will forever stay in our hearts as a slightly melancholic yet strangely comforting tune from the British rock band. 
The meaning behind "Fix You" by Coldplay might be evident through its lyrics. The song talks about love, loss, and lights guiding you home. As it turns out, the frontman Chris Martin's ex-wife Gwyneth Paltrow has claimed credit for inspiring the ballad. "Fix You" was an attempt by Martin to comfort and support Paltrow during a particularly challenging time in her life. Her father, Bruce Paltrow, had just died from pneumonia and other complications associated with recurrence of his throat cancer when Martin decided to pen the song. 
In an interview with "The Howard Stern Show" (via E! News) Paltrow shared, "'Fix You' was about him trying to put me back together after my dad died. I think it's pretty nice." Paltrow met Martin just three weeks after her dad's death, backstage at one of the Coldplay concerts she attended in London. She once recalled having to be coaxed by her friend to go to the concert since she didn't feel like leaving the house at the time. 
Coldplay's music got Gwyneth Paltrow through some difficult times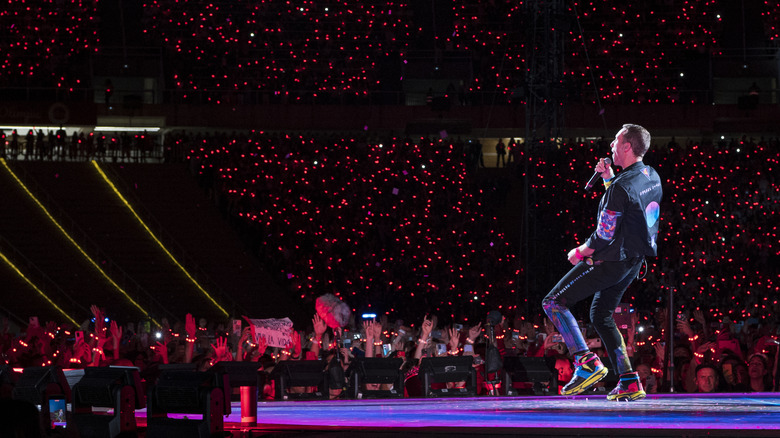 Jordi Vidal/Getty Images
Gwyneth Paltrow opened up on "The Howard Stern Show" about how broken she felt at the time and how Chris Martin's music helped her. "I really loved his music before I met him," she said. "And when my dad was sick and dying, his second album I had on repeat all the time." 
"Fix You" may have been a mellower tune than most were used to from Coldplay at the time but the song became a smash hit, selling 1.8 million copies in the U.K. and reaching number three in the Billboard Adult Alternative chart. Since then, it's seen wide success worldwide. More recently, popular South Korean boy band BTS performed a stripped-down version of the inspiring ballad for "MTV Unplugged," which caused the song to re-enter the U.S. Top 200 chart on iTunes, 15 years after its release. 
"Fix You" is also the song Martin thinks is the best one from Coldplay's "X&Y" album. Speaking to Mojo magazine in 2011 (via Songfacts) he shared, "Because it's so unlikely that that song would have come out of that period. The rest of that album I like, but I don't think it's great. Whereas that song ... it's the best one because it almost single-handedly got us through a really difficult two years. You could say it's too soft or whatever, but ... it does exactly what it says on the tin. Even when I'm singing it, by the time I get to the end, I'm thinking, 'I like this'."
The original version of 'Fix You' was recorded on Gwyneth Paltrow's late father's keyboard
Putting the "X&Y" album together was an interesting process for Chris Martin, who's been in a relationship with actress Dakota Johnson since 2017. Gwyneth Paltrow and Chris Martin famously "consciously uncoupled" in 2014 after being married for 10 years. Speaking to USA Today, Martin shared, "My father-in-law bought this big keyboard just before he died. No one had ever plugged it in. I plugged it in, and there was this incredible sound I'd never heard before. All these songs poured out from this one sound. Something has to inspire you, and something else takes over. It's very cloudy." 
Chris Martin and Gwyneth Paltrow's relationship today might surprise some but the duo who share two children together – Apple and Moses — have managed to remain amicable and even friendly after their divorce. Paltrow has since married television writer and director Brad Falchuk.
Martin told Rolling Stone that the hit "Fix You" brought the entire album together, even though the album itself was a difficult one to record. He said, "Every album has a key song around which other things get written and without which you couldn't do other things. On the third album, it was 'Fix You.' And all of them were an absolute f**kin' nightmare to record, and it's horrible, and it takes forever. I don't know what it is — this pressure or something, because you can hear that it's good."