Retire Your Combat Boots For Summer 2023 And Step Into This Trendier Option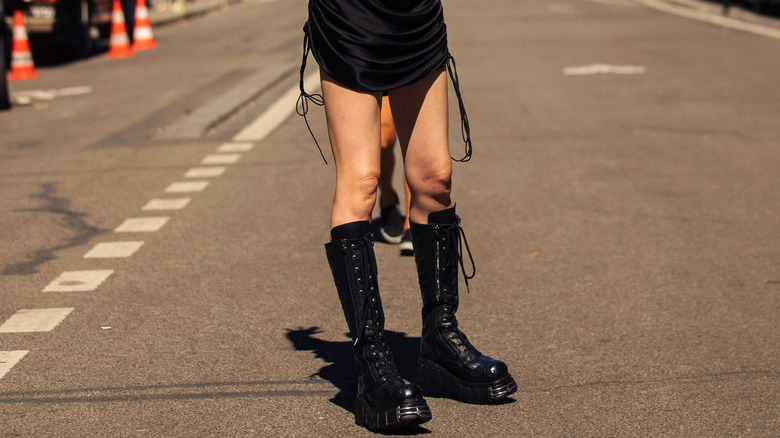 Melodie Jeng/Getty Images
Of all the shoe styles to perfectly combine fashion and function, combat boots definitely make our list of favorites. The heavy-duty footwear style we recognize today was invented in 1816, providing soldiers in the military with a shoe that could easily lace up at the ankle and provide warmth and support.
These days, you don't have to be in active duty to rock a pair of trendy combat boots: The edgy heavy boot trend is a staple style of footwear during the fall and winter months for any civilian who loves the shoe's comfortable style. But as the weather warms and we trade in our long sleeves for spaghetti straps, it's time to put our combat boots back on the shelf for the season. Strap in, because this summer, western core is back in full force — we are trading our combat boots for sparkly leather cowgirl boots of all different colors!
Even those who don't love country music will love this western-inspired footwear trend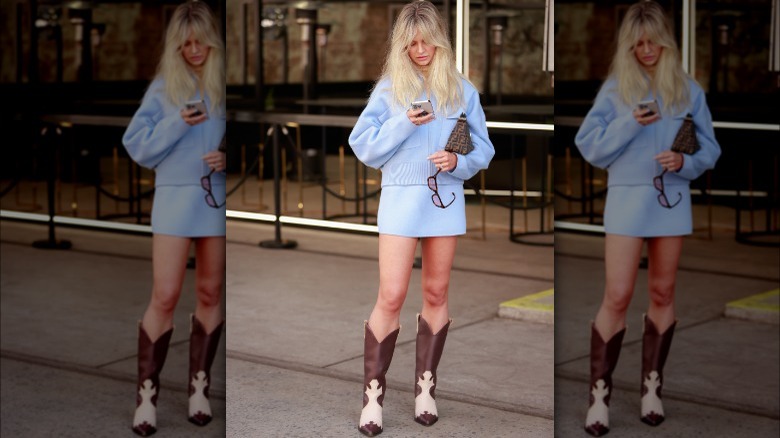 Hanna Lassen/Getty Images
If you've been paying any attention to fashion trends in recent years, you may have noticed an uptick in fringe-covered jean jackets and rhinestone cowgirl hats a la Beyonce's "Renaissance" album. Our favorite western core returner is without a doubt the iconic footwear of country music lovers — cowgirl boots. But you don't need to stream any Carrie Underwood or early-era Taylor Swift in order to rock these trendy boots. Music lovers of all genres have flocked to festivals rocking a pair of cowgirl boots. The resurfacing footwear trend provides festival goers with the comfort and protection of a close-toed boot while allowing wearers to show off their unique style with all sorts of fun and funky embellishments.
Nylon spoke to fashion influencer Vanessa Chen, who cited the COVID-19 pandemic as the big resurgence in western fashion trends. She claims that the trend "offer[s] a kind of escapism where people can detach and express themselves outside of their current environment or situation . . . people just want styles that are fun, dramatic, and don't take themselves too seriously." In a post-pandemic world, many people are turning to fashion to unapologetically express their reimagined selves — and clearly, many seem to imagine themselves rocking a stunning pair of cowgirl boots.
You can easily style cowgirl boots with any aesthetic
Cowgirl boots have taken over the music festival circuit, but that isn't the only place where western footwear is appropriate. Contrary to popular belief, these statement boots work with a wide variety of outfits, allowing fashionistas of all aesthetics to enjoy their very own pair.
When you're searching for fashion inspiration, look no further than TikTok. Creators and influencers have flooded our FYP with tons of ways to style cowgirl boots for warmer weather. This summer, put your cowgirl boots on full display by pairing them with your favorite cutoff jean shorts and a denim button-up like @lindseyressler. Or follow @ciarashelby, who let the intricate design in her black boots be the star of the show by pairing them with a simple white babydoll dress. From formal wear to early morning coffee dates, cowgirl boots are the perfect footwear for all your summertime plans.