Cropped Jackets Are A Petite Girl Style Staple For Staying Warm On A Night Out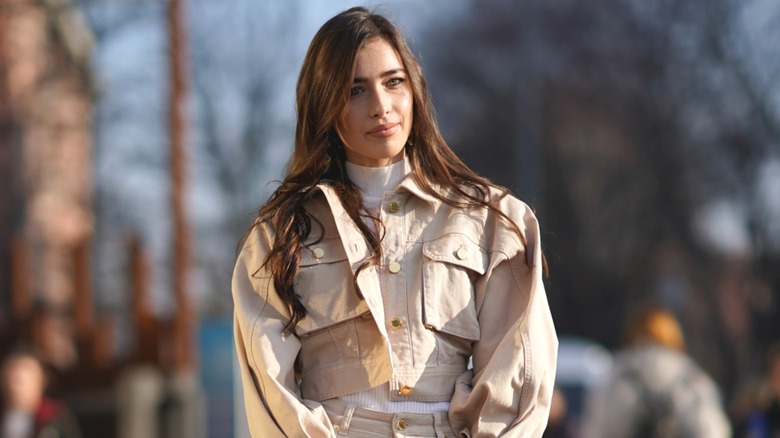 Edward Berthelot/Getty Images
If you're petite — meaning you're 5 foot 4 inches or under — you've probably had your fair share of clothing struggles. Cool, oversized jackets can overwhelm your smaller frame, while on the flip side, long coats are useful for winter but can drown out a petite figure. 
However, there is one style of jacket you should be looking out for as a petite person, and that's the cropped jacket. It may appear ultra-cropped on a taller person, but if you're petite, it can look perfectly proportional to your shorter torso. Additionally, it can flatter your body shape instead of dwarfing it. The exception to cropped jackets on a petite person is if you have a long torso, in which case cropped jackets may fall at your waist instead of just at your hips (which is still a look!).
As it turns out, cropped jackets are more versatile than you might have thought. Here are all of the best ways to style them to maximize your short girl style potential.
A cropped jacket is the layer you need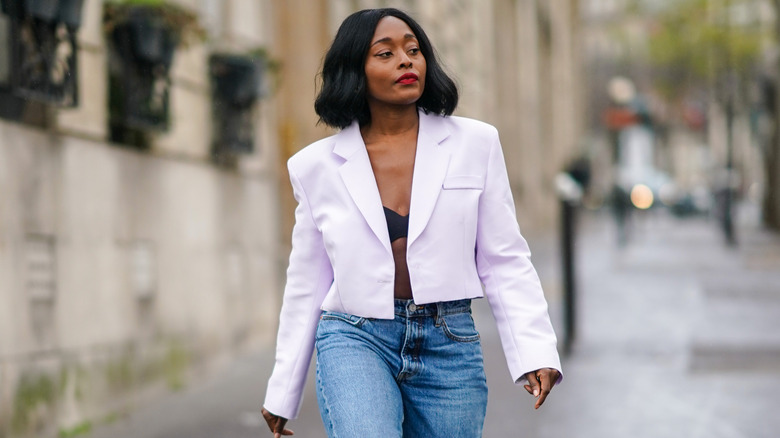 Edward Berthelot/Getty Images
Most styles of cropped jackets are similar to classic square cropped jackets — square jackets lend your outfits an effortless vibe, but you have to be careful if you don't want them to add extra bulk around your stomach area. Additionally, a boxy jacket cropped right at the hips could accentuate them. This is a bonus if you like to emphasize this area, but otherwise, it's something to consider.
If you're a fan of dresses but struggle to layer on days when there's a chill in the air, a cropped jacket is the perfect accompaniment. Lightweight enough to prevent any bulk, the cropped silhouette won't hide your dress or make your outfit feel disproportionate. The same goes for long skirt outfits when it's a bit cooler — a cropped jacket will keep your top half warm without covering up any of your skirt, unlike a regular-length jacket.
There is also good news for petite people who prefer wearing pants — a cropped jacket can help make your legs appear longer. This is because it sits at the waist/hip area instead of the thighs. Consider pairing your jacket with some wide-leg pants to accentuate this effect.
Try out these styles of cropped jackets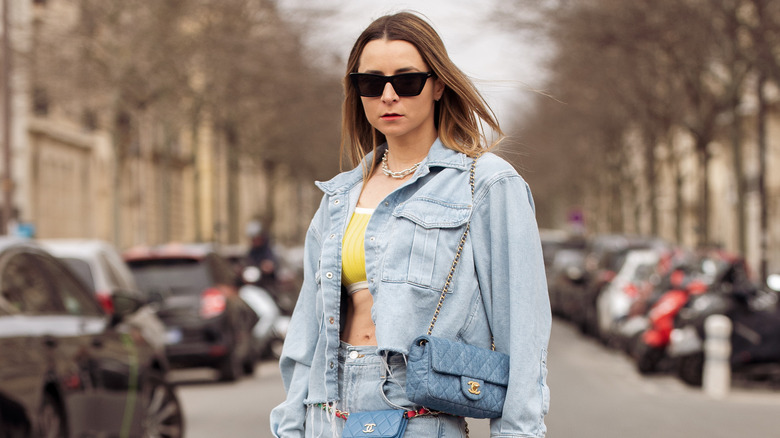 Raimonda Kulikauskiene/Getty Images
As for the style of cropped jacket you should go for, the world is your oyster. For example, a cropped leather jacket is a must-have to give your outfits some edge without distracting from your overall look. For spring and summer, look no further than a cropped trench coat. Every Scandi girl has a trench coat in her wardrobe for a reason, and that's because the lightweight layer is effortless, chic, and will never go out of style.
If you want to jump on the flattering blazer trend, a cropped blazer is a great way to wear a suit that flatters your body type while keeping within a business casual dress code. Blazers aren't just for the office, either — a cropped blazer thrown over a pair of jeans and a T-shirt is perfect for brunch. Pair your blazer with a black dress for a more sophisticated take on an LBD look.
Being petite can be tricky when it comes to getting your proportions right, but the silhouette of a cropped jacket will look good every time. Next time you're planning a night out, grab a cropped jacket to instantly elevate your look.