Dan Levy's Famous Family Was Supportive Of Him Coming Out - Revisit His Story For Pride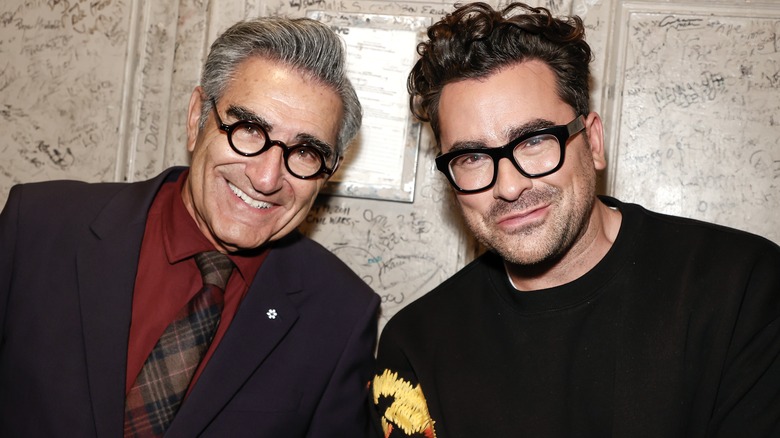 Arturo Holmes/Getty Images
Dan Levy became a comedy star after playing David Rose on the show "Schitt's Creek." The show started out with a small audience, but it gained traction over its six seasons, developing a legion of devoted fans, including a number of celebrities like Nicole Kidman, Elton John, and even Mariah Carey, per CBC, which would surely be a delight to David Rose. During its final season, the show also got recognition from the showbiz industry. At the 72nd Annual Primetime Emmy Awards, Schitt's Creek did something no show has ever done; all four of the actors portraying the Rose family went home with an Emmy for their work, completely sweeping the comedy show acting awards.
Dan not only starred in the reverse rags to riches sitcom, but he and his father, comedy legend Eugene Levy also co-created the show. And Dan and Eugene turned Schitt's Creek into a family affair. Eugene played Johnny Rose, father to Dan's character David, and Twyla, the waitress at the Schitt's Creek cafe, was played by Sarah Levy, Dan's sister. Dan was supported on-screen by his family, and he's supported off-screen by them as well. One instance of that love and support was made clear when Dan told the story of his coming out to his dad on an appearance on "Watch What Happens Live with Andy Cohen.
Dan Levy's parents already knew that he was gay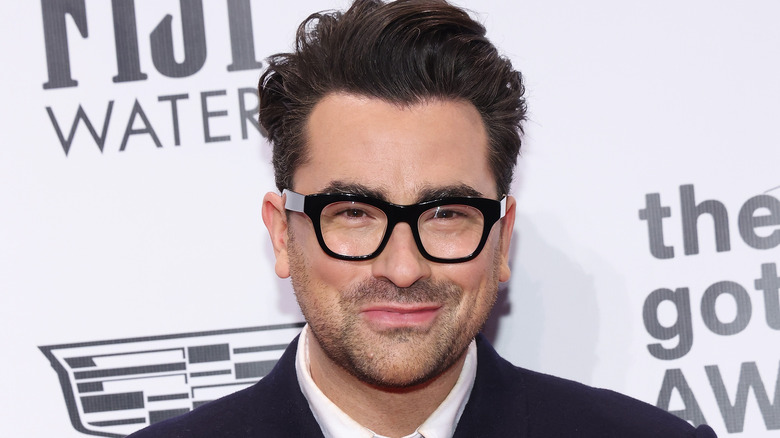 Taylor Hill/Getty Images
Dan Levy explained on "Watch What Happens Live with Andy Cohen" that he was around 18 when he came out to his parents. It came about after his mom simply asked him if he was gay. "My mom asked me over lunch one day, and I said yes," Dan said. Eugene Levy agreed that he and Dan's mother already knew, but they were "waiting" for him to tell them in his own time. But Dan said he thought his mother could tell that he was "finally ready" to come out to them.
Being open about his sexuality wasn't something that came easily to Dan. He spoke with Bustle about being anxious growing up, particularly when it came to being around others. His anxiety ended up causing eye inflammation that could have led to vision loss. "I think that came from a deep-rooted fear of knowing that I was gay and not being able to be free," Levy told Bustle.
And in the show "Schitt's Creek," Dan's character David Rose is also LGBTQ+. In "Schitt's Creek," David made his pansexuality clear in a conversation with the character Stevie Budd when he compared who he liked to be with to drinking wine — "I like the wine, not the label," via YouTube. And that scene has had a big, positive real-world impact.
Schitt's Creek helped a lot of LGBTQ people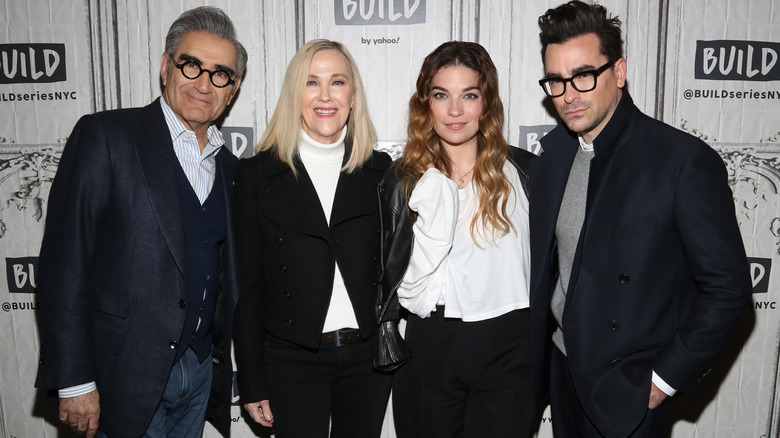 Manny Carabel/Getty Images
"Best Wishes, Warmest Regards: A Schitt's Creek Farewell" is a documentary about the final season of the show, and in it, Dan Levy talked about how David Rose's explanation of his sexuality was used by a fan as their way of coming out, according to Entertainment Weekly. It wasn't just that one scene that celebrated inclusivity. Dan spoke on "Watch What Happens Live with Andy Cohen" about how he thought that "Schitt's Creek" was inherently inclusive: "Our show has ultimately been an expression of love in all its iterations." And that was important to a lot of people.
Another touching scene from the "Schitt's Creek" documentary showed Noah Reid, who played David's business partner and eventual husband Patrick Brewer, reading a letter from mothers to LGBTQ kids, via Facebook. Nearly 2,000 moms signed a thank you to Dan and the show, which read in part, "Your commitment to representing love and tolerance in your show is so important to families like ours. [...] You have created new ways for queer viewers to see themselves represented. [...] The work you have all done on "Schitt's Creek" has encouraged us greatly and given us hope about the future for our kids." Cue the waterworks. We love how Dan's family was accepting of his coming out, and we love how much "Schitt's Creek" meant to so many families.