Leaving Your Jeans Unbuttoned Is A Fresh Way To Revamp Your Wardrobe - Here's How To Pull It Off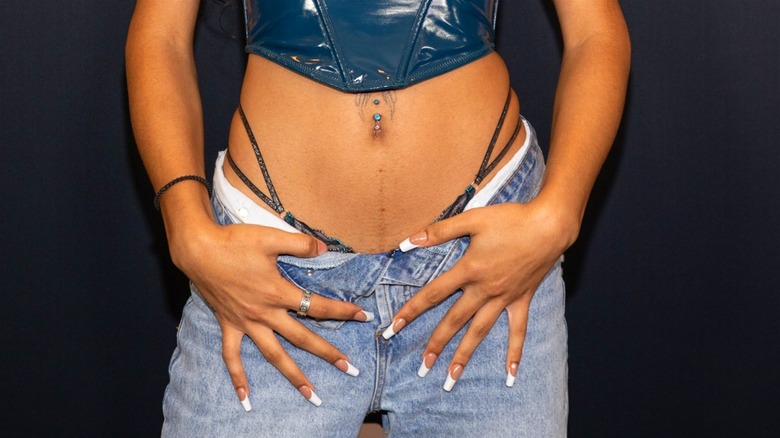 Emma Mcintyre/Getty Images
Wearing your jeans purposefully unbuttoned in public is no longer considered a fashion faux pas; if you know how to pull it off, that is. The questionable fashion trend doesn't look as bad as one might think, and it's actually really functional on those days when you've had too much pasta — simply leave your jeans undone. You can fold the waistband over to make it look a bit more flattering, or go all out and undo the fly as well.
How this particular style came to be is actually not surprising at all. With low-rise jeans making their comeback in recent seasons, unbuttoning your pair can be seen as a midpoint between high and low-rise waistlines, according to Emma McClendon, an assistant professor of fashion studies at St. John's University. If you're not ready to fully commit to a low-waisted pair of jeans, leaving a few of the buttons undone can mimic the skin-baring effect, she explained in a conversation with The New York Times.
The best thing about this low-key trend with a big impact is that you can easily style it for a casual outing as well as for a night out. Jeans are still jeans here, the versatile clothing piece that goes with everything; they just come undone.
All you need is a cute top
Pulling off the unbuttoned jeans trend can be as easy as pairing the jeans with your favorite cute top for summer. If the top in question is more form-fitting, make sure the jeans are a bit baggier to create counterbalance. Go for a casual sneaker or a leather slide for a relaxed vibe, and if you'd like to elevate the fit, opt for a strappy heeled sandal. The undone jeans will add a cute touch to the casual summer fit and won't be overbearing.
Go super casual with a white tee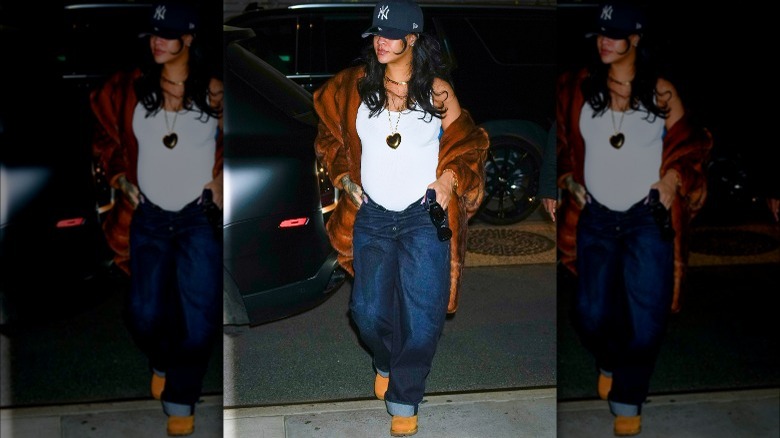 Gotham/Getty Images
Another casual way to approach styling the undone jeans is to simply pair them with a white tank top or a white tee. While this combo may seem basic at first, accessorizing it properly will instantly elevate it to glam status. Reach for a bold shoe to elevate your look; both high heels and chunky-soled boots will create balance in the overall look. For an unexpected chic touch, go for statement jewelry and a slouchy leather bag to round off the cool vibes.
Dress up with a blazer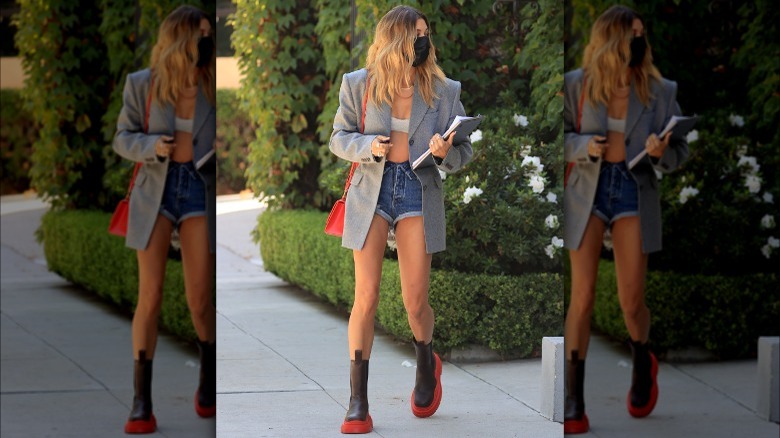 Mega/Getty Images
Leaving your jeans unbuttoned doesn't mean you have to go for an informal look. Pair your undone pair with an oversized blazer and high heels, and you'll instantly be ready for a night on the town. For a more toned-down version of this look, go for a cute bra top to wear underneath the blazer and swap the heels for sneakers or boots as style icon Hailey Bieber did. Keep your jewelry minimal and make your bag colorful to add some playfulness to the outfit.
Go for a unique pair of jeans
Make the best use of the unbuttoned jeans trend and work your entire outfit around an out-there pair. Printed, bedazzled, distressed; any pair of jeans that show off your personality is a great choice. If you can't find a pair that does that for you, you can always DIY them. Combine them with a color-coordinated top and leather slides to make the jeans stand out. For the same reason, go for dainty jewelry and a smaller handbag in a complementary shade.
Boot up
A good pair of boots can completely change the overall feel of a look. If you decide to leave your jean shorts unbuttoned, make sure to pair them with a fun style of boots for an effortless fashion-forward aesthetic. Classic cowboy boots are not going anywhere, and they're the perfect summer boot to elevate your unbuttoned jean shorts. Pair the combo with a basic baby tee and accessorize with some dainty jewelry for the ultimate western-inspired 'fit perfect for a hot day.
The ultimate festival look
The freshest way to revamp your festival wardrobe is to leave your jeans unbuttoned. The low-key bottoms will allow for the rest of your fit to be fully glam without seeming like you tried too hard. Consider opting for colored or white jeans instead of blue ones to make the look more interesting. Pair them with a bold crop top or a corset, and go for festival footwear of your own choice; boots are a great option here too. Play with statement add-ons and your hair and makeup to round off the festival vibes.
Show off your undies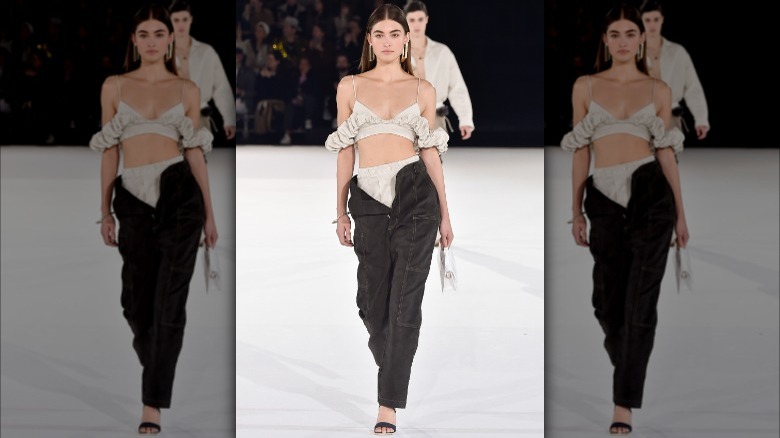 Peter White/Getty Images
The truth is that leaving your jeans undone might make your underwear visible to the public. If that's exactly the look you're going for, make the most of it and choose a cute pair that isn't too revealing. To take it a step further, color-coordinate the undies with your top and the rest of your accessories. Go for darker-washed jeans if other pieces are more neutral, and vice versa. Opt for a kitten heel and gold jewelry to add an elegant touch to the outfit.
Sweater weather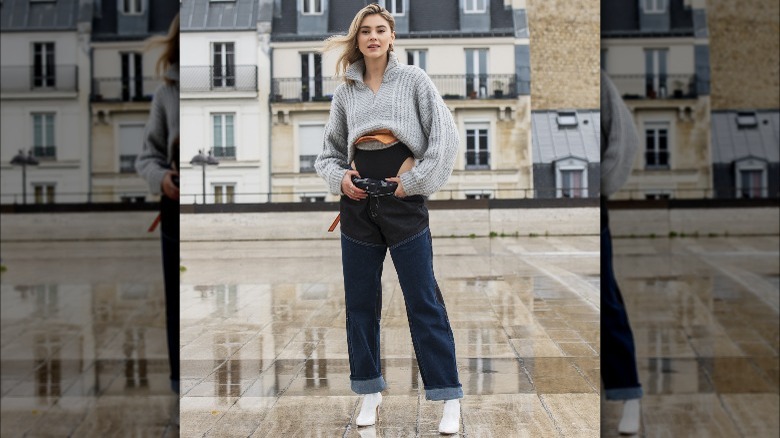 Kirstin Sinclair/Getty Images
Unbuttoning your jeans isn't just for warmer weather; you can most definitely rock the trend with a sweater on top. For ultimate Y2K vibes, opt for a cropped version and bare your belly, which will be an unexpected counterbalance to the heaviness of the sweater. If the weather doesn't allow for bare skin, wear a bodysuit underneath to make sure the undone look is as effective. Tone down the accessories to avoid looking too busy overall, and keep your footwear in the same color scheme as the sweater for the same reason.
Make the unbuttoned trend work for your aesthetic
Don't be afraid to incorporate a trend you love into your own aesthetic, whatever it may be. Make the unbuttoned jeans trend work for your style preferences by pairing the jeans with pieces you would usually wear. For example, if you're into the trendy dark academia aesthetic, darker pieces with a mysterious vibe will still work with undone jeans; this goes for any aesthetic. Focus on color-coordinating the pieces and creating balance in the look with textures and silhouettes; that's always the key to successfully styling any fashion trend.