Julia Louis-Dreyfus Admits She's A Momager To Her Hollywood Sons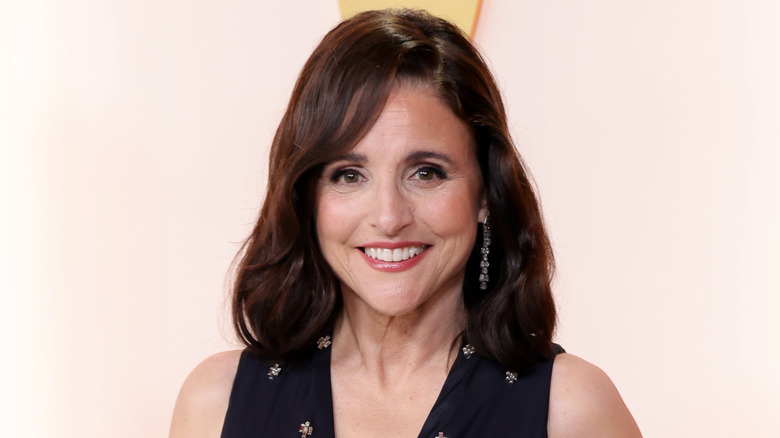 Kayla Oaddams/Getty Images
Julia Louis-Dreyfus is one of the most recognizable faces in Hollywood. The actor has been working in TV and movies for decades, and her comedy skills have had fans in stitches for years. However, there is so much more to Louis-Dreyfus than just her career. She's also a wife to writer and producer Brad Hall and an activist speaking out on things such as cancer research and equal rights. She also advocates for green living and is focused on health as well. However, the actor credits motherhood for changing her entire life. "As soon as I gave birth, I suddenly noticed issues in my own backyard. Motherhood changed everything for me," Louis-Dreyfus revealed (via WebMD).
Of course, like many other working mothers, Louis-Dreyfus says it was all a balancing act for her. "I'd had a lot of anxiety about being a mother working outside the home ― that I was missing things, that I needed to be with them and I wasn't," she told The New Yorker in 2018. "I'd had a nursery on the set at 'Seinfeld,' and I would take both boys with me ― which in some ways was worse because then you're so split! I was racing between the stage and the nursery, I was breastfeeding and all that," she added.
However, taking her two sons, Henry and Charlie, to work may have led to their love of acting, as they've now followed in their mother's footsteps.
Julia Louis-Dreyfus is always there to help her sons with their careers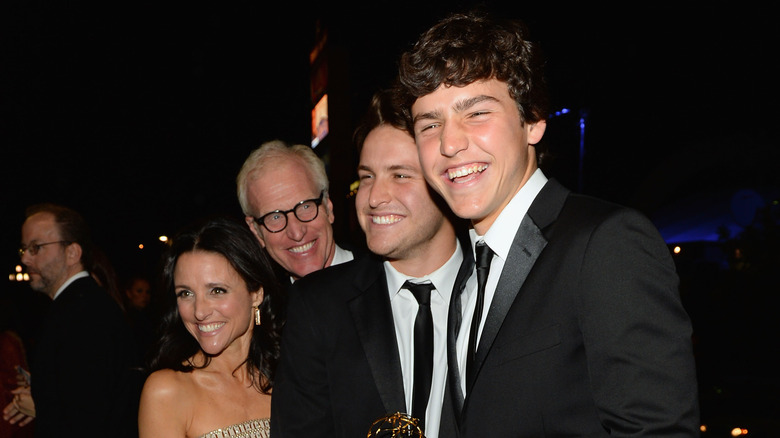 Mark Davis/Getty Images
Julia Louis-Dreyfus' sons, Henry and Charlie, may be all grown up now, but that hasn't stopped the actor from being very involved in their lives. The former "Seinfeld" star is still cultivating her own career, starring in projects such as "You People" and "You Hurt My Feelings." However, she's never too busy to help her sons with their own acting careers. "I'm a little bit of a momager," Louis-Dreyfus tells People Magazine. "I mean, I'm happy helping them with auditions and reading scenes when they get hired. I'm very supportive and proud."
Although the actor is happy to help her sons with their own jobs, using her plethora of knowledge and experience in the entertainment industry, she says that she does know when to let go. "I'm so grateful they're out in the world and functioning, but it does require relinquishing a lot of control," she explained. "It's a slow process, but it's equally joyful when a new dynamic comes into play as they become adults. I love hearing their opinions and watching what they do."
Meanwhile, Louis-Dreyfus says that her sons will always be her babies, revealing her protective mama bear side. "I still think of them still as my boys," she says. "And maybe that's not a good thing, but they're still my baby men and always will be."
Julia Louis-Dreyfus admits she's struggled with separation from her sons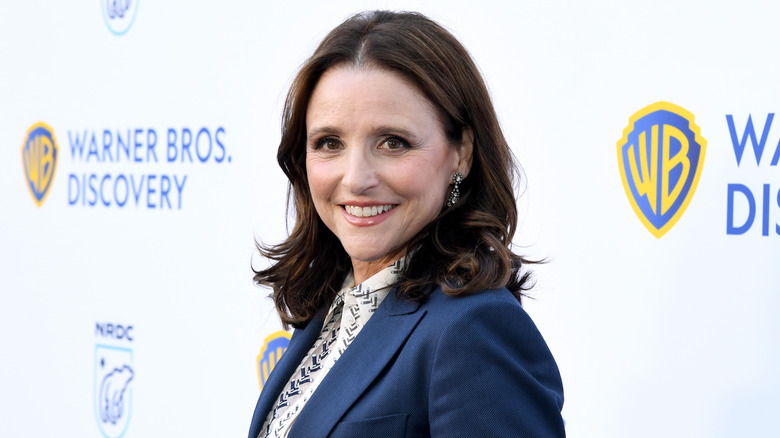 Jon Kopaloff/Getty Images
Julia Louis-Dreyfus says she understands that letting go of their kids is something that all parents have to deal with as their children become adults. However, that hasn't made the process any easier for her. The "Christmas Vacation" star admitted to The New Yorker that it's been a tough ordeal for her to watch her sons grow up. "When you have children, which is in so many ways a glorious endeavor, part of it is about constantly separating. Even when they're born ― I remember thinking, oh, God, I miss that movement in my body. And from there on that story continues: They crawl away from you. They go to school. It's a constant. Separation has been a theme in my life, something that I've really struggled with."
Meanwhile, the actor now gets to be her sons' biggest cheerleader as they make their own way in show business, even though she says she was a bit taken aback when her sons wanted to be actors. "I love it! It's a big surprise," Louis-Dreyfus told People. "My son Henry just finished shooting a series for Amazon, and Charlie's in all sorts of shows, 'Single Drunk Female,' 'Sex Lives of College Girls,' and so on," she added.
Louis-Dreyfus also confessed that watching her sons be creative in their acting is something she is very proud of and gives her "endless joy" as a mother.