Katy Perry Wants To Record A Country Duet With American Idol Alum Carrie Underwood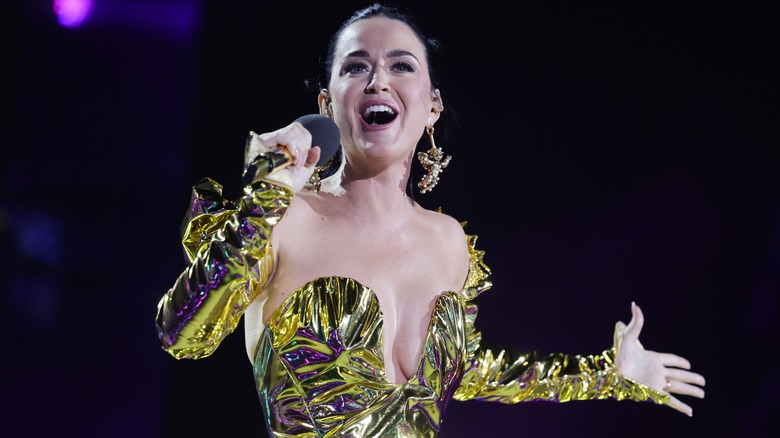 Chris Jackson/Getty Images
Pop star Katy Perry is no stranger to collaboration, having worked with fellow musical giants like Snoop Dogg, Missy Elliot, Zedd, and more, but she still has plenty of creative stones left unturned. In an installment of BuzzFeed's Puppy Interview Series (yes, it's as adorable as you think), Perry talked about a genre and artist mash-up she'd like to see in the future that had us very excited about music to come. 
Never one to shy away from trying something new, Perry has dabbled in multiple musical styles, from the bluesy alt-pop of her early days to bubblegum synth to soaring ballads and everything in between. In 2022, she ventured into the realm of country with a collaboration with Thomas Rhett on the track "Where We Started." 
While talking to BuzzFeed — puppies in tow, of course — the singer mentioned another country icon she'd love to work with: "American Idol" winner turned global superstar Carrie Underwood.
A perfect match waiting to happen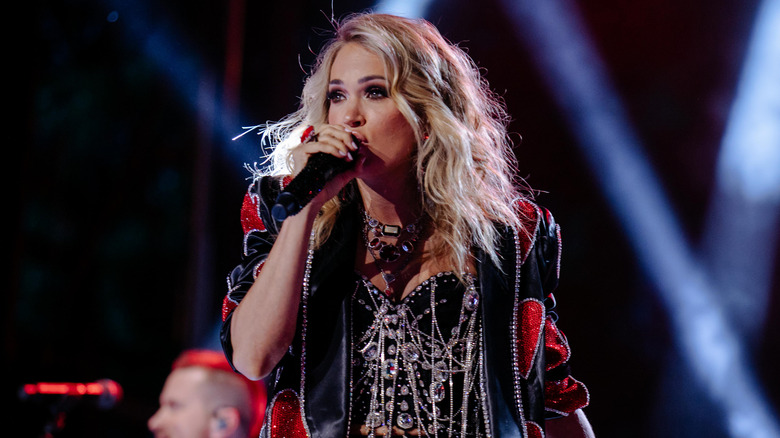 Catherine Powell/Getty Images
Katy Perry and Carrie Underwood's aesthetics lie on different sides of the same Americana-glam coin. Both singers take cues from classic American styles and imagery, with Perry leaning toward the kitsch and campy and Underwood toward the ultra-glam and sexy. But it isn't just their visual compatibility that makes this the ideal mash-up. 
These singers have also had similarly timed ascents to fame. Perry's hit debut "One of the Boys" was released in 2008 and included the iconic tracks "I Kissed a Girl" and "Hot and Cold." On the other hand, Underwood released her first album, "Some Hearts," in 2005 with hits like "Jesus Take the Wheel" and "Before He Cheats." In the late 2000s and early aughts, one would be hard-pressed to turn on the Top 40 radio without hearing both singers in the same hour. 
Finally, Perry and Underwood now have ties to "American Idol." Underwood won the 4th season of "Idol" in 2005, and Perry has been a judge on the show ever since 2018. This is enough reason to see a collab, but here's what Perry had to say about a potential duet.
Two queens working together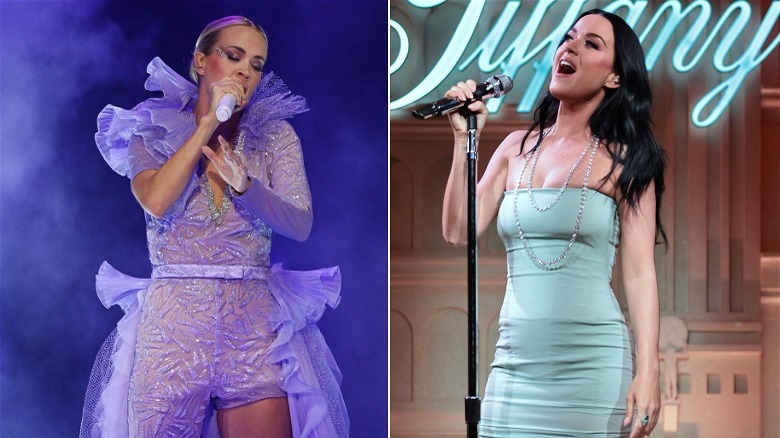 Jamie Mccarthy & Denise Truscello/Getty
In her BuzzFeed interview, Katy Perry chose Carrie Underwood as her dream collaborator out of all the past "Idol" winners. "I haven't done a collab with any female country stars yet. I did a song with Thomas Rhett, which was really fun, but she's like Queen of Country," Perry said. "So, that's cool. And she's glam." 
It's unclear whether Underwood has gotten word of Perry's idea, but the country star has had her fair share of genre-bending collaborations. The "Cowboy Casanova" singer has worked with artists of all styles, from Brad Paisley to Ludacris to John Legend (who wrote an Underwood track with special meaning, "Hallelujah"). So, it's within the realm of possibility that Underwood could make the small leap from pop country to pop proper. 
The Queen of Camp and Kitsch and Queen of Glam Country haven't hinted at any collaborations in the immediate future, but now that Perry has planted the seeds, we can't wait to see what sort of country-pop mash-up blooms might unfold.