Queen Camilla Reportedly Changed The Way Kate Middleton Looked On Her Royal Wedding Day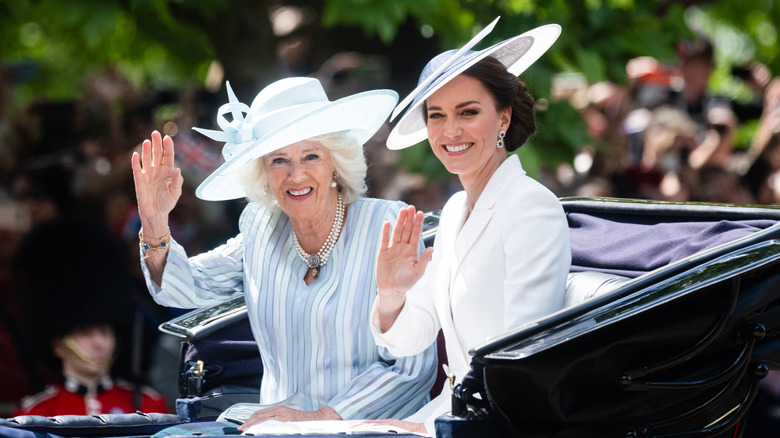 Samir Hussein/Getty Images
Kate Middleton's wedding dress became an iconic fashion moment as soon as she stepped into Westminster Abbey in 2011. However, Kate's wedding look could have been entirely different had it not been for Queen Camilla. Years before Camilla would become queen, she and Kate shared a close kinship as the wife of now-King Charles mentored the princess-to-be. 
According to the Daily Mail, Camilla helped Kate navigate the complexities of royal family protocol, from choosing philanthropic endeavors to employing the couple's house staff to planning Kate and William's highly anticipated wedding. And indeed, there was plenty of protocol to navigate.
This was especially true of landmark occasions such as weddings, where the royal family must follow years of tradition-based guidelines. While we can't imagine Middleton looking any other way on her wedding day, the Princess of Wales had a different vision in mind that would have gone against centuries of tradition without Camilla's intervention. 
Kate's iconic wedding ensemble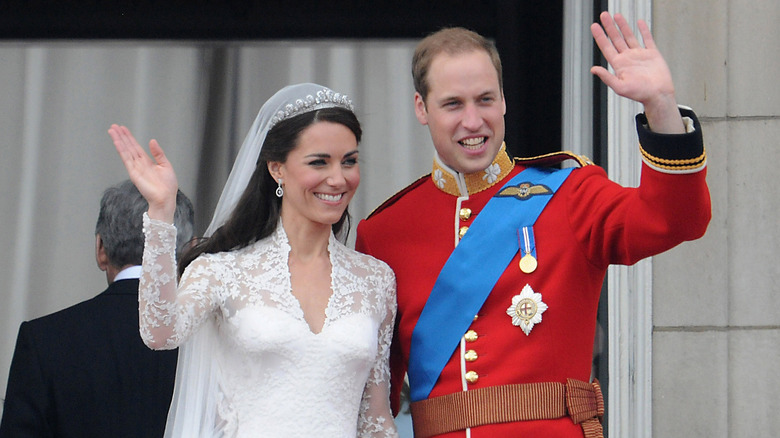 George Pimentel/Getty Images
Kate's wedding dress was a stunning, high-collar Alexander McQueen gown that seemed to harken back to Grace Kelly's signature bridal look. Both princesses' gowns featured a sweetheart bodice under a sheer lace overlay that narrowed into long, tapered sleeves. The Princess of Wales modernized the look with a tapered waist and dangle earrings. 
The look was breathtaking and managed to follow the strict protocol for royals at their weddings. Among the expectations for royal brides is that they wear a white gown, a tradition started after Queen Victoria's 1840 wedding to Prince Albert, per Women's Wear Daily. Moreover, dresses are expected to be modest with sleeves and a non-revealing neckline, as well as created by a British designer. Queen Elizabeth II also had the power to veto a bridal look.
As far as those royal bridal rules go, Kate's look checked all the boxes — but that wasn't always going to be the case. The princess had a particular accessory in mind that would push the boundaries of royal protocol, which is why Camilla reportedly suggested Kate go a different route.
One of the most easily recognized royal traditions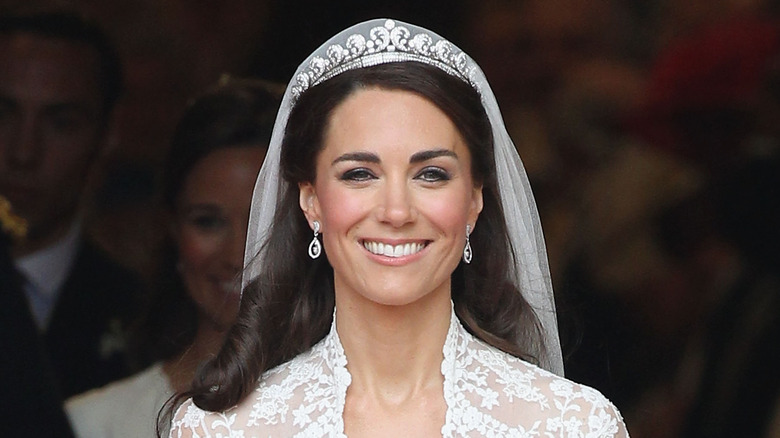 Chris Jackson/Getty Images
One of the most iconic and easily recognizable royal traditions is the tiara. Per Express, only royal family members or women marrying into the family can wear tiaras, and the latter are only allowed starting on their actual wedding day. Tradition typically dictates that the bride will choose a tiara from her groom's family collection — protocol Princess Diana famously broke when she refused to wear the queen's tiara and opted for her own family's heirloom, the Spencer tiara, on her wedding day. 
So, when Kate Middleton suggested she wear a flower crown instead of a tiara, Camilla reportedly advised the princess-to-be that a tiara would be a more suitable accessory. While atypical, a floral crown is not unheard of in royal tradition. Sarah Ferguson wore a lush gardenia headdress at her wedding to Prince Andrew as a nod to his favorite flower, though it was one of two headpieces, the other of which was a traditional tiara. 
In lieu of a flower crown, the Princess of Wales donned the Cartier Halo Tiara, which was commissioned by King George VI for his wife, Elizabeth, in 1936 — the first of many iconic tiara moments Kate Middleton would serve in the years following her royal wedding.