Sam Smith Cannot Believe One Viral Rumor About Themself (And It Involves Adele)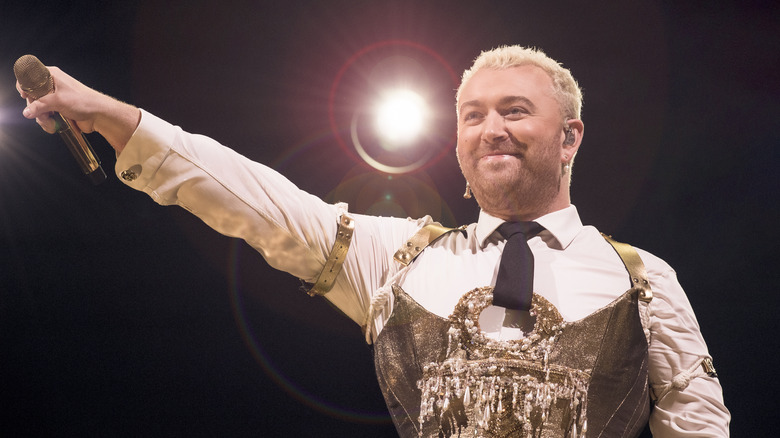 Kristy Sparow/Getty Images
Although some celebrity rumors turn out to be true — yes, Katie Holmes and Jamie Foxx were actually dating and the FBI was spying on John Lennon — others, for lack of a better word, are baloney. No, Harry Styles did not spit on Chris Pine in the midst of the "Don't Worry Darling" drama. Beyoncé isn't Solange's mom, and, despite sightings to the contrary, Elvis died in the '70s (as far as we know). Over the past few years, gossip pages like DeuxMoi have contributed to the Hollywood rumor mill. Although these sites are reliably entertaining, they're not 100% accurate, to say the least.
Sam Smith, who gained widespread recognition in 2012 after they collaborated with the electronica duo Disclosure on the song "Latch," is no stranger to internet speculation. After performing their song "Unholy" alongside Kim Petras at the 2023 Grammy's and taking home the award for Best Pop Duo,"they faced a slew of backlash from the right. "[D]emons are teaching your kids to worship Satan. I could throw up," tweeted podcast host and political commentator Liz Wheeler. As for Sam Smith's thoughts on the "Unholy" controversy? "I don't give a f*** about people's opinions who don't give a f*** about me," they told Hot Press in a 2023 interview.
Although they don't pay any heed to most internet speculation, one particularly confusing rumor stands out to Smith, mostly because they're asked about it all the time. Here's a hint: It involves Adele.
Some fans think Sam Smith and Adele are the same person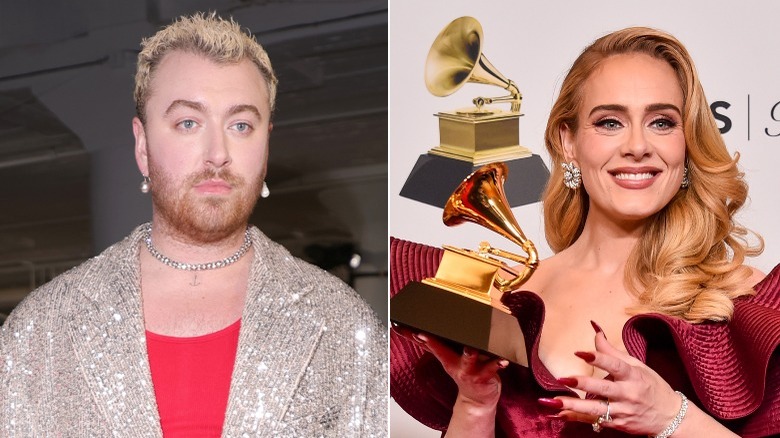 Michael Loccisano & Alberto E. Rodriguez/Getty
Sitting down with the "Stay" singer on an episode of her daytime talk show, Drew Barrymore asked them this: "[What's the] craziest rumor you've ever heard about yourself?" (via YouTube). The billboard chart-topper was quick to respond, sharing, "Everyone seems to think that I'm Adele in drag, 'cause we've never been seen in the same room together..." However, the most convincing piece of evidence lies in the music itself. If you slow down Adele's tracks, her voice sounds eerily similar to Smith's, a phenomenon demonstrated by @kyleandjackieo on TikTok in a video that's amassed nearly 9 million views.
Although the two artists admittedly sound alike, especially when you manipulate their vocals, it's probably time to put the rumor to rest. "I get asked all the time in every interview about it, and it's really frustrating," Smith explained to Barrymore. Although the singer is flattered given Adele's obvious talent, they want to make it clear that they are not, in fact, one and the same. 
That being said, the two have never taken a picture together... Who knows? Maybe all these rumors will finally result in a musical collaboration. One can dream.
Sam Smith and Adele aren't the only celebrities mixed up in a clone-conspiracy
It's Sam Smith's and Adele's similarly-soulful vocals that first sparked internet rumors, but most doppelgänger theories begin with physical similarities. For years, fans speculated that Nicolas Cage was a vampire that fought in The Civil War. Why? An 1830s snapshot of a soldier resurfaced on the internet, and the subject in question bared a striking resemblance to the "National Treasure" star. Cage even addressed the rumors on "The Late Show with David Letterman." "Now, look, I don't drink blood, and last time I looked in the mirror I have a reflection," he joked, although he did admit they looked alike.
Meanwhile, some sleuths speculate that the real Avril Lavigne died and was replaced by a doppelgänger named Melissa in 2003. The "Complicated" singer expressed her frustration with the rumors in a TikTok with nearly 2 million likes. However, it didn't satisfy the conspiracists — "I'm even more sus now," a follower commented under the post.
It gets weirder, believe it or not. Keanu Reeves fans found portraits of lookalikes dating back to the 1500s. Of course, the conclusion is that the actor's immortal. Reeves' response? "We're all stardust, baby," he told Jimmy Fallon on "The Tonight Show." Clearly, Sam Smith and Adele are just the tip of the iceberg when it comes to wacky conspiracies.