Kelly Ripa Is A Clothes Hoarder (But She Has A Very Good Reason)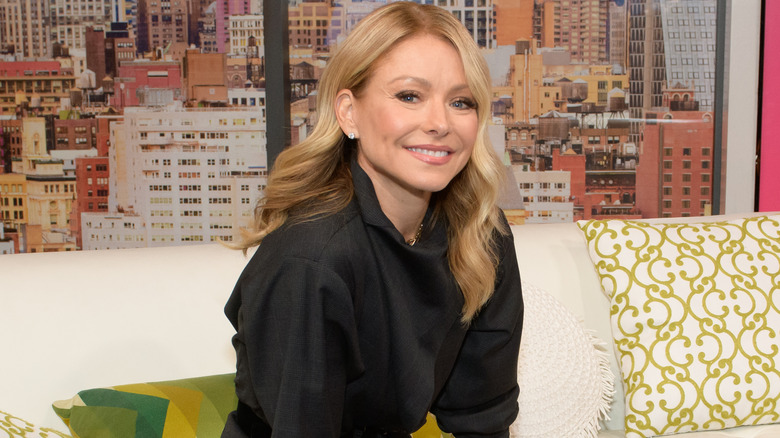 Noam Galai/Getty Images
Kelly Ripa, fitness queen, strikes envy with her toned arms and enviable calves. With her physique, the "Live! with Kelly and Mark" co-host can easily wear any outfit she desires. Ripa's closet is proof of that. But the star isn't regularly swapping out old looks for new ones. In fact, she has some pieces in her wardrobe that are decades old. 
Ripa can re-wear many of her favorites thanks to numerous past trends making a comeback, like whale tail skirts and oversized sunglasses, for instance. The sheer black button-up shirt and pink cargo pants she sported in the early aughts wouldn't appear out of place today amongst all the other fun throwbacks from that time that are slowly regaining prominence.  
Likewise, her all-over sparkly Mary Janes and the Barbiecore-esque pink gown Ripa donned at Variety's Power of Women event can be pulled out again for years to come. Many of us would applaud Ripa's commitment to sustainability by recycling her closet clothes, but not everyone. Ripa has one person who opposes her tendency to hoard clothes — her husband, Mark Consuelos.
A closet cleanout without too much actual cleaning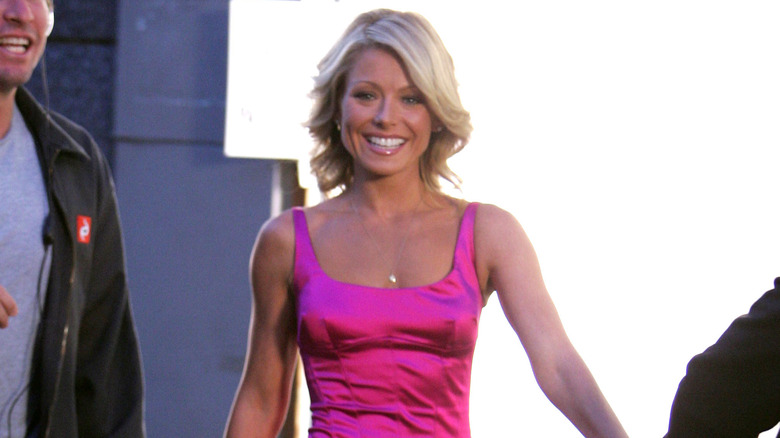 James Devaney/Getty Images
Mark Consuelos, who may or may not have to share a closet with Kelly Ripa (because when you're worth millions, you likely have your own walk-in wardrobe), but does have to live with her, has something to say about her clothes-keeping tendencies. On "Live! with Kelly and Mark," Ripa divulged to the audience how her husband regularly tells her, "'Get rid of that, throw it away, donate it, do something with it,'" (via People). 
However, Ripa told fans that during her "annual closet cleanout," she refuses, likely doing more reminiscing than actual cleaning. She explained to her clueless husband that many of these styles will make a comeback, and she isn't wrong. Consuelos isn't the only skeptical family member, however. According to Ripa, the couple's daughter, Lola Consuelos, also regularly urges her to purge. 
"'Lola's like, 'What is that?' And I'm like, 'These are jeans that I'm going to fit into again someday,'" but Lola doesn't agree: "She goes, 'You're not and those are out of style!' And I go, 'They'll come back.'" Even if Ripa and Consuelos' Hamptons vacation home "is where your clothes go out to die," we love that she's giving her wardrobe a second life and not contributing to the growing textile waste problem.
One of the most famous residents of Ripa's closet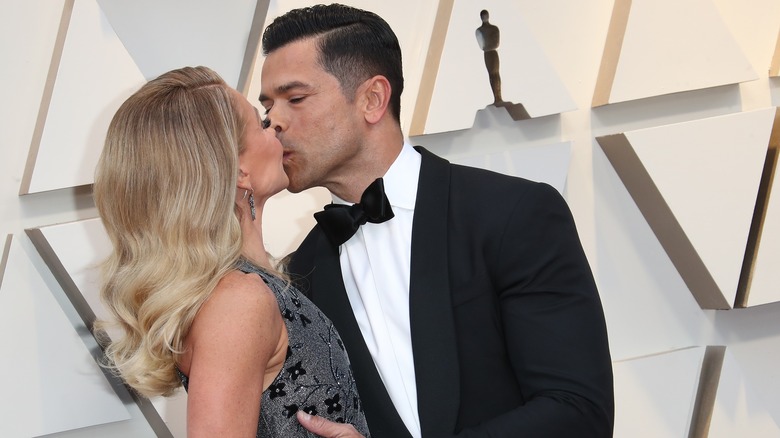 Dan Macmedan/Getty Images
Some of the outfits on Kelly Ripa's hangers probably span the entirety of her relationship with her husband, Mark Consuelos. And while we have no way of knowing what's actually in her closet, we're almost positive that the TV star has held onto one particular item because we have seen her revive it before — Ripa's 1996 wedding dress. The celebrity couple officially tied the knot in May 1996 when they eloped to Las Vegas. 
Then, in 2016, Ripa surprised the love of her life by wearing the gorgeous gown again on their 20th-anniversary celebration trip to Turks and Caicos, proving to fans that, unlike trends that come and go, her physique is one thing that hasn't changed over the past two decades. Ripa further shocked us when she revealed the dress is actually 25 years old because she purchased it five years before her wedding, never intending to wear it down the aisle.
The $199 snag from Barney's warehouse sale still makes Ripa happy; she proclaimed, "I wear it all the time!" and called it the best (almost) $200 she has ever spent (via Entertainment Tonight). If only we could be so lucky to have Ripa's timeless fashion sense and knockout figure.