10 Royals Who Remarried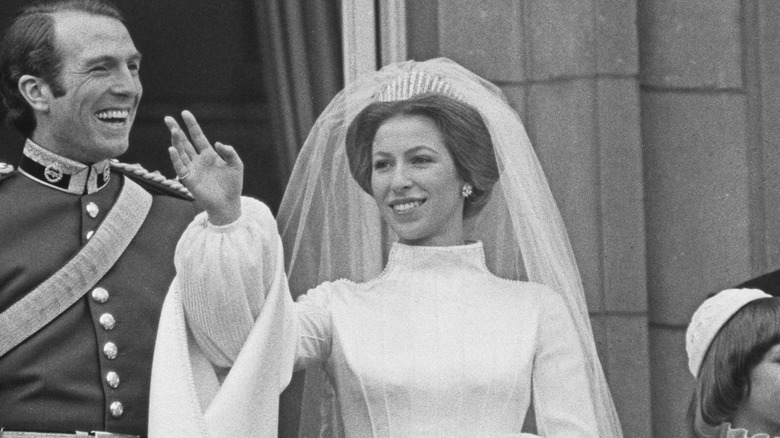 Evening Standard/Getty Images
Divorce is a complicated situation for anyone, but it becomes even more difficult when you happen to be in the line of succession. Royal families generally have a distaste for divorce, and remarriage has historically been out of the question in many countries. Nearly everyone knows the story of King Henry VIII and his wedding (and beheading) spree. His desire to break free from his first wife quite literally led him to create the Church of England.
Even when divorce became more acceptable within the British royal family, remarriage often meant giving up a chance to sit on the throne. "Historically the Church of England's position was that divorce was okay, but remarriage was not," Arianne Chernock, associate dean of the faculty for the Social Sciences at Boston University, told History. In fact, it wasn't until 2002 that a second marriage would even be recognized by the church — unless the first spouse was already deceased. There's also an added complication for members of the British royal family — the Royal Marriages Act of 1772. This act states that anyone in line for the throne has to get approval for their choice of spouse from the current monarch.
Nevertheless, some royals still managed to follow their heart and get a second (or third) chance at love.
King Louis VII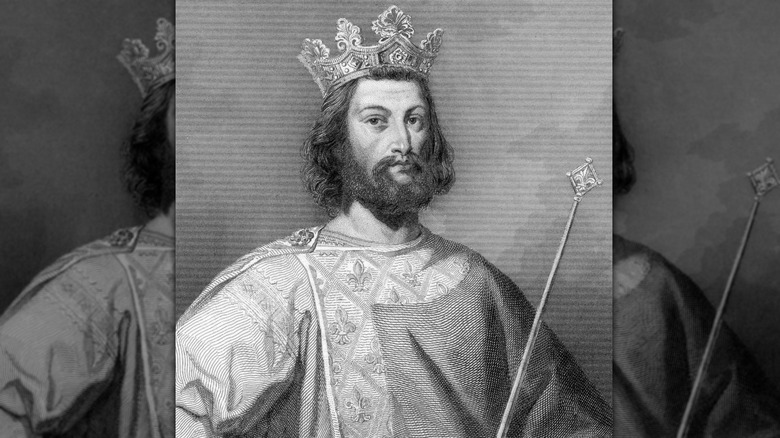 Bettmann/Getty Images
King Louis VII of France married Eleanor of Aquitaine in 1137 — the daughter of the Duke of Aquitaine and the Count of Poitiers. Having inherited plenty of money and a large swath of the country, Eleanor was already among the wealthiest of the continent before she married Louis VII, the heir to the throne. 
Unfortunately, their union did not produce a male heir, and their relationship was not a happy one. Eleanor is famously quoted as saying: "I thought I was wed to a king; now I find I am wed to a monk" (via Euronews). The marriage was eventually annulled on March 21, 1152. Louis continued to try for a male heir by marrying a Spanish princess named Constance of Castile. She produced two more children for France, both girls, and died in childbirth in 1160. The king only waited five weeks before tying the knot again with Adela of Champagne, and unlike his first two wives, Adela was able to give Louis his heir: Philip II. He would be king of France for over 40 years.
Eleanor remarried shortly after the annulment as well. She became the wife of Henry II, Duke of Normandy on May 18, 1152. Henry ascended to the British throne two years later, and Eleanor — once again — became a queen. She bore five sons and three daughters.
Napoleon Bonaparte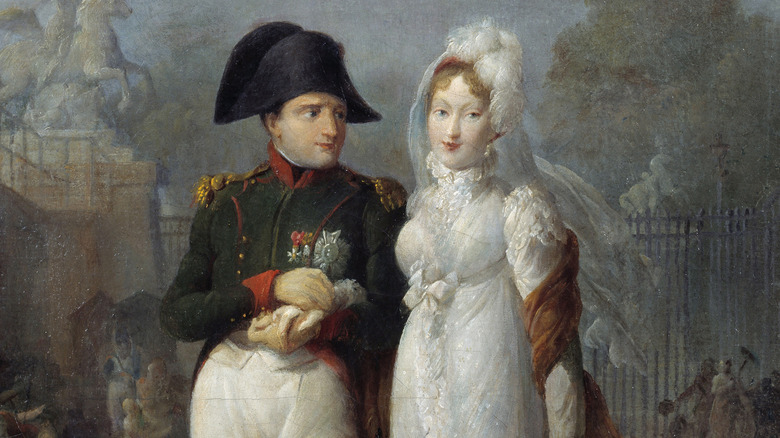 Photo Josse/leemage/Getty Images
Descended from minor noble families in Italy, Napoleon used the French Revolution to rise through the military ranks and eventually seize power. In 1796, he wed the widowed Josephine de Beauharnais, who was six years older than him. Josephine's first husband, an officer in the Revolutionary Army, was guillotined in 1794.
Napoleon's sweeping ambition would see him crowned in both France and Italy, and Josephine was titled Empress of France in 1804 and Queen of Italy in 1805. While she had two children from her first marriage, she could not conceive with Napoleon. In need of an heir, he had their marriage annulled in 1810.
A year later, he went on to marry the Archduchess of Austria, Marie-Louise — a descendent of Marie Antoinette. Marie-Louise gave birth to Napoleon II in 1811. However, his pursuit of an heir was in vain as Napoleon abdicated the throne (twice), and his son was never able to rule.
Wallis, Duchess of Windsor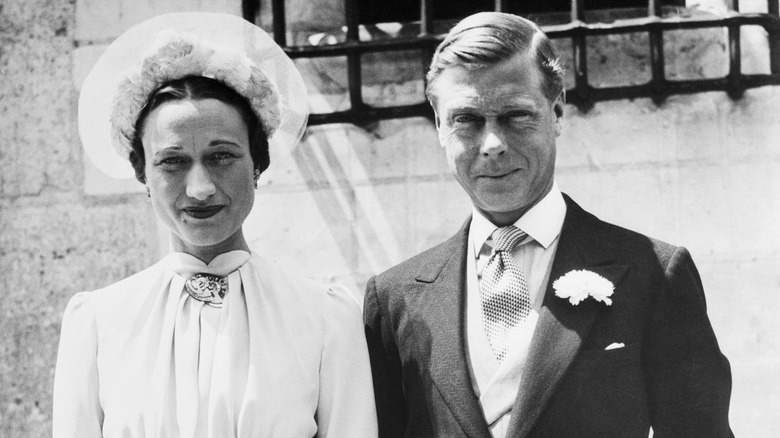 Bettmann/Getty Images
She was a twice-divorced American socialite from Baltimore and he was the future king of England. However, their love was so strong, he gave up the throne so that he could marry her.
Wallis Simpson, aka the Duchess of Windsor, first married Win Spencer, a naval officer, in 1916. Their marriage was spent mostly separated as Spencer was fighting in WWI, and Wallis was traveling the world and having scandalous affairs. They divorced in 1927. Her second marriage was to a shipping executive named Ernest Aldrich Simpson. Wallis accepted his proposal via telegraph from France, and the pair set up a home in England where Wallis would become friends with Prince Edward's mistress.
Edward's fate would be sealed on January 10, 1931, when he was introduced to Wallis at a country manor house called Burrough Court. Their love affair included European vacations and Edward showering her with expensive gifts. Upon the death of his father in 1936, Edward ascended the throne and his affair with Wallis moved from royal scandal to constitutional crisis. The Church of England forbade Edward from marrying Wallis due to her status as a divorcée. "Historically the Church of England's position was that divorce was okay, but remarriage was not," Arianne Chernock, an associate history professor at Boston University, explained to History. Edward would have to relinquish his romance with Wallis or his kingship.
While Wallis was willing to give up their relationship, Edward chose to abdicate the throne to marry her. They wed in 1937 and would remain married until Edward's death in 1972.
Sheikh Mohammed bin Rashid Al Maktoum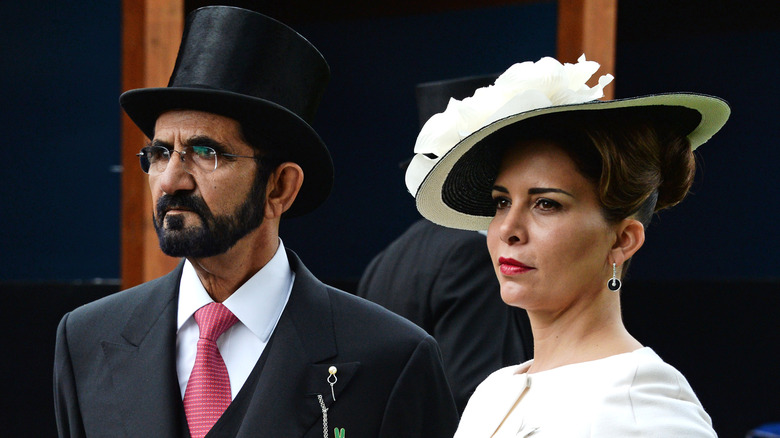 David M. Benett/Getty Images
Sheikh Mohammed bin Rashid Al Maktoum is the billionaire monarch of Dubai as well as the prime minister of the UAE. He's been married seven times and has at least 25 children — the exact number remains uncertain. He married Sheikha Randa bint Mohammed Al-Banna in 1972, resulting in one daughter and divorce.
His next wife — who's considered his senior wife — is Hind bint Maktoum bin Juma Al Maktoum, whom he married in 1979. In 2004, he married Princess Haya bint Hussein of Jordan in what was considered his second official marriage and the pair have two children together, one boy and one girl. Princess Haya was widely known as the sheikh's media wife, accompanying him to official events and appearing next to him on the world stage, as opposed to his other wives who generally remained behind the scenes. In 2019, Sheikh Mohammed divorced Princess Haya unknown to her under Islamic Sharia law. Haya escaped to the U.K. and petitioned the British courts for a divorce settlement, seeking custody of her children and protection from the sheikh. In what may be the most expensive divorce settlement in the country's history, Haya was awarded roughly $1.09 billion.
The polygamous Emarati sheikh has also married and divorced Sheikha Delila Aloula, Sheikha Houria Ahmed Lamara, Zoe Grigorakos, and Umm Marwan.
Princess Caroline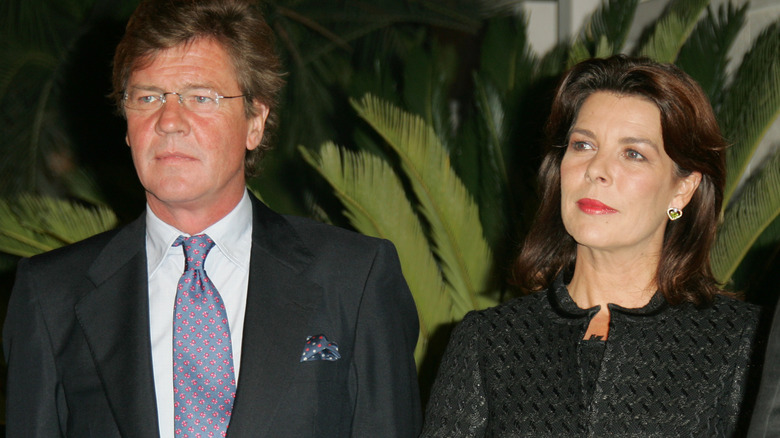 Toni Anne Barson Archive/Getty Images
Princess Caroline of Monaco, daughter of Rainier III and the iconic actor Grace Kelly, married Prince Ernst August of Hanover in 1999. The Vatican recognizes this marriage — her third — as legitimate because she was given an annulment of her first marriage via a papal tribunal. The church didn't recognize her second.
Caroline's first husband was Phillippe Junot, a French banker, whom she married in 1978, and the pair had quite the star-studded wedding! Roughly 650 guests attended, including Frank Sinatra and Cary Grant. Unfortunately, the princess and Junot split in 1980; however, the annulment wasn't granted until 1992.
Caroline married a second time in 1983 with the wedding taking place in the Chamber of Mirrors. Her new husband, Stefano Casiraghi, was an Italian businessman, and they had three children. Since her first marriage was not annulled at the time of their nuptials, the pair were only able to have a civil ceremony. Casiraghi died in 1990 while participating in a powerboat race.
Princess Anne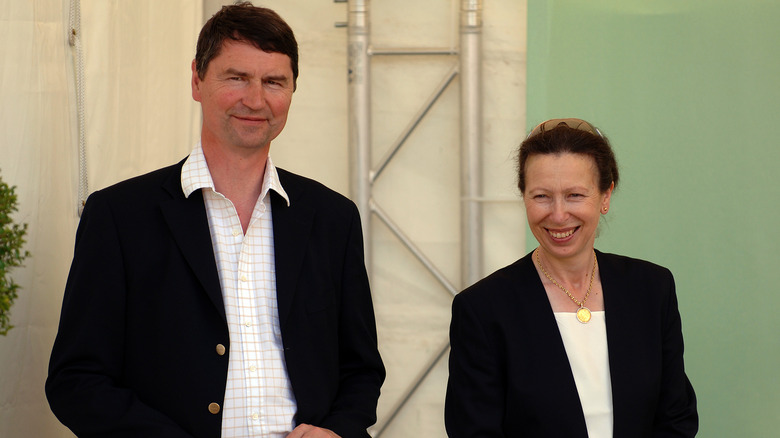 Anwar Hussein/Getty Images
Princess Anne, Queen Elizabeth II's second child, was often viewed as a sort of wallflower in the royal family. Anne even commented about her own supposed second-place status among her kin. And so it was quite shocking her first marriage ended in scandal.
An avid equestrian, Anne met her first husband, Lieutenant Mark Phillips, at a horse-related party in 1968. The two tied the knot in 1973 and their royal wedding was televised with roughly 500 million people watching. The marriage lasted 15 years and produced two children, but it was not a joyful union. There were infidelity rumors on both sides over the years. However, Anne's extracurriculars were made public when stolen love letters were given to a British newspaper.
The letters were written to Anne by Timothy Laurence, a Royal Navy commander, and were released in 1989 — prompting a statement from Buckingham Palace. "The stolen letters were addressed to the Princess Royal by Commander Timothy Laurence, the Queen's Equerry," the statement read (via Newsweek). "We have nothing to say about the contents of personal letters sent to Her Royal Highness by a friend which were stolen and which are the subject of a police investigation." Anne did not file for divorce from Phillips until April 1992 but then married Laurence later that same year in a small private ceremony.
Princess Stéphanie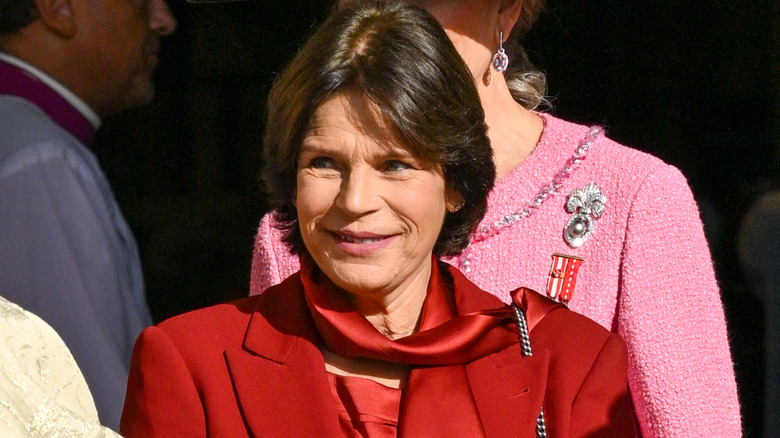 Stephane Cardinale - Corbis/Getty Images
Much like her sister Princess Caroline, Princess Stéphanie of Monaco has also had a love life rife with scandal. Prior to her first marriage, the princess was linked to a French racecar driver, actor Rob Lowe, and other high-profile men. In 1995, she married Daniel Ducruet. However, their relationship started in 1992 and they welcomed two children before tying the knot. They ultimately split ways in 1996.
In 1998, Stéphanie had a third child. No father is listed on the birth certificate, although it is widely assumed the child's father is Jean-Raymond Gottlieb, Stéphanie's head of security at that time. By 2001, the princess and her three children were living in a circus caravan with Stéphanie's boyfriend, an elephant trainer named Franco Knie. That relationship ended in 2002. The following year, Stéphanie married Adans Lopez Peres, an acrobat and member of Knie's troupe, in a secretive ceremony in Switzerland. The marriage lasted a little over a year.
King Charles III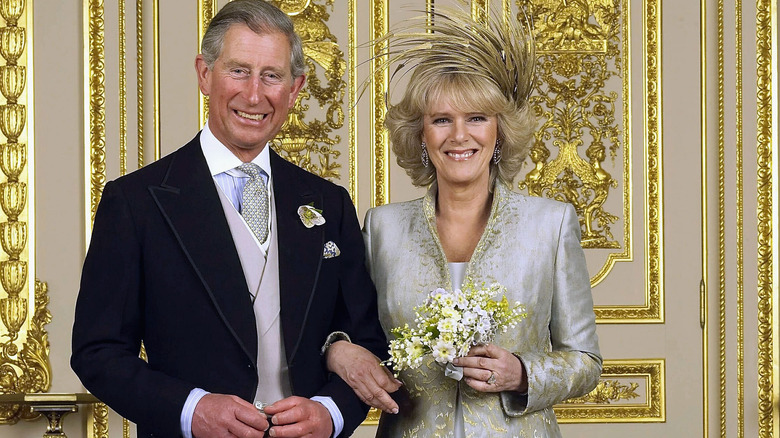 Anwar Hussein Collection/Getty Images
Prior to becoming king in 2022, Charles III had a somewhat tumultuous love life. He met Camilla Shand, the daughter of a wine merchant, in 1972 at a polo match. Their relationship continued even after Camilla wed Officer Andrew Parker Bowles the following year. Charles relied upon her to help him find an acceptable wife, which is how he found himself wed to Princess Diana in 1981.
Diana, often called the "People's Princess," was beloved in England and beyond. However, their marriage was highly scrutinized by the media. It was a well-known fact that Charles and Camilla fraternized regularly, and the future king would even admit to his affair on television by 1994. Camilla and her husband split in 1995, and Charles and Diana ended their marriage — with the Queen's blessing — in 1996.
The public did not approve of the relationship between Charles and Camilla, and that disapproval only escalated in 1997 when Diana died in a car accident. The pair did not even appear in public together until 1999, and they waited until 2005 to wed.
Prince Joachim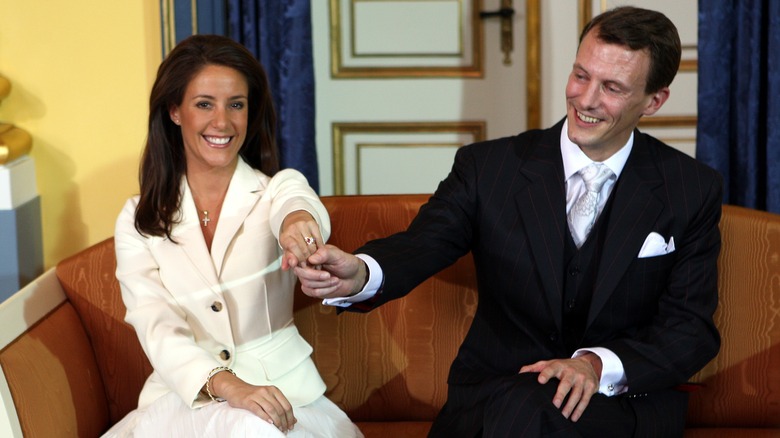 Niels Henrik Dam/Getty Images
Prince Joachim is the youngest son of Queen Margrethe II and sixth in line to the Danish throne. He wed Alexandra Christina Manley, a marketing executive from Hong Kong, in 1995. The pair decided to split ways in 2004, and the divorce was final in 2005 — making them the first Danish royal couple to end a marriage since 1846. Alexandra lost her princess title at the end of the marriage, but she is now known as the Countess of Frederiksborg.
A couple of years after the split, Alexandra married Martin Jørgensen, the son of famous film producer Jacob Jørgensen. The pair were married until 2015. Prince Joachim moved on to his second marriage in roughly the same time frame, announcing his engagement to Marie Cavallier, a French businesswoman, in 2007. The couple were married on May 24, 2008. According to an Instagram post on March 17, 2023, Joachim has accepted a position at the Danish Embassy in Washington D.C. The announcement of the move came shortly after his four children were stripped of their royal titles.
Meghan, Duchess of Sussex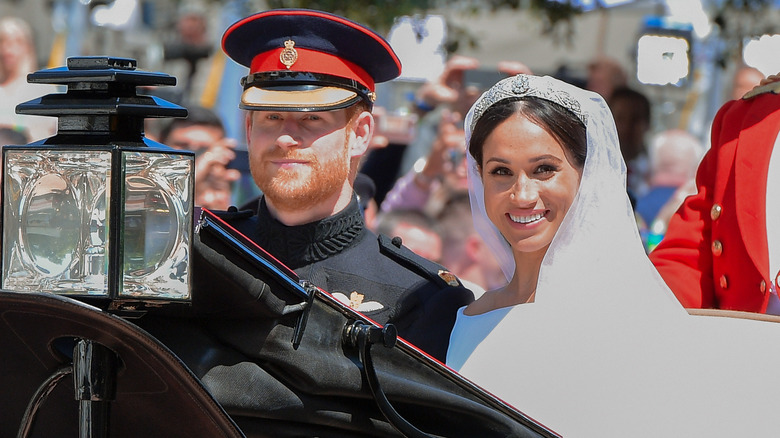 George Pimentel/Getty Images
Meghan, the Duchess of Sussex, is a former American actor who married Prince Harry in 2018. However, the prince was not Meghan's first marriage. It is a fact that may have prevented Harry from being able to marry, as members of the royal family need permission from the reigning monarch — Harry's grandmother at the time — to wed.
Harry admits he was concerned permission would be denied. In his memoir "Spare," the prince worried he'd end up like Princess Margaret — his great-aunt who was denied the right to marry Peter Townsend due to his divorce status. Permission, however, was obviously granted.
Meghan was linked to Trevor Engelson as early as 2004, but the pair did not wed until 2011. They had a four-day celebration in Jamaica, but the couple didn't stay together very long. In 2013, they divorced, citing irreconcilable differences, shortly before Meghan moved to start her seven-season stint on "Suits." She wound up meeting Prince Harry in 2016.