Strange Things Everyone Ignores About Princess Eugenie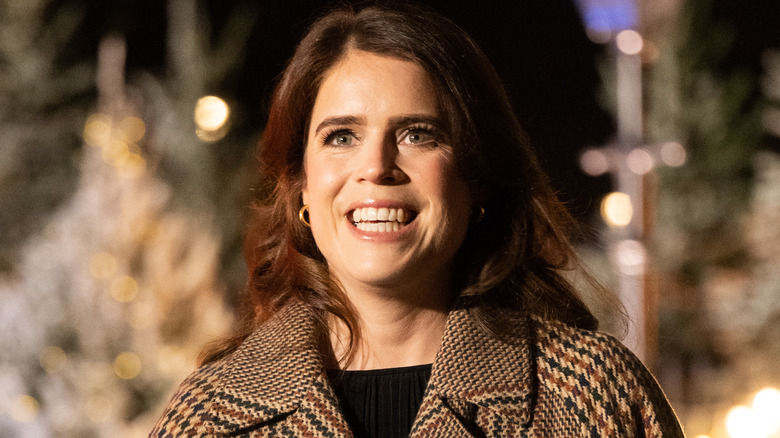 Samir Hussein/Getty Images
The royal family is a large group, consisting of many titled and untitled members, with several tending to fly under the radar due to their lower ranks in the line of succession and their status as non-senior members of the family. As such, many of them are also not officially working members either. Surprisingly though, this status does extend upwards to the higher-ranked members, including Princess Eugenie, the younger daughter of Prince Andrew, Duke of York, and Sarah, Duchess of York.
Eugenie is 11th in line for the throne, and she has never been either a senior member of the family or an official working member. However, while other members of her family who rank far lower aren't necessarily as well-known or easily recognized by the masses, the same can't quite be said for Eugenie or her older sister, Princess Beatrice. In fact, she is just as fascinating as her more infamous cousins, Prince William and Prince Harry, and there are some strange things about her that many may not know.
Princess Eugenie has three official names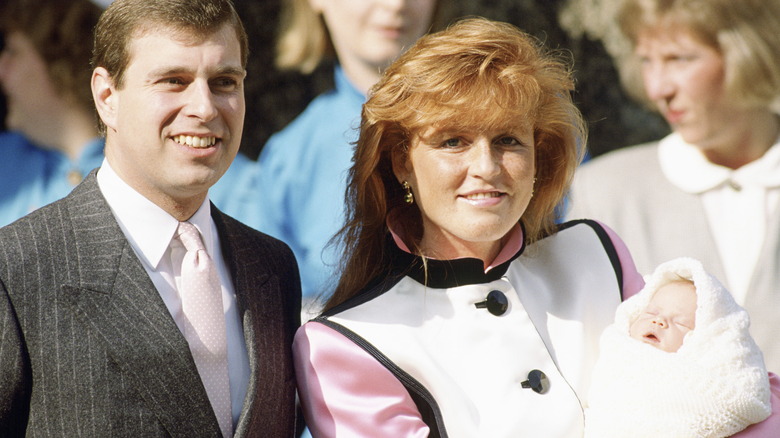 Tim Graham/Getty Images
Princess Eugenie was born on March 23, 1990, and like other members of the royal family, she doesn't possess just one official name. In fact, her full name is Princess Eugenie Victoria Helena of York, and each name chosen has a special meaning and connection back to royal roots.
Her first name, Eugenie, honors Victoria Eugenie of Battenberg, who went on to become the Queen of Spain after marrying King Alfonso XIII in 1906. Her second name honors the former monarch, Queen Victoria, while Helena is in honor of Queen Victoria's third daughter. With numerous ties to her royal roots involved, it isn't surprising that she has retained her royal title throughout the years.
Her chosen name was also a shock at the time, as bettors never once suspected Eugenie as an option. Speaking to the Los Angeles Times in 1990, bookmakers William Hill said they had taken thousands of bets on what the princess' name would be, but not even one for the name Eugenie. She seemed to follow tradition when welcoming her first son, August Philip Hawke Brooksbank, in 2021. Jessica O'Reilly of Ladbrokes told People at the time of the couple's pregnancy announcement that early betting favored Arthur for a boy, with other odds suggesting James, Edward, Albert, and Frederick.
Princess Eugenie's name isn't pronounced the way many think it is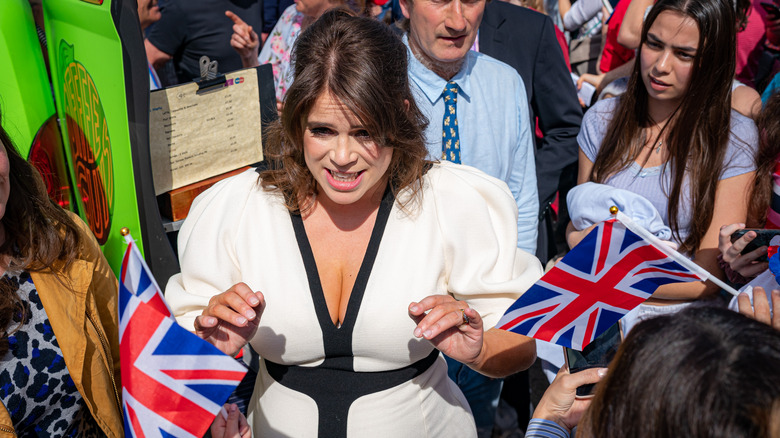 Wpa Pool/Getty Images
In addition to her name being a surprise to many, the way Princess Eugenie's name is pronounced is also unexpected. In fact, most tend to place emphasis on the wrong syllable when saying it, as the emphasis is meant to be on the first syllable. And while it may be tempting to pronounce the second half of her name like the word "genie" or the name "Jenny," it is more on par with "knee" at the end, according to Marie Claire. Meanwhile, the second syllable takes on more of a "Juh" sound.
Eugenie herself explained the pronunciation in a 2008 interview with The Telegraph, admitting that she was used to different pronunciations, but that she still tried to help others figure it out by using an interesting pneumonic phrase.
"Whenever we used to meet foreign people who were struggling with it, my mum and I would help them by saying, 'It's like Use Your Knees,'" she said at the time. "But, whatever, I am now used to every pronunciation."
She hates being referred to as a princess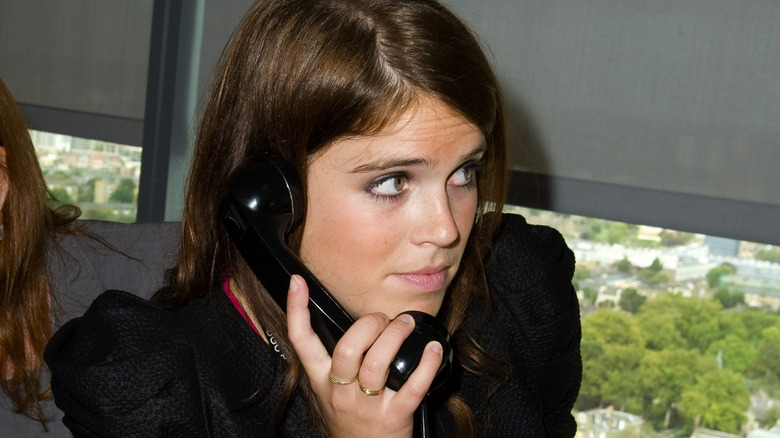 Featureflash Photo Agency/Shutterstock
Despite having a royal title, Princess Eugenie isn't someone who is fond of flaunting it or even using it.
Royal rules allowed for her to receive a princess title at birth because she was the grandchild of the ruling monarch. This same rule is one that her cousins, Prince Harry and Meghan Markle, are using for their children, Prince Archie and Princess Lilibet, now that Harry's father is King Charles III. While Eugenie may have some distaste for using her title because she has never been an official working member of the family, she admitted in the 2008 interview with The Telegraph that it just bugged her when people referred to her by the title over her name.
"I don't like talking about it much and find it annoying when people say things like, 'Oh, you're the princess,'" she said at the time. "One of my best friends jokingly says, 'Hi, Princess,' and I say, 'Shut up.' It is one of the things that bugs me most in the world."
Princess Eugenie underwent life-altering surgery for scoliosis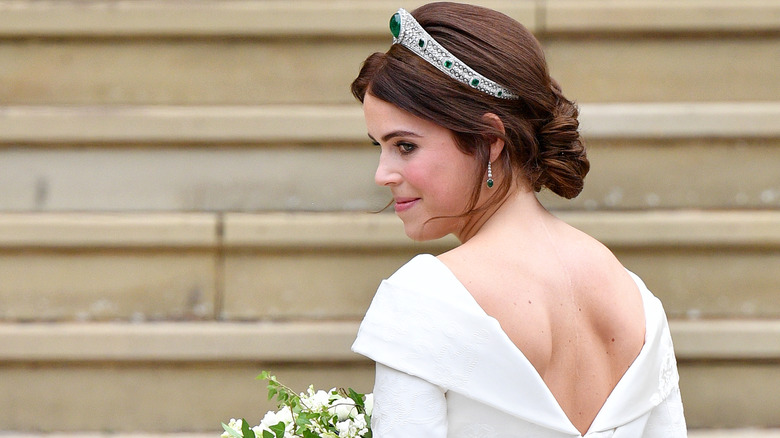 Pool/max Mumby/Getty Images
Members of the royal family aren't invincible to health issues and scares, and many have suffered from various ailments over the years. However, Princess Eugenie's health issue as a child is perhaps one of the more infamous ones, as she was diagnosed with scoliosis, or an abnormal curvature in the spine, as a young girl.
At 12 years old, Eugenie underwent a surgical procedure to correct the issue and has permanently had metal rods in her back ever since to assure her posture is correct and her spine retains a straight shape. While some may feel ashamed of health issues and try to hide scars from surgical procedures, Eugenie actually wears hers as a badge of honor. While she doesn't always expose her back to the world, she did on one of the most important days of her life — her wedding day.
The princess showcased her scars with the low back of her Peter Pilotto wedding gown, something she seemed intent on doing prior to the wedding. Ahead of her nuptials, she showed her scars to help change the perception of what beauty actually is, saying: "You can show people your scars and I think it's really special to stand up for that" (via Cosmopolitan).
Princess Eugenie lives an anti-plastic lifestyle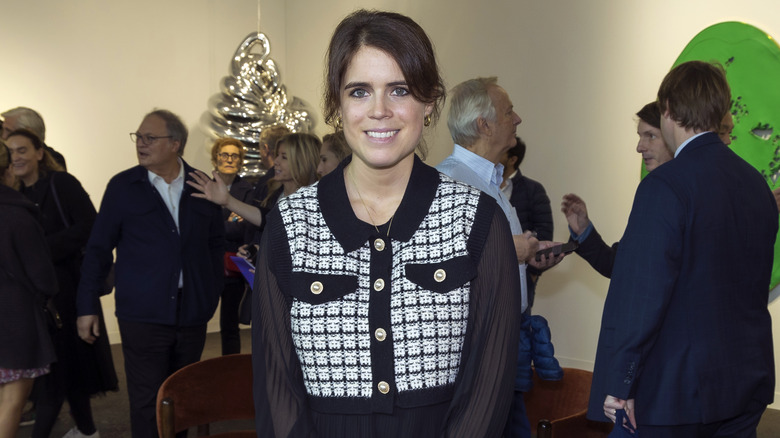 Luc Castel/Getty Images
While not a senior working member of the royal family, Princess Eugenie does still have royal patronages and causes she supports on behalf of the royals. Several are related to her health issues with scoliosis, including Horatio's Garden, the Royal National Orthopedic Hospital, and the Scoliosis Association U.K. However, she also has a passion for bettering the planet and partnered with Project Zero in 2018. Since then, she has adopted an anti-plastic lifestyle and also applied the concept to her wedding. "My whole house is anti-plastic now — and Jack and I want our wedding to be like that as well," she said during an interview with British Vogue before she tied the knot.
She has remained committed to the practice and desire to limit single-use plastic in the world ever since and has also tried to teach it to her children. Speaking at the World Economic Forum shortly before announcing her second pregnancy in January 2023, she revealed that she still used the practice in her daily life and was trying to teach her older son, August, to live in a similar way, though she admitted it was "a battle" (via Hello!).
Princess Eugenie is known for her interesting fashion choices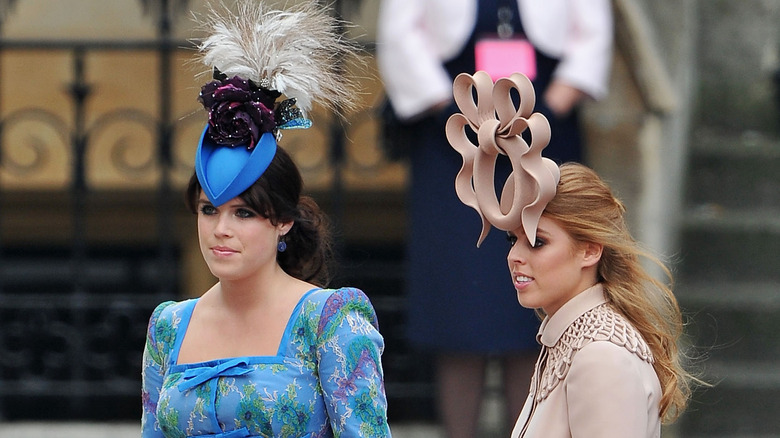 Pascal Le Segretain/Getty Images
While Princess Eugenie has always been one of the more prominent members of the royal family, those who didn't originally follow her or her sister, Princess Beatrice, certainly began to after their attendance at Prince William's wedding to Princess Catherine in 2011. While most eyes were of course on the future king and his bride, plenty of conversation was stirred up about the interesting fashion choices the York sisters made that day — particularly their infamous fascinators.
Looking back at that day on a 2021 episode of the "HeirPod" podcast, royal correspondent Omid Scobie admitted that he often reminisced about the Philip Treacy fascinators the princesses wore on their heads, which grabbed the attention of many viewers. While attending the nuptials, Beatrice paired a beige upright design with ovals and ribbons with a similarly colored outfit by Valentino. As for Eugenie, she opted for a bold Vivienne Westwood dress and a blue fascinator that also featured a massive purple flower and white feather. Scobie credited the sisters with starting a new obsession with fascinators as a result.
"My first thoughts when it comes to the royal wedding are always going to be of Princess Eugenie and Princess Beatrice's fascinators," he recalled (via Express). "In fact, the world had a weird obsession with fascinators after that wedding."
Princess Eugenie was the first member of the royal family to meet Meghan Markle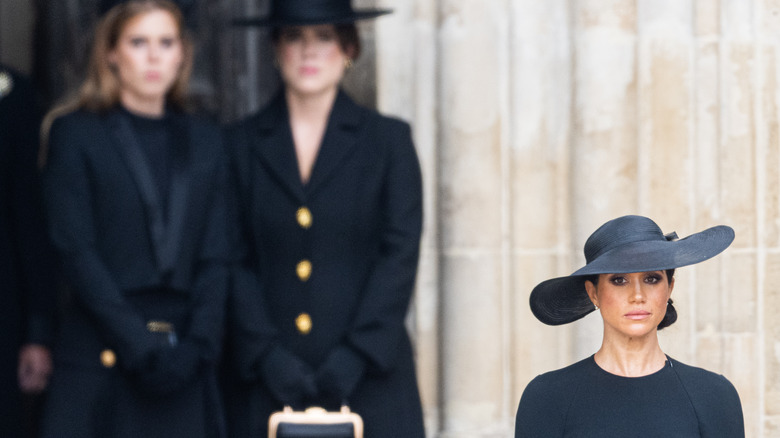 Samir Hussein/Getty Images
When Prince Harry began to get serious with Meghan Markle and knew it was time to introduce her to his famous family, he decided to start small and work his way up to people like his brother, father, and grandmother. As such, according to his memoir "Spare," he opted to have his future wife meet his cousin, Princess Eugenie, and her own future husband, Jack Brooksbank, first — something he referred to as a "logical baby step" (via Express).
However, though the two did meet in an informal setting previously and got on well, their formal interactions were very different. When Harry brought Meghan to Royal Lodge, where Eugenie's parents, Sarah Ferguson, Duchess of York and Prince Andrew lived, it turned out his grandmother had actually come by for a visit as well, moving up the timeline for the future Duchess of Sussex to meet the queen. Eugenie was present at the meeting, Harry recalled in the memoir but pretended she hadn't met Meghan previously and gave her a much more formal greeting in the queen's presence.
"Euge and Jack were near Granny and they almost seemed to pretend not to know Meg. They were very quiet, very proper. Each gave Meg a quick kiss on the cheek, but it was pure royal. Pure British," he wrote in the memoir (via Express).
Princess Eugenie is still very close to Prince Harry and Meghan Markle following their step back from royal life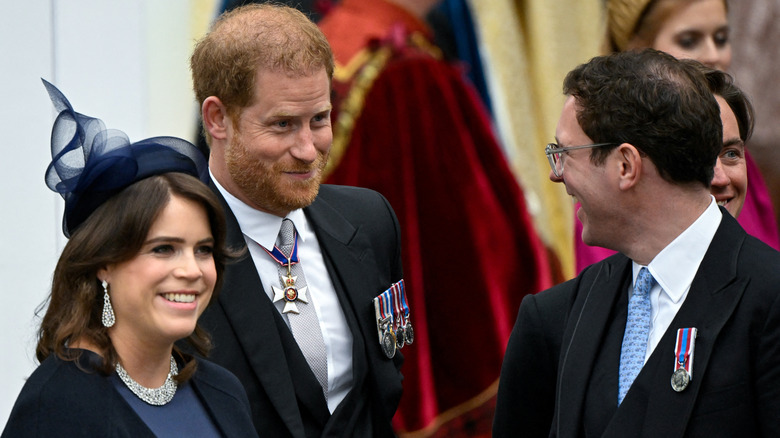 Wpa Pool/Getty Images
While their decision to step back from their royal roles and pursue a life in California hasn't received the warmest reception from senior royals like King Charles III and Prince William, the Duke and Duchess of Sussex are still close to Princess Eugenie — despite the tell-all interviews, the Netflix docuseries, and Prince Harry's memoir. Not only did Eugenie appear in the pair's docuseries, Prince Harry indicated in his memoir that she was the first and only member of the royal family thus far to pay a visit to their new home.
Eugenie along with her husband, sister, and her brother-in-law, Edoardo Mapelli Mozzi, were on full display as the group sat together at King Charles' coronation in May 2023. Speaking to the Mirror, body language expert Judi James noted that Harry's interactions with the group were some of the most joyful ones he had during the event, and seemed to see him return to showcasing his humorous side.
"Chatting first to Edo he then got the attention of Eugenie and Jack and we saw an incredible return of the joker prince as Harry grinned and used two hands cupped widely under his stomach to do what looked like a mime of Eugenie's heavily-pregnant state," she said.
Despite Princess Eugenie's close relationship with her cousin, she and Princess Beatrice were spotted hanging out with Piers Morgan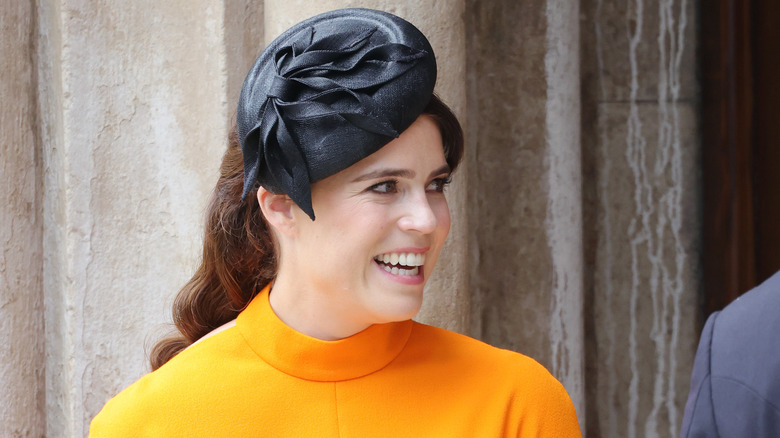 Chris Jackson/Getty Images
When it came to Prince Harry and Meghan Markle's decision to step away from royal life, the pair cited attacks from the British press that were affecting Meghan's mental health, as well as a lack of protection from the royal family. When looking at some of their detractors, one of their biggest in the media was Piers Morgan.
In addition to often criticizing Meghan's choices, Morgan famously said he wouldn't believe "a word she says ... even if she read me a weather report" after she and Prince Harry did a televised interview with Oprah Winfrey where she shared that she had contemplated suicide at one point (via the Daily Beast). However, despite his position as one of her toughest critics, he appears to run in the same circle as Princess Eugenie, as she and her sister were spotted hanging out with Morgan at a pub in April 2023, along with the singer, James Blunt.
The hangout spurred outrage on social media from royal fans, specifically those who are supporters of Harry and Meghan, who saw the pair hanging out in a group with Morgan as an ultimate betrayal of their friendship. According to Marie Claire, responses from fans online included ones who were "literally shook" as well as those who said if they were in Harry and Meghan's shoes, they wouldn't "forgive family for" it.
Princess Eugenie is actually related to her husband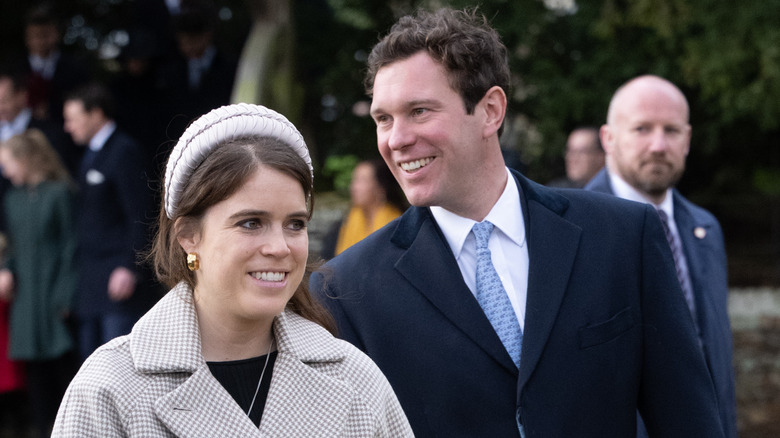 Samir Hussein/Getty Images
It isn't uncommon for members of the royal family to marry other members of the family, albeit through more distant relations. Similarly to her grandparents, Queen Elizabeth II and Prince Philip who were third cousins, Princess Eugenie and Jack Brooksbank are also related in a similar manner.
The two met on vacation and went on to wed in 2018. However, they share a common ancestor in Thomas William Coke, the 2nd Earl of Leicester, and are actually third cousins, once removed. Coke was the princess' great-great-great-great grandfather on her mother's side of the family, as well as Jack's great-great-grandfather through a second marriage.
Of course, while some may frown upon cousins of any kind marrying one another, it doesn't appear to phase the couple. Not only are they still married but they have also gone on to welcome two sons together since then. August Philip Hawke Brooksbank was born in 2021, while their second son, Ernest George Ronnie Brooksbank, was born in 2023.
Princess Eugenie's husband and dog have a surprising similarity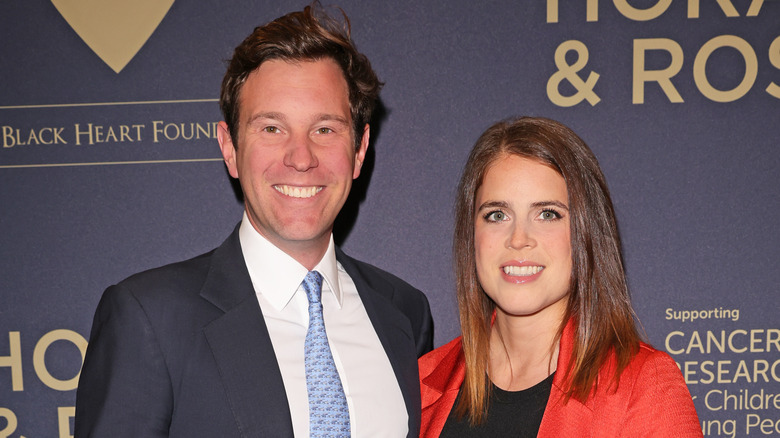 David M. Benett/Getty Images
There may sometimes be some confusion in Princess Eugenie's home, at least when it comes to calling for either her husband, Jack Brooksbank, or her dog — a Norfolk Terrier who is also named Jack.
Eugenie shared the coincidence herself in a 2016 interview with Harper's Bazaar, as she detailed what a day in her life could be like. While speaking to the magazine, she revealed that her first conversation of the day would be with one of three people — her mother, her then-boyfriend, or her pup.
"My first conversation is often with my mum, saying, 'Good morning, what are you doing today?' Or it's with my boyfriend, Jack. Sometimes I don't speak until I get in to work and talk to the team," she said at the time. "Or it's my doggie Jack — yes, my boyfriend and my dog have the same name — total accident! If you can call that a conversation."