Courteney Cox Was Supposed To Play A Different Character In Friends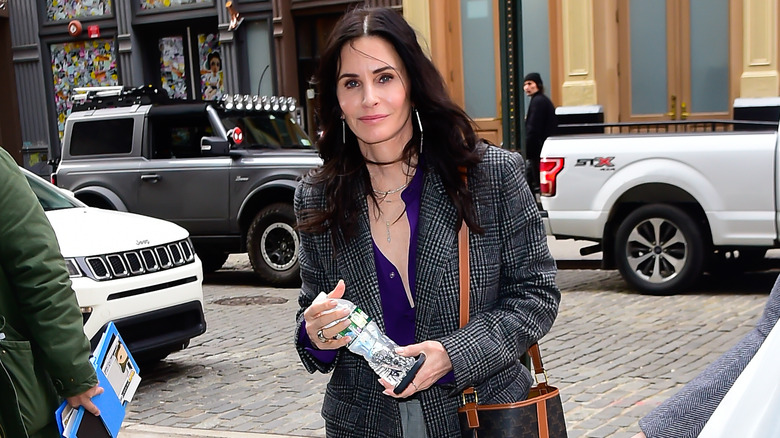 Raymond Hall/Getty Images
It seems crazy to think of Courteney Cox in the popular sitcom "Friends" as anyone other than the often uptight but always lovable Monica Geller. Yet, when she auditioned for the show, she almost was cast as another character.
Before landing the hit show "Friends," which became a prominent part of NBC's blockbuster Thursday night lineup, Cox was best known as the girl in the Bruce Springsteen video who got up on stage and danced with him while he sang "Dancing In the Dark." Though she co-starred with Jim Carrey in the movie "Ace Ventura: Pet Detective" the same year that "Friends" premiered, no one would have called Cox a recognizable face at the time.
As the show grew in popularity, Monica, Rachel, Phoebe, Ross, Joey, and Chandler not only became everyone's fantasy friends but the actors who played them rose to fame individually and collectively. However, when Cox was originally offered a role on the show, it wasn't the one she wanted.
Courteney Cox was almost Rachel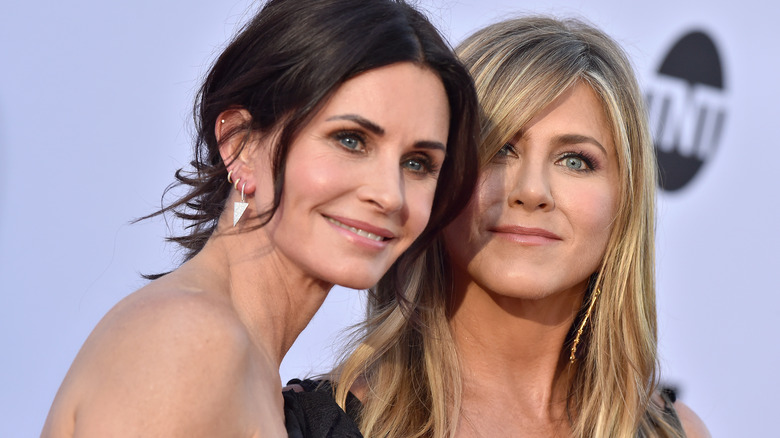 Axelle/bauer-griffin/Getty Images
After Courteney Cox auditioned for "Friends", the young actress initially received an offer to play Rachel, the iconic role that eventually went to Jennifer Aniston. Aniston and Cox went on to become good friends and even once dated the same guy.
Cox explained that the Rachel character didn't quite resonate with her but she also felt more drawn to Monica from the get-go. On the podcast, "Off Camera with Sam Jones" podcast, Cox shared how she thought herself better suited to play Monica even before the show began. "For some reason, I thought I related more to Monica, which maybe it's because I do," said Cox.
Though she felt more like a Monica on the inside and shared some similarities, there were some small aspects of the character that she didn't necessarily embody. "I'm very similar to her ... I'm not as clean as Monica, but I am neat," Cox said. "And I'm not as competitive, even though some people, (like) my partner, Johnny McDaid, would say I am."
Courteney Cox is still friends with Jennifer Aniston and Lisa Kudrow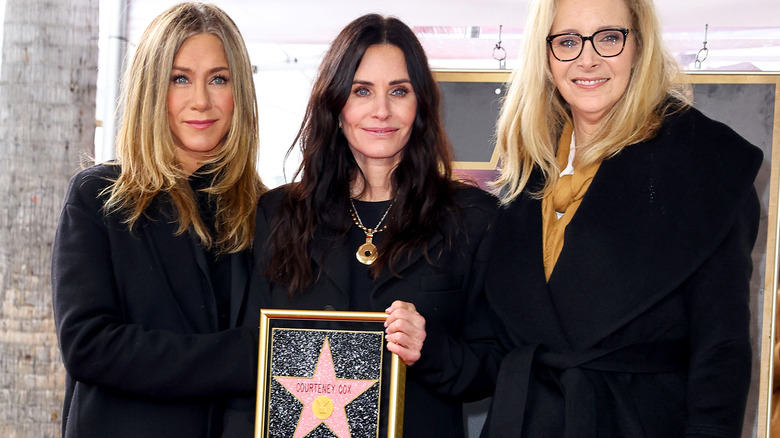 Leon Bennett/Getty Images
When Courteney Cox received a star on the Hollywood Walk of Fame in 2023, her former "Friends" costars Lisa Kudrow and Jennifer Aniston joined her to celebrate the occasion (via People). Aniston joked about how much Cox is actually like Monica in real life. "You really want to hope that you don't have any kind of like a stain or a spot on a wall or that a pillow is out of place or a hair or something that needs to be plucked," laughed Aniston. "I'm just saying thank God this star is straight."
"The Morning Show" actress went on to explain the special bond they still share, years after "Friends" ended. "To be friends with Courteney is to be family with Courteney," explained Aniston. "She is responsible for all of that. From the beginning of when we met her, she was immediately inclusive, warm, loving, interested in everything about you."
Kudrow also spoke from the heart. "Courteney, we just want to say that we're deeply, deeply proud to know you," said Kudrow, per The Hollywood Reporter. "You are the definition of a truly beautiful, talented and, what's most important, a truly good and decent human being."