Cool Brunette Hair Is The Minimal Update You'll Want To Try For Summer 2023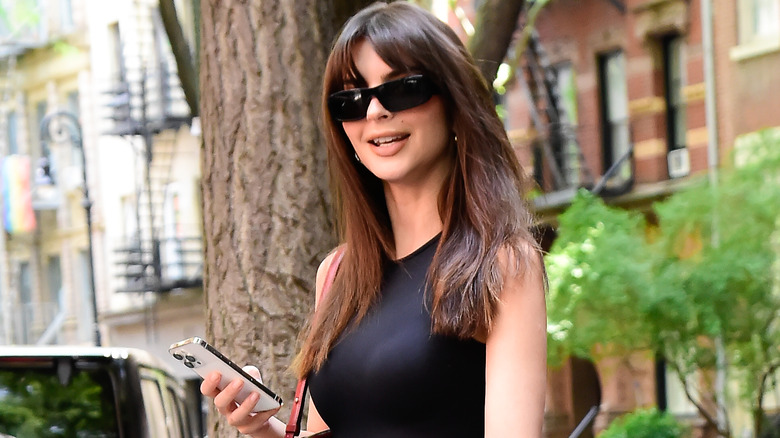 Raymond Hall/Getty Images
Out of all the hair trends flying your way, we guarantee this is the perfect one to cool you down for the summer. Cool brunette has proven itself to be a hair color many are asking for in 2023, thanks to the deep chocolate shade's versatility, low-maintenance care, and edgy look. As the perfect style to contrast summer's bright color summer palette, this look is making waves.
A big step away from the usual sunkissed summer 'dos that many opt for, this toned-down brown is a smoky, equally fun alternative. Celebrity hair colorist George Papnikolas explained to PureWow that cool brunette offers a soft illuminating treatment for your hair, allowing a cool black tone to emerge. Sometimes, the style has subtle ash-brown balayage that gives your hair even more depth. This results in a richer brown that is oh-so-subtle but makes all the difference, effectively removing dullness without bleaching.
This makes it the perfect go-to, as we all know what can happen to your hair when you bleach it, from destroyed hair molecules to dry, split ends. If you've been looking for a low-maintenance style for the summer, especially those with naturally dark locks, this may be the perfect option. But don't worry; even for blondes, gingers, and any other hair color in between, with proper coloring and maintenance, you can still rock the cool brunette look.
Determining if cool brunette is right for you
Cool brunette is the perfect go-to style for those with naturally dark hair who want to avoid color damage, but still want to switch it up for the summer. But first, some basic color theory should be understood before you book an appointment at the salon. Undertones are key to figuring out which hair color is your best bet, however, it's not as simple as looking in the mirror and determining if your skin casts cool, warm, or neutral.
 Undertones exist underneath the uppermost layer of skin and are super beneficial in boosting your beauty game. From finding the perfect foundation to lipstick shade, figuring out your skin's undertones allow you to select colors that complement your unique look. As a general rule of thumb, you'll normally want to stick to hair colors with undertones that oppose the ones in your skin.
For example, you may be more familiar with cool brunette's popular sister shade, warm brunette. It's in the same family as chestnut and other light brown hues, offering yellow-gold undertones most often associated with highlights. Those with pale, cool undertones normally opt for this hue — especially during seasons such as fall and winter. This makes cool brunette the perfect option for summer when you are more likely to have warm undertones, either naturally or from tanning. This contrasting rich, black-brown shade creates a glow on your skin, essentially cooling you down.
Achieving the perfect cool brunette look
For those with neutral or cool undertones no matter the season, consider opting for a tweaked brunette look that incorporates darker brown more subtly. Look to one of the hottest hair colors, toasted brunette, which allows you to get a textured look with the option to substitute for neutral brown shades. This style still provides a textured look with the option to substitute neutral shades such as ash brown for a subtle balayage. By incorporating a bit of coolness or warmth as necessary, stylists are able to adjust cool brunette for all hair types.
This 'do is perfect for all hair textures from curly to straight, but the key to maintaining the expensive, shiny look you've seen all over Instagram lies in the gloss. Hair gloss that is. If you didn't know, gloss is a hidden haircare gem that causes zero damage to your cuticle and is perfect for at-home color maintenance. Keeping a color-reviving gloss on hand is especially helpful for those with lighter hair who want to preserve their cool undertones. 
Master colorist, Shvonne Perkins told Byrdie about the benefits of using glosses to provide dual color toning and shine. "We use glosses to either add in tones we want to see more of (like honey brunette) or use ash glosses to cancel out tones we want to see less of like using an ash brunette gloss to get rid of redness."