Taylor Swift And Ariana Grande Were Once Besties, But Are They Still Close? Here's What We Know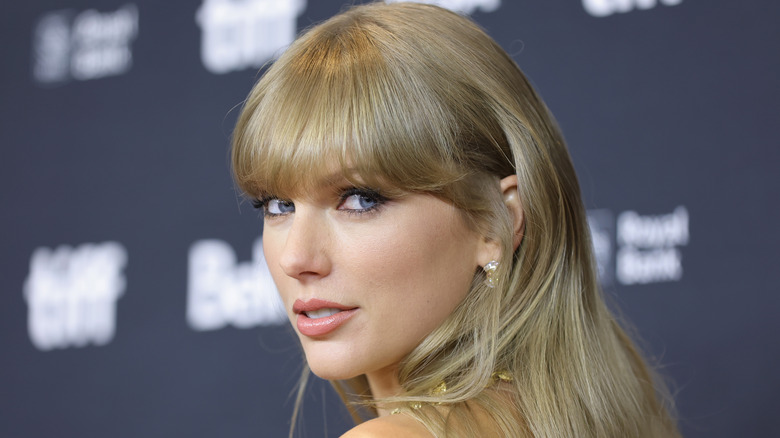 Amy Sussman/Getty Images
Taylor Swift is famous for her girl gang, and she's known for having a ton of A-list besties. With all of Swift's celebrity pals, as well as her list of so-called enemies, it can sometimes be hard to keep them straight. However, it seems that singers like Ariana Grande have gotten on her good side over the years, even if she's not officially in Swift's squad.
Over the years, Swift has accumulated a ton of super-famous friends. While Selena Gomez is a ride-or-die bestie, there are many others in her circle as well. Stars like Karlie Kloss, Cara Delevingne, Blake Lively, Emma Stone, and others have all been tight with the singer over the years. Swift is also friends with Lena Dunham, Ed Sheeran, Mariska Hargitay, Ellen Pompeo, Sarah Hyland, Ryan Reynolds, and many more.
Meanwhile, Grande has her own celebrity friends, including Meghan Trainor, Nicki Minaj, Camila Cabello, Justin Bieber, Miley Cyrus, and Elizabeth Gillies. It would seem that Grande and Swift could be a good friendship match, and fans have often wondered if the pair are close. However, the duo appeared to be good friends at one point years ago after sharing some very public moments together.
Taylor Swift and Ariana Grande seemingly formed a bond in the 2010s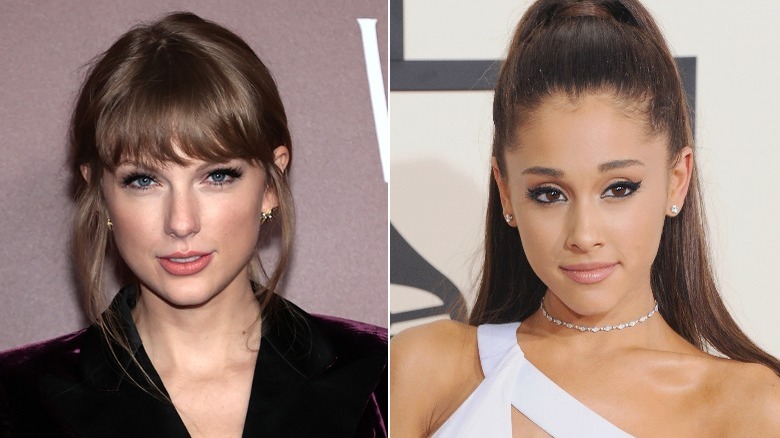 Jon Kopaloff & Dimitrios Kambouris/Getty
In 2014, Taylor Swift and Ariana Grande both performed at the Victoria's Secret Fashion Show. Of course, as two of the biggest names in music, the women knocked their respective performances out of the park, but it seemed that they also forged a friendship as well. After the show, Swift took to social media to share a photo from the event and gush over Grande. "Oh my God she couldn't be cuter," Swift wrote in the now-deleted Instagram post.
In 2015, when Grande wrote a tweet promoting feminism, Swift was there to offer support and praise. "I'm so proud of you, always, but especially today," Swift wrote in response to Grande's empowering message, per E! Online. By 2016 it seemed that Swift and Grande were still on good terms when they were seen hugging backstage at the Grammy Awards. That same year, Grande spoke out about Swift's girl squad and admitted that she would love to join the crew. "Oh wow! That would be so crazy," Grande said during an interview with the U.K. radio station Capital FM. "Do you have to do anything weird to get in? All those girls are really nice," she added. "I would just be so down."
However, it's unclear if Swift and Grande are still close friends after some music industry drama ensued with their mutual contacts.
Taylor Swift and Ariana Grande don't seem to be as close as they once were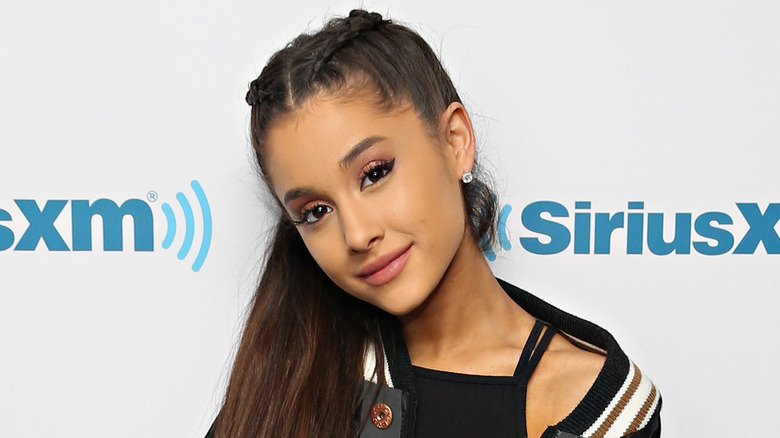 Cindy Ord/Getty Images
Although Taylor Swift and Ariana Grande seem to still be friendly toward one another, they don't seem to be as close as they once were, and that could be because of some music industry drama. One instance includes Swift's bad blood with singer Katy Perry, with whom Grande has been very good friends, per Elite Daily.
Another thing that could have caused a rift between the singers: When Swift spoke out about Scooter Bruan keeping her music masters from her, the singer's friends like Selena Gomez and Gigi Hadid publicly supported her. However, Grande stayed quiet on the situation as one of Braun's clients herself. This ignited speculation that there could be some hard feelings between Swift and Grande. However, neither side has ever given any hint that they're feuding for any reason (via Distractify.)
While Swift and Grande don't seem to be the best of friends, or even as friendly as they were in the previous decade, the two do appear to have mutual respect for one another and have never spoken poorly about each other in public. Grande may not be joining Swift's squad anytime soon, but they still remain two of the most popular and influential young singers of their time.