The Truth About Taylor Swift And Selena Gomez's Friendship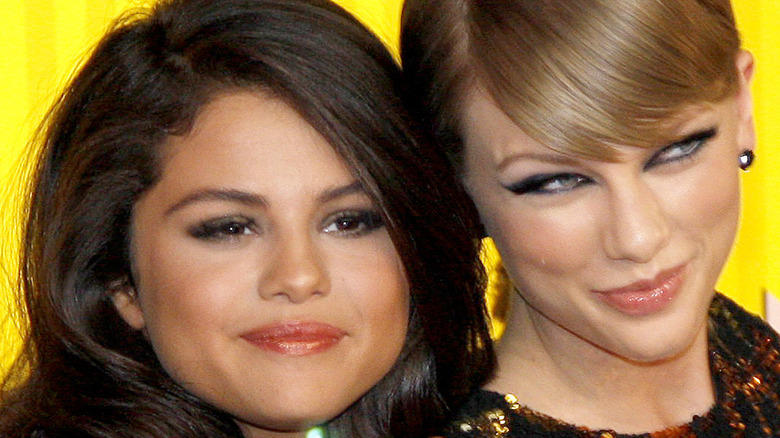 Shutterstock
Some friends from Taylor Swift's iconic squad have come and gone, but there's one member who will forever stay by Swift's side — Selena Gomez. The "Love You Like A Love Song" singer even began her friendship with Swift long before the "1989" album era, which gave birth to the infamous "Taylor Swift's squad." 
In fact, according to Vulture, Gomez was one of the first celebrity friends Swift made back in 2008. In 2017, Gomez revealed in an interview with KISS FM UK that the two singers met when they were each dating a Jonas brother (via YouTube). At the time, Gomez was dating Nick Jonas and Swift was dating Joe Jonas. 
While their respective relationships didn't last, their friendship together did. Gomez even joked that "it was the best thing [they] got out of those relationships" (via Elle). Over the years, the two have been spotted at various award ceremonies and events together, but are the two singers still BFFs today?
Selena is kind of missing her Tay-Tay
Back in March 2021, Selena Gomez posted a throwback of her and Taylor Swift together with the caption, "kinda missin this one" (via Instagram). 
Swift replied to the post quoting Gomez's song, "i love u like a love song bay beh." Also featured in the set of photos was Swift's newest cat, Mr. Benjamin Button, who she adopted as a kitten during her "ME!" music video shoot, according to Republic World, so you know the photos are semi-recent. Plus, this cute friendship post confirms that Gomez and Swift are still best friends who miss hanging out with each other when their busy schedules allow. 
Some fans even believe a collab between the two artists is in the works. After Gomez introduced Swift at the 2021 BRITs, she posted a picture of herself wearing an "SG3" bracelet to Instagram hinting at her next album (via Showbiz Cheatsheet). Putting two and two together, some fans believe that a potential collaboration with Swift and Gomez may be on the album (via Twitter). Even if these two aren't working on any music together, it's clear that they're still extremely close.