Eyeshadow Placement Tips That Will Change Your Makeup Game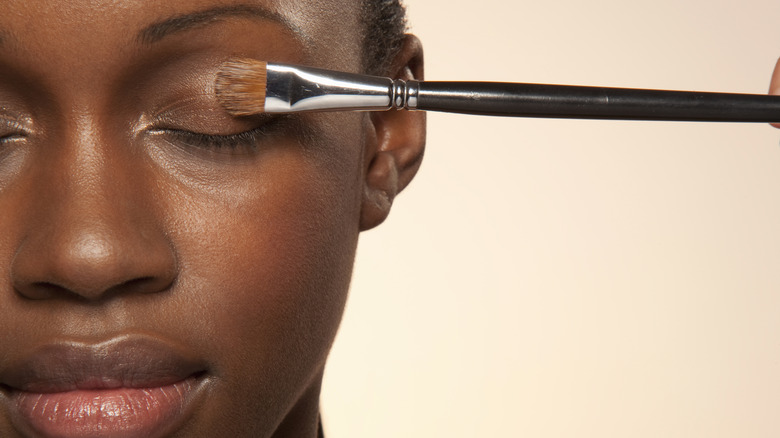 Emma Innocenti/Getty Images
While you know the right eyeshadow techniques are an essential part of your makeup routine, trends that evolve every season can cause confusion. Despite new color palettes and techniques, one rule remains true: Placement matters. "Eye shadow can do wonders for drawing attention to the eyes," Kelli J. Bartlett, artistic director for Glamsquad, told Today. "Depending on color choice, intensity and placement, it can provide shape and balance to the face and make your eye color pop."
But how can you follow proper placement and experiment with new makeup trends all while also honoring your natural eye shape? The solution lies in tailoring your eyeshadow placement to your eye shape and making strategic swipes with color rather than sticking to generic application techniques.
Before you consider the following eyeshadow placement tips, you should first determine your eye shape. Knowing whether your eyes are monolid, upturned, downturned, hooded, round, or almond can help you better understand some of the results you can achieve.
Use light colors on the inner corners of your eyes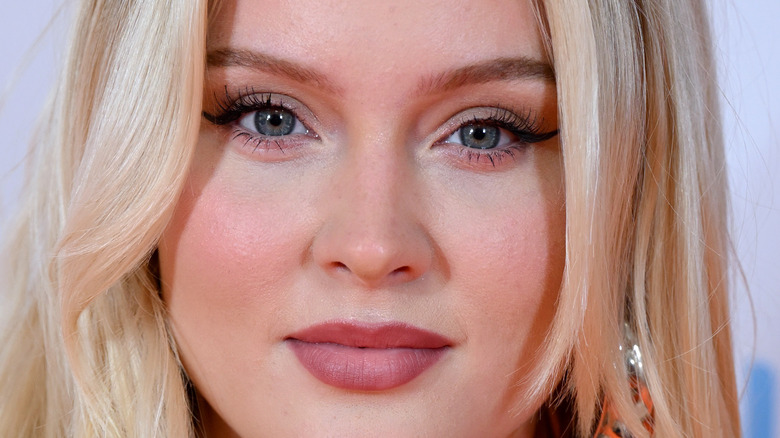 Karwai Tang/Getty Images
Whether you're mixing and matching multiple eyeshadows individually or pulling colors from a palette, remember that darker shades tend to absorb light and create definition. If, on the other hand, you're looking to brighten and elongate your eyes, focus on lighter shades to help you accomplish this goal.
One simple yet impactful technique is to apply a light color to the inner corner of each eye. Placing lighter-colored eyeshadow on the inner corners of your eyes not only brightens them but can also help detract from dark shadows that naturally develop from their proximity to your nose, according to Allure. If you already use concealer in this area to help mask dark circles, consider applying light shimmery eyeshadow overtop. As a bonus for those of you with almond-shaped eyes, this technique can also create the appearance of larger eyes. 
Use light and dark eyeshadows in tandem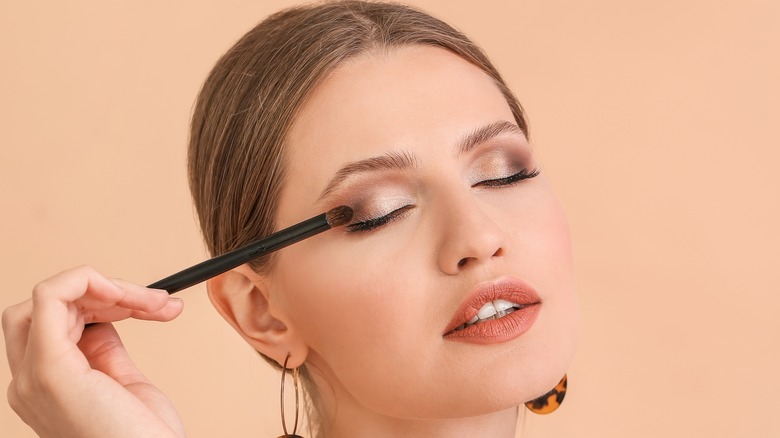 Pixel-Shot/Shutterstock
Now that you know that lighter colors highlight and darker colors create depth, how might you be able to combine both techniques?
By placing lighter colors on the inner halves of your eyelids and reserving darker shades for the outer corners, you can make your eyes look brighter. The placement of the dark eyeshadow can also create a "lifting" effect, as makeup artist Alexandra Anele explained in a YouTube video, which may be especially helpful if you have downturned or close-set eyes. To pull off this look, Anele recommends buffing the light color up to the crease and about halfway across the lid. Next, place the dark shade directly on the outer corner of your eyelid into a V-shape before blending it into the crease. Anele describes this placement as more of a "classic" eye makeup look that works for most eye shapes.
Applying a pale shade on the inner-most part of your lid can also help you look more alert — perfect for those late-night events or early-morning meetings.
Swap light and dark shades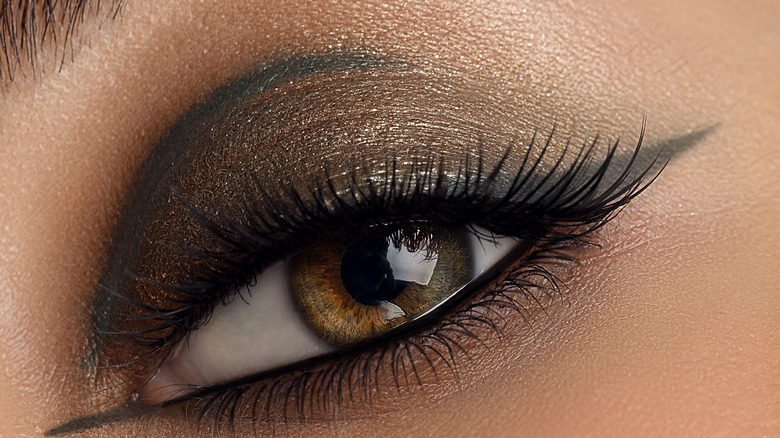 svetlichniy_igor/Shutterstock
Dark eyeshadow doesn't haven't to be relegated to the outer lid, nor does light eyeshadow have to remain in the inner corner. Makeup artist Alexandra Anele demonstrated this by placing dark eyeshadow on the inner half of her eyelid and then blending a lighter shade in the outer corner. This technique isn't for everyone, though. It is better suited for wide-set eyes and upturned eyes as the placement of the darker shade tends to make your eyes appear closer together, and the light shade being on the outside can create a pull-down effect.
To use this technique, apply your dark and light eyeshadow colors in the opposite manner from the previous placement tip. Apply the dark shade on your inner lid up to your crease, stopping at about the halfway point on your lid. Next, place the light color on your outer corner and buff it into a V-shape across the rest of your lid and up to the crease.
The laws of shimmer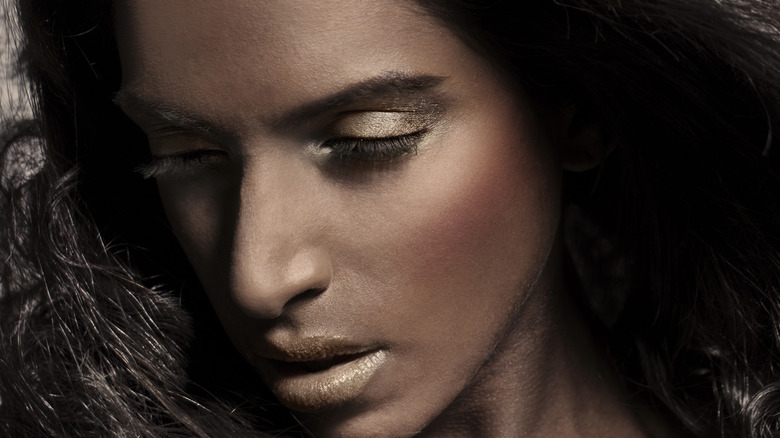 Fmbackx/Getty Images
Shimmery shadows can add intensity, making them great for special occasions or really on any day you want some extra sparkle. Still, these eyeshadows tend to work best when used sparingly and when placed on your lids only. Your eye shape is also key here.
If you have round eyes, consider placing the shimmery eyeshadow on the center of your lids, blending it with a brush towards the inner corners of your eyes. Katie Levy, a pro makeup artist for Trinny London, recommends the opposite technique for hooded eyes. "Work from the inner corners, patting and blending outwards. You can always use any product leftover on your finger and pat that in above the crease," she revealed on the brand's blog. If your eyes are almond-shaped, dark, shimmery shadows are going to look best placed on the outer corners of your eyes, used as an accent shade.
One placement of shimmery shadow will work for everyone no matter your eye shape, though. A pearlescent shade placed directly below your brows will make them more defined and pop.
Experiment with gold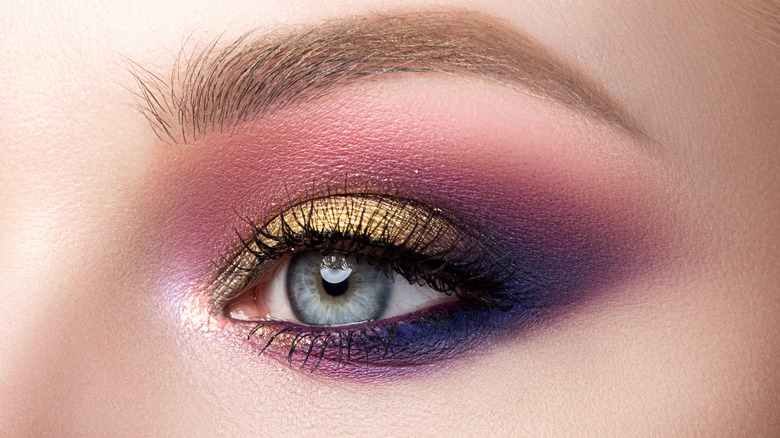 ldutko/Shutterstock
While gold eyeshadow is said to look good on all skin tones, placement is key. Gold eyeshadow tends to work best on the lid or lash line only, Allure advised. This boosts the color's eye enhancement potential without creating an overbearing, glittery mess.
If you're new to gold eyeshadow, consider starting off small. You can place gold in the inner or outer corners of your eyes when paired with neutral shades to create depth. Or you can carefully smudge gold eyeshadow into your upper lash line for a highlighting effect.
On the other hand, if you'd like to create a bolder, more dramatic look, consider placing gold eyeshadow on the entire eyelid. Gold can also be paired with a smoky eye, which can help highlight darker shadows to provide more depth to your look. And, if you have an upturned eye shape, you can experiment with lining the bottom lash line with gold eyeshadow.
Adorn your inner lids with metallics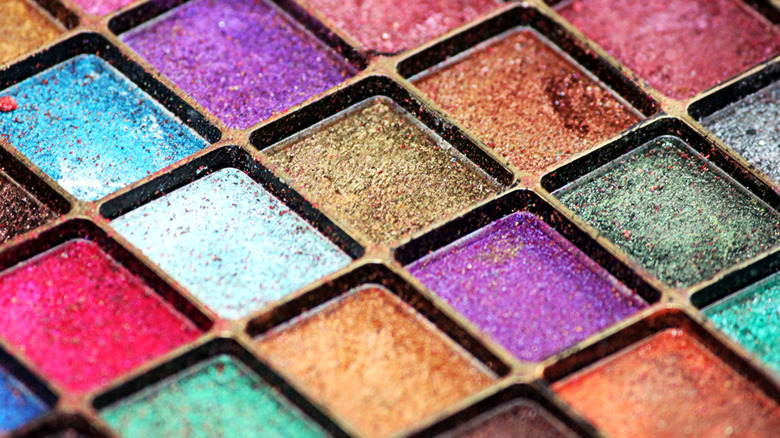 Abhiishek/Getty Images
If you're wondering what to do with the metallic eyeshadow shades in your color palette, consider swiping them on your inner eyelids. Just as using light eyeshadow on the inner corners of your eyes creates a highlighting effect, a light metallic shade can do the same — albeit in a bolder fashion.
Don't be afraid to experiment with dark metallics, though. A shimmery charcoal shadow placed on your inner eyelid will create definition when coupled with a light eyeshadow buffed across the rest of your eye. If you want the rest of your lid to be the focus of your overall look, though, try a darker shade across your lid and accentuate it with a light metallic on your inner lid.
Feel free to experiment with different metallic shades and intensities. "If you want the look to be soft and diffused, choose a fluffy brush," Kelli J. Bartlett advised to Today. "For more detail or higher saturation, choose a densely bristled brush to help apply shadow with specificity. For high-shine metallic formulas, your finger can be an excellent tool to burnish on shadow."
Apply a smoky shade to the outer corners
vetrovamaria/Shutterstock
While the coveted smoky eye traditionally consists of blending matte grays, blacks, or browns, placing these colors in specific spots can help enhance the appearance of your eye shape.
Cosmopolitan recommends applying the darkest of your matte shades to the outer corners of your eyes. To smooth this out, concentrate the color on your lash line and blend upward rather than placing it on your lid and blending down. This will help elongate and lift your eyes. Such techniques are especially helpful for round eyes because they can make them look longer.
To finish the look, apply lighter colors along the rest of your lid. You can buff the lightest color to your crease and back towards the dark matte shade. If you're looking for a more glam or festive look, you can top off your smoky eye by placing a lighter shimmery eyeshadow along the crease. Doing so helps to add definition to your eyelid. To avoid overdoing the sparkle, though, consider applying the shimmery color with your fingertip to softly blend across your crease.
Create an illusion with neutral shadow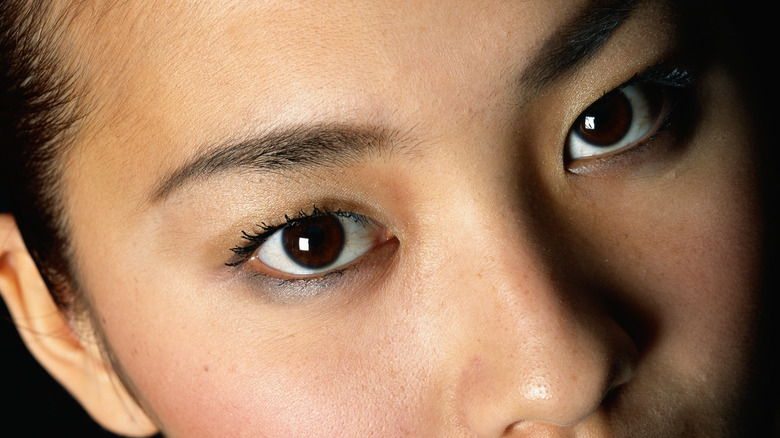 Hitoshi Nishimura/Getty Images
Working in the crease of your eye first can set the stage for better blending of your eye makeup, particularly if you're using more than a couple colors. If you have hooded eyes, try placing a neutral, matte shade directly where your crease "should be," essentially making a faux crease, celebrity makeup artist Nikki La Rose recommended in a YouTube tutorial. This can help make your eyelid appear longer while also reducing the prominence of your brow bone — two key characteristics of hooded eyes. You can also use this placement technique for mono-lids.
As you work the color into your crease, La Rose explained that blending the eyeshadow up and above your crease, rather than downward towards the lid, can help open up the space and make your eyes look wider. To enhance these elongating effects, you can also add a darker color from the outer corner of your eyes towards your lash line before placing lighter shades on your inner eyes.