Give Dated Polka Dots A Break And Try Out A New Print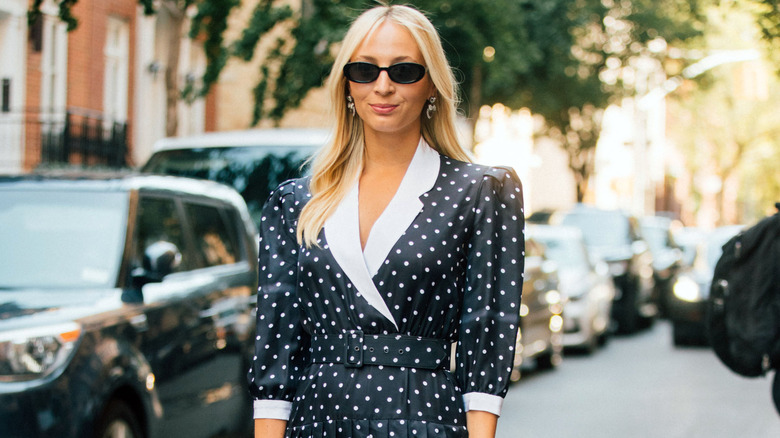 Melodie Jeng/Getty Images
Fashion trends tend to make their rounds every twenty years or so: case in point, the revival of Y2K-inspired fashion that has taken over practically everything this year. But some trends continue to stick around shelves even when they are considered out of fashion, making it harder for fashion-forward consumers to know what is really in style, and what is simply still being manufactured. One print you might spot (pun intended) that is feeling a bit overdone is polka dots.
The classic print comes in all colors and sizes and is used on everything from couture skirts to kids' pajamas. The polka dot pattern actually dates back to medieval Europe: the print's uneven circles reminded people of disease, and it wasn't until machines learned how to cut even circles that polka dots became a more fashionable trend.
Jessica Day from "New Girl" might still rock a lot of polka dots, but it seems that most of us are feeling like the print is a bit tired this summer. The season's hottest new print may not actually be new, but it certainly is a classic — say hello once again to all things floral.
This stunning dress trend should be in everyone's wardrobe this summer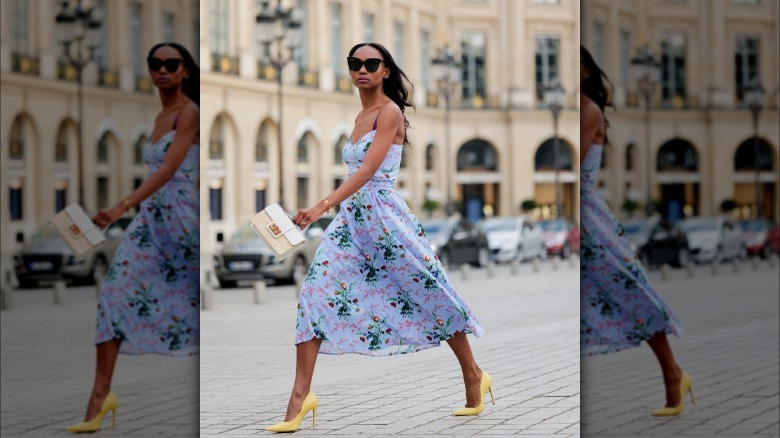 Edward Berthelot/Getty Images
There's nothing quite like sundress season: not only does the garment single-handedly create an effortlessly chic outfit every time, but the breathable fabric and attractive silhouette combines the comfort we need with the style we love during the hottest months of the year. Who What Wear notes that style experts are tossing their polka dot print dresses from last season and replacing them with floral cotton poplin dresses.
Cotton is the ideal fabric for summer dresses, especially when you're looking for a fabric that is light on the skin, withstands heat well, and handles your sweat like a champ. Many people reach for linen — another popular summertime fabric — but forget how easily the material wrinkles. It is also a more expensive option to manufacture, making cotton a more wallet-friendly alternative. The dress's style is also extremely flattering on multiple different body types, thanks to the rib-like give that is sewn around the bodice of the dress form.
You'll be seeing a ton of floral poplin cotton dresses this summer thanks to the stylish print's versatility and elegant vibe. Floral patterns can be found in just about every color, size, and combination of flowers: from vibrant Hawaiian flowers to tiny sketches of babies' breath, there is a floral dress perfect for every vacation destination.
The cottagecore trend is here to stay
Florals for summer are bigger and better than ever, thanks in no small part to the ongoing cottagecore trend. When deciding on a pattern for the summer's hottest sundress trend, many style experts and creators were clearly inspired by the ongoing Netflix series, "Bridgerton," and the spin-off prequel "Queen Charlotte" that was released right in time for our summer mood boards. While we no longer require the tight corsets and heavy petticoats that were all the rage during the Regency era, the soft pastel color palettes and dainty floral patterns have had us all in a chokehold since the series began in 2020. When the series first premiered, most of the world was longing for an escape from pandemic lockdowns and social distancing and took comfort in the secret romances and high-society scandals that "Bridgerton" offered. But nothing was more influential than the show's stunning costuming that quickly made its way into modern fashion, ushering in the return of the cottagecore aesthetic.
When you're looking for patterned sundresses that would make the Bridgertons and Featheringtons jealous, we recommend heading to TikTok for style inspiration. Creators like @oooitsang use their platforms to share their favorite floral prints and sundress styles. This TikToker shared her floral sundress haul that showcased a variety of silhouettes and colors. No matter what you have planned this summer, you can never go wrong with a cottagecore-inspired floral sundress.