Rules Royals Have To Follow At Trooping The Colour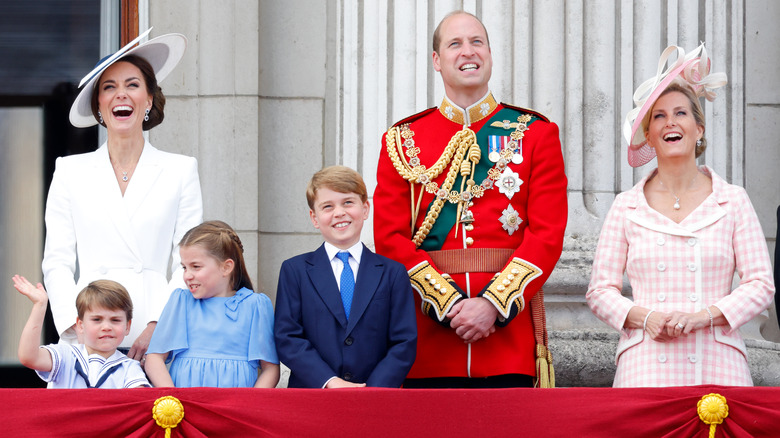 Max Mumby/indigo/Getty Images
The idea of having two birthdays every year may seem like a strange one. However, for the crowned king or queen of England, this is the typical arrangement. Indeed, each and every year the individual seated on the British throne gets the chance to celebrate both their actual birthday and their official royal birthday. And, in true royal fashion, the latter of the two festivities is commemorated with a massive event called Trooping the Colour. 
Naturally, no seated British monarch would want to miss out on this centuries-old royal family tradition, which began with King George II. As he was born in November, he thought a celebration on his actual birthday would be too cold and thus decided to piggyback on the Trooping the Colour parade.
On June 17, 2023, King Charles III will celebrate his very first Trooping the Colour since his May 6th coronation ceremony. During this spectacular event, 1,200 foot soldiers, 400 musicians, and 200 horses will participate in the huge parade to honor Charles' official birthday. Although the annual Trooping the Colour is generally perceived as a fun celebration, it does also have a serious side. Like many other royal ceremonies, this parade will involve a certain degree of protocol. As a result, the members of the royal family who attend will be subject to a number of strict rules dictating everything from who they can invite to what they can wear.
Morning dress is required, with one exception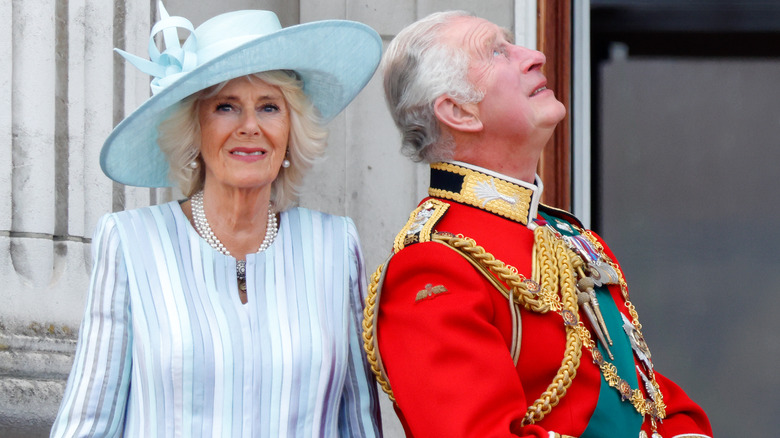 Max Mumby/indigo/Getty Images
Members of the British royal family are, as a general rule, expected to dress appropriately. However, during a formal celebration like Trooping the Colour, it is understood that royals should take their outfits up a notch or two. This message was made explicitly clear in the official 2023 Trooping the Colour dress code, which explained, "This is a formal State Ceremonial Parade in the presence of His Majesty The King. Those attending are required to dress accordingly." According to the Household Division, this means "morning dress, lounge suit or jacket, tie and trousers, equivalent for ladies."
While this description might sound odd to an American guest, it basically just means very formal daytime wear. As explained by custom tailor Henry Davidsen, morning dress "mimics evening formal wear in terms of silhouette and presentation, but with a lighter and more varied color scheme." This means that we can expect to see Queen Camilla and Princess Catherine sporting beautifully tailored dresses with elegant cuts and daytime colors. In the past, we have seen the two women wear shades of pale pink, baby blue, yellow, and even sea green. 
However, certain guests and members of the royal family will be permitted to diverge from this dress code. According to the Household Division, "serving military personnel may wear Ceremonial Day uniform (with medals) or equivalent." In the past, Prince William — who served in the Royal Air Force for more than seven years — has worn his uniform, replete with medals, to the annual event. Outside of the military dress exception, no deviations are acceptable. In fact, the Household Division asserts, "Non compliance with the dress code may result in refusal of entry." This is one rule you really, really wouldn't want to be caught breaking.
No low-cut gowns or off-the-shoulder dresses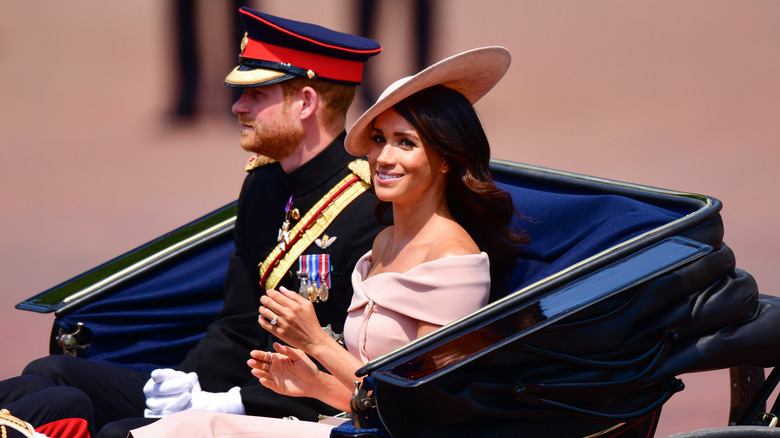 James Devaney/Getty Images
Although morning dress imitates formal nighttime wear in many respects, there are several differences between the two dress codes. One of the main differentiating factors is that formal nighttime gowns tend to be much more revealing than the outfits categorized as morning dress. This means sweetheart necks, V-necks, and off-the-shoulder gowns aren't traditional Trooping the Colour attire. Indeed, Queen Camilla and Princess Catherine have never attended this special event wearing any of these low-cut styles. 
Unfortunately, Meghan Markle learned this lesson the hard way when she showed up to the 2018 Trooping the Colour wearing a beige Carolina Herrera dress that revealed her shoulders to the world. While this may not seem like a huge deal by most standards, it was likely a big deal to the royal family. The main problem was that Meghan's outfit was seen as a huge breach of protocol. This led royal fans to pounce on Meghan's wardrobe error, with the British tabloid, The Sun, reporting, "The Suits-actress-turned-princess has already overlooked one royal fashion rule: exposing her shoulders."
In the past, other royal women, like Camilla and Catherine, have been careful to wear extremely modest necklines. Over the years, Camilla has worn a number of long-sleeved blazers to the event, despite climbing summer temperatures. Catherine, meanwhile, has been known to attend the festivities in high-neck dresses.
Hats are (very) strongly encouraged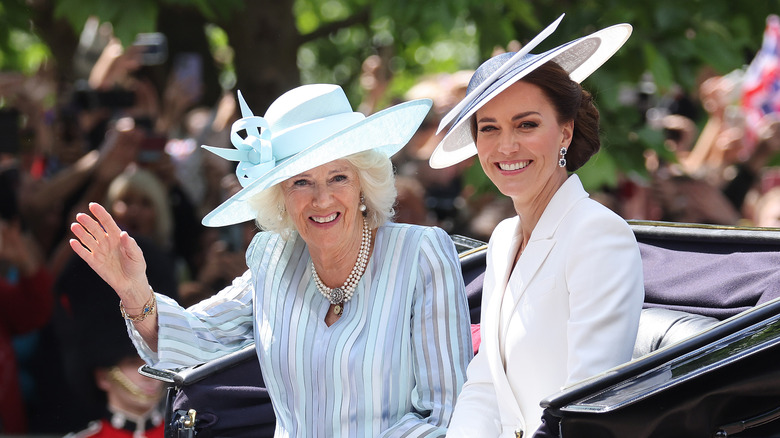 Neil Mockford/Getty Images
The offical dress code for the 2023 Trooping the Colour published by the royal family's Household Division clearly states that "hats are optional." That being said, just because hats are not required in name, that does not mean that it would be considered appropriate for members of the royal family to show up without an intricate headpiece.
The reason for this is written into the dress code itself. Despite being optional, the Household Division explained that they are "recommended for paying the necessary compliments to His Majesty and the Colours as they pass." In other words, anyone who does not have an excellent reason for going hatless will essentially be failing to pay their respects to King Charles III. (Yikes). Because of this, leaving one's hat at home would be a major no-go for members of the royal family.
In the name of protocol and love for the monarchy, women like Queen Camilla and Princess Catherine of Wales will almost certainly wear wide-brimmed hats to the celebration. In 2022, for example, these royal figures wore gorgeous headpieces to Queen Elizabeth II's final Trooping the Colour. Perhaps as a nod of respect to her mother-in-law, Camilla wore a pale blue hat that matched Elizabeth's similarly shaded headpiece. Catherine carried the color scheme through, as well, donning a white and navy striped hat. 
Umbrellas and parasols are prohibited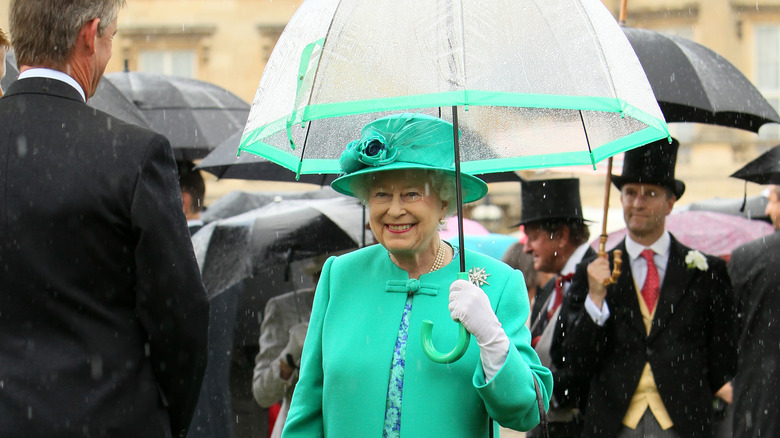 Wpa Pool/Getty Images
Protocol dictates that British royals wear hats to King Charles III's official birthday celebration, and this is made all the more clear by another essential Trooping the Colour rule. As explained by the palace's Household Division, umbrellas and parasols are strictly forbidden from this important event. 
Apparently, these objects are just too pesky to be permitted at the celebration as they could obstruct others' view of the parade and air show. It is also likely understood that these accessories can be extremely uncomfortable in tight, crowded spaces. For this reason, hats are again encouraged, with the Household Division stating, that headpieces are ideal for providing "the necessary protection from the sun."
Interestingly, however, Trooping the Colour is one of the only times per year that umbrellas and parasols go against royal protocol. Historically, members of Britain's most famous family have shown a great love of these objects. Queen Elizabeth II, in particular, was known to get her umbrellas specially tailored to combine with her outfits — once even matching her sea green blazer to an umbrella of the same color. This tradition is something that the newer generation of royals has made an effort to carry on. Prince William and Princess Catherine have occasionally been known to turn up at their official engagements wearing black formal attire and a black umbrella to match.
Sandals are banned from the event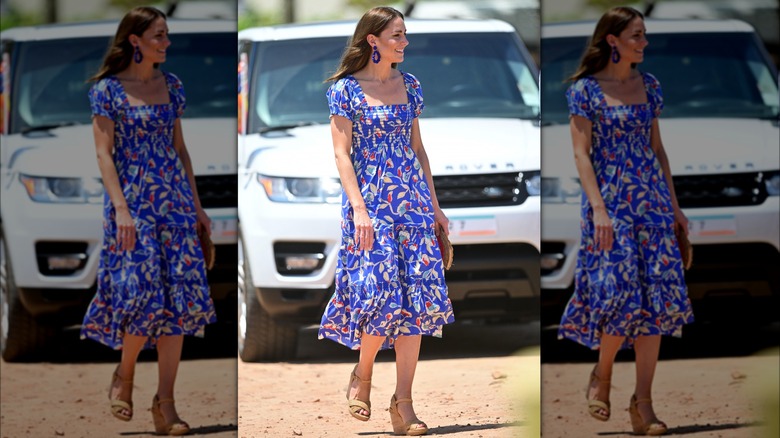 Samir Hussein/Getty Images
Parasols and umbrellas are not the only accessories that go against the Trooping the Colour rules. Open-toed shoes, such as sandals, are also forbidden at the event, according to the dress code delineated by the palace's Household Division. This, of course, could be for a variety of reasons. For one thing, sandals — like parasols and umbrellas — are not the greatest choice of accessory in crowded areas. For another, they aren't especially comfortable to wear over long periods of time. However, the main motivation for this rule is that sandals are considered casual wear. In other words, they do not comply with the "morning dress" standards. 
It is worth noting that, unlike umbrellas, the British royal family does not have an especially strong tradition of wearing sandals. On the contrary, these public figures are often discouraged from sporting these shoes. Speaking to Harper's Bazaar, royal etiquette expert William Hanson explained the rationale behind this general rule: "Open-toed shoes are considered informal footwear and inappropriate for formal occasions." This means that we will likely never see Queen Camilla or Princess Catherine showing off their toes at a royal wedding, state dinner, or Trooping the Colour. On rare, casual occasions, you will spot Catherine in sandals — typically while she's away on a royal tour. 
Trooping the Colour attendance is invitation-only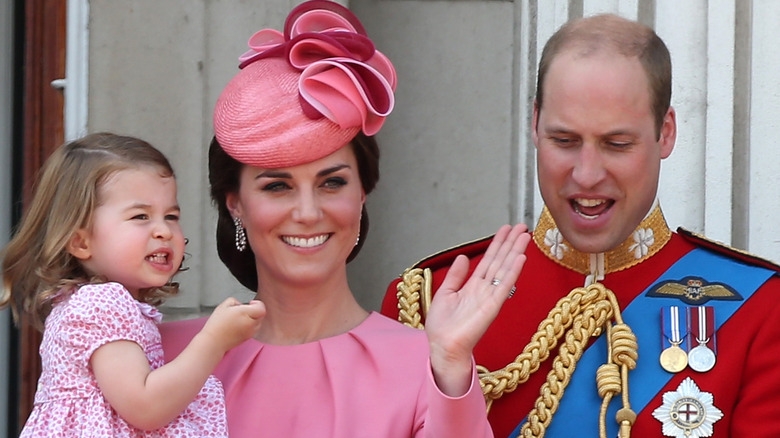 Dmc/Getty Images
While the monarch's birthday is seen in British society as a major national event, not just anyone can participate in the parade. In fact, one of the most important Trooping the Colour rules stipulates that event attendance is invitation-only. This means that only a select group of people will be permitted to join King Charles III in the grand celebration. And astonishingly, Prince Harry, Meghan Markle, and their two children reportedly did not receive the much-coveted invite to Charles' first-ever Trooping the Colour as monarch.
This marks a huge shift from 2022, when Harry and Meghan were both included in Queen Elizabeth II's final round of festivities, as explained by royal expert Richard Eden in the Daily Mail. However, they did not take part in the balcony appearance. "After careful consideration," a statement released by Buckingham palace ahead of that year's event, "the Queen has decided this year's traditional Trooping the Colour balcony appearance on Thursday, 2 June, will be limited to Her Majesty, and those members of the royal family who are currently undertaking official public duties on behalf of the Queen." 
In 2023, Trooping the Colour plans were made assuming that the Sussexes would not be attending. As the royal expert reported, "It will be the first time in Harry's life that he has not been welcome at the monarch's official birthday celebrations." However, according to royal biographer Gareth Russell, Harry probably won't be too torn up about the snub. Speaking with Us Weekly, Russell opined, "You know, it's a long trip to make from California for the sake of Trooping the Colour."
Only certain members of the royal family can have a spot on the balcony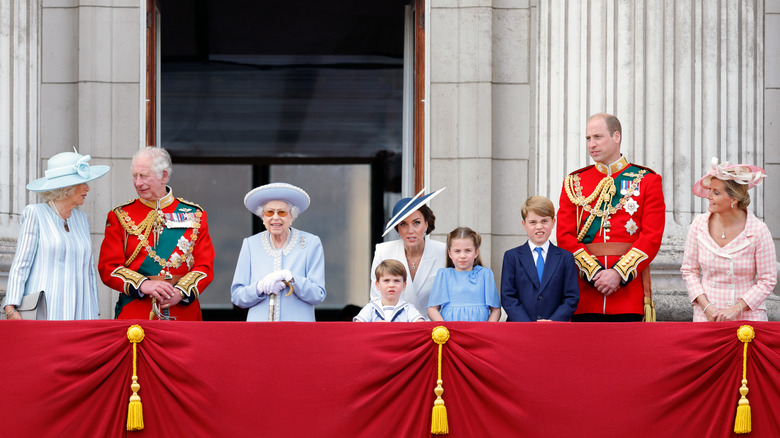 Max Mumby/indigo/Getty Images
Prince Harry and Meghan Markle are not the only royals who will not have a special role in King Charles III's official birthday party. As Buckingham Palace's statement revealed in 2022, non-working royals will not participate in the parade or appear on the balcony afterward. And considering Charles' vision for a slimmed-down monarchy, it is expected that the only royals who will participate in the ceremonial aspects of the 2023 Trooping the Colour will be the late queen's children (sans Prince Andrew), as well as Prince William, Princess Catherine, and their three children. 
The disgraced royal, Andrew, will not be allowed to join his siblings as a result of his apparent close friendship with convicted sex trafficker, Jeffrey Epstein. Although Andrew was once considered a senior member of the royal family, he eventually came to be known as something of an embarrassment to the monarchy. This became especially clear in 2019, when Andrew told the BBC that he didn't regret his association with Epstein because of "the people that I met and the opportunities that I was given to learn, either by him or because of him, were actually very useful."
Following the interview, Andrew was forced to step down as a working member of the royal family and is thus expected to be excluded from all future Trooping the Colour events.
Royals cannot bring their unwed partners to Trooping the Colour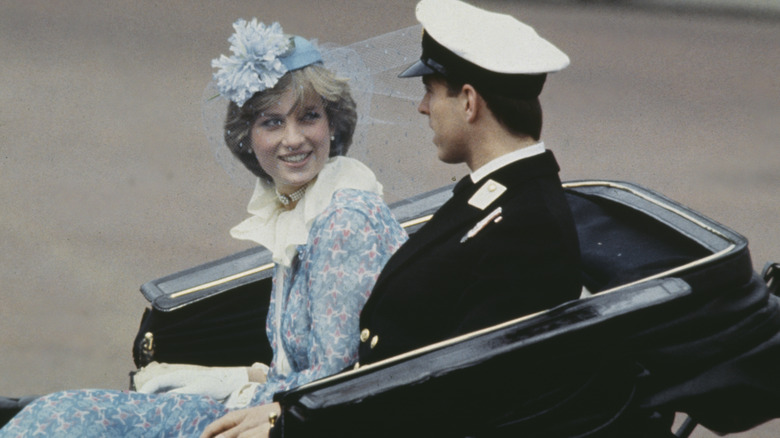 Keystone/Getty Images
Because the guest list for the monarch's official birthday party is so tight, it practically goes without saying that members of the royal family cannot bring a boyfriend or a girlfriend to the ceremony. Royals like Queen Camilla, Princess Catherine, and Meghan, Duchess of Sussex, were not included in the festivities until they were officially married to their respective royal partners. In effect, "no ring, no bring" is one of the more important Trooping the Colour rules.
Compellingly, though, one royal was actually allowed to break protocol and attend the event before marrying into the British royal family. Back in June 1981, Princess Diana was given a privileged position during the festivities, even though she was not yet married to King Charles III. Going against royal tradition, she participated in the Trooping the Colour parade, riding through the streets of London in a horse-drawn carriage. She was accompanied by Prince Andrew since the Prince of Wales was expected to ride in on horseback. 
At that point in time, though, Diana and Charles were engaged and were due to tie the knot just a month after the parade. It was only logical that Queen Elizabeth II bend the rules for the young bride-to-be. After all, in 1981, Diana was regarded as the future Queen of England. 
The monarch is expected to ride in on horseback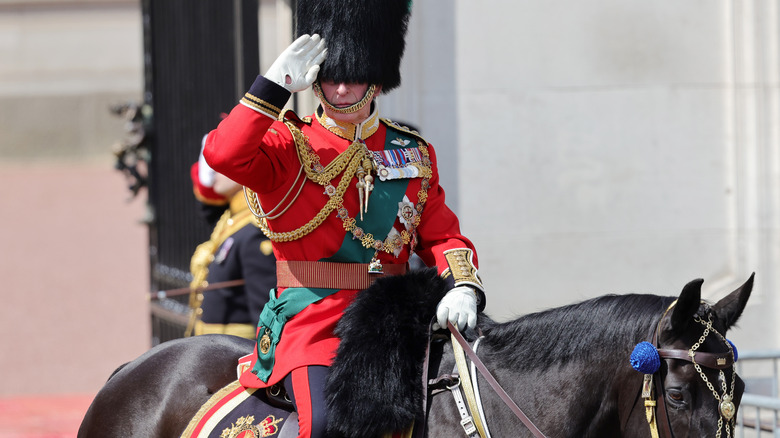 Chris Jackson/Getty Images
The British royal family has long been known as a military family, and, in many ways, Trooping the Colour is their way of celebrating this history. As a result, the event is full of massive military displays, including an awe-inspiring air show, courtesy of none other than the Royal Air Force. Naturally, other branches of the British armed forces join in on the fun. During the parade, officers, horses, and musicians will also march through the streets in their iconic red uniforms, showing off the more historical side of British military history.
It's worth noting that the reigning British monarch plays an important role in the military. As sovereign, this individual is considered the Head of the Armed Forces. In honor of this role, King Charles III has decided to participate in his first Trooping the Colour parade as monarch by riding in on horseback. His son, Prince William, is expected to do the same, out of respect for his own role as the heir to the throne.
Although riding in on horseback was long the protocol for monarchs, Charles' 2023 ceremony will mark the first time that a sovereign rides through the parade on a horse since 1986. During that year, Queen Elizabeth II broke with traditional Trooping the Colour rules and participated in the event via horse-drawn carriage. Despite being a lifelong equestrian, Elizabeth decided to stop riding publicly as she aged. Her eldest son, Charles, though, seems to be immune to this concern. On June 17, 2023, the monarch will be celebrating his 74th birthday.
Royal children only attend once they reach a certain age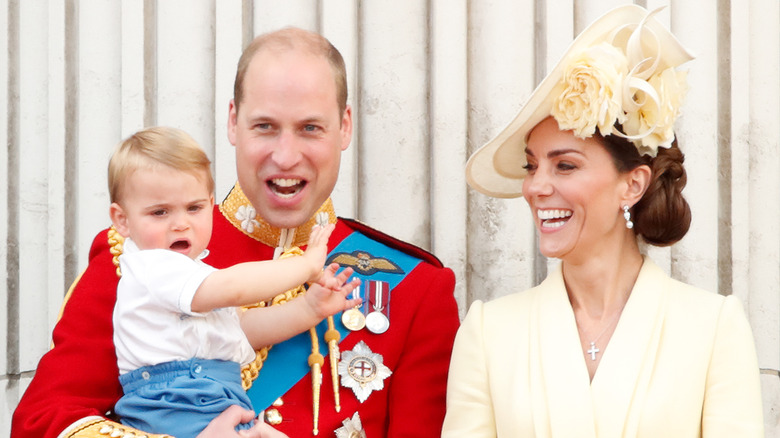 Max Mumby/indigo/Getty Images
Although Trooping the Colour may seem like great fun, it is hardly the most appropriate space for babies. Thanks to the large crowds, loud airplanes, and stomping horses, young children may find the ceremony to be overwhelming. This may be why the royal family follows the tradition of only including children in the celebration after their first birthday.
This was made evident in 2018 — Prince George and Princess Charlotte attended the ceremony, while their months-old baby brother, Prince Louis, missed out. The following year, Prince Harry and Meghan Markle participated in the parade but left their young son, Prince Archie, at home. 
Of course, Trooping the Colour protocol dictates that once these little royals are old enough, they are included in the festivities. As a result, in 2019, Louis was able to attend his first-ever ceremony in the arms of his parents, Prince William and Princess Catherine. It is thought that Archie would normally be allowed to attend the 2023 Trooping the Colour. However, as his parents were not invited to that particular ceremony, the young prince will naturally not be present, either.