How To Rock The Color-Blocking Fashion Trend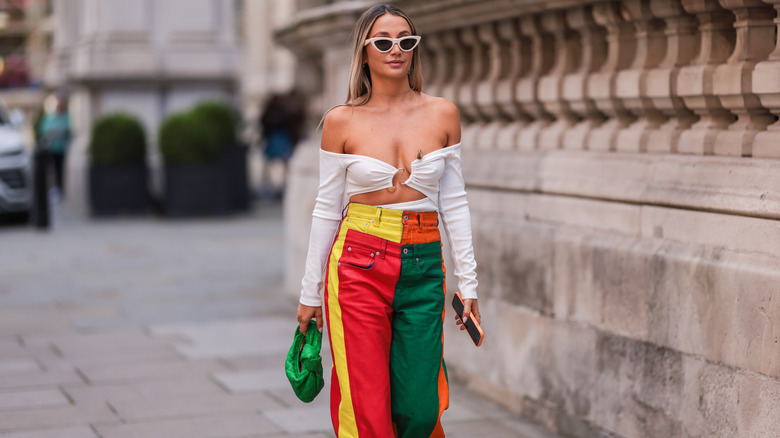 Jeremy Moeller/Getty Images
Throughout the course of the pandemic, we all got a little too comfortable in our work-from-home sweatsuits and grayish grocery store getups. Fortunately, color blocking is a great way to introduce a little fun back into your life — after all, dopamine dressing (along with a generous helping of social interaction and sunshine) is scientifically proven to change your life. "The last few years have been so chaotic for us all, so finding joy or mood boosts in your clothing seems only natural," stylist Mary Higham explained to Byrdie.
Designer Stephen Burrows, influenced by the Manhattan club scene in the 1960s, is largely credited with the invention of color-blocked fashion. He's dreamt up glamorous gowns for Farrah Fawcett, Diana Ross, and Cher — most importantly, he designs with the mentality that "clothes should be fun and easy to move in," per L'Officiel. In other words, whether you're hitting up the dance hall on a Friday night or walking to work, color-blocking can be for you. Traditionally, this look involves two or more bright fabrics sewn and layered to create a statement shirt, dress, etc. However, you can also color block by layering distinct pieces — here's how to rock the fashion trend no matter the season or occasion.
Start off simple with monochromatic color blocking
Bright colors can be intimidating, especially if you've played it safe with neutral tones for most of your adult life. To ease into the world of color-blocking, start with a monochrome aesthetic — yes, this counts. "Choose pieces that are the same color. Shades and tints may vary, but that also can be a very good thing because you don't want that one color to overtake your body or wash you out," explains TikTok creator @say.nikko. You can't go wrong with all shades of pink, especially in the era of Greta Gerwig's "Barbie" movie.
Let your footwear steal the show
TikTok creator @toibycontinued points to something called the wrong shoe theory, explaining, that, "when styling an outfit, there's always a shoe that feels like the 'correct' choice." However, choosing the "wrong" shoe (something off-theme) is a quick way to take your style to the next level. With this theory in mind, pair color-blocked heels, platform Pumas, or flats with a neutral-toned outfit. For example, match a feminine white dress with chunky, color-blocked sneakers.
Try out 2010s Twee
Zooey Deschanel in "New Girl" and it-girl Alexa Chung both embodied twee fashion, styling Peter Pan collars, bright headbands, and knee-high socks throughout the early 2010s. Of course, a big part of Tumblr-era twee involved color blocking. Dress like the whimsical star of an indie movie and contrast colorful tights with a collared skater dress and ballet flats — no ukulele skills necessary (although it can't hurt). Alternatively, experiment with another staple of the era: colorful sweater vests and larger-than-life hair bows.
Brighten up your business wear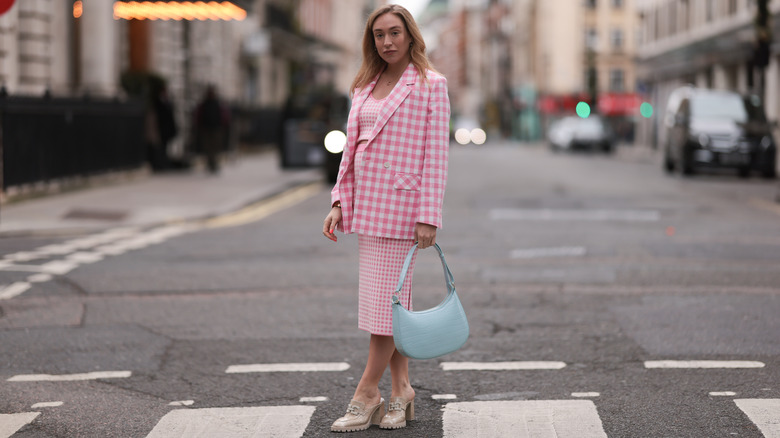 Jeremy Moeller/Getty Images
Unless your workplace has a strict dress code, there's no reason why you can't brighten up your cubicle with pastels, primaries, and patterns. Take inspiration from the ladies of Netflix's "Selling Sunset," and go bold with a preppy pink pencil skirt and blazer set, complementing it with a pastel blue handbag and loafers. If you're not a skirt person, opt for a New York & Company color-blocked blazer with matching suit pants. With this, you'll fit right in at The Oppenheim Group — well, almost.
Channel '60s go-go girls with a color-blocked dress
For this look, take it back to the '60s — this decade was the original inspiration for twee, after all. Color block by pairing a bright shift dress with knee-high white go-go boots. Alternatively, pay homage to the Dutch painter Piet Mondrian, and find a dress with boxes of yellow, red, blue, and white — for inspiration, look to Yves Saint Laurent's famous sack dress (via The Met). Now it's time to accessorize. Take inspiration from Dylan Mulvaney, and wear a chunky headband with the '60s flipped hairstyle. 
Try out the viral rule of thirds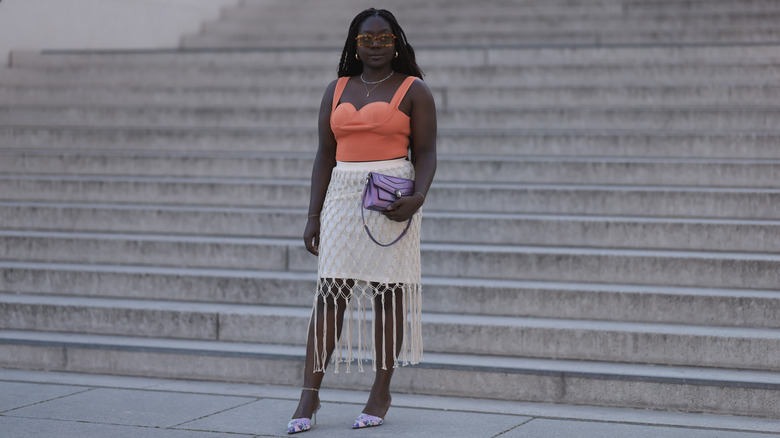 Jeremy Moeller/Getty Images
The rule of thirds is key in the world of visual arts, but it also comes in handy when building an outfit. As @claire_holt12 explains on TikTok, "The idea is visually we would have ⅓ of the space of your outfit on top, [and] ⅔ on the bottom." Apply this method to color-blocking by making each third a different, bright color, or simply sandwiching different shades. For example, wear a colorful crop top (your first ⅓) with a high-waisted white skirt and stand-out heels (your bottom ⅔).
Look to the color wheel for guidance
When in doubt, think back to your third-grade knowledge of the color wheel and throw together a two-toned analogous outfit. "This is when you combine colors that sit next to one another on the color wheel," explains @stylingwithkenzie on TikTok — this could mean blue jeans and a green baby tee, a pink mini skirt with a lavender bra top, or a yellow and orange summer sun dress. Finish your look off with neutral or metallic accessories (silver, gold, beige) like Kenzie.
Layering is your friend
Whether you dress modestly or you're simply hoping to keep wearing your favorite sundress in colder weather, knowing how to layer is key. Color block by wearing a bright orange dress over a green turtleneck (although any complementary colors can work) and accessorize with metallic jewelry. Unless you're Mr. Schuester from "Glee," sweater vests are usually a good idea in chillier weather. Pair an oversized vest over a shirt dress, tying it all together with bright knee-high boots.
Tone it down with neutrals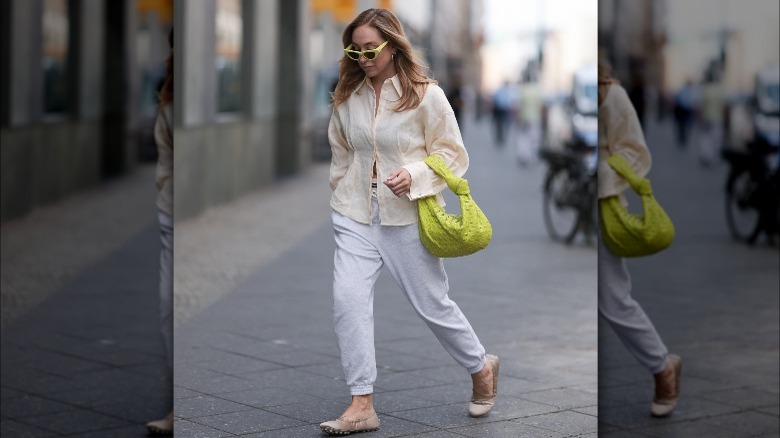 Jeremy Moeller/Getty Images
Although most examples of color-blocking involve combining bright primaries or complementary pastels, you can also apply the same strategies to a neutral base. Add a unique flair to the controversial TikTok "vanilla girl" aesthetic by pairing beige linen pants and a button-down with neon accessories: think handbags, sunglasses, or even a claw clip. Alternatively, if you have a simple pair of sneakers, swap out your white laces with something a little bit brighter. Small steps like this can make a big difference when it comes to fashion. 
Experiment with maximalist prints
Maximalism is having a moment. This over-the-top trend allows us to make up for all those months we were stuck indoors wearing drab clothes — what could be better than leopard print paired with stripes paired with neon? Like popular maximalist creator @saracamposarcone, take color-blocking up a notch by incorporating prints. For example, she divides her look into three distinct sections. Go for the same funky prints she did, or recreate your own version of her bold look by mixing polka dots, stripes, and florals. 
Accessories bring the drama
Emily of "Emily in Paris" fame is known for her lackluster knowledge of the French language, questionable decision-making skills, and of course her colorful wardrobe. To build an "Emily in Paris"-inspired outfit, start with one of her quintessential accessories: a beret. Next, don't be afraid to mix and match colors that might seem more popular in another season: i.e. wearing spring pastels in the winter. Pair your hat with another fun color jacket or dress and add a bag or sunglasses in the same color as your hat. 
Opposites attract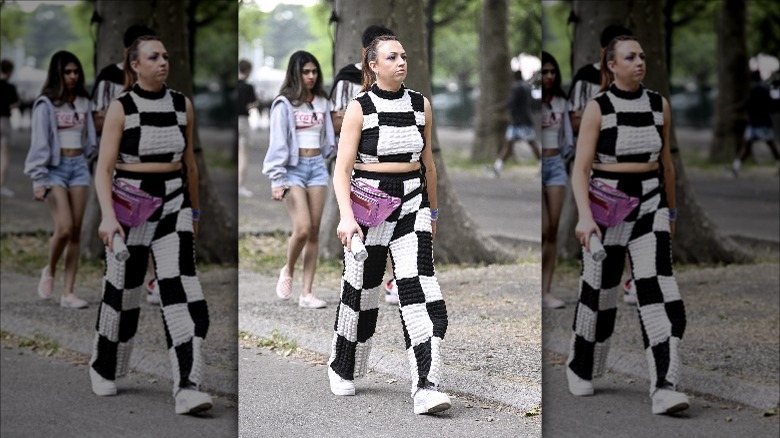 Daniel Zuchnik/Getty Images
Sure, like attracts like. However, when it comes to relationships and fashion, opposites can attract, too. On the color wheel, this is what's known as complementary shades — orange paired with blue, yellow and purple, pink and green. Of course, we can't forget the most classic combination of all: black and white. Whether you're headed to an outdoor festival or you're looking for fun pants to wear to work, take inspiration from chess boards and color-block black and white squares.
Sheer is in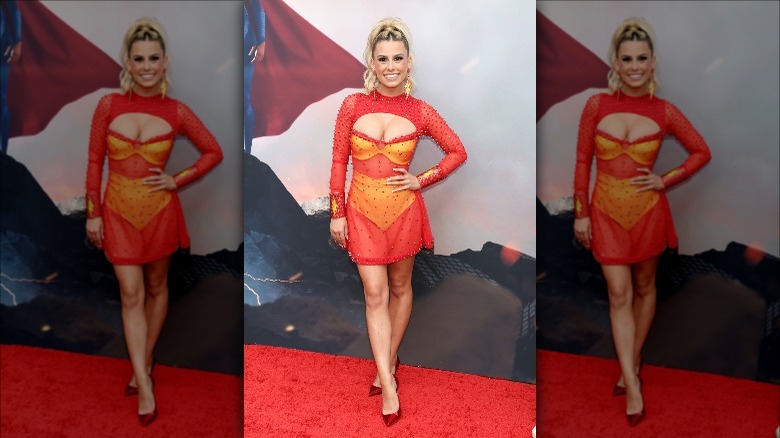 Phillip Faraone/Getty Images
From the Met Gala to Cannes Film Festival, there's no disputing that sheer clothing is having a moment. Although it can certainly be intimidating if you're accustomed to covering up, the trend can also be freeing — in fact, more and more celebrities are ditching their bras underneath sheer gowns. Instead of opting for a slinky black dress as is most common, choose a bright-colored mesh and pair it with a stand-out bodysuit. Wear crochet pants over your favorite bright bathing suit if you're headed to the beach.
Don't be afraid to coordinate with your bestie
Mario and Luigi complement one another dressed in their trademark red and green hats, and The Wiggles each had their own primary color. If you're headed out to brunch or packing outfits for a girl's trip, take inspiration from these fashion icons and think about color-blocking alongside your bestie. You can't go wrong with pink and yellow pastels or a bold orange and purple pairing. For a true head-to-toe fashion moment, add contrasting shoes and socks. 
Patchwork denim is taking off big time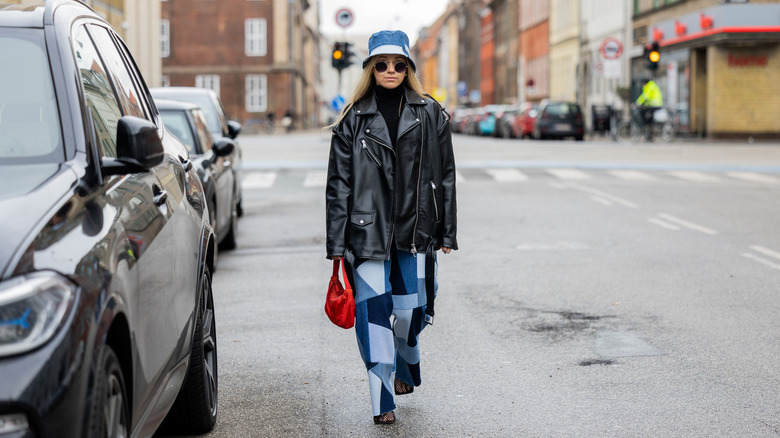 Christian Vierig/Getty Images
Denim never really goes out of style. Although blue jeans were initially designed for workmen at the end of the 19th century, they eventually became a streetwear staple with the help of Hollywood A-listers like Marlon Brando and James Dean. Now that we've entered the 21st century, upgrade your jeans to a patchwork design, blending medium, and dark washes. Although wearing a leather jacket on top might make you look like a true "Rebel Without a Cause," you can also complement your pants with a color-blocked denim jacket.
Some it-girls are color-blocking their hair . . .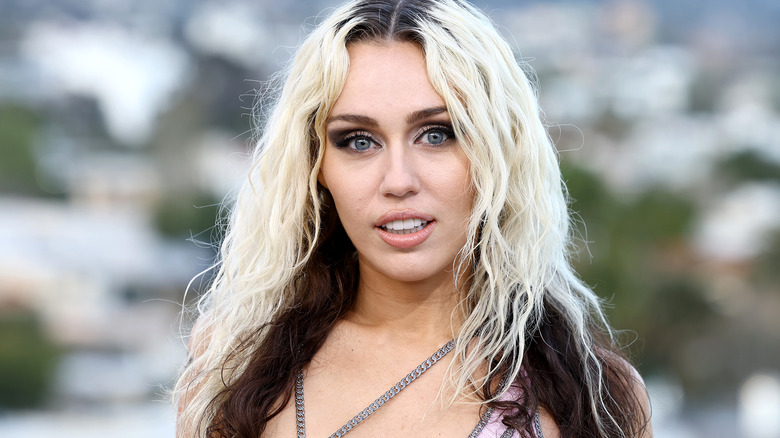 Arturo Holmes/Getty Images
Okay, so you can't hang this one up in your closet, but you can request it at the salon. Inspired by '90s early-2000s chunky highlights,color-blocked hair is on the up and up. Like Miley Cyrus, pair a bleached blonde top layer with a stark black bottom layer. Alternatively, channel Cruella de Vil (minus the Dalmatian fur coat) and go full-on half-and-half. You don't have to stick to black and blonde, however. Play with colors like pink, yellow, and red for a truly-unique hairstyle.