Andrew Walker Is Grateful To Hallmark For Its Gift To Older Actors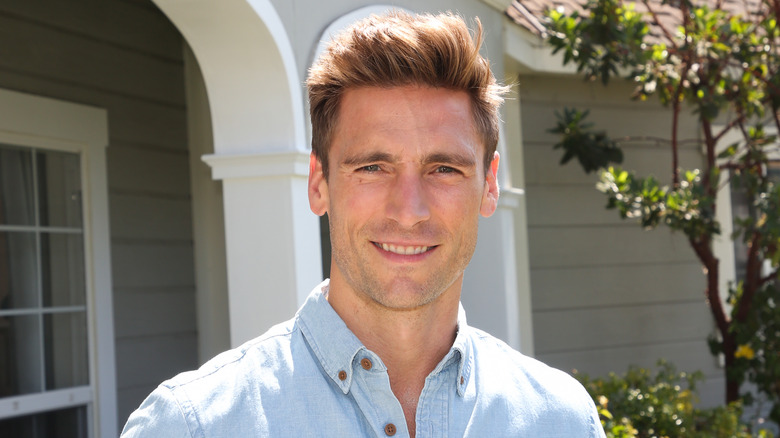 Paul Archuleta/Getty Images
Fans of the Hallmark channel are very familiar with the collection of actors who are regularly cast in the network's movies and series. From Christmas Queen Lacey Chabert to fan-favorite Luke Macfarlane, the network isn't afraid to reuse its well-known stars. On top of this, many of these leading performers are over the age of 40, which isn't necessarily common for other network stars.
Hallmark veteran Andrew Walker has recently shared his thoughts about this phenomenon, speaking positively about the home that the network provides for older actors. If you're unfamiliar, Walker started working with Hallmark in 2012 and has since appeared in over 20 made-for-TV movies. He's been in Christmas flicks like "Three Wise Men and a Baby," sporty romances such as "The Perfect Catch," and even the ongoing "Curious Caterer" mystery series.
With such a catalog under his belt, Walker has had quite a while to form his opinion about Hallmark's use of middle-aged actors. Fortunately, the actor had nothing but positive things to say.
Hallmark doesn't shy away from older actors
Andrew Walker shared his thoughts about Hallmark with Heavy, noting that he was especially thankful for how much of a home the network has created for actors over 40. He explained that he originally mentioned his thoughts with co-star Autumn Reeser, who was with Walker and other Hallmark stars connecting at the company's headquarters. "We were on the bus ride to Hallmark and I said, 'Autumn, we're all 40... 40-plus year old actors at our prime at Hallmark. It's not like we're on the downtrend. We're actually on this, like, uptrend.' What other network (is that the case for)?" Walker recounted.
Reports on the average age of film actors, such as those from OnBuy and Vox, typically suggest that it's women who struggle to find success in their later years, with blockbuster roles often open to men throughout their 40s and 50s. Even so, Walker's appreciation for Hallmark goes beyond simply casting older actors, as the network also provides much-welcomed stability.
Walker is thankful that the network provides stability
When talking about the older ages of Hallmark's core rotation of leading actors, Andrew Walker pointed out that the network provides professional stability that actors aren't often able to find. Specifically, he mentions the ongoing changes faced by streaming services such as Paramount+ and Netflix, which have seen layoffs and programming changes.
"You know, there's no stability anywhere out there. And here are all of these actors in our 40s, where in the general landscape of our industry we would be kind of at the tail end, which is sad to say. But here we are now [at Hallmark] and this is the fans' [doing]. They watch the movies and give us that ability to continue to thrive and to bring them new stories with the same faces, just different combinations and storylines," he tells Heavy.
It's true that Hallmark has given its leading cast members the opportunity to foster the type of success that they wouldn't be able to garner through traditional films or on other networks. If Walker's perspective is anything to go by, this is definitely something that the channel's actors are thankful for.