Why Debbie Reynolds Wasn't Allowed To Play Herself In Postcards From The Edge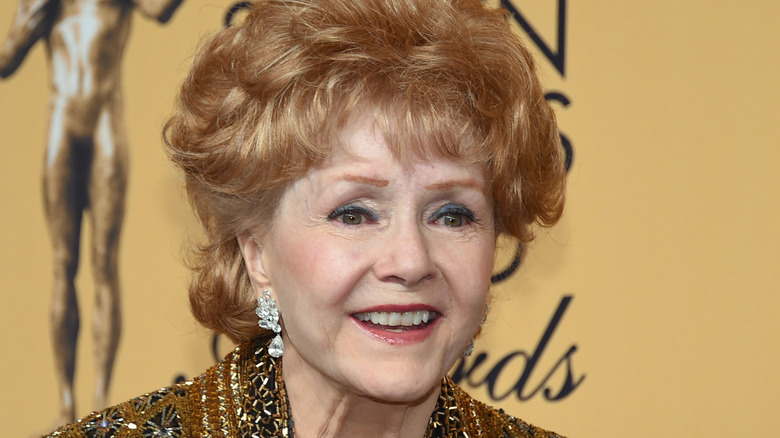 Ethan Miller/Getty Images
Carrie Fisher and Debbie Reynolds are one of the most famous mother-daughter duos in Hollywood. They both began making waves at an early age. Debbie Reynolds made her on-screen debut while still in her teens, and Carrie Fisher followed in her footsteps by dropping out of school to pursue acting as well. The women carved their own places among the stars, but their relationship remained an important part of their story inside and outside of Hollywood.
Debbie Reynolds and Carrie Fisher's' mother-daughter relationship wasn't always close, though. In fact, Fisher and Reynolds didn't talk for about 10 years. However, their relationship eventually recovered and they even spent 15 years living next door to each other until they deaths in December 2016.
Part of their closeness involved supporting each other's projects, especially ones that resembled their relationship. Carrie Fisher's book "Postcards from the Edge" is a fictional account of a mother-daughter pair who are also both actresses. Naturally, as the book was about to become a movie, Reynolds thought she would be perfect for the role because it so closely aligned with her own life.
Debbie Reynolds was told she wasn't right for the part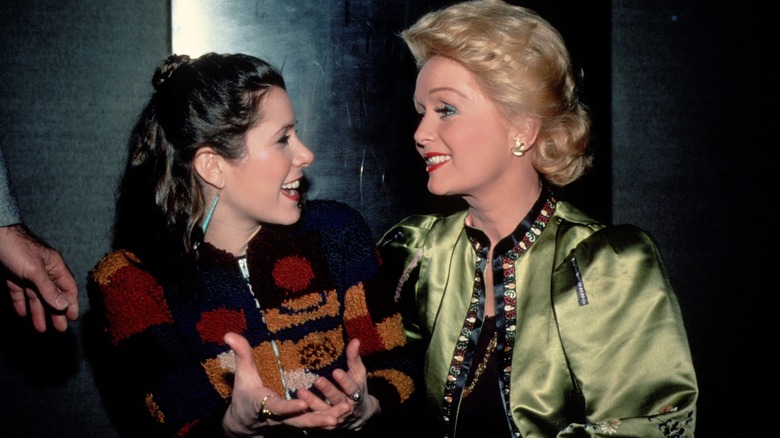 Images Press/Getty Images
When Carrie Fisher wrote her first novel "Postcards from The Edge," Debbie Reynolds found the book so "upsetting" that she had to put it down. Reynolds told Entertainment Weekly in 1990, "I thought it was so upsetting she had to go through all these things. When I told Carrie, she said, 'Mother! I'm a novelist.'"
Despite "Postcards from the Edge" being a work of fiction, Reynolds saw enough of herself in the role of Doris that she wanted the part in the film adaptation. In Debbie Reynolds's 2013 memoir "Unsinkable," Reynolds recounts how she didn't get to play Doris in "Postcards from the Edge" because the film's director Mike Nichols didn't think she was right for the role. Eventually, Doris went to Shirley MacLaine.
In the same 1990s Entertainment Weekly interview, Reynolds praised MacLaine's performance in the movie and called her "terrific." She even added, "I can't think of anyone else playing what's supposed to be part of me. But actually I think the character is more Joan Crawford."
This wasn't the first time Debbie Reynolds and Shirley MacLaine wanted the same role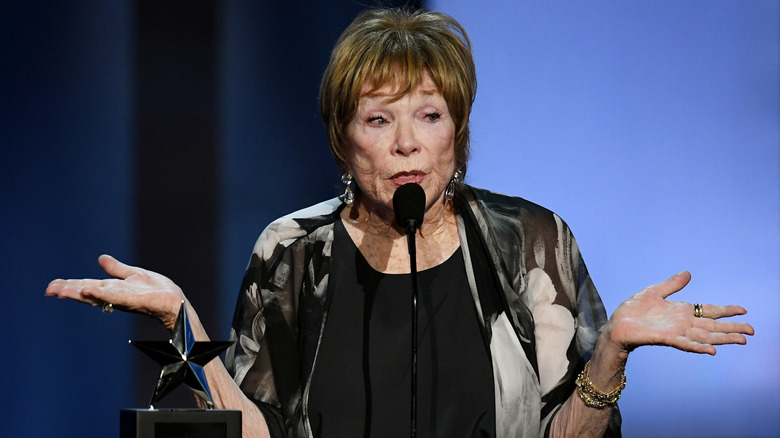 Kevin Winter/Getty Images
In the 1960s, Debbie Reynolds wanted the part of Molly Brown in "The Unsinkable Molly Brown," but the film's director Charles Walters wanted Shirley MacLaine, and even offered her the role.
However, MacLaine was under contract at Fox, and couldn't jump over to MGM, where the film was in production. Despite MacLaine being out, it's rumored that Reynolds still had to work hard to convince Walters that she was right for the role and even agreed to be paid less for it. It all worked out as Reynold's earned her only Academy Award nomination for playing Molly Brown.
She also considered the role one of her favorites. Additionally, Shirley MacLaine claimed in a Hollywood Reporter article that Reynolds actually asked her for permission to play the role, to which MacLaine responded, "Sure." The women eventually appeared together in the movie "These Old Broads." Carrie Fisher also wrote the screenplay for the film