Julia Louis-Dreyfus Got Bryan Cranston Sick After Kissing Him On Seinfeld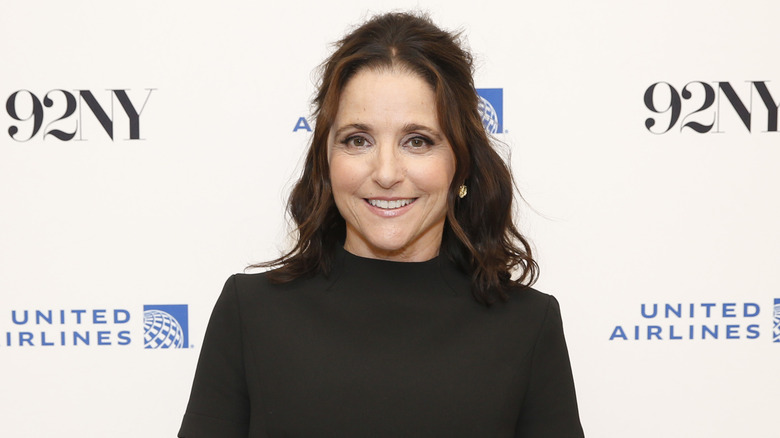 Rob Kim/Getty Images
What could be described as an ideal "Seinfeld" scene that might indeed occur to one of its characters actually happened in real life for actress Julia Louis-Dreyfus. The former "Saturday Night Live" comedienne who continues to be honored for her comedic contributions, caused guest actor, Bryan Cranston, to get sick after filming a scene with him on the popular sitcom.
Louis-Dreyfus played everyone's favorite wonderful and awful friend, Elaine Benes. While Elaine dated Jerry Seinfeld in the past, the two remained friends and the show regularly captured their individual romantic endeavors. Elaine had a bevy of interesting boyfriends including John F. Kennedy, Jr., New York Mets first baseman Keith Hernandez, Judge Reinhold, Patrick Warburton (Puddy), and soap opera actor, James Patrick Stuart.
One of the many flings Elaine had throughout the course of the show's nine-season run was with Jerry's dentist, Dr. Tim Whatley, played by Cranston. Though Cranston appeared several times on the show, the one time when Louis-Dreyfus got him sick stands out in both of their memories.
How Julia Louis-Dreyfus gave Bryan Cranston a cold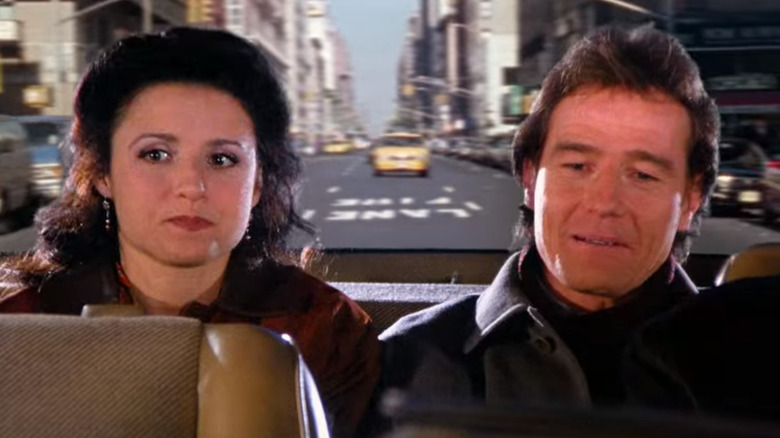 NBC/Netflix
When Julia Louis-Dreyfus was filming "Seinfeld" one day, she had a cold and she also had to film a scene that called for her character, Elaine, to kiss her suitor, Dr. Tim Whatley played by Bryan Cranston. Since the show must go on, Louis-Dreyfus did what she had to do, and afterward, Cranston caught her cold. Years later he still remembers it.
When Cranston was on "The Ellen Show" in 2020, Louis-Dreyfus appeared via video and discussed how the "Breaking Bad" actor was going to take part in an upcoming "Veep" reunion. Host Ellen Degeneres commented on how they had both known each other since "Seinfeld" days.
"I was the dentist on 'Seinfeld' for several episodes and we, uh, got together occasionally," Cranston told DeGeneres. "What I remember from that night is that Julia, I think you had a cold that week, and we were kissing and I got a cold." Louis-Dreyfus seemed surprised and quipped, "Well, first of all, I want to apologize for that again." Then both Louis-Dreyfus and DeGeneres laughed. "It seems as if you've recovered. Right?" joked Louis-Dreyfus.
Bryan Cranston does not regret that scene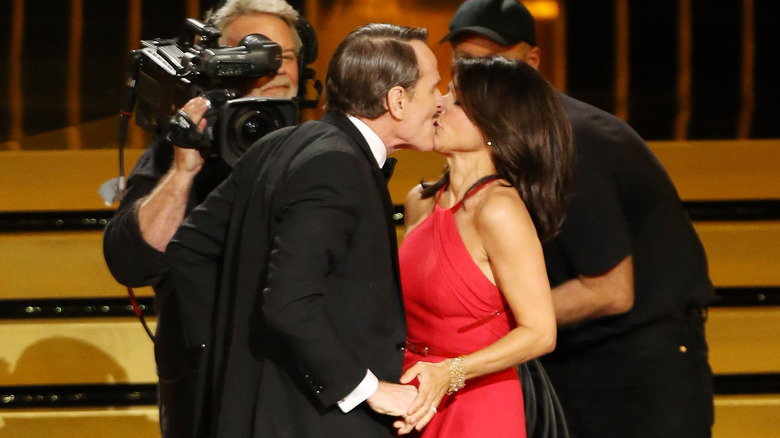 Michael Tran/Getty Images
It seems like Bryan Cranston likes to tell the story of Julia Louis-Dreyfus getting him sick quite often. In an interview with Rolling Stone, Cranston relayed why the experience was so memorable. "I had a big crush on Julia Louis-Dreyfus," says Cranston. "When I saw the script for 'The Label Maker,' I remember thinking, Oh, so I have to make out with her? Hmmm..."
He goes on to explain that she knew she was sick and warned him before shooting the scene."The night that we shot that, she was terribly sick, and she kept apologizing, knowing full well that I would get her cold," says Cranston. "Which I did ... but my god, it was worth it!" The duo later spoofed the famous kiss at the 2014 Emmys. As co-presenters, Louis-Dreyfus commented on how he looked like a guy that Elaine dated on "Seinfeld". She couldn't seem to remember the name when Cranston chimed in and said "Tim Whatley" and she said "Yes, good for you, that's right." He replied, "That was me," but Louis-Dreyfus ignored him and read the nominees.
Yet later on, when she won an Emmy, as she walked down the aisle, Cranston hurried out of his seat and kissed her in what turned into an impromptu make-out session. When she reached the stage, Louis-Dreyfus said, "Yeah, yeah, he was on 'Seinfeld,'" while the camera panned to Cranston touching his lips as the audience laughed and applauded.