Get More Bang For Your Buck With A Fun And Fab Fringe Haircut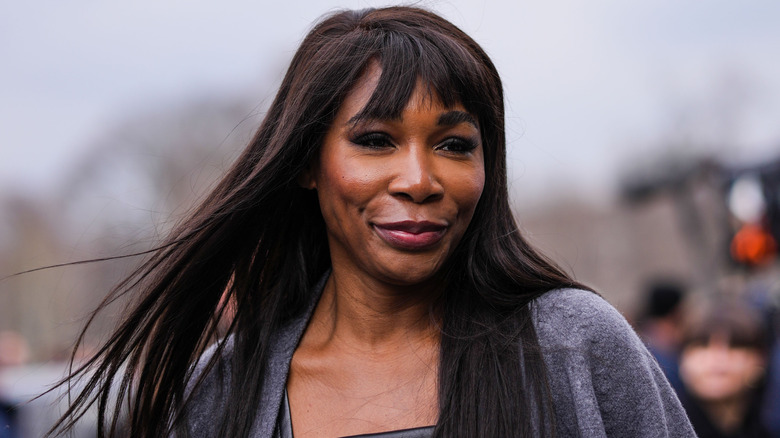 Edward Berthelot/Getty Images
Bangs have maintained their status as a fun, versatile hairstyle throughout the decades. This cut can upgrade even the simplest of ponytails, bobs, and 'fros — there's no better way to switch up your look than with a good fringe cut. From choppy to stringy to side-swept, the options are endless.
A fringe cut is also versatile, allowing all hair textures to try their hand at a new 'do. Bangs are gorgeous and indeed attainable on curly hair, with a few adjustments. "Curls make for amazing bangs," celebrity stylist Mark Townsend told Oprah Daily. "Just be sure to keep them much longer than straight hair, since they shrink."
In addition to their versatility, some styles are so iconic they have a specific name, such as "The Rachel." Made popular by "Friends" star Jennifer Aniston, the cut has seen plenty of reprises since its debut in the '90s. Stylists are even putting their own modern twists on "The Rachel," which traditionally consists of highlighted layers that flow away from your face. Iconic fringe cuts have seen various iterations over time, allowing you to take part in the newest trends time and time again.
Different takes on the fringe
Dominique Charriau/Getty Images
Since trends are cyclical, it makes perfect sense that certain fringe styles come in and out of vogue. One we're seeing a huge reprisal of is the curtain bang, which was made popular by glamorous stars such as Bridgette Bardot. Reminiscent of the '70s, this style consists of wispy, soft-layered cuts that perfectly frame your face. They're being effortlessly integrated into the blowout craze taking over, and you can even cut your own curtain bangs at home.
Another style popping up across social media is the Medusa or waterfall bangs, which are a trendy, low-maintenance rendition style that can soften your look: they replicate Pamela Anderson's feathered fringe. The style, which looks purposely choppy and grown out, is the curtain bangs sultry older sister. Best worn recently by Dua Lipa, this look is best to get done at the salon rather than try at home. "Your hairstylist should account for your parting or any strong growth patterns around your hairline," stylist Tom Smith advised Byrdie.
There are also the ever-trendy '90s ruffled bangs, best worn by singer Selena Quintanilla. Her signature fringe and red lip are a package deal, and this cut-and-curl style could serve as a fabulous upgrade. "Selena" series hairstylist Lizeth Correa suggested to InStyle that you'll need a good curler and hairspray to keep the textured locks in place. However, shorter fringe styles require more frequent upkeep and trims compared to longer ones, which can grow out for six to eight weeks.
Deciding on the right style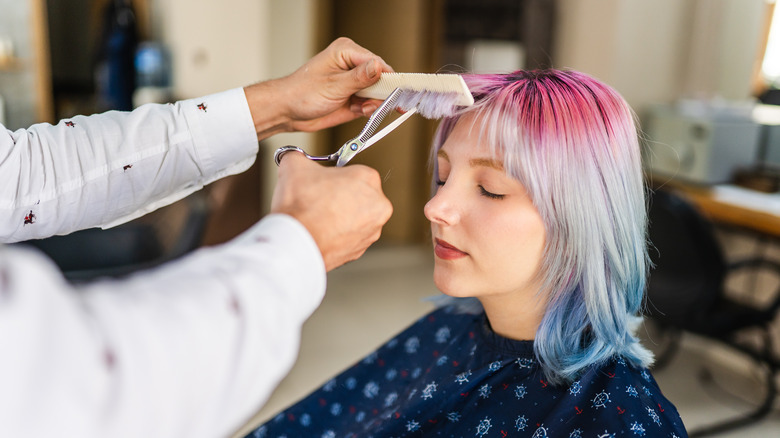 Su Arslanoglu/Getty Images
Yes, the options are seemingly endless, but figuring out which fringe is right for you doesn't have to be difficult. Consider your lifestyle and whether you're prepared for frequent trims (two to three weeks) or at-home touch-ups. If you're searching for a low-commitment and low-maintenance style, look towards longer styles such as side swept or curtain bangs. It's easier to let these bangs grow out if you don't love the style, and switch up your look again in no time.
Now, if you're committed to the fringe and just don't know which look to decide on, it may be best to find the most flattering bangs for your face shape. For rounder faces, a lengthy, sweeping cut or even a layered blunt fringe work best to lengthen your face. Those with longer diamond and oval faces have a bit more lenience to play with asymmetric, edgier cuts.
However, a style this face shape should avoid at all costs is baby bangs, this "half moon" style popping up as the perfect curtain bang alternative for those with rounder faces. Those with longer faces should focus on full-bodied fringe to avoid lengthening the forehead, per The Skincare Edit. But, these are all merely guidelines. As stylist Jon Reyman explained to Glamour, "If you style it and own it, you can wear any type of bangs no matter what face shape you have."