Kody Brown Wasn't Thrilled With Christine's Post-Sister Wives Love Life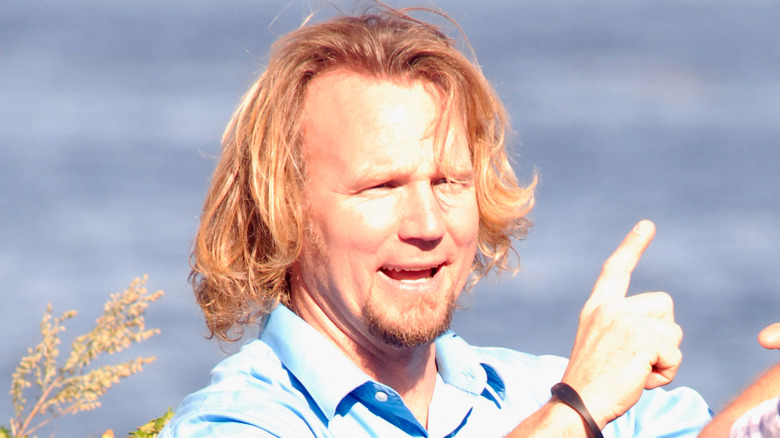 Stephen J. Cohen/Getty Images
Polygamist and star of TLC's "Sister Wives" Kody Brown has encountered a lot of changes in the past couple of years. Once a husband to four wives, he is now in a monogamous relationship with his fourth and currently only wife, Robyn Brown. In 2021, Christine Brown left him and then moved back to Utah. Wives Janelle and Meri soon followed her lead and separated from Kody. Now, with Christine in a new relationship and engaged to David Woolley, Kody is anything but happy about her new love life — and has some strong words to say about it all.
Though there were several events that led up to Christine's departure, including Kody's refusal to attend a major surgery for their daughter Ysabel, his refusal to continue an intimate marriage with her was one of the final straws. He even went as far as to say on the show that he never found her appealing. "It's true that I wasn't attracted to you when we got married," Kody said. "I felt pressured into the marriage. I did not know better at the time" (via Insider).
You might then find it hard to believe that he has anything to say about Christine's romantic life post-divorce, yet he has a lot of thoughts — and none are complimentary.
Kody thinks Christine's relationship is a stunt
According to a source who spoke to The U.S. Sun, Kody thinks Christine's relationship with David Woolley is merely a way for her to get attention and also part of a ploy for them to get screen time on the show. "He does feel this is a way of her kind of one-upping him and mocking him," said the source. "Kody feels this is all for publicity and to get back at him."
Kody explained on the show how he was just going through the motions in his marriage to Christine. "In our marriage, I was putting in so much effort. I was holding her hand, I was kissing her. I wasn't in love. I was doing it as my duty as a husband," said Kody (via TLC). "And she's not either. She quit loving me years ago."
Despite the fact that he said he hasn't loved Christine for years and feels she hasn't loved him either, Kody apparently feels she started dating too soon. "He doesn't believe after all these years with him, she's moved on so quickly, and is already in love with another man," said the source.
Christine is living her best life
Though Christine Brown spent the first half of her life in an often loveless marriage and was inundated with raising children, she is now living life for herself. She not only looks fantastic and very happy, but seems to be enjoying her life after leaving Kody.
In early 2023, Christine shared that she had been dating again, and shortly after, posted a photo of her and her new man captioned, "I finally found the love of my life, David. The first time he held me close, it felt like my soul took its first breath," she wrote. " He's wonderful and kind, incredible with my children and an adorable grandpa. I never dreamed I could find a love like this." Two months later, in April 2023, she announced that they were engaged. 
Now, the mother of six told People she is very excited about her new life with Woolley. "David treats me like a queen and tells me I'm beautiful every day," she says. "I've never been in love like this before, and the world seems like a brighter place with him in it."