6 Closet Must-Haves To Rock The Grunge Look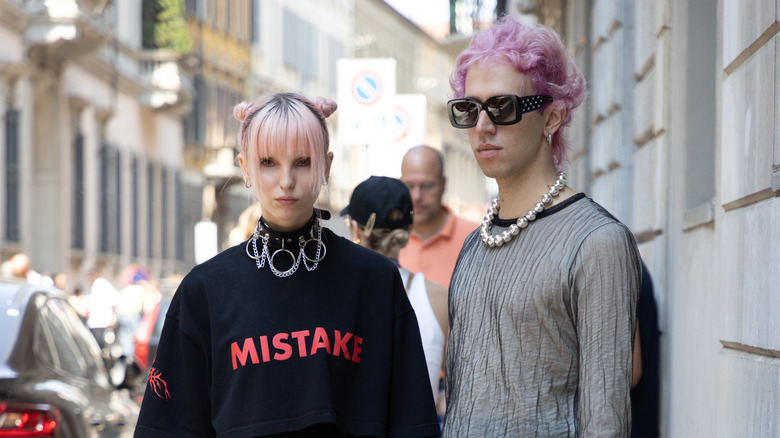 Valentina Frugiuele/Getty Images
The grunge movement of the 1990s began the way many great trends do: inspired by music of the time. A handful of musicians wanted to hear something other than the happy pop music being performed by iconic artists like Britney Spears and Christina Aguilera. According to The Music Universe, artists "blended elements of punk and metal" to create the polar opposite of '90s pop: grunge music. This music was distinctly heavier and darker, with sad lyrics and themes that spoke to moody teens. Once young people in the '90s had a soundtrack to express their true feelings of anger and gloom, they needed a wardrobe to match. Thus, the grunge aesthetic was born, made up of messy hair and oversized band merch.
While our calendar may read way past the 1990s (a phrase we are still getting used to hearing), the grunge look has started making its iconic comeback. In modern fashion, grunge subcultures have begun to appear, letting everyone try their hand at adding a touch of grunge to their aesthetic. If you're looking to achieve the trendy grunge aesthetic in 2023, keep an eye out for these closet must-haves.
This outer layer is getting a grunge makeover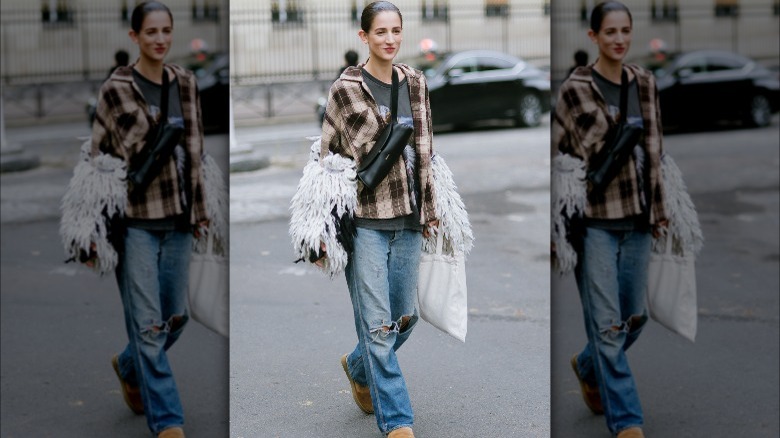 Vanni Bassetti/Getty Images
Move over country stars and Christmas pajamas — grunge fashion is reclaiming the iconic flannel. When you start to incorporate grunge fashion into your aesthetic, a flannel is one of the first pieces to search for. Flannels are extremely versatile and can be found in just about any color, making them an easy addition to an already established wardrobe. To find the best flannels, go shopping at your local thrift store. The extra wear and tear from a secondhand flannel will only add to your grunge look, all while shopping sustainably for new additions to your closet.
If flannels just aren't your thing or you are in the market for something a little more minimalist for your grunge look, consider an alternative second layer with just as much personality and moody style. For a softer play on the grunge aesthetic, try a faux fur jacket or distressed knitwear. This will still give off the moody, teen angst vibes while letting you play with even more colors and various textures. If you tend to lean more towards an edgier vibe, throw on a leather jacket over your flannel or favorite grunge band tee for an extra layer of grunge-inspired style.
Mini skirts aren't just for preppy wardrobes
While preppy trends like Barbiecore and the rise of athleisure have claimed mini skirts as a signature piece, they aren't the only aesthetics that can rock the style. From distressed denim skirts to micro flared skirts in every shade of black, mini skirts are the perfect addition to an edgy look. Influencers and brands alike are taking to social media to provide new additions to the world of grunge with the ultimate style inspiration.
Clothing brand @mingalondon posted a video to TikTok showing off a collection of their stunning mini skirts, styled to perfection to achieve what they label in the hashtags as a "fairy grunge" look. They prove just how well a skirt works with a dark and edgy aesthetic, pairing the multi-layered mini with everything from an oversized knit sweater to a cropped tee and flared jacket. The look is completed with a pair of semi-opaque black tights and the classic grunge footwear: a reliable pair of combat boots.
Combat boots are a grunge look essential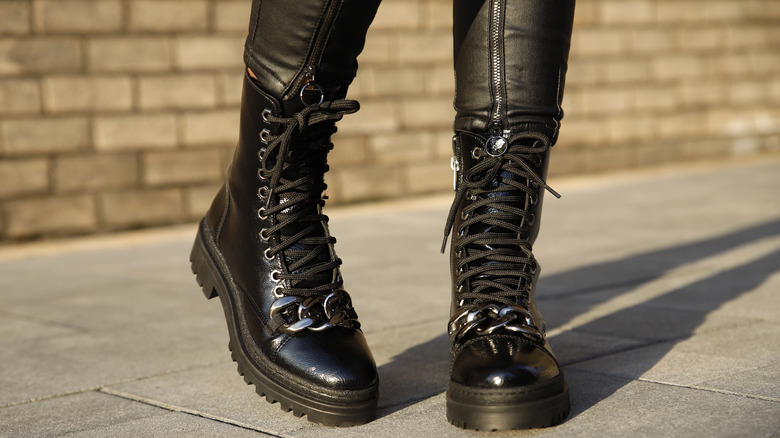 Alexandarilich/Getty Images
There is no denying that a pair of combat boots are essential to a grunge wardrobe. While we could make the argument that every aesthetic could benefit from the sturdy and reliable footwear choice, the iconic shoe is especially synonymous with the grunge fashion movement. Doc Martens owners will tell you that the classic shoe style is well worth the money, although others warn that it does take time to break in the study leather. Luckily, long socks with dainty designs are the perfect juxtaposition to wear underneath your combat boots, keeping up with the grunge style while saving the skin around your calves from the pain of new leather friction.
If you are less interested in blister-covered ankles, a platform shoe with a substantial heel or a pair of leather Mary Janes will compliment practically any grunge look. According to TikTok creator @lea.mov, even a pair of Skechers can be translated into an edgy outfit.
Say goodbye skinny jeans, and welcome back our favorite baggy pants
While you can always take a pair of scissors to your jeans for an artful grunge look, most of us are looking for less of a DIY project and more of a shopping spree to usher our wardrobe into the world of grunge fashion. Lucky for us, cargo pants and baggy jeans are taking over the shelves. Retire your leggings and yoga pants and instead, reach for a pair of pants that lets your legs breathe, and gives you plenty of pocket space for your Walkman and your bag of 3D Doritos ... wait, maybe that's too '90s. You know what we mean.
Long hems and oversized pockets are totally on trend right now, and with the right style inspiration, you can quickly transform a pair of pants into an easy grunge look. Rock a pair of cargos in your favorite color with a simple white tank and a few metal accessories. If you're a Gen Z-er looking to dip your toe into the grunge look, combine trends by letting your wide-leg jeans ride below your waistline and pairing them with a chain belt. TikToker and hairstylist @gabiisrad shared her OOTDs inspired by the soft grunge movement, and every pair of pants she rocks are total wardrobe goals.
These accessories will have you singing along to Nirvana's discography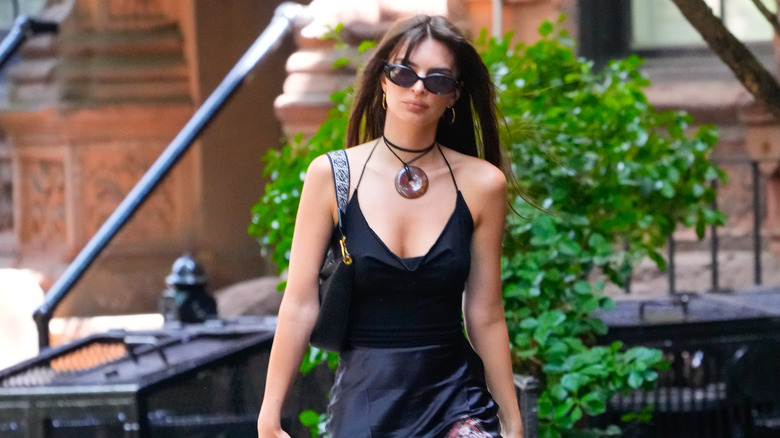 Gotham/Getty Images
Contrary to the dictionary definition and many people's first impression of the alternative style, grunge fashion does not mean being "dirty" or "not caring" about your look. You may rock a bit of bedhead or wear a flannel with a few holes, but the ultimate grunge look is all in the details. It can take a lot of time and precise fashion decisions to craft the perfect "just rolled out of bed" outfit, and no look is fully complete without a few classic accessories.
Finding a good belt is a great place to start, especially if you are rocking a pair of baggy cargo pants. A leather belt with plenty of grommets is synonymous with the edgy style, and many fashionistas add a few hanging chains for good measure. Chunky sunglasses in bold colors are a great way to add a splash of personality to your grunge look while protecting your eyes from UV rays – Cosmopolitan reports that cat eye sunnies are all the rage amongst the modern day grunge aesthetic. Y2K era inspired accessories like belt bags and fanny packs, large patterned scrunchies, and the classic choker are all ideal accessories that will add an extra little something to complete your look and usher the grunge aesthetic into the current decade.