Kourtney Kardashian And Travis Barker Drum Up The Excitement With A Very Kravis Gender Reveal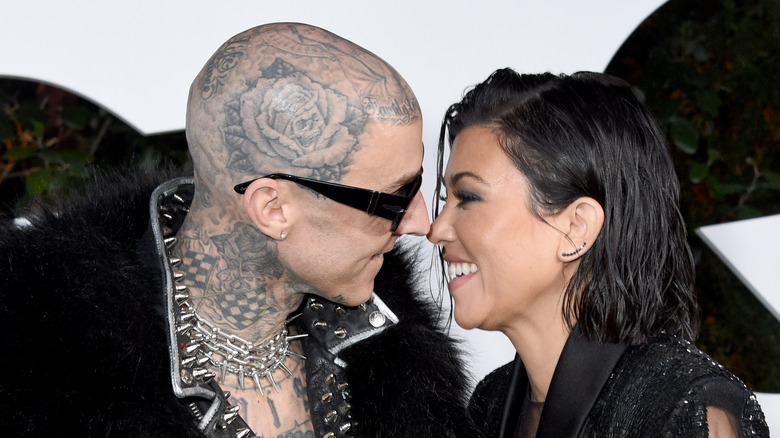 Gregg Deguire/Getty Images
Life keeps getting sweeter for Kourtney Kardashian and Travis Barker. The reality star and the Blink-182 drummer topped off their courtship with a dreamy beach proposal and a stunningly glam wedding in Italy (plus two legal vow exchanges). Already the parents to six children between them, the newlyweds hoped to add a seventh to their total. But an unsuccessful run at IVF seemed to dash those hopes, and at 44, Kardashian's odds of pregnancy were low to begin with. But "low" isn't the same as "impossible," as we now know. 
Earlier in June, Kardashian made a pregnancy announcement that was pure Kravis: During one of her husband's concerts, she held up a sign reading, "Travis I'm Pregnant." (It echoed a similar sign from Blink-182's "All the Small Things" music video.)
Kardashian is mom to a daughter and two sons, while Travis is the proud dad of a son, daughter, and stepdaughter. So, in assigned-gender terms, the new baby will be the tiebreaker. Curious fans didn't have to wait long to find out the answer though. Less than a week after the initial news broke, the couple shared their gender reveal moment. It wasn't as over-the-top spectacular as some have been — reality star Jed Duggar's wild gender reveal featuring a car crashing into a lake comes to mind — but it was perfectly (and percussively) appropriate for the expectant parents.
Drumroll, please! Baby Kravis is a...
To the delight of fans, Kourtney Kardashian posted a video of the gender reveal to her Instagram account on June 24. It showed husband Travis Barker sitting behind his drum kit on a small outdoor platform, with Kardashian on his lap. Her form-fitting white bodysuit showed off her baby bump to glorious effect — and suggested she might be well into her second trimester. (The day before, she posted a selfie in a bikini that also looked appropriately glamorous.)
The wind whistled in the background as the off-camera onlookers cheered; one voice was heard urging the couple to "get this party started!" Barker and Kardashian kissed as he performed an extended drumroll; when he finally hit the cymbals, long blue streamers burst out of unseen cannons, revealing the new Kravis baby is a boy. (The wind immediately carried the streamers into the far distance, but the point was made.)
Now fans will have to wait and see what name the Barkers choose for their new son. Kardashian's sisters are famous for their highly unusual picks — Psalm, Saint, True, and Chicago among them — but her own kids' are comparatively common: Penelope, Reign, and Mason. Then again, they could always change their minds. Kylie Jenner and Travis Scott originally named their son Wolf Jacques, but soon decided it didn't suit him. Just before the baby's first birthday, the couple legally re-dubbed him Aire.