Kody Brown Says His Marriage To Sister Wives' Christine Was Based On Ego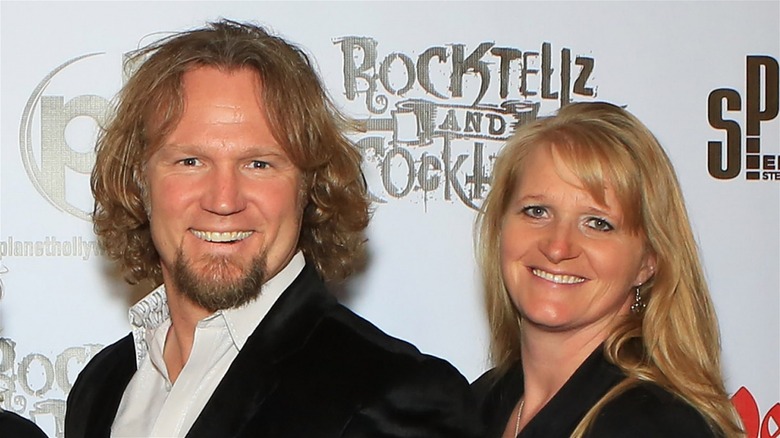 Gabe Ginsberg/Getty Images
TLC's "Sister Wives" has been following the Brown polygamist family since 2010, but a lot has changed since we first met Kody Brown and his then four sister wives. The patriarch was originally legally married to just Meri Brown, his first wife, whom he later divorced so he could legally tie the knot with Robyn Brown, his latest paramour and only remaining wife at the time of writing.
Other than Meri and Robyn, Kody was spiritually wedded to Janelle and Christine Brown for more than 20 years too, and the blended family has a total of 18 children between them. Christine decided to break things off with the patriarch in November 2021, and Janelle and Meri followed suit soon after. While all the separations were touched upon on the show, the aftermath of Christine's departure was the most shocking overall. 
Despite sharing six kids and spending more than 25 years living together as a married couple, Kody publicly slammed Christine in the show's bombshell tell-all more than once. In a subsequent sit-down special, Kody even admitted that he felt pressured to marry Christine and that the decision to go into a spiritual marriage with her was ultimately based on his image above all else. 
Kody Brown married Christine to look 'cool'
In the intriguing tell-all, Kody Brown revealed that his marriage to his third wife, Christine Brown, was based on ego and that he didn't initiate the relationship. "Christine basically asked to be in our family. I felt a lot of pressure," Kody shared in the second part of the "Sister Wives: One on One" sit-down. The patriarch explained how Christine was "basically royalty in [their] church" and that he thought it would make him look better among churchgoers to get with her.
"I was a polygamist; it's all ego, baby," Kody responded when host Sukanya Krishnan asked if their marriage was ego-based. However, this wasn't the first time Kody publicly attacked Christine. After the former couple published their separation announcement on Instagram, Kody shared his feelings on "Sister Wives." While he has previously opened up about the tension in his marriages, Kody's comments regarding Christine seemed deeper than just a harmless vent.
According to Screen Rant, Kody made sure the world knew how he felt about Christine by saying on camera that he wasn't attracted to her during their marriage and that he was performing his marital duties purely out of obligation. The father of 18 also blamed Christine for the failure of their marriage, as she apparently kept him in the dark about her plans to leave him. 
Christine has moved on after leaving Kody
In the first episode of the "Sister Wives: One on One" special, Christine Brown addressed the insensitive comments Kody Brown made about her on the show. "To hear that he wasn't attracted to me, it was terrible to hear," the former sister wife told host Sukanya Krishnan, adding that the entire ordeal was "super embarrassing." Christine acknowledged that while it was hurtful to listen to her ex-husband speaking about her like that, it was also "almost a relief," as Christine knew she no longer had to keep trying with him.
While speaking to People, the "Sister Wives" star revealed that the last straw for her was when Kody decided he no longer wanted to be intimate with her. "I'm not okay with staying in a marriage where there's no intimacy. That's not a real marriage. I'm not interested in a half marriage or a partial marriage or whatever we have," Christine argued.
Despite the public breakup, the mom of six has never been happier. After the split, Christine moved to Utah to be closer to her children, which was the right choice, according to her son, Paedon Brown. "She's honestly done with [polygamy], and that's OK," he informed Us Weekly, adding that the plural family concept is "just not for her anymore." Christine has moved on and has even found a new husband after her divorce from Kody.