Adding A Layer Of Waterproof Eyeliner Might Be The Secret To Smudge-Proof Lines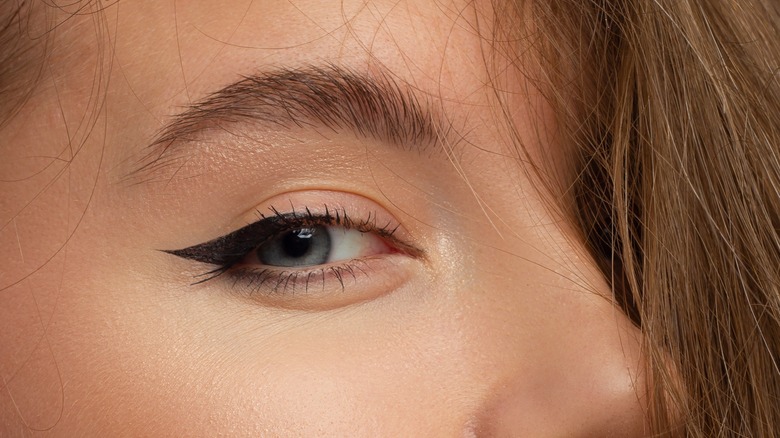 Shtennikova Evgenia/Shutterstock
We may receive a commission on purchases made from links.
Nothing can quite ruin your day faster than giving yourself the most glorious of face beats only for it to smudge after a while. Eyeliner just might be one of the guiltiest makeup products out there when it comes to smudging up. What do our relationships and our makeup have in common? We need them both to be reliable. Treachery is looking like a goddess in the house and then a raccoon on the streets because your eyeliner simply refused to cooperate. If you experience this often, your struggle is understood and we commiserate. Makeup artists have concocted a solution to this problem and we couldn't be more grateful.
Eyeliner is typically made of substances like liquid or gel which tend to get blotchy especially if you have oily skin or are prone to sweating. Fortunately, veteran makeup artists are helping us keep our eyeliner in place all day by dishing out their trade secrets. There are tried-and-tested tricks that you can use to up your eyeliner game and keep you from looking like a horror movie villain.
Use waterproof eyeliner all the way through for optimal smudge prevention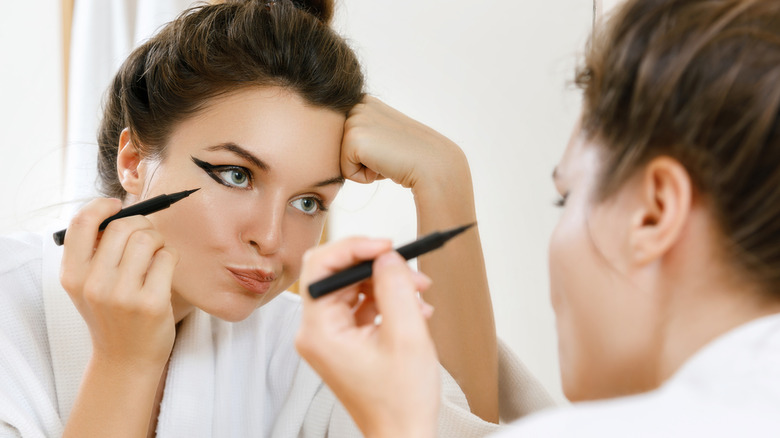 BLACKDAY/Shutterstock
Eyeliner is tricky makeup to pull off. Whether you're going for a sharp cat eye or a barely-there line, applying eyeliner means that you need all the tips and tricks you can lay your brushes on. Coming through with an expert hack via Byrdie, celebrity makeup artist Kathy Jeung says that the best way to avoid your eyeliner smudging is to add some waterproof liner after your main liner. The main factor responsible for your liner getting smudged is moisture, either from your skin, your eyelids, or the atmosphere. 
Jeung suggests doubling up the waterproof makeup by first using a waterproof pencil as your main liner. After creating your base look with the pencil, go over the line with another liner, this time with a pen, gel, or liquid eyeliner. A great waterproof eye pencil you can use is the L'Oréal Paris Infallible Pro-Last Waterproof Pencil Eyeliner which isn't just super affordable, but also comes in 15 colors and is guaranteed to stay on for 24 hours. To achieve precise angles and a seamless finish during your double-up, try the Maybelline Lasting Drama Gel Eyeliner. You won't regret it.
Clean up your oily eyelids for better eyeliner stay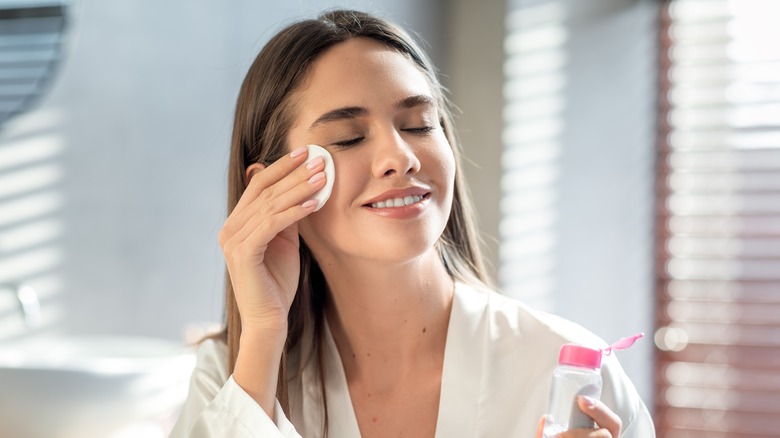 Prostock-studio/Shutterstock
For some people, it may seem like no matter what eyeliner you use, it will still end up blotchy at the end of the day. If this happens to you often, you might want to check yourself because you could have oily skin. The makeup gurus advise that people with oily eyelids use eyeliners with a liquid formula as opposed to waxy or soft liners which wouldn't mesh well with your skin. The idea is to keep as much moisture out as possible so that your eyeliner stays razor sharp and brilliant.
It also helps to clean your eyelids completely before applying your liner. You should use a cleanser to free your eyelids of any oily or sweaty buildup before drawing on your liner. A great cleanser to use that won't be too harsh for your sensitive eye area is the La Roche-Posay Toleriane Purifying Foaming Facial Cleanser. Kathy Jeung recommends layering your eyeliner with a whiff of matte powder in between. This will not only help to dry up your oily spots but will also work to make your liner more vivid. Once you dust up your lids and add your cat eyes, you'll be ready to pounce.