Chevy Chase Slated As Top Guest For Hallmark Fan-Favorite Christmas Con 2023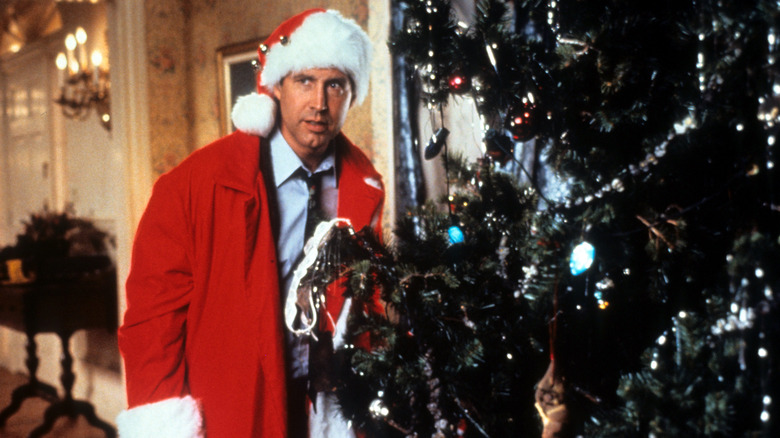 Archive Photos/Getty Images
There's no place like the Hallmark Channel for the holidays. In fact, Hallmark's 2023 Christmas in July event is already underway, and it's bringing fans a bit of much-needed Christmas spirit to beat the summer heat. When it comes to Christmas movies, most of us have our favorites and the classics that we return to every year. For many of us, one of those favorites has to be the 1989 classic, "National Lampoon's Christmas Vacation." Come on –– what fills us with more holiday cheer than the mere thought of a good old-fashioned Griswold family Christmas?
It's really no surprise that the king of Christmas himself, Clark Griswold, will play a key role in a special event that's beloved by the Hallmark Channel and its fans. If you're a Christmas lover who hasn't heard of Christmas Con, you're in for a seriously holly jolly treat. Christmas Con is a convention to celebrate all things Christmas. The convention takes place in New Jersey in December and includes many special events for holiday aficionados and many guests from our favorite Christmas movies from the Hallmark Channel and elsewhere. This year's headlining guest is certainly exciting many fans and ensuring that this year, in the wise words of Clark Griswold in the holiday favorite, "We're gonna have the hap–hap–happiest Christmas since Bing Crosby tap-danced with Danny Kaye."
Chevy Chase heads to Christmas Con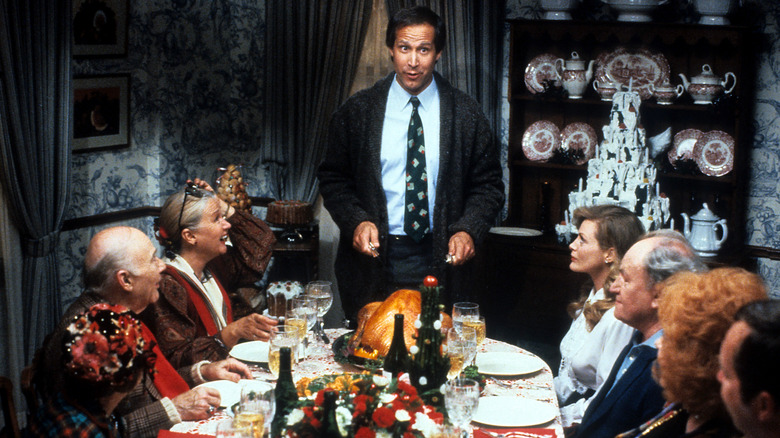 Archive Photos/Getty Images
Chevy Chase, who played Christmas icon Clark Griswold in "National Lampoon's Christmas Vacation," will be headlining the 2023 Christmas Con come December. The 79-year-old comedian will be a part of the convention's panel of Christmas movie actors, and he'll fit in well with our favorite Hallmark Channel stars, who are sure to join him. In fact, before Chase signed on for the gig, People asked fan-favorite Hallmark actor Tyler Hynes who his dream Christmas movie co-star would be. "I mean, if we're talking about holiday stars, I would just think of Chevy Chase from the 'Lampoon' movies. 'Christmas Vacation' is one of those legendary movies I grew up on. Doing these movies now and having him be in it would be a full-circle moment," he answered. It's sure to be a "full-circle moment" for plenty of stars who will join the panel alongside Chase.
The official news that Chase is Christmas Con-bound broke shortly after the second summer edition of Christmas Con, which ran from June 9-11. Classic holiday movie royalty and Hallmark Channel stars alike were in attendance, like Taylor Cole, Cameron Mathison, Benjamin Ayres, and Melissa Joan Hart, among many others. And, since this was the summer version, we can expect December's Christmas Con to have an even more stacked guest list.
Christmas Con 2023 is sure to be a star-studded winter wonderland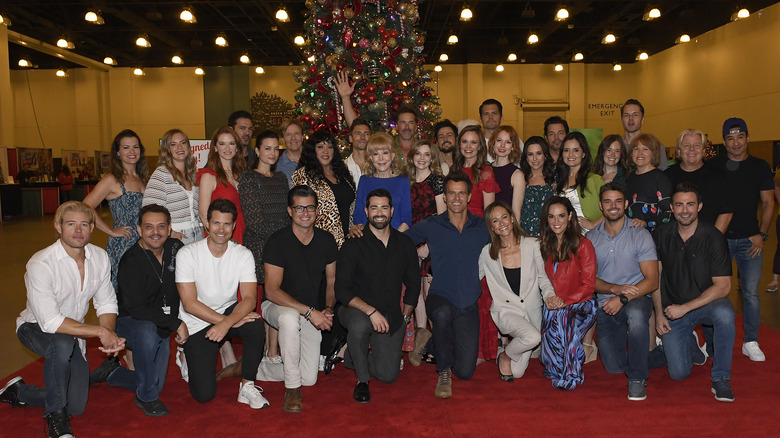 Michael S. Schwartz/Getty Images
Christmas Con 2023 will be held from December 8 to 10 in Edison, New Jersey, 34 years after "National Lampoon's Christmas Vacation" first premiered. Chevy Chase is sure to be in good company. While we don't know the official guest list as of now, last year's Christmas Con was chock full of stars from the Hallmark Channel, Lifetime, Great American Family, and elsewhere — including Chad Michael Murray, Danica McKellar, Andrew Walker, Nikki DeLoach, and Autumn Reeser. The event was headlined by "Mean Girls" alumni and Hallmark Channel sweethearts Lacey Chabert and Jonathan Bennett.
In addition to what is sure to be star-studded panels, the convention offers lots of vendors, shopping, a tree-lighting, and plenty more to get you in the holiday spirit. You can get your tickets to this year's Christmas Con here. And, if you just can't wait that long for the most wonderful time of the year, you can always check out the Hallmark Channel's Christmas in July event to hold you over.