Natalie Wood's Daughters Grew Up To Be Gorgeous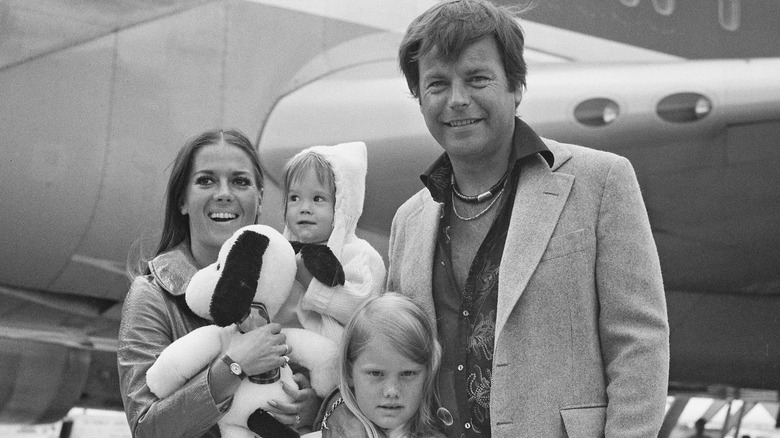 Evening Standard/Getty Images
Natalie Wood's career began in childhood, and she remained a popular star into adulthood. But no one knows what her life would have been like and the direction her career would have taken because she tragically passed away after a boating incident in 1981. "The day my mom died, my entire world was shattered," Natasha Gregson Wagner said in the documentary, "Natalie Wood: What Remains Behind." "Since then, there's been so much focus on how she died that has overshadowed who she was as a person."
At the time, she was on board with her husband, Robert Wagner, who was considered a person of interest in her death. But he is also the father of one of her biological children, Courtney, whom he would raise alongside her other daughter, Natasha Gregson Wagner (born to Wood and Richard Gregson). Before her passing, the "Rebel Without a Cause" actress was also a dedicated stepmom to Robert's daughter, Katie.
There is no denying her death impacted her children's lives. Now that Hollywood legend Natalie Wood's children have become gorgeous women, they have attracted attention and renewed interest in her life. It's a life that was cut short, but in some ways, it continues to live on through her children (one of whom is following in her footsteps).
Natasha Gregson Wagner followed in her mom's footsteps with an acting career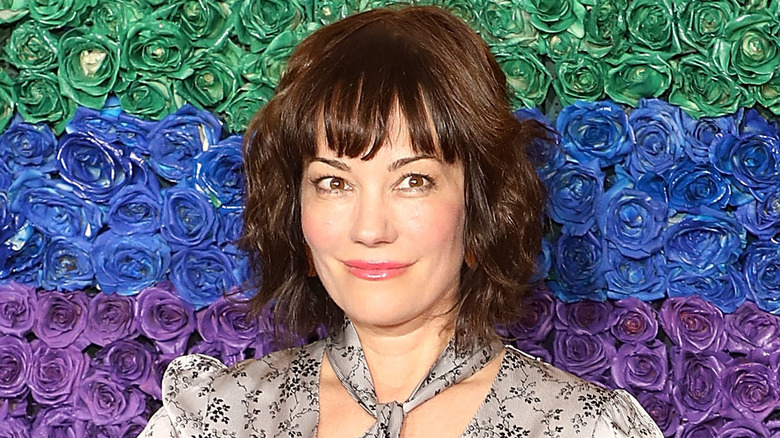 Taylor Hill/Getty Images
Natasha Gregson Wagner is arguably the most famous of Natalie Wood's daughters. She is also her oldest biological child, born September 29, 1970. At the time of Natasha's birth, Wood had been married to Natasha's father, Richard Gregson.
Fans will notice several similarities between Gregson Wagner and her mother, both in appearance and their interests because she is also an actress. Perhaps this is unsurprising, considering an actress raised her, her stepfather, Robert Wagner was an actor, and her biological father, Richard Gregson, was a British screenwriter. The entertainment industry always surrounded her, but instead of running from it, she embraced it.
"I started to pursue acting, but very uncertainly and very clumsily," she told Backstage in an interview. "It wasn't until the last three years that I've really understood acting. Not that I understand it, but I have some sort of idea of what in the world I'm doing." It is also worth noting that Gregson Wagner has achieved some level of success with her craft, with appearances on "The 4400," and "Pasadena." 
Natasha hopes Natalie Wood is proud of her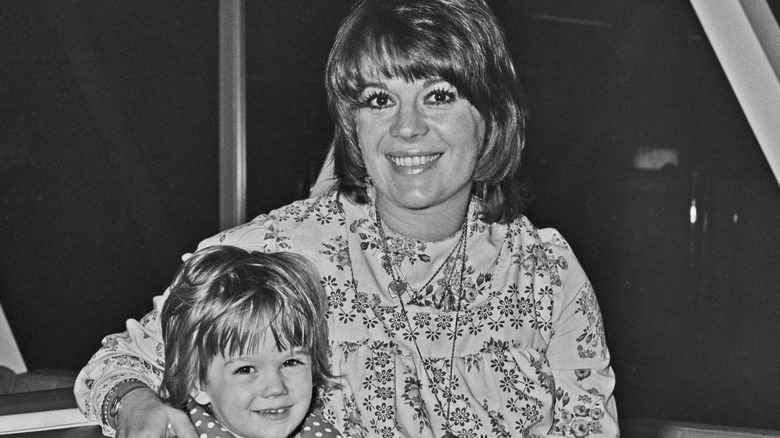 Dennis Stone/Getty Images
Natalie Wood was a beloved actress, and her talent was on display in films such as "Splendor in the Grass" and "Love with the Proper Stranger." She was an influential and well-liked star, but the circumstances surrounding her death at age 43 continue to be a talking point.
When Natasha Gregson Wagner lost her mother, she was a child, and Wood's death would profoundly affect her life. Natasha would reflect upon this years later in her memoir, "More Than Love." A moving excerpt from the book gives a glimpse into their relationship and the "Lost Highway" actress' earliest memories. "My first memory is an awareness of comfort and love, a feeling of being held in the cocoon of my mother's embrace," she wrote of her mother.
In her interview with Backstage, Gregson Wagner said she hoped her mother was proud of her. She also revealed how Wood's memory impacted the woman she would become and how she would treat others. "She made a conscious effort to pay attention to her children and give them as much as she could," Gregson Wagner recalled. "So my pressure is to be decent and peaceful and smart and kind to the people that I love, and to everyone."
Natasha was raised to be free and confident in her body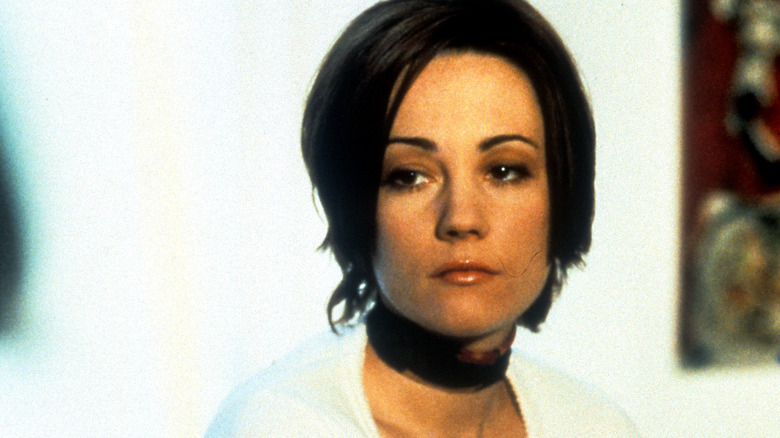 Archive Photos/Getty Images
There are vastly different approaches to raising children, and some may be more traditional and conservative in their views, while others are more liberal. But how did Natalie Wood raise her daughters? 
The sad reality is her eldest child was just 11 at the time of her passing, so much of the child-rearing would fall to the men with whom Wood shared her daughters. These men were Richard Gregson, the biological father of Natasha Gregson Wagner, and Robert Wagner, a dedicated stepdad but also father to Courtney Wagner and his older daughter, Katie Wagner (from a previous relationship with actress Marion Marshall).
Natasha Gregson Wagner was lucky to have two dedicated father figures who worked hard to raise her together. She also grew up not feeling shame about her body, and sex was not taboo. In her interview with Backstage, she said: "My parents raised me quite liberally and if you look at pictures of me as a child I was always naked. I was lucky with my parents, because we talked about sex and it was never a dirty thing. It was always a beautiful, empowering thing. I want to share that view."
Natasha has missed her mom her entire life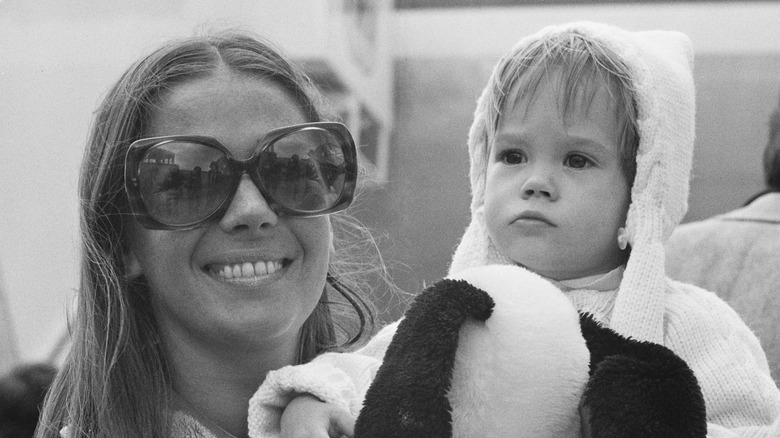 Evening Standard/Getty Images
Natasha Gregson Wagner and her mother, Natalie Wood, shared a close bond. Despite being 11 when her mother passed away on November 29, 1981, Gregson Wagner had vivid memories of their time together, some of which she shared in her memoir, "More Than Love." Not only did they have a close relationship, they even shared a name.
"My mother named me Natasha. Before Hollywood renamed her Natalie Wood, she had been Natasha Gurdin," Gregson Wagner wrote in her memoir. "She was Big Natasha, and I was Little Natasha. We were Natasha. She was Mommie and I was her 'Natooshie.' She also called me 'Natashinka,' or her pet name for me, her 'petunia.'"
Growing up, Gregson Wagner could feel her mother's absence, and she was deeply missed. "I was 11 when my mother died and this year I'll be 51," she told People in 2021. "You can be 50 and still miss your mom." 
Wood's daughters don't believe Robert Wagner was involved in her passing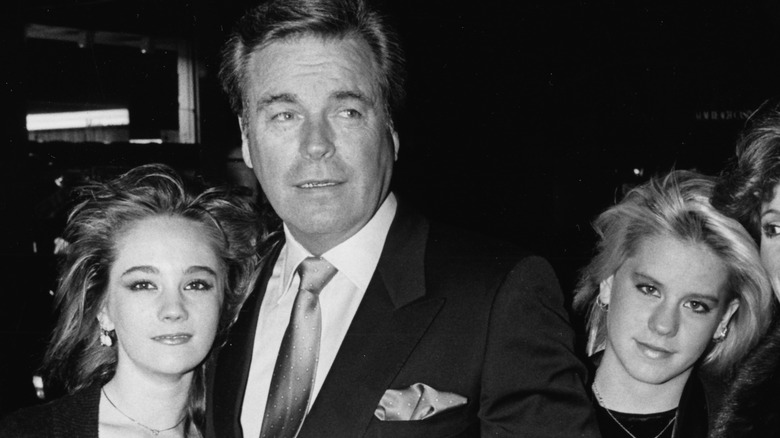 Dave Hogan/Getty Images
At the time of Natalie Wood's death, she was on a yacht trip to Santa Catalina Island. The exact circumstances surrounding her death have caused much speculation. She drowned, and her body was found on November 29, 1981. Despite her death being ruled an accident, many fingers were pointed in the direction of her husband at the time, Robert Wagner.
In addition to Wagner and Wood, only two other people were aboard the boat: the deckhand, Dennis Davern, and actor Christopher Walken. Theories about what happened to her that fateful night include that she tried to leave the yacht. "She was unable to reboard the dinghy or the yacht and tragically perished," coroner Thomas Noguchi theorized (via Los Angeles magazine). Wood's sister, Lana Wood, believed that Wagner had been responsible.
"I don't believe it was premeditated," she told The New York Post in a 2021 interview. "But that doesn't mean I don't think he did it: Of course he did!" But these claims are not something Natalie's daughters share with their aunt. "It's outrageous and completely unacceptable that others have created this narrative about my dad and the night my mom died," Gregson Wagner told People in 2020. "I know that if my mom had been in any kind of distress, he would have given his life for her." And Gregson Wagner's sister Courtney had expressed similar feelings to People in 2016.
Natasha's dads made the decision to raise her with her sister, Courtney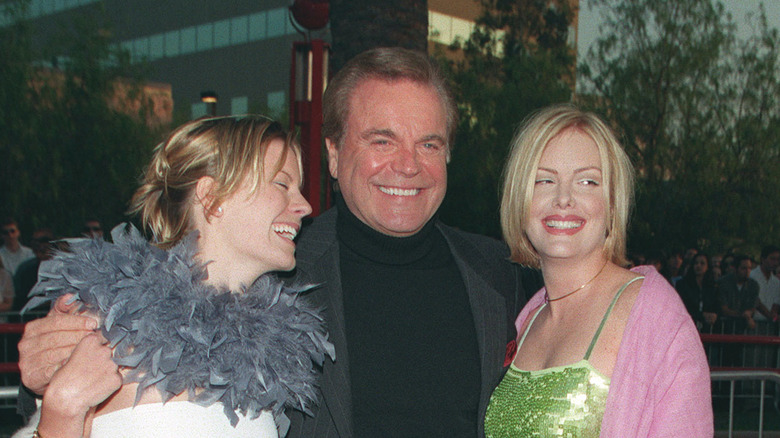 Frank Trapper/Getty Images
Natasha Gregson Wagner has nothing but love and respect for her stepfather, Robert Wagner (or "Daddy Wagner"), and she has come to his defense when speculation surrounding her mother's death fell on him. He also played an essential part in raising her with her biological father, Richard Gregson.
Gregson Wagner has spoken about her childhood and how her dads decided what was best for her and her future. "There were no lawyers," she told the The New York Times in a 2016 interview. "My dads just sat down and my Daddy Gregson said, 'I feel like Natasha should come live with me because she's my daughter,' and my Daddy Wagner said, 'I know, that would make sense, but she's grown up with me,' and then they said, 'What's the best thing for Natasha?'" She would live with Wagner for most of the year but spend her summer vacation with Gregson.
Natasha Gregson Wagner grew up feeling blessed. "I was so lucky I had two dads who were deeply committed to raising me and helping me through," she told People in 2016. "They were trying to pick up the pieces for us and stumble forward and find out what our life looked like after [her mother's death]."
The girls share an extremely close bond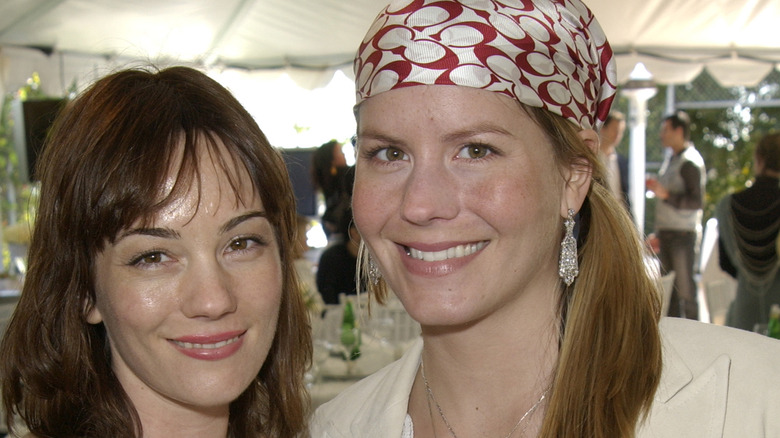 J. Vespa/Getty Images
When Natalie Wood died, it would change her children's future forever. "It was just the unthinkable," Natasha Gregson Wagner told People. "I just remember it was the worst thing ever. My whole world just went to black and white, and I couldn't hear anything." But this trauma created an unbreakable bond between herself and her siblings, Katie Wagner and her half-sister, Courtney Wagner.
"From as far back as I can remember, my family was so happy and engaged with each other," Courtney also reflected on her childhood in People. "I can remember feeling the love and happiness in the air." Courtney also commented on how the documentary, "Natalie Wood: What Remains Behind," captured who their mom was and how they moved on from the tragedy they faced.
Katie has also spoken to People about her close relationship with her sisters, saying, "Our bond is stronger than any kind of glue. They were just 11 and 7 when Natalie died. I stood by my dad's side, and we loved them as best we could."
Natalie Wood was a dedicated stepmother to Katie Wagner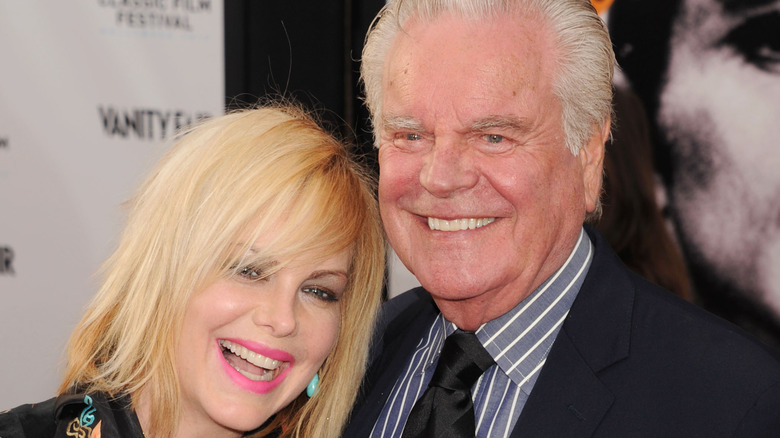 Jeffrey Mayer/Getty Images
Natalie Wood and Robert Wagner were married twice. The first time was in 1957, and they divorced in 1962. For Wood, it was love at first sight. "I was 10, and he was 18 when I first saw him walking down the hall at 20th Century Fox," the actress told People magazine in 1976. "I turned to my mother and said, 'I'm going to marry him.'"
Katie Wagner was not Natalie Wood's biological daughter, but the "West Side Story" actress was involved in her upbringing. Katie was born on May 11, 1964, and when Wood married her father for the second time in 1972, she got a stepmom. Wood and Wagner would remain married until she died in 1981, meaning that Katie was part of the actress' life for nine years. While there is little information about the bond they shared, Natalie's sister, Lana Wood, has commented on what she was like as a stepmom; by all accounts, she appeared excellent.
"[Natalie's] marriage [to Robert] was considered to be one of the best in Hollywood, and there is no question that she was a devoted, loving — even adoring — mother and stepmother," Lana wrote in "Natalie: A Memoir by Her Sister."
Courtney is incredibly close to her father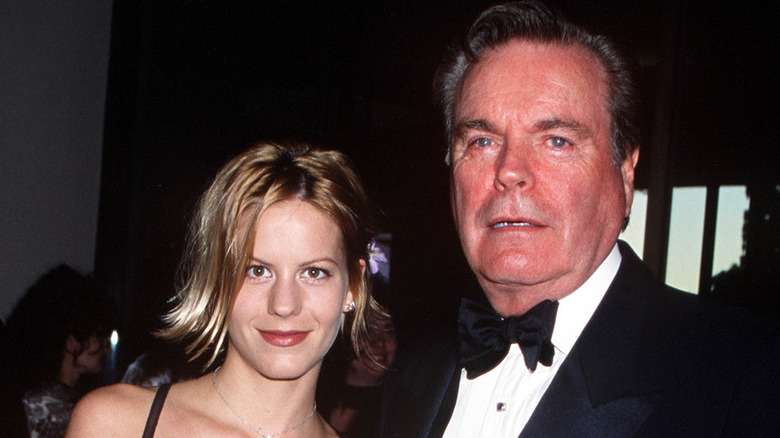 Barry King/Getty Images
Courtney Wagner is the daughter of Natalie Wood and actor Robert Wagner. When her mother died, she was just 7. But the trauma she and the rest of her family would go through would create a stronger bond between them.
Courtney is not quite as outspoken as her sister, Natasha, and she has not pursued a career in acting. Still, that doesn't mean she doesn't have interesting things to say. "My Dad and sisters experienced a true tragedy together and were each traumatized, but we had each other to make living bearable and found ways to move on," she said to People about Wood's death and its fallout. "Having gone through something like that together, I always felt especially bonded to my dad and Katie and Natasha. It made me feel especially angry for all the terrible things said about my father."
Courtney has a close bond with the "The Towering Inferno" actor and, like her sisters, has been quick to come to his defense.
Courtney has struggled with substance abuse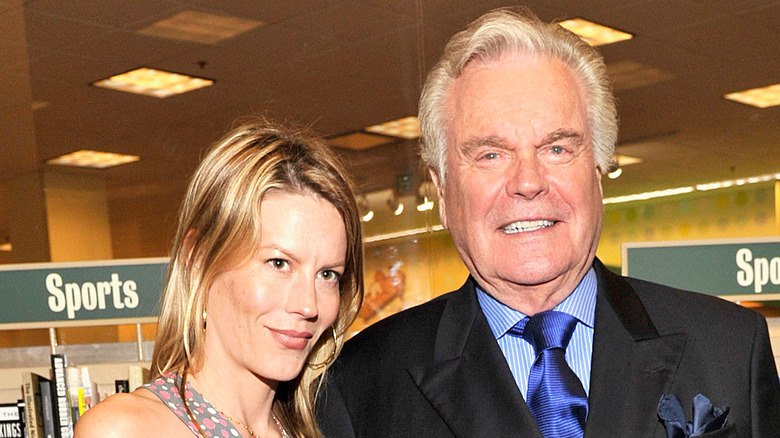 John M. Heller/Getty Images
Not everything in Courtney Wagner's life has been perfect, and in addition to losing her mother at a young age, she has also had to contend with personal demons. This includes her struggles with addiction, which she has bravely chosen to discuss.
"For me, I found ways to numb the rage and heartbreak I experienced throughout my life. I self-medicated with drugs, and it actually worked for me for many, many years," Courtney told People. "For a long time, I had no intentions to give that up for anything, but life was going on without me." She eventually decided to help, knowing that her loved ones continued living their lives while she was stuck in limbo. Her father Robert Wagner's heartache over her pain and addiction also inspired her sobriety.
Natasha Gregson Wagner has also discussed her sister's addiction and sobriety, and her words are filled with kindness and acceptance. "Courtney is somebody who lives in the truth and her recovery demands that of her," she said of her sibling. "She is not ashamed of her struggles. She has gotten to a place where she has compassion for herself and forgiveness."
They have participated in a documentary about Natalie Wood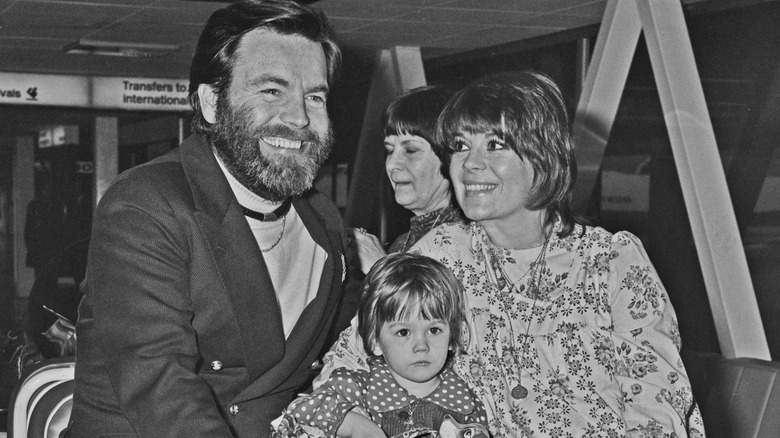 Dennis Stone/Getty Images
Decades after Natalie Wood's untimely death, there is still speculation about what happened to her that fateful night. Her daughters have chosen to be involved in a documentary that touches on it, titled "Natalie Wood: What Remains Behind." The intention was to end the constant questions, especially those targeting Robert Wagner.
"I feel that the night my mom died was an accident. And so I hope that that kind of media speculation ends with this documentary," Natasha Gregson Wagner told Oprah Daily in 2020. "The tragedy is that my sister and I lost our mom, and my dad lost his wife, and the world lost their beloved actress. That's the tragedy." The documentary also has commentary from Robert Wagner. "Everything went out from under me," he told Natasha Gregson Wagner about the confirmation that his wife was dead (via People). "That night has gone through my mind many times."
Courtney Wagner has also been hurt and angered by the backlash against her father. "I was furious at the accusations being said about him; it felt incredibly disrespectful, especially knowing the source of where these accusations came from," she told People.
Natasha Gregson Wagner says Natalie Wood wanted perfection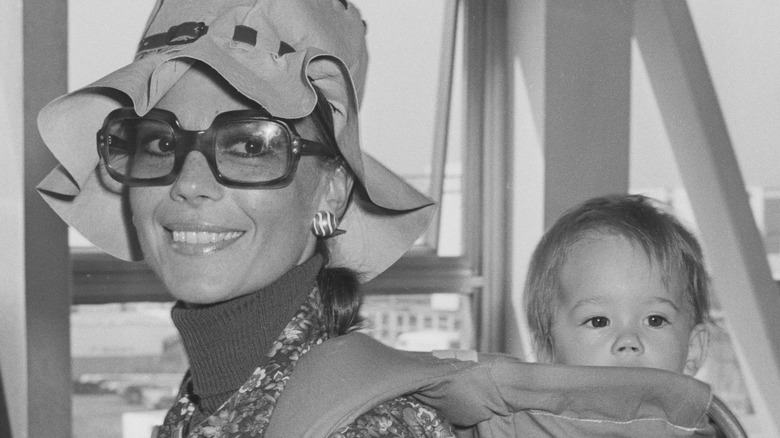 R. Brigden/Getty Images
Natasha Gregson Wagner has given multiple interviews about her relationship with her mother. She also gave fans a glimpse into their relationship by penning her memoir, "More Than Love." She also shared some of the more complex elements of their relationship in Town & Country magazine in 2020. 
She noted the differences between herself as a preteen and her mother, who had grown up as a child star and was always the picture of perfection. Wood had "zero patience for messy hair," and wanted perfection.
"My mom did not want anything to mar her precious daughter. Once, at Tom Mank's house in Malibu, I accidentally sat down on an empty wineglass," Gregson Wagner recalled. "It cut the back of my leg and, when the cut healed, a little raised scar remained. The scar didn't bother me in the slightest. I felt like it gave me an edge. But my mom insisted on taking me to a well-known dermatologist in Beverly Hills."
Natasha now has children of her own with actor Barry Watson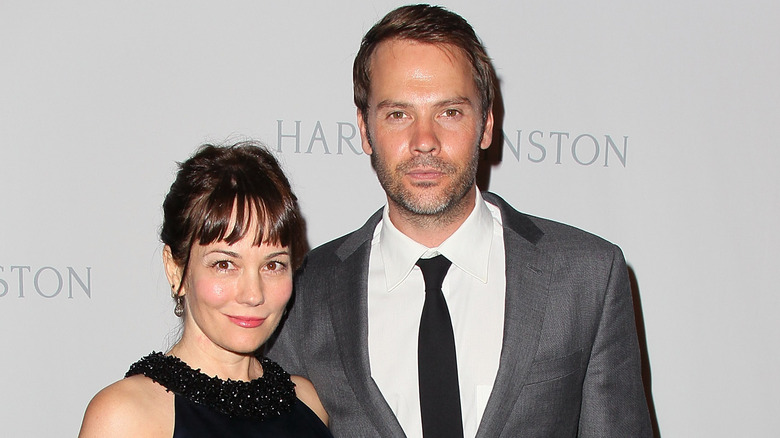 David Livingston/Getty Images
Natasha Gregson Wagner has accomplished many things. She's a successful actress but also a loving partner and wife. She welcomed a child with actor Barry Watson in 2012.
"We are overwhelmed with love and joy at the birth of our daughter Clover Clementyne Watson," the couple told People of the arrival of their daughter. They also noted the name was in honor of Natalie Wood, who had appeared in the film "Inside Daisy Clover." Becoming a mother also made Gregson Wagner reflect on her mother and their relationship. But it was also another part of her journey to healing from her tragic loss.
"Like an ocean, the ebbs and flows are different," she told People magazine in 2021. "The idea of mothering my mom, I feel comfort in that. The more I mother, the more I feel like it heals me too, and I feel gratitude for the book and the experience and that I got to tell my story." Having Clover changed her outlook on Mother's Day, too. "Mother's Day feels like a real day of completion and contentment, a day of gratitude. I wonder sometimes if it felt like that for her, too," she told People in 2017.