Inside The Lavish Life Of The Greek Royal Family
Rune Hellestad - Corbis/Getty Images
In the early '70s, the Greek monarchy was abolished, and the family that was in power was exiled. King Constantine II was reigning at the time with his wife, Queen Anne-Marie, by his side. The two had five children together — Princess Alexia, Crown Prince Pavlos, Prince Nikolaos, Princess Theodora, and Prince Philippos. After citizens of Greece staged a coup to force the royal family out, they fled west and lived in Italy and the United Kingdom, though eventually King Constantine, Queen Anne-Marie, and other members of the family returned to their home country. Although the Greek royal family no longer has any legal jurisdiction over the country, they still retain their titles, and they're in quite high social standing around the world.
The family still lives like royals, too, especially Crown Prince Pavlos, his wife Crown Princess Marie-Chantal, and their children. From their vacations and belongings to their homes and education, every bit of their lives, from an outsider's perspective, is as posh as it gets. Take a look below for a peek inside their lavish lives.
They have a history of attending boarding school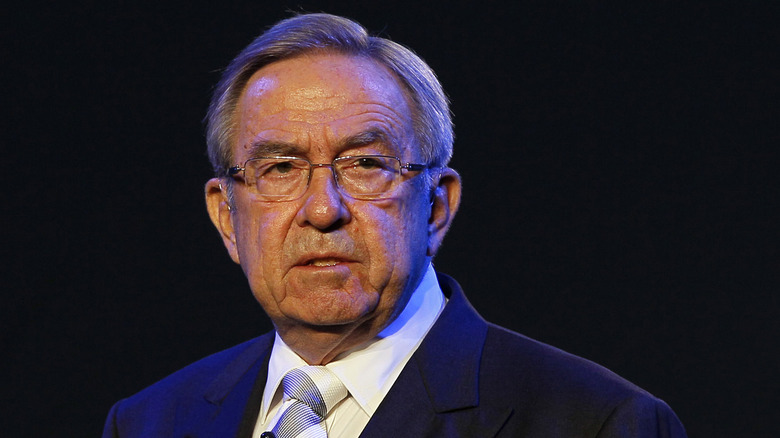 Wpa Pool/Getty Images
When you're a royal, education looks a little different. Not only do they have access to unbelievable amounts of generational wealth, but they also have social status and world recognition. This combination makes it possible for them to attend the best schools in the world, ensuring they receive a high-quality education. But it's more than just a desire for the royals to be well-educated. As a parenting expert told the Express of the thought behind the decision for many royal parents, "Sending their children to boarding school also allows them to keep out of the public eye, giving royal children more privacy from press and paparazzi."
While the Greek royals aren't quite as recognizable as the British royals, they've still got people around the world who know who they are, and like the British royals, the Greek royals have a long history of attending boarding school. Both prior to and after the abolition of the Greek monarchy, the royal family sent members, including the late King Constantine, Princess Maria-Olympia, and Princess Theodora to boarding schools across the world, such as Switzerland and England. After boarding school, the members of the family have gone to college at highly regarded universities. Princess Maria-Olympia attended NYU, Prince Constantine-Alexios went to Georgetown University, and Princess Alexia graduated from the University of Surrey's Froebel College.
They've got some seriously luxe jewelry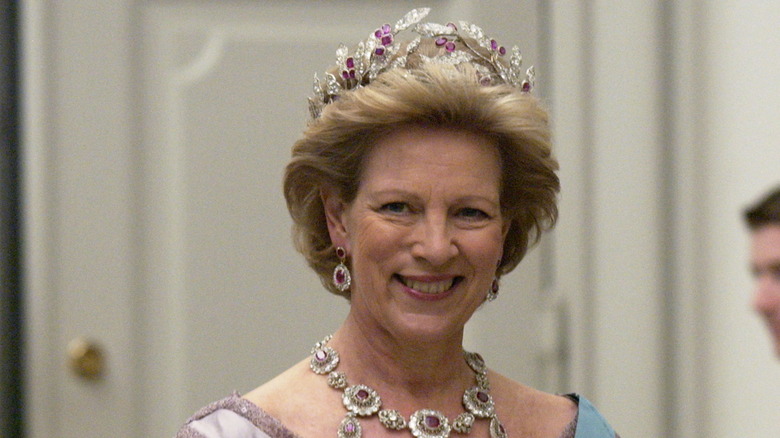 Tim Graham/Getty Images
Royal families across the world have several things in common, chief among them being family heirlooms. And no family heirloom generates scuttle quite like a good piece of jewelry. The Greek royal family just so happens to have lots of good pieces of jewelry in their lineage. Take the Greek Ruby Parure (you know it's good when it has a name). These not-so-little baubles date back to the 1800s. Queen Olga, the wife of King George I of Greece, was given a ruby by her husband each anniversary, and King George used those rubies to have a tiara, necklace, pair of earrings, and pair of brooches created. Queen Anne-Marie is the current owner of the jewels.
The Greek royal family loves their parures, apparently. In addition to the Ruby Parure, they've got an Emerald Parure, and the emerald version has some seriously cool history. Queen Olga was of Russian royalty, coming from the Romanov family (yes, that Romanov family, whose last line of royalty was assassinated). The Queen brought the emeralds from Russia to Greece, and she wore them in many fashions throughout her lifetime. They were left to her progeny, and eventually, an heir, Queen Elisabeth, had them set in a tiara. Today's parure includes a tiara, necklace, earrings, and brooch, and it's been worn on several occasions by Queen Anne-Marie.
The family has homes all over the world
When the Greek monarchy was abolished, the family had to go somewhere, and King Constantine chose London. The family still calls the city home, but it's not the only place in the world they have properties. In addition to their multi-million dollar Chelsea residence, the Greek royal family has an apartment in Manhattan, an estate in the Cotswolds, and a place in the Bahamas. They're also rumored to own a home in Yorkshire. Members of the family have posted photos on social media of their various residencies, showing off their Christmas celebration in the Caribbean and countryside getaways in the UK. The family is grateful for all their properties. As Crown Princess Marie-Chantal said, "Growing up in Hong Kong, I dreamed of space. Being able to enjoy that now is wonderful. I'm a mix of urban and country," as reported by the Daily Mail.
But these homes don't house the entire royal family. The siblings of Crown Prince Pavlos live in countries across the world. His sister, Princess Alexia, lives with her family in the Canary Islands. Prince Pavlos's brother Prince Nikolaos lives with his family in Athens.
They're not the only ones with money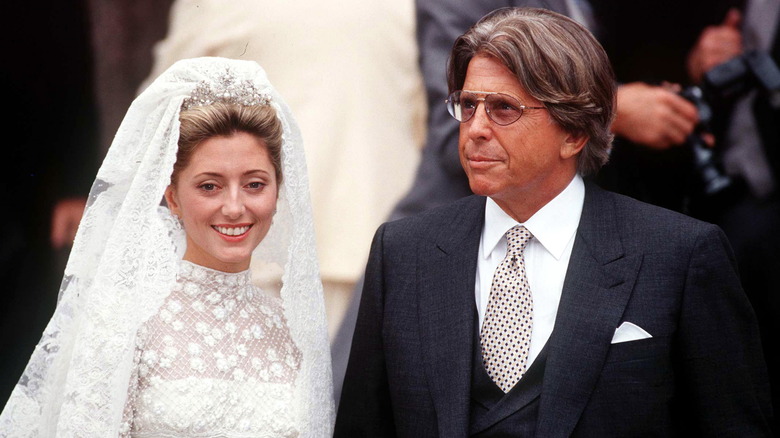 Tim Graham/Getty Images
The Greek royal family clearly has a lot of cash – it isn't cheap to maintain their lifestyle. But certain members of the royal family have married people who also come from serious wealth. Take Crown Princess Marie-Chantal. She married Crown Prince Pavlos in 1995, but marrying royalty didn't change much of what she had access to in terms of material possessions. Marie-Chantal is the daughter of Robert Miller, a billionaire who earned his wealth by co-founding Duty Free Shoppers. Marie-Chantal spent her childhood between Hong Kong, New York City, and London, and she has two sisters, both of whom married men who came from either extreme wealth or high social status. The amount of money that Prince Pavlos has is unclear, but the family should be just fine thanks to his wife.
The Greek royal family must be in the habit of marrying daughters of billionaires. Taking a page from his brother's book, Prince Philippos married Princess Nina, born Nina Flohr, the daughter of Swiss billionaire Thomas Flohr, whose wealth comes from his company VistaJet. Princess Nina's mother, Katharina Konečný, is just as accomplished, though. Konečný used to work for the House of Fabergé as its creative director, and she helped start both the Greek and Russian editions of Vogue.
They have famous friends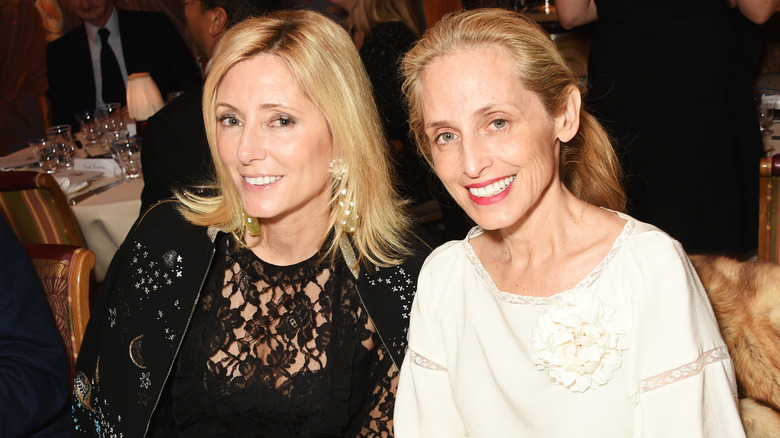 David M. Benett/Getty Images
The Greek royal family is swimming in famous connections, many of which come from their close relation to the British royal family. The two families are distantly related thanks to the now-deceased cousins Prince Philip and King Constantine, and they've remained close all these years. Prince Constantine-Alexios, son of Crown Prince Pavlos and Crown Princess Marie-Chantal, is the godson of Prince William, and Pavlos's brother Prince Philippos is the late Princess Diana's godson. Pavlos and Marie-Chantal's daughter Princess Olympia has famous friends, too, apparently, as she was spotted at Sofia Richie's wedding in 2023.
Remember how we mentioned that Marie-Chantal's sisters also married families of extreme wealth and social status? We weren't kidding. The eldest sister of the three, Pia Getty, married into the Getty family. The Gettys, of course, are famous thanks to the late J. Paul Getty, an oil tycoon who was at one time the richest man in the world. Other famous members of the Getty family include John Paul Getty III, who was infamously kidnapped in Italy as a teenager, as well as Mark Getty who started Getty Images. Marie-Chantal's other sister is Alexandra von Fürstenberg. She married Prince Alexander von Fürstenberg, son of the famed fashion designer Diane von Fürstenberg. The rich and famous only get richer and more famous.
The family members have cool jobs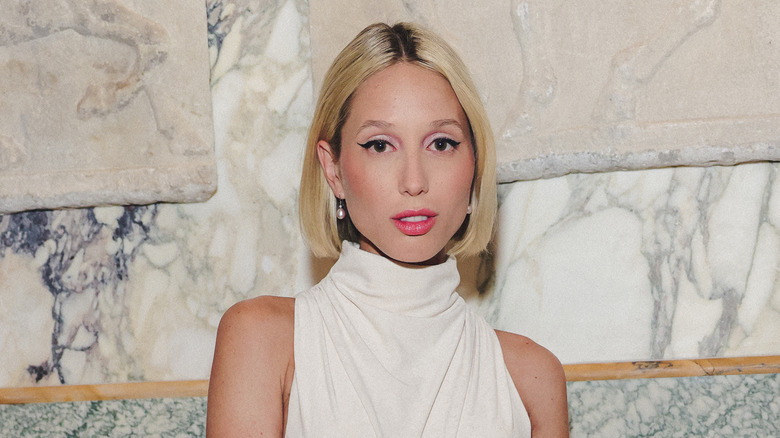 David M. Benett/Getty Images
We all know that the rich and famous have a better chance of snagging cool jobs than those without connections, and if you're royalty, you've got a good chance, too. The members of the Greek royal family have lots of incredible items on their resumes. Prince Odysseas-Kimon, for one, runs Gallows Humour, a clothing line. Prince Nikolaos used to work for Fox News. Prince Philippos works for a hedge fund, and his wife, Princess Nina, has started her own businesses, including a hotel in Mozambique. The Crown Prince Pavlos co-founded a company, too, a hedge fund that he helps manage, and Crown Princess Marie-Chantal owns her own children's clothing line. She's also a published author.
A few of their family members have also either dipped their toes in or made a career out of modeling. Princess Maria-Olympia has modeled for luxury brands like Dolce & Gabanna and Michael Kors while Prince Constantine-Alexios was featured in a book called "The Dior Sessions." Olympia is also active on social media where she shared she collaborated with Olympia Le-Tan to design a line of clutches. Meanwhile, her brother Constantine uses his social media to showcase his photography and videography. The prince has worked with the Venezuelan fashion brand Carolina Herrera.
They're very talented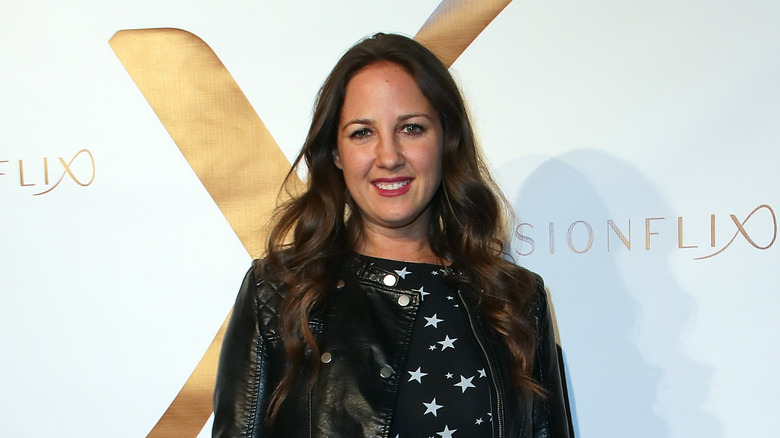 David Livingston/Getty Images
The Greek royal family doesn't just have money and connections — they've also got members with real talent. One child of Crown Prince Pavlos and Crown Princess Marie-Chantal, Prince Achileas-Andreas, has built an acting career. The prince, who goes by the stage name Achi Miller, has had parts in the popular daytime soap "The Bold and the Beautiful" and the 2023 Jennifer Lawrence comedy "No Hard Feelings." And he's not the only actor in the family. Achileas' aunt, Princess Theodora, has an acting career of her own. The royal, who goes by Theodora Greece professionally, had a seven-year stint on the same soap as Achileas (before him, of course), and she's got credits in multiple other projects, including the 2022 film "The Great Awakening."
Acting isn't the only interest of the Greek royal family. Several members are great athletes, too. Carlos Morales Quintana, who married Crown Prince Pavlos's sister, Princess Alexia, was on a pre-Olympic sailing team prior to meeting his wife, and their daughter, Arietta Morales y de Grecia, sails, skis, and swims. And more than one member of the Greek royal family is interested in photography. As noted, Prince Constantine-Alexios is a fairly accomplished photographer, and his uncle, Prince Nikolas, works as a photographer himself in Athens.
They're popular on social media
If you've ever tried to build a following on social media, you know it's not easy. But perhaps one method you haven't tried is being born into a royal family. That method has worked splendidly for the children of Crown Prince Pavlos and Crown Princess Marie-Chantal. Jokes aside, Princess Maria-Olympia, Prince Constantine-Alexios, Prince Odysseas-Kimon, and Prince Achileas-Andreas all have quite a presence on Instagram. Olympia is making major use of her account. The royal has over 290,000 followers, and she uses her space to showcase her travels and outfits, and she posts photos for brands she collaborates with, like Tiffany & Co. Among Olympia's followers are famed people like Paris Hilton and Anya Taylor-Joy.
Olympia's brother Constantine, as noted, uses his Instagram account to showcase his camera work. His follower count isn't quite as high as his sister's — it sits at just under 190,000 at the time of this writing — but he is verified, and he's got lots of fans of his work. "I'm glad you posted some old videos, I hope other photos come back too," one user commented on one of his posts. His brother Odysseas has just over 15,000 followers on Instagram, while Achileas has the most followers on Instagram of all the siblings with nearly 500,000. Even Marie-Chantal has gotten in on the social media action, boasting over 230,000 Instagram followers herself.
They take fabulous vacations
Given they've got access to so much money, the Greek royal family is also busy jet-setting around the world. One common vacation spot is their home in the Bahamas, but they've been seen plenty of other places, too, both individually and as a family. Princess Maria-Olympia has posted pictures of herself to social media in places around Europe, like Paris and Sicily. Meanwhile, her brother Prince Achileas-Andreas has shown himself visiting places like England and Greece, as well as some other tropical and wintry locales. As for their mother, Crown Princess Marie-Chantal, she's been all over, too. Posts from her Instagram account feature her in London, Spetes, Rome, and more, and she shared a photo of a stunning vista in spring 2023 with the caption, "Spring breaking with my happy bunch."
While other royals are able to travel to the same places the Greek royal family goes, the Greeks seem to have it the best vacation-wise. The British royal family, for example, often visits other countries and continents, but rarely for vacation. Much of their travel is for work. The Greeks, from the looks of it, are able to relax in luxurious peace. Perhaps being exiled isn't the worst thing to happen to a family — if they're able to live as millionaires afterward, that is.
They've got fun toys
The Greek royal family doesn't just have money — they know how to spend it, too. And they seemingly spend it on some fun toys. The family has been photographed with plenty of cool belongings, like a vintage car, a Segway, and a two-wheel motorized vehicle, all of which make sense given they've got giant properties to roam around. And their belongings differ from property to property. One of their residences houses a telescope, while another is home to a giant sculpture of a shell. There probably isn't a need for that last item, but they have it, nevertheless.
Inside their homes are lots of neat items, too. One of their homes has a stunning grand piano. While the brand of the piano is not certain, the price of one starts at around $10,000, and we'd guess theirs isn't an entry-level instrument. Through social media, we've gotten enough peaks inside their homes to see the Greek royal family lives in luxury, with stunning art on the walls and high-quality finishes, like stone floors and countertops, throughout the interior. And while we're not sure whether the family owns a boat or not, they certainly have access to water vehicles. Princess Alexia, for one, was seen boarding a large boat just before attending the wedding of a Norwegian prince.
They've been featured in some major publications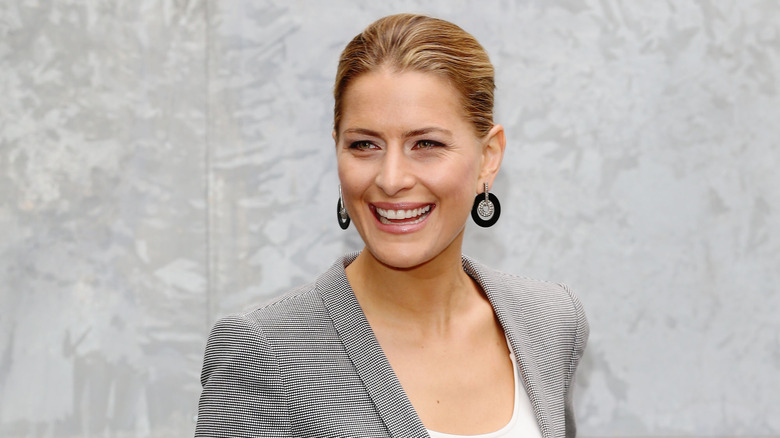 Vittorio Zunino Celotto/Getty Images
When you're literal royalty, people want to know about your life, especially when your family is no longer in power. For that very reason, several members of the Greek royal family have been featured in major publications. Crown Princess Marie-Chantal, for example, was featured in The New York Times in 2020 for the feature "How Crown Princess Marie-Chantal of Greece Spends Her Sundays." (Her Sundays sound pretty normal, in case you were wondering.) And that wasn't the first time she was written about in the publication.
Vogue is another outlet that likes to report on the Greek royal family. Princess Marie-Olympia has been in multiple magazines under the Conde Nast umbrella, including Teen Vogue and Vogue. It was in the latter magazine that she gave a glimpse into just how incredible her life has always been. "I went to a Valentino show with my mother and father in Rome and I remember sitting on my father's lap and thinking this is unbelievable," she said to the outlet about attending a fashion show when she was 10 years old.
Another member of the Greek royal family, Princess Tatiana, has been interviewed by Vogue, too. "I live a very simple life here. I work, I go to the supermarket, I cook, I walk my dog, and the Greek people have welcomed me like they would anyone else," she said of her life in Greece. It may not seem luxurious to her, but it sure sounds nice to us.