These Political Powerhouse TV Shows Have Hillary Clinton's Seal Of Approval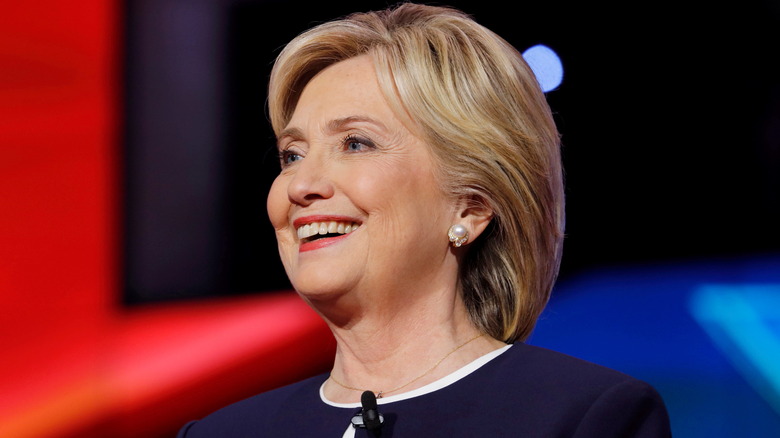 Joseph Sohm/Shutterstock
The former first lady and presidential nominee has experienced enough political drama to last a lifetime. But despite her real-life experiences, Hillary Clinton still enjoys juicy, binge-worthy dramas just like the rest of us. It's even possible that these fictional retellings of life on Capitol Hill are even more entertaining for the political giant since she has served in each role portrayed on-screen.
Serving impressive tenures as a congresswoman, senator, first lady, presidential nominee, and secretary of state, Clinton has been active in politics for the majority of her life. At Yale Law School, a young Hillary Rodham pursued social action initiatives and eventually met her future husband, Arkansas Governor and U.S. President Bill Clinton. Since then, she has moved through various stages of a lengthy political career, overcoming many obstacles to become the history-making figure she is today.
Clinton revealed some of her favorite TV shows that take place in the nation's capital to Entertainment Weekly — even though they might need a reality check. "[I] couldn't help but watch some of the dark ones, like 'House of Cards,' but it was so far from any reality," she explained. "I mean, 'West Wing' was also unrealistic, but not so dark and so far gone. 'Madam Secretary,' I thought was fairly realistic."
Hillary's binge-worthy Washington-based watches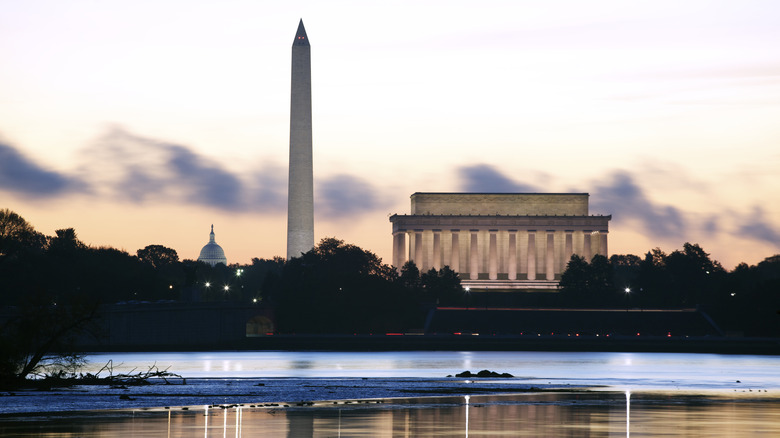 Beklaus/Getty Images
First, to start with the classics. "I'm old enough that I love 'The West Wing,' which was iconic, obviously," Clinton told Entertainment Weekly. She refers to the critically-acclaimed NBC drama that aired from 1999 to 2006, starring Hollywood heavy-hitters Martin Sheen, Stockard Channing, Allison Janney, and Dulé Hill. Clinton is also fond of "Madam Secretary," a CBS drama inspired by her own time filling the role.
"I liked 'Madam Secretary,'" she added. "It started when I was Secretary and I thought it did a good job." Clinton's tenure as Secretary of State lasted from 2009 to 2013 when she served as a trusted member of President Barack Obama's cabinet. Secretary of State Elizabeth McCord, played by Téa Leoni, even runs in and wins the presidential election, becoming the first female president. This fictitious journey runs parallel to Clinton's own ambitions, even though she had to handle losing the 2016 election to frontrunner Donald Trump.
As for shows she hasn't gotten around to, the buzz-worthy first season of "The First Lady" is still on her watch list. As a former first lady herself, Clinton admitted that she wanted to give the series a look. This 2022 Showtime series explores the untold livelihoods of Eleanor Roosevelt (Gillian Anderson), Betty Ford (Michelle Pfeiffer), and Michelle Obama (Viola Davis). Despite the series' rave reviews, some clips caused quite an uproar on social media due to Viola Davis' portrayal of Michelle Obama.
Hillary's life on-screen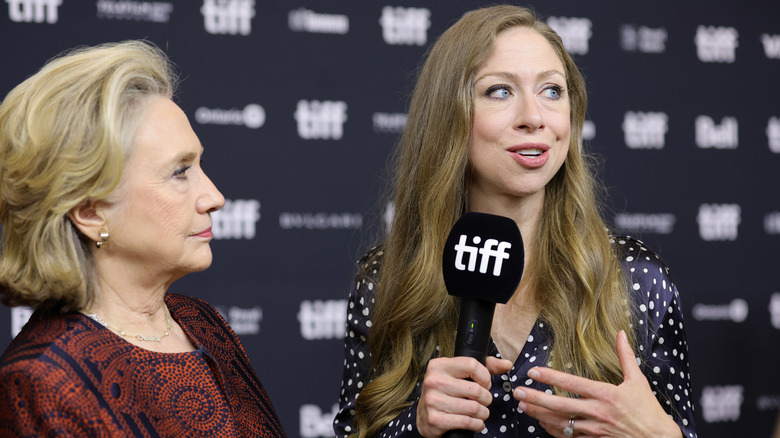 Amy Sussman/Getty Images
Clinton continues to break the glass ceiling: now a political veteran, she aims to empower women through more philanthropic work on and off-screen. In more fun television pursuits, Clinton landed a cameo in "Madam Secretary", playing herself during the show's second season. She was joined on-screen by fellow former secretaries Colin Powell and Madeleine Albright, who advised the leading lady.
With her daughter Chelsea Clinton, she hosts the AppleTV+ docu-series "Gutsy," inspired by their "Book of Gutsy Women" published in 2019. The mother-daughter duo hit the road to spotlight courageous women who are standing up for their communities in diverse ways. It's a big change for Hillary, who is normally on the receiving side of the press.
"I've been interviewed, I don't know, a million times. But never have I been the interviewer," she explained to Entertainment Weekly. "And so, for me, this was an incredible experience to step beyond anything I'd ever done before — to watch the art of making something. And I loved that part of it."