Fran Drescher Remembers The Script Change Donald Trump Demanded On The Nanny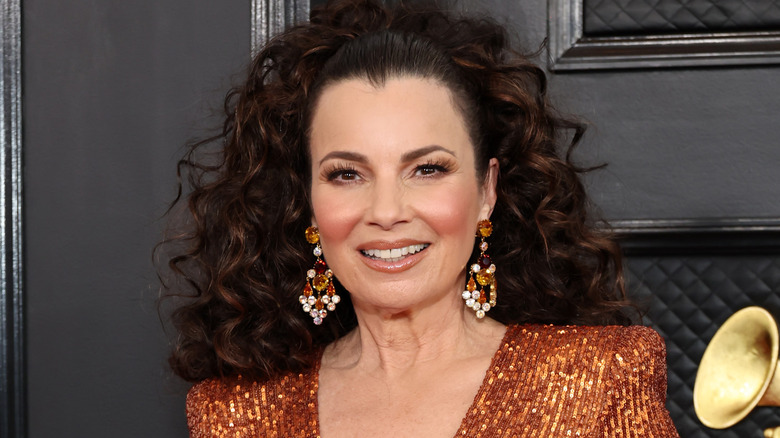 Amy Sussman/Getty Images
"Mistah Trump!" doesn't quite have the same cadence as Fran Fine's signature catchphrase, "Mistah Sheff-ield!," but for one brief episode of "The Nanny," the then-business mogul and not-yet-former president entered the threshold of the Sheffields' Upper East Side townhouse for a guest appearance. And, according to the series' leading lady and co-creator, Fran Drescher, Trump had some strong opinions about the episode's script. 
Drescher visited "Late Night with Seth Meyers" in 2020 to talk about her NBC series "Indebted" (a series that, unfortunately, would be dropped by the network following low ratings in its first season). Still, Drescher and Meyers made time for a quick stroll down memory lane to talk about the six-season sitcom she starred in from 1993 to 1999 — including the particularly memorable episode with Donald Trump.
In fact, Trump's requests while on set were so memorable that "The Nanny" co-creator and Drescher's then-husband Peter Marc Jacobson still has them framed on his wall.
Donald Trump's guest appearance on The Nanny
Trump appeared on "The Nanny" in a 1996 Season 4 episode titled "The Rosie Show." The plot centers around Fran using her innate charisma and charm to land a spot as a regular on Rosie O'Donnell's talk show, offering comedic parenting advice in her heavy Queens accent. As Fran's fame grew, she quickly became too busy for the Sheffields. 
While attempting to console her boss, Mr. Sheffield, by insisting that she's still as down-to-earth as she was when she first showed up on their doorstep, cosmetic rolling case in tow, Fran Fine is interrupted by Trump at the door. Fran escorts Trump inside to introduce him to Mr. Sheffield before saying, "Oh, what am I talking about? All you handsome zillionaires know each other." 
The classic sitcom gag is extended as Sheffield nervously introduces himself to Trump, and the scene continues without a hitch. But according to Drescher, Trump had some concerns about her original line, which called the two men millionaires, not zillionaires.
A billion-dollar change sent by note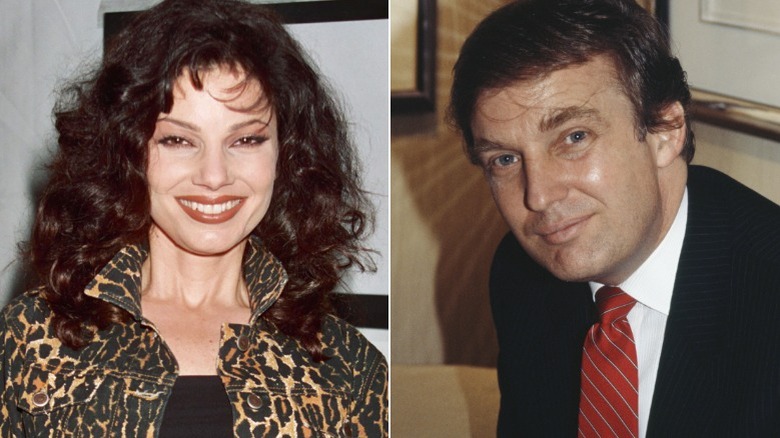 Jeff Kravitz & Tom Gates/Getty
While visiting "Late Night," Fran Drescher explained to Seth Meyers that Peter Marc Jacobson received a note from Donald Trump's assistant that said, "Mr. Trump is not a millionaire, he's a billionaire, and we'd like you to change the script." However, Drescher felt her character wouldn't use precise numerical values like billionaire, so she suggested a different tweak. 
She said that they proposed using the word "zillionaire" to Trump's team, and they ended up approving the nonsensical word, which, in all fairness, does sound like a lot more money than "millionaire." Drescher later said that Jacobson had a feeling he shouldn't throw away the note, which he ended up hanging up in his office. Of course, Trump might've been more concerned about the clarification after he was dropped from Forbes' list of wealthiest Americans several earlier in 1990.
These days, post-presidency, Donald Trump has found new ways to quietly make millions via under-the-radar book deals. As for the actress who made the couture-clad Fran Fine an invariable pop culture icon? Well, you'll rarely see Fran Drescher in Hollywood anymore. As far as she, her Emmy award-winning sitcom, and her $25 million net worth are concerned, she's already made it and doesn't need to spend time schmoozing with handsome millionaires or zillionaires.