Ditch Pressed Powder And Start Using Liquid Blush If You Have Mature Skin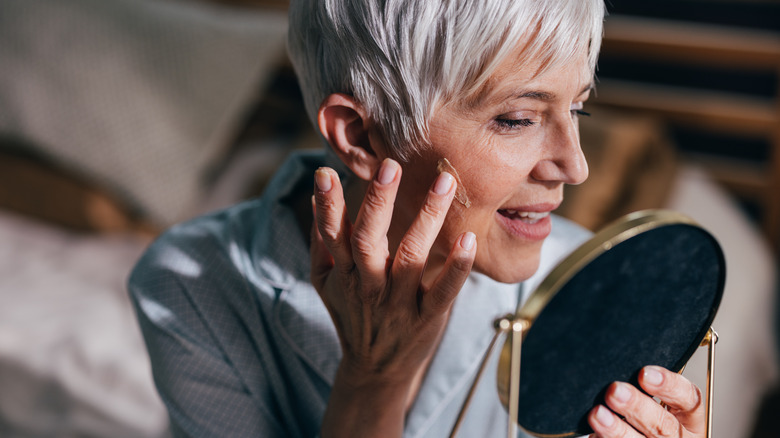 Freshsplash/Getty Images
There are various reasons we wear makeup. For some people, it's about covering up what we may consider our individual flaws such as acne scars, large pores, blemishes, or discolorations. Others just like to throw on some color, be it on the eyes, cheeks, or lips. For most, it's an expression of creativity. Makeup doesn't have to have a specific reason. It's a fun activity to do and it makes us look and feel fabulous afterwards, which is reason enough. However, there are endless tricks that can up your makeup game depending on the type of skin you have. If you have mature skin, then there are makeup products that would work best for you and some that won't.
Nothing spells youth like a hint of rosy color on the cheeks, especially if you're the type to look a little flushed now and then. However, if you're a little older and have more aging lines, powder blush may not be your best route to achieving the perfect healthy glow for your skin.
Liquid blush lays better on mature skin than powder blush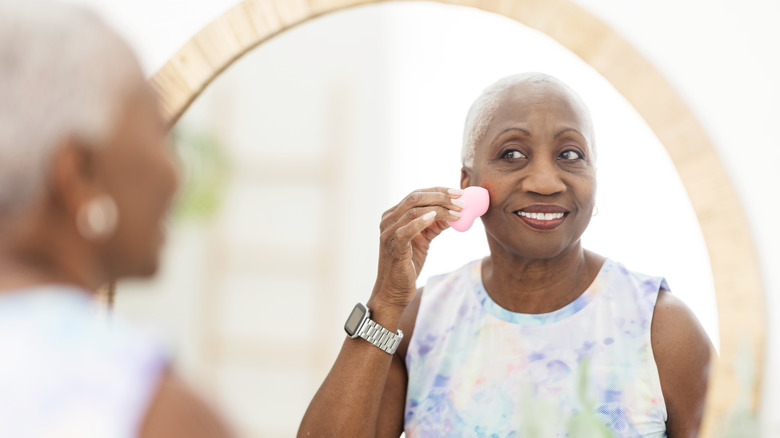 Vitapix/Getty Images
Mature skin just means you have more aged skin and that's fine. Makeup has no age requirement and you too can look fine and fierce with a few swoops of your brushes. However, you have to take into consideration your fine lines and wrinkles, and learn what works best for them. When it comes to applying blush on mature skin, the experts are saying drop the powder and grab some liquid blush.
Professional makeup artist Margina Dennis explained to SHEfinds how powder blush can seep into your aging lines and make them even more conspicuous. "[T]hese can sometimes highlight texture in the skin," she said. She also harps on not using blush formulas that contain glitter because these too can lodge themselves in your fine lines and exacerbate them.
Another pro-makeup artist Mandie Brice agrees that a liquid blush would mesh with mature skin better. "Powder makeup can dry the skin and make texture or wrinkles stand out a bit more," she said. "Cream tends to be a little easier to blend and work with for beginners than liquid." So, you can go ahead and ditch that powder blush for the liquid version.
Apply the liquid blush directly to your face or on your hand first
The way you apply your liquid blush will determine how it defines your cheekbones. There are different ways you can put the blush on to achieve a smooth finish. The first thing to do is to ensure you're using the right color of blush for your skin tone. You'll have to know your skin's undertone to determine this. Paler skin usually likes softer, cooler colors on the cheeks while the more olive and brown your skin gets, the warmer your blush should be. 
Celebrity makeup artist Jamie Greenberg tells Byrdie that her blush goes on last so that it doesn't get lost underneath all that other makeup. She says, "I usually will put on my foundation, concealer, contouring, or warmth, and then I do my blush." To apply your blush, you can use a blush brush, a sponge, or even your fingers and dab a small amount onto your cheeks. Liquid blush carries a lot of pigment so work your way up with a moderate amount before adding more.
You can also skip the traditional way of applying blush and opt for a little hack that ensures a smoother blend. Beauty influencer @kelkelyn rubs the blush on the back of her hand first and then uses a blush brush to dab it before applying it on the apples of her cheekbones. This allows for a more flawless application and will even out the blush layer, making the color appear more natural.