Tina Turner Saved Angela Bassett's Feet During What's Love Got To Do With It? Production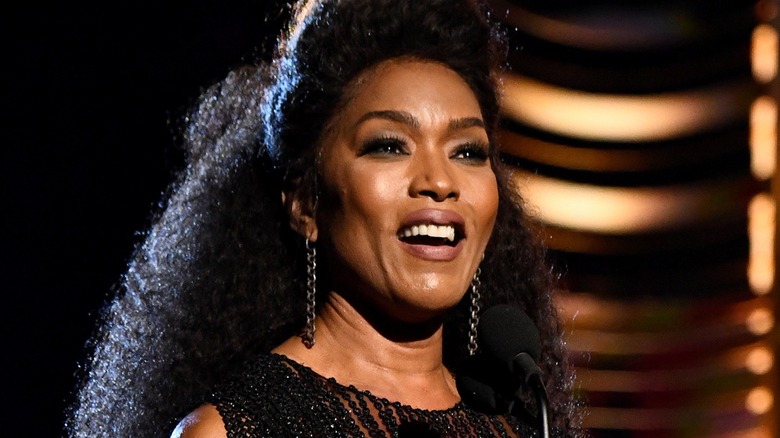 Kevin Mazur/Getty Images
It's always empowering to see women uplifting other women, particularly when they haven't received the same support in the past — and such was the case for Tina Turner and Angela Bassett during the shooting of the 1993 Turner biopic "What's Love Got to Do with It." The film was based on Turner's autobiography, "I, Tina," and details her iconic career and turbulent marriage to Ike Turner.
Turner's career might've begun as one-half of the Ike and Tina duo, but by the 1980s and up until Turner's heartbreaking death in 2023, Turner cemented herself as one of the greatest solo rock artists of all time. She was a force of nature, a devoted performer, and a bundle of seemingly infinite, ferocious energy. Angela Bassett, who played Turner in the film, had tremendously large shoes to fill, and she knew it. 
However, Bassett wasn't left to fill those shoes on her own. In celebration of the 30th anniversary of "What's Love Got to Do with It," Bassett spoke with Variety about the filming process and how Turner advocated for the then-35-year-old actress on set.
How Tina Turner saved Bassett's feet during production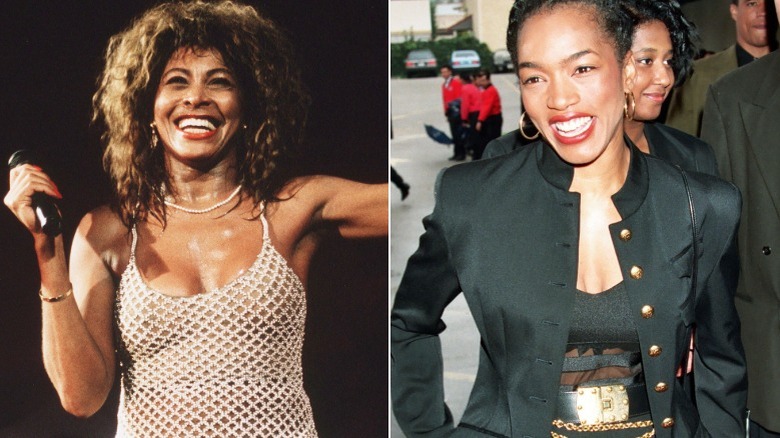 Dave Hogan & Jeff Kravitz/Getty
Whether doing her signature "Proud Mary" dance of the '70s or punching out an edgy '80s pop tune, Tina Turner gave her all to each performance. Recreating this energy and distinctive choreography was no small feat, as Angela Bassett attested to Variety. The actress recalled long days preparing for the film that would start at 5 a.m. with a two-and-a-half-hour workout at the gym. Then, Bassett moved on to the dance studio.
Learning Turner's iconic choreography was an intense cardio workout in its own right, and Bassett recalled working in the studio with choreographer Michael Peters for ten hours at a time. Turner would attend the strenuous rehearsals, advocating for Bassett as the actress practiced her routines alone in Peters' home studio.
"She was fighting for me to learn the routines in flat bare feet, not in five-inch stilettos," Bassett recalled. "I was like, 'Thank you. Thank you so much, Tina.' Because this Michael Peters is a beast." The actress said that without Turner's advocating for her, she would have been expected to learn her choreography in sky-high heels.
Turner's empowering attitude was an inspiration to Bassett
Despite her tremendous success as a musician — even earning the title of one of Elvis Presley's favorite performers — Tina Turner's life was punctuated by grief, trauma, and hardship. Still, Angela Bassett said that Turner never hid from her past. She told Variety that Turner talked about her abusive marriage with a nonchalance of a woman at peace with herself and wholly living in the present. 
Turner paved the way for future Black performers, particularly women, to take up space unapologetically in the pop music realm — and, in a larger sense, in any environment, be it musical or otherwise. She served as an endless inspiration to performers, including Bassett, who shared Turner's final words with her in a touching Instagram post following Turner's death in May 2023. 
"Her final words to me — for me — were, 'You never mimicked me. Instead, you reached deep into your soul, found your inner Tina, and showed her to the world.' I shall hold these words close to my heart for the rest of my days," Bassett wrote. "I am honored to have known Tina Turner. So on today, while we mourn the loss of this iconic voice and presence, she gave us more than we could have ever asked. She gave us her whole self."