Nicholas Alexander Chavez To Exit General Hospital For Netflix Role (But Not For Long)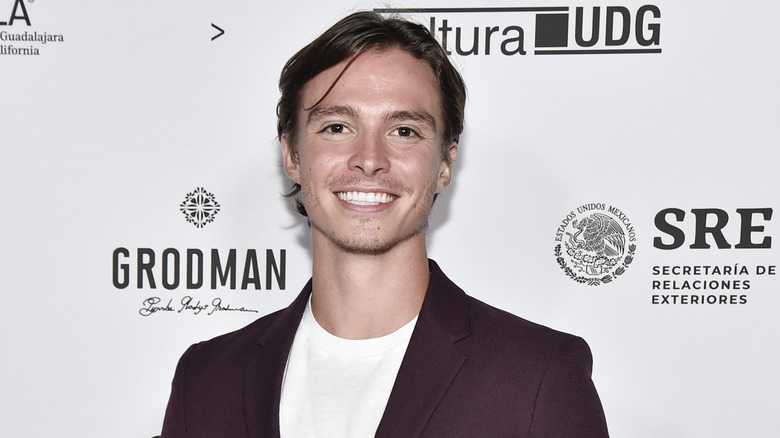 Rodin Eckenroth/Getty Images
"General Hospital" has had a few casting changes as of late, as the role of Kristina Davis, once played by Lexi Ainsworth, has been permanently taken over by "Days of Our Lives" alum Kate Mansi. Ainsworth chose to pursue a different career course. "GH" has also temporarily recast Haley Pullos, who plays Molly Lansing-Davis, with actress Holiday Mia Kriegal because of Pullos' alleged drunk driving accident that landed her in rehab. The sudser has been famously known for accommodating actors' schedules, allowing them to pursue other projects — although when Vinessa Antoine left the part of Jordan Ashford to appear on "Diggstown," she was unhappy that the show recast Jordan permanently. The latest actor to take a break from soaps is fan-favorite Nicholas Chavez, who plays Spencer Cassadine.
Spencer has been in several recent front-burner storylines, including saving the world, and now dealing with raising his baby brother Ace with ex-girlfriend Esme Prince (Avery Pohl). Esme had done some horrible things to Spencer's friends, including his current girlfriend, Trina Robinson (Tabyana Ali). Esme appears to be a changed person after conveniently getting amnesia from a fall, and doesn't remember her twisted past. Despite the fact that she's Ace's mother, Spencer feels it's up to him to get her out of the picture — even if it means using possibly fabricated evidence against her.
With all that on Spencer's plate, Chavez is taking some time to pop over to Netflix for a short time.
Chavez will be back to play Spencer
Season 1 of the popular Netflix series "Monsters" focused on real-life serial killer Jeffrey Dahmer, and now it's been announced that Season 2 will spotlight the infamous Menendez brothers with "General Hospital" star Nicholas Chavez cast in the role of Lyle Menendez, according to Variety. In 1996, Eric and Lyle were convicted for murdering their parents, claiming various forms of abuse as their reason. Cooper Koch ("They/Them") is attached to play Eric alongside Chavez, who previously took a break from "GH" to star in the teen dating film "Crushed," in 2022. TV Line has confirmed that the soap opera will not recast Spencer, and that Chavez is merely taking a break to work on "Monsters."
While Spencer battles Esme over control of his baby brother, his grandmother, Laura Collins (Genie Francis), is traveling to Chechnya to find their dad, Nikolas Cassadine (Adam Huss). ABC has not commented on how Chavez' break from the show will be written into the storylines, but TV Line has also speculated that he could turn up halfway around the world to help Laura. Upon hearing that Chavez nabbed the part of Lyle Menendez, former "GH" castmate Charles Shaughnessy (Victor Cassadine) congratulated him on Twitter, writing, "I'm not at all surprised. It was always only a matter of 'when.' Congratulations, Nicholas! Remember, when all the work is done ... have fun!!"
Fans weren't happy to hear that Chavez' will be taking a "GH" break, but agreed with Shaughnessy, and we do too!