Margot Robbie's Childhood BFFs Once Surprised Her On The Red Carpet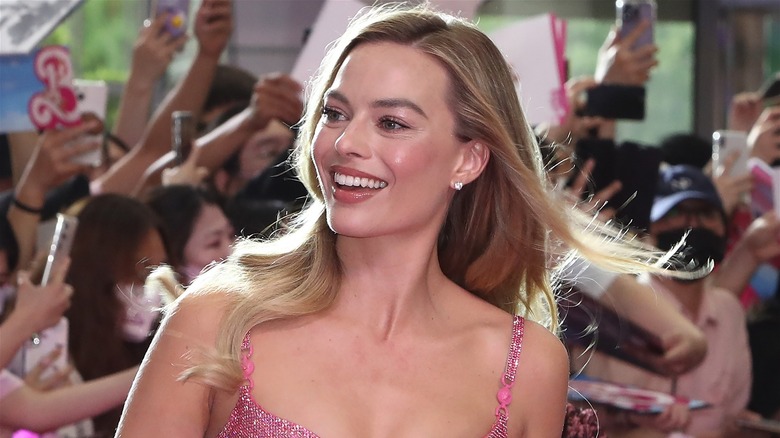 Chung Sung-jun/Getty Images
Margot Robbie's heartwarming red carpet moment was a perfect testament to one of life's eternal truths: if you ever need to be humbled, look no further than a childhood friend. While at the Australian premiere of the 2022 film "Babylon," Robbie's red carpet interview was crashed by her school friends of over 25 years. 
The giddy few seconds were a stark contrast from the film Robbie and her childhood pals were there to see, as "Babylon" follows the tumultuous transition into sound films in the lavish decadence of the 1920s. It's hard to imagine that the bright-eyed Robbie we saw on the red carpet was the same audacious wannabe starlet featured in the film, but that can be attributed to the unique method Robbie uses to get into character. 
Robbie's crashed red carpet moment offers a down-to-earth glimpse into the actress' personal life, including a rather unflattering nickname that she says she's unfortunately held since she was six.
Hey, Maggot!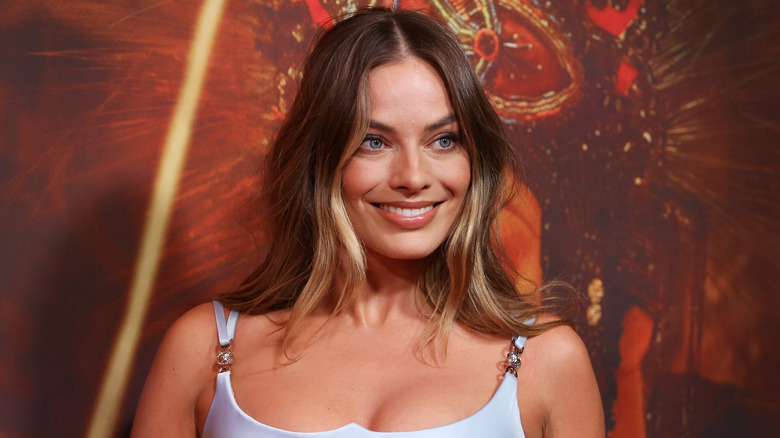 Lisa Maree Williams/Getty Images
While speaking to Australian entertainment reporter Justin Hill, Robbie is interrupted by someone in the crowd yelling, "Hey, Maggot!" The film's star, clad in a stunning custom Versace gown in powder blue satin and red lace, turned around to find a group of women waving at her. Robbie immediately started jumping up and down, waving both hands excitedly.
As Hill tried to continue his question, Robbie was obviously flustered from the happy distraction. She apologized to the interviewer with a massive smile, saying, "Sorry, I just saw my school girlfriends. We've been friends since we were four years old" (via Hill's Instagram). 
And indeed, who else could you count on to call you Maggot on the red carpet but your childhood friends? According to Robbie in an interview on The Project (via Youtube), she was given this less-than-flattering nickname when a substitute teacher mispronounced 'Margot' as 'Maggot,' causing the entire class to laugh. As she told The Project hosts, you can never pick a nickname — the ones that stick are the ones that have been given to you.
From rural Australian to international superstar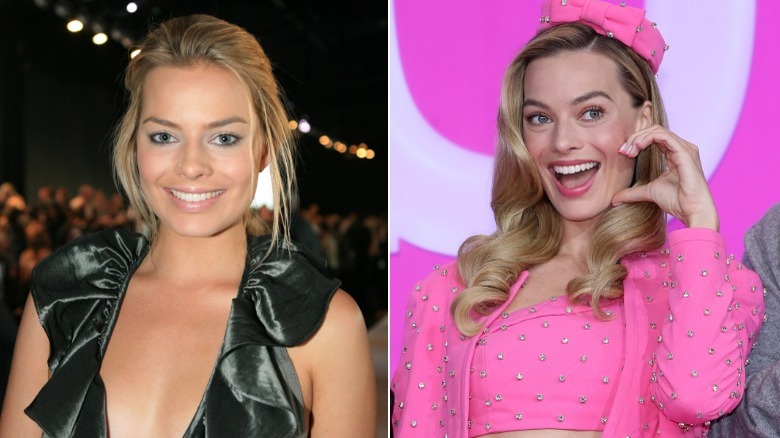 Marianna Massey & Han Myung-gu/Getty
Given Robbie's less-than-conventional rise to stardom, it's unsurprising that she would remain close with the friends she made in her early years. When the "Barbie" actress sat down with Harpers Bazaar in 2016 following her role in Scorsese's "Wolf of Wall Street," she described growing up in rural Australia happy, but not silver spoon-fed. 
After Robbie's parents split when she was five, Robbie and her two brothers and one sister were raised by their single mother, Sarie. She told Harpers Bazaar that she spent her childhood between the rural Gold Coast and a small country town, Dalby. She would later move to Melbourne and, eventually, Hollywood. 
Despite her seemingly effortless A-list persona, Robbie only got there through grit, determination, and powering through the tough times, including a big audition she once botched as a still-green, post-surgery hopeful. Margot Robbie's stunning transformation is one for the Hollywood history books, and we can't wait to see what else Margot — or, as her friends would say, Maggot — has up her sleeve.