Why Prince William & Kate Middleton's Kids Missed King Charles' Scotland Coronation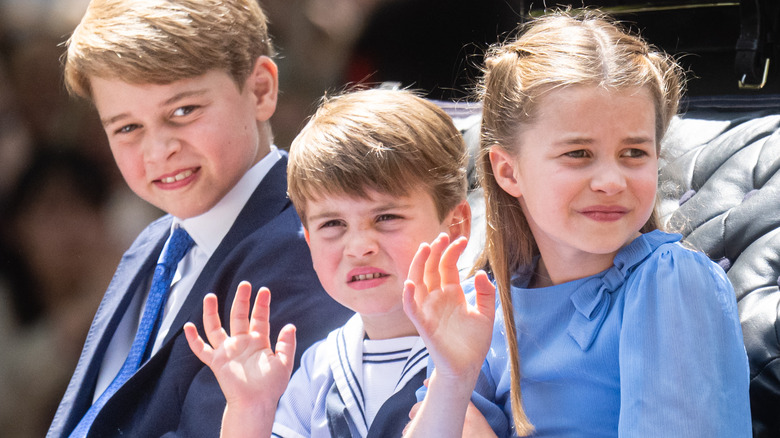 Samir Hussein/Getty Images
King Charles III is having a second coronation celebration. This one is in Scotland, and while it may not be quite as grand or elaborate as the London ceremony, it's definitely quite the event. William, Prince of Wales, and Catherine, Princess of Wales — called the Duke and Duchess of Rothesay when they're in Scotland — are in attendance, but they left their three kids behind for a very practical reason. Prince George, Princess Charlotte, and Prince Louis are all still in school, so rather than pulling them out for the event, the three of them stayed home, per Hello!.
The three kids are all enrolled at Lambrook School, less than 10 miles from their home at Adelaide Cottage, which has a summer term that runs through July 8. So it's not any slight against the Scottish event for the Wales children not to attend; it comes down to timing. The London coronation was on a Saturday, which all three kids went to, and this one is in the middle of the last week of the term.
Prince William and Kate Middleton's kids are loved by royal fans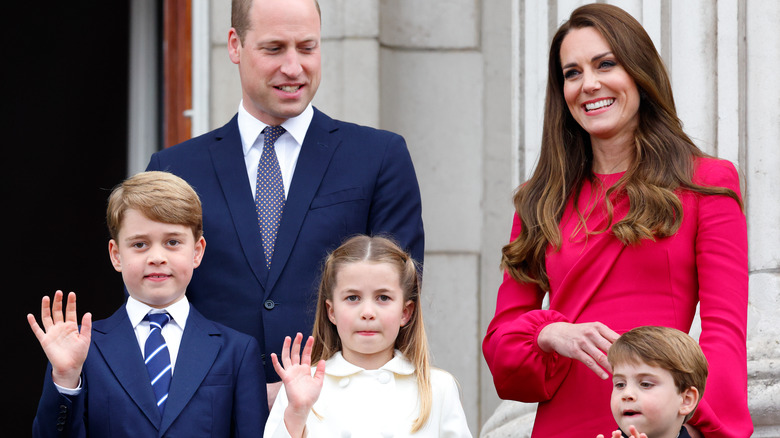 Max Mumby/indigo/Getty Images
It makes sense for William, Prince of Wales, and Catherine, Princess of Wales, to leave their three young kids at home for the coronation celebration in Scotland. But royal fans are sure to miss seeing the three little ones. They were on their best behavior at the coronation in London — though Prince Louis did let out a couple of yawns during the ceremony. Prince George was one of the four pages of honor for his grandfather at the coronation; he was resplendent in a red uniform as he helped to carry the heavy robes of King Charles. Princess Charlotte and Louis were also dressed impeccably for the event. Charlotte was twinning with her mom in an Alexander McQueen dress, embroidered cape, and silver flower headpiece. Louis was in a tunic and trousers by Dege & Skinner, one of the oldest tailors on London's famous Savile Row.
It's not just what the young princes and princess wear to the events that delight the crowds. The youngest sibling, in particular, is a lot of fun. Prince Louis' silly personality stole the show at the 2023 Trooping the Colour, much like he had the year before. And from sticking out her tongue at reporters to holding her little brother's hand at the coronation in London, Princess Charlotte has had plenty of moments that will melt your heart.
Kate Middleton wants her kids to have a normal(ish) upbringing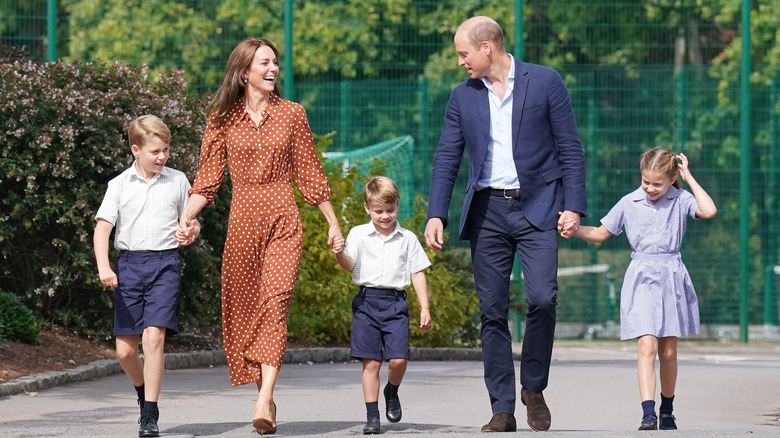 Pool/Getty Images
It's totally on brand for Catherine, Princess of Wales, to keep her young kids in school versus attending a royal event like the Scottish coronation celebration. She has worked to prioritize her family and wants to give them as normal an upbringing as possible, per People. Tom Quinn, a royal author, explained to The Daily Beast, "Royal child rearing hasn't changed much in 650 years — basically, they get someone else to do it for them and try to make their children grow up and mature as quickly as possible while seeing very little of them." But Kate is definitely flipping the script. Both she and William, Prince of Wales, drop the kids off and pick them up at school when they can, and the children all have house chores.
Though there are some hints that there may be one royal tradition that Kate is on board with — eventually sending the kids to boarding school. Prince George visited Eton College with his father and mother in June 2022 — the same boarding school Prince William and Prince Harry attended. Students can register at Eton College until June 30 of the year they turn 10, and George's 10th birthday is July 22, 2023, so presumably, a decision has already been made on whether he will follow in his father's footsteps. Lambrook School also has a boarding option, but all three Wales kids are "day pupils" there, helping ensure lots of time with mom and dad, like many a non-royal family.