For Effortless Waves, Try The Mermaid Cut At Your Next Salon Appointment
Remember watching 'The Little Mermaid' and spending days daydreaming about being born under the sea? Well, thanks to the influence of TikTok, you can now bring a touch of that fantasy into your life. Introducing the mermaid haircut, a wavy cut that embodies the effortlessly beautiful mermaid aura.
Nothing quite captures the mermaid essence like waves, and these waves cut across various ethnicities and hair colors. Even locs and straight hair can get the stunning mermaid cut. It's a trend that's as vibrant and captivating as the underwater world — difficult to forget once you've seen it.
One bit of advice we'll offer is to book a salon appointment, as it can be tricky to cut and style yourself. Having a reference image to guide your stylist is also a great idea. To make things easier for you, we've done the work and compiled 13 gorgeous mermaid-inspired haircuts to try at your next salon appointment.
Ethereal mermaid waves with bangs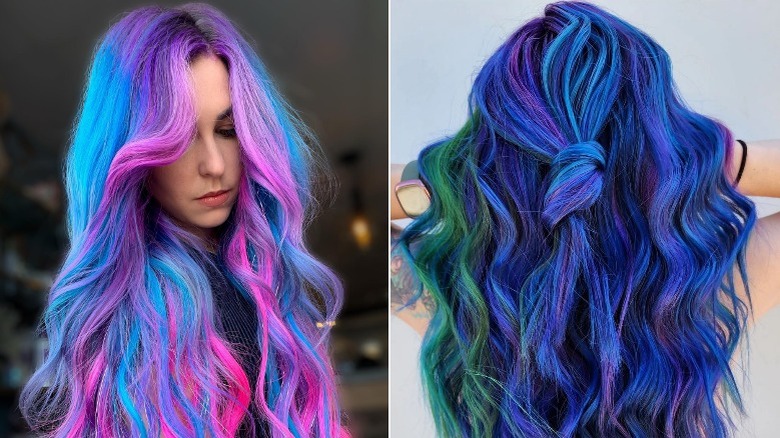 Instagram
Mermaid hair is incredibly versatile, but pastel colors undoubtedly take the cake when it comes to creating an ethereal vibe. Purple, pink, and blue shades embody the enchanting theme and capture the otherworldly essence of mermaids.
And don't forget the bangs! They can beautifully frame your face and enhance your waves if you pick the best bangs for your face shape. A bit of research is important, especially if you have square, heart, round, and oblong shaped-faces. Oval faces, on the other hand, can rock almost any bang style.
Burgundy and red mermaid loc waves
Want to channel your inner Ariel? Capture the mermaid essence with the captivating blend of red, burgundy, and pink hues in these stunning loc waves. This color combination evokes the enchanting allure often associated with mermaids and perfectly channels the vibrant spirit of Ariel.
Loc waves blend locs with wavy hair, creating a unique and mermaid hair texture. They require individual crotchet installation, but if you purchase a high-quality pack, the installation process can be completed in under two hours. This 22-inch pack is available at Boho Hair for $177.
Black mermaid hair
Wondering how to pull off a goth look with mermaid-inspired waves?  Get your hairstylist to incorporate mermaid waves into your black locks. Black might not seem like a typical color for a mermaid, but it's 2023, and we're not allowing norms to dictate our choices.
Black is mysterious, alluring, and reminiscent of the ocean's depths, connecting to the mysterious and vast underwater world where mermaids are often imagined. Plus, black hair has a timeless and elegant quality that can enhance the sophistication of the mermaid aesthetic. Black mermaid waves don't have to be paired with gothic looks, but if you love both aesthetics, there's nothing better.
Purple mermaid waves with black undertones
Purple brings an air of boldness, and there's no better way to rock this color than with mermaid hair featuring black undertones. This daring combination mixes the softness of mermaid aesthetics with the depth and allure of a rich, deep purple shade.
The black undertones add a touch of gothic elegance, creating the perfect mermaid look that blends mystique and confidence. Cooler tones can wear a deep purple shade, while warmer tones look better with a warmed-up purple. Think magenta and red-purple tones.
Blond ombre mermaid loc waves
Mermaid locs are all-around gorgeous, but what sets these wavy locs apart is their ombre theme and the fusion of locs and natural-looking waves. These locs are stunning and protect your hair — a win-win choice.
The blond ombre look is 22 inches of light ash, dirty blonde, and fierce platinum, giving ultimate blonde vibes. Even better? They require crotchet installation, so you can style them in many ways. Want this look? Get it for $177 from Boho Locs. 
Aqua mermaid haircut
Aqua, a cool-toned shade within the blue-green spectrum, evokes images of the ocean, waves, and of course, mermaids. It's no surprise that mermaid waves shine in this shade. Aqua mermaid hair captures the essence of the sea, infusing your look with a sense of ethereal enchantment.
While aqua complements cool undertones splendidly, those with warm undertones can also rock this shade by choosing warmer variations of teal, such as turquoise or seafoam green. And if your undertones are neutral, you can do both!
Bronde mermaid waves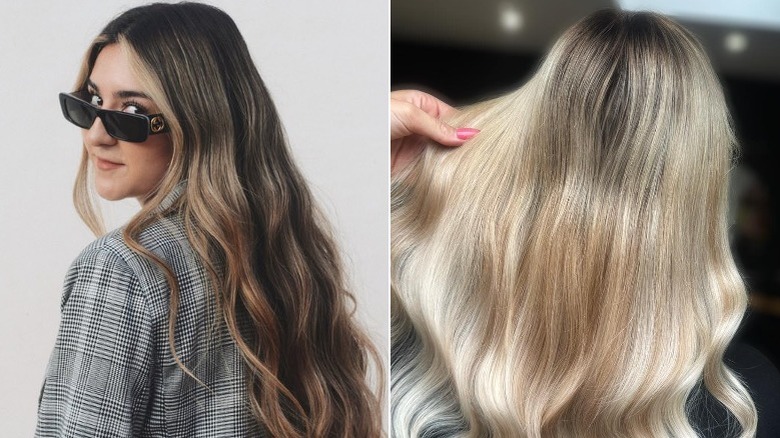 Instagram & Instagram
Celebrate the beauty of natural hair colors with a bronde mermaid haircut. Bronde is a harmonious blend of brunette and blonde tones. This color gives sun-kissed vibes, evoking memories of carefree beach days. This blend of brown and blonde tones captures the beachy vibe and natural allure often associated with mermaids. 
For those with warm undertones, caramel, honey, or golden tones can enhance the warm and sun-kissed effect. On the other hand, cool undertones can explore ash, beige, or sandy tones to create a cool, beachy aesthetic.
Pink mermaid haircut
Pink mermaid waves find themselves nestled between the realm of pastels and the vibrant hues of Ariel's iconic hair. Pink exudes a fun aura, a perfect way to embrace your inner mermaid with a touch of vibrancy. 
Plus, it's a great way to add a pop of color and lightheartedness to your look. Everyone can wear pink — it's just a matter of warming it up or cooling it down to match your skin's undertone.
Balayage red mermaid waves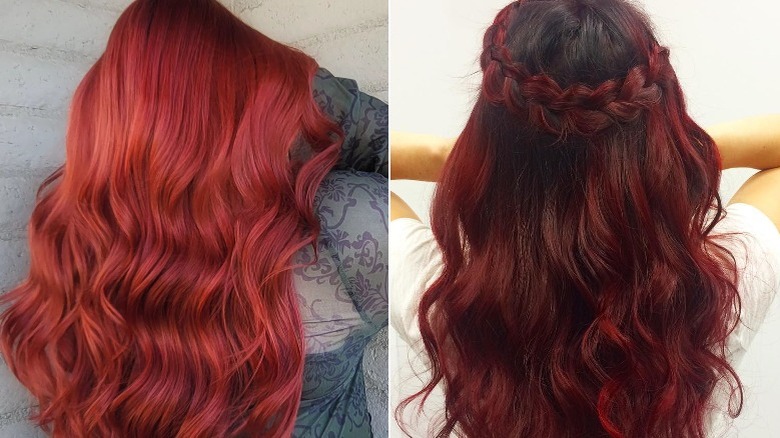 Instagram & Instagram
Nothing screams "Ariel hair" more than red mermaid waves. While Halle Bailey's version had brownish hair, the 1989 Ariel was known for her long red mermaid hair. If you've never worked up the courage to go full redhead, it's just a matter of figuring out the right red shade for your underwater look.
Warm undertones would look splendid with vibrant red tones like copper or auburn, while cool undertones would slay burgundy or cherry red. For those with neutral undertones, you can experiment with red shades without worrying about clashing with your skin tone. Play around with different undertones and find the red hue that speaks to your style.
Short brown mermaid loc waves
If there's one thing we've learned from Halle Bailey's Little Mermaid, it's that mermaids come in all colors and sizes — and so does their hair. Ditch the typical long locs for a shorter wave and loc mix that blends eye-catching shades of light brown and dirty sun-kissed blonde.
The shorter length gives it an edgy look and is perfect for mermaid gals that don't fit the mold. The best part? Since this requires a crotchet install, you can get your stylist to tweak the part just how you want it. Get it at Boho Locs for $167.
Blond mermaid waves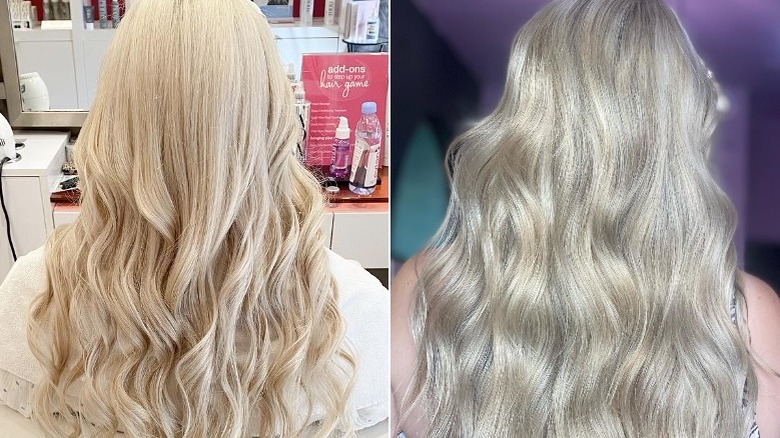 Instagram & Instagram
Did you know that many originally believed that mermaids were blond? Yup! The real reason Ariel's hair is red in the little mermaid might surprise you. However, there is no doubt that blond can enhance the ethereal quality of the hairstyle, making it shine irresistibly. What's more, with a little undertone consultation, you can find the perfect shade of blond for you.
Ash and platinum blond are great choices for cool and neutral undertones, beautifully complementing their complexion. Ash blond is easier to achieve if your starting hair color is naturally light. But even if it isn't, the right stylist can get you there. Just be sure to have a good haircare routine to protect your hair and enhance the shiny silver tones.
Pastel mermaid waves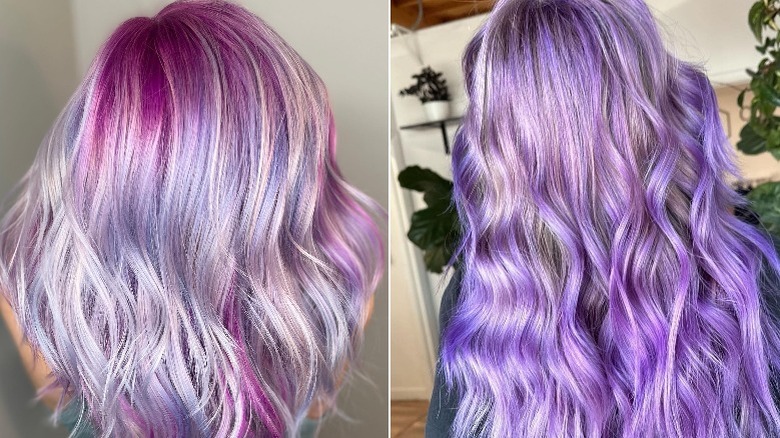 Instagram & Instagram
Step into an ethereal realm with the captivating beauty of pastel mermaid hair. This enchanting hair color combines shades of purple, lilac, and platinum, creating a delicate and otherworldly palette. The cool-toned natures of pastel purple, lavender, and platinum hues evoke the underwater world, mirroring the mesmerizing colors found beneath the waves.
These shades can mimic the iridescence of ocean waves, the soft hues of seashells, and the enchanting beauty of underwater flora, capturing the very essence of the mermaid realm. Pastel purple hair is a gorgeous choice, especially if you already have platinum blonde hair.
Mermaid red ombre hair
If you're not quite ready to dive into being a full redhead, test the waters with a stunning mermaid red ombre hair color. The beauty of this look lies in the versatility of incorporating other colors that carry just a hint of red "Ariel hair" to compliment the mermaid hair aesthetic. One mesmerizing option is the yellow and yellow-red ombre mix, which works harmoniously with various undertones.
If yellow tones aren't your preference, consider a copper and strawberry blond mix. This striking combination blends copper, a warm and vibrant red-orange shade, with strawberry blond, a soft and delicate reddish-blond hue. Whichever variation you choose, these mermaid red ombre hairstyles offer a captivating blend of colors that effortlessly enhance the allure of your waves.