5 Ways To Create A Versatile Wardrobe You Feel Confident About During Weight Fluctuations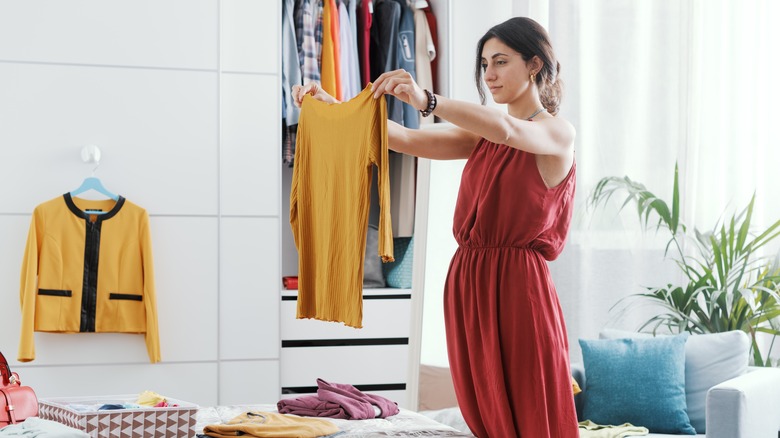 Stock-Asso/Shutterstock
It's completely normal to experience weight fluctuations throughout your life. Changes in weight can be due to your hormones andchanges in your environment, as well as other factors like diet and exercise.
Per Women's Health, registered dietician Amy Shapiro says it's normal to gain up to five pounds in a day (though note this is water weight and not actual weight gain), so you don't need to worry about a few pounds here or there. Alternately, it can also be normal to lose weight sometimes due to stress or a switch up in your exercise routine.
If you're losing or gaining a lot of weight in a short amount of time without meaning to, it could be a sign of something more serious, in which case always consult a doctor to give you peace of mind. However, even if you're just experiencing regular weight fluctuation, it can still take a toll on your wellbeing. When you're finding it more difficult to style the clothes you already have or feel down whenever you take a peek at your closet, below are a few clothing tips to flatter your figure at any weight.
Take stock of what you have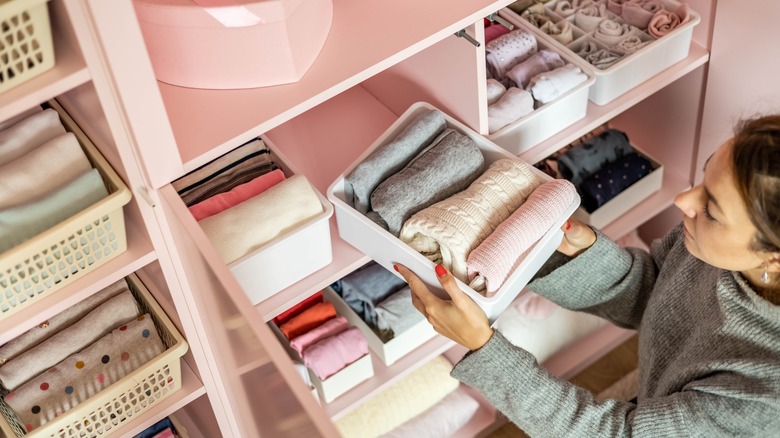 Kostikova Natalia/Shutterstock
If you feel completely unsure of what fits you and suits your style in your current wardrobe, it's time to do an overhaul. Make three piles — keep, alter, and sell/donate. 
It's pretty self-explanatory, but just in case: The keep pile is for everything you feel good in and that will probably fit throughout weight fluctuations (i.e. items with an elasticated waist, loose dresses, flowy tops, etc.). Decide to alter pieces that could fit you a little better (a dress that would look better if it was a bit shorter, some trousers you had taken in but need to be let back out). Finally, either sell or donate items that are a complete no-go. This can be clothing pieces you don't feel good in, or items that don't fit and can't be tailored.
Clothes can often hold a lot of emotion for us, so don't feel pressured to sort everything at once. Instead, go through your closet section by section — you could do pants one day and tops the next. The key is to leave yourself with a wardrobe that will see you through weight gain and loss.
Understand what flatters you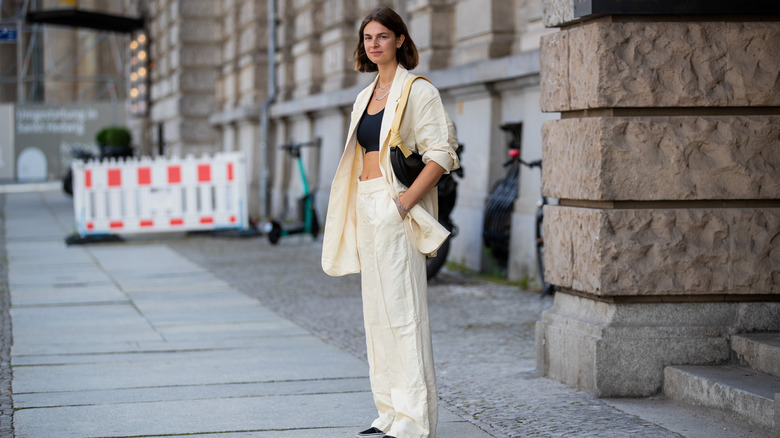 Christian Vierig/Getty Images
Everyone loses and gains weight in different places, and you'll know the silhouettes that look good on you. For example, if you tend to gain weight around your midsection area, buy pants and skirts with an elasticated waist and dresses with extra stretch around the center. The beauty of elasticated waists is that they fit you no matter if you lose or gain weight, making them a truly versatile wardrobe addition.
This isn't to say you should only buy pieces with elasticated waists or a loose fit. However, if you are prone to gaining weight in your thighs, loose and flowy pants will still fit well even if you do gain weight in this area. Conversely, super skinny pants may not fit if you fluctuate a lot. 
If you get self-conscious about weight gain in different areas, think about accentuating a different area instead. You could buy a shirt that's tighter on top and looser on the bottom to accentuate your chest without drawing attention to your stomach. A dress that cinches at the waist but is loose elsewhere will skim over any areas you don't want to accentuate. By customizing your wardrobe, you'll know there's always something that will flatter you.
Go back to basics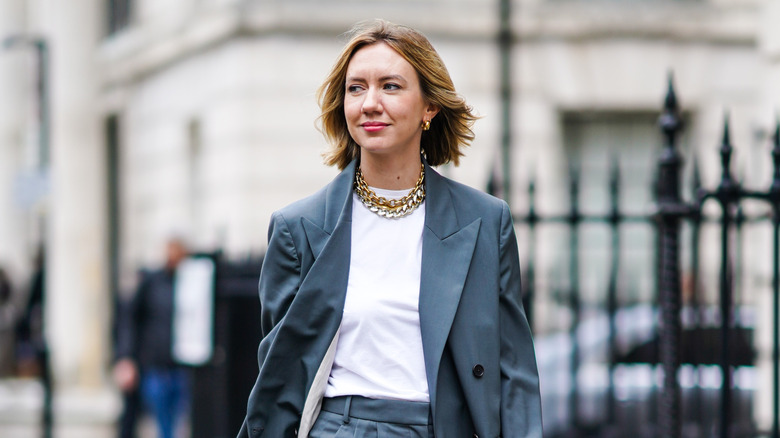 Edward Berthelot/Getty Images
Another great tip for when your weight fluctuates is to invest in closet essentials. No matter your size, basics like tank tops and t-shirts are a classic go-to that usually feature some stretch. If your weight fluctuates by quite a lot, you might want to invest in two of things you wear often — one in the size you most often wear, and another in the size you tend to be during fluctuations. This way, you won't have to stress about what will fit you, because you know you have at least one item that can be paired with other things in your closet.
When it comes to basics like jeans, this can feel a little trickier, as most jeans do not feature elasticated waistbands. Instead, go for trousers that feature a drawstring or elasticated waist so you know you'll be accounted for during heavy bloating days and weight gain fluctuations. Drawstring waists are also great if you fluctuate the other way and lose weight, as you can pull the waist in tighter to accommodate your figure.
Go for certain silhouettes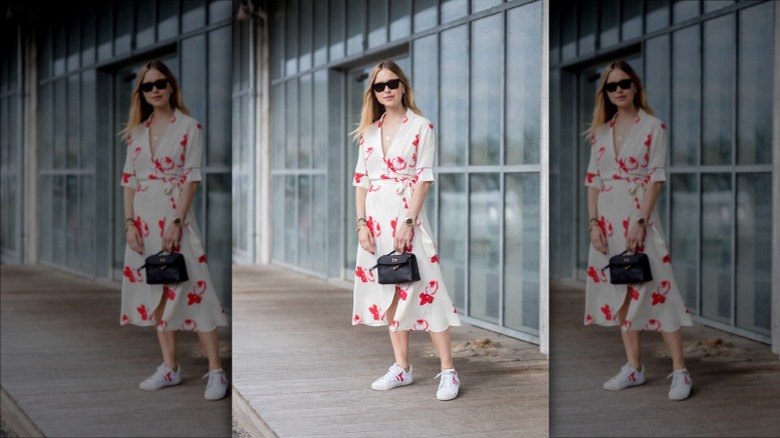 Christian Vierig/Getty Images
As well as basics, there are a few wardrobe pieces that can hide any weight fluctuations in case you're feeling less confident.
One of the pieces you should definitely invest in if you fluctuate weight a lot is a wrap dress. Wrap dresses will pull across your midsection, essentially covering it, so it's ideal if you gain weight in that area and want to hide it. A shift dress will act in a similar way. Neither too tight nor too loose, it will skim over your body and draw the eye away from any areas you don't want to accentuate. In general, dresses are the best bet for weight fluctuations.
Unless they're body-con style, most dresses are designed to flatter a wide range of body shapes. The same goes for skirts. Flowy midi and maxi skirts can be great bases for chic outfits — wear with a sweater in colder weather and a tank top or t-shirt in warmer weather.
Accessories are your friend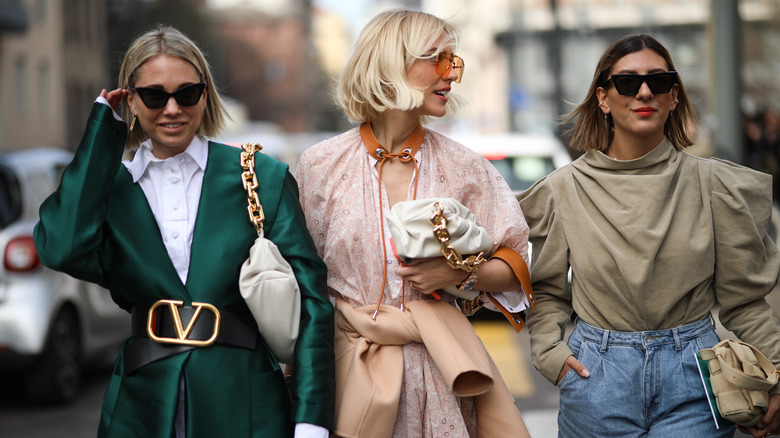 Jeremy Moeller/Getty Images
The times when you can only wear a small section of your wardrobe can be tough. In order to change things up and not feel like you're repeating the same outfit over and over, use accessories. The main thing to change is shoes. One dress will look totally different with boots, heels, and sneakers. Belts are also a key accessory if you have lost weight, as they will pull in a dress, skirt, or pair of pants so they fit your frame better.
Moreover, get creative with larger items like bags. A crossbody bag could help to hide a part of your body you feel insecure about, whereas a large bag will change the vibe of an outfit entirely. Trendy hair accessories like a headband or hair clips can also completely change the feel of a worn-before look.
Weight fluctuations can be frustrating to deal with, but the above tips will help you to look and feel good at any time.