What Is Lisa Marie Presley's Daughter Riley Keough's Real Name?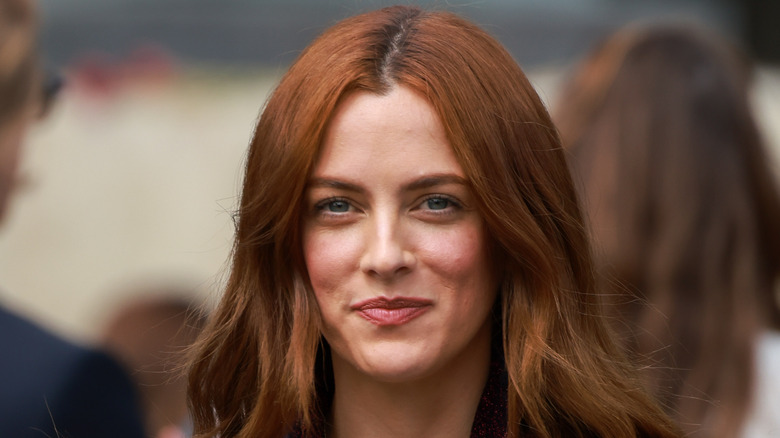 Arnold Jerocki/Getty Images
As the first grandchild of rock legend Elvis Presley, actor Riley Keough has been in the spotlight her whole life. Born on May 29, 1989, Keough was on the cover of People only a few weeks later. At the time, The Los Angeles Times reported that the magazine allegedly paid $300,000 for these highly coveted baby pictures.
Nowadays, anyone looking back at this cover may not immediately make the connection between Keough and the serenely sleeping baby held by Lisa Marie Presley. The caption announces the baby as "Danielle," which is the actor's actual first name. Riley is her middle name. Keough's father is musician Danny Keough, the first of Lisa Marie's four ex-husbands and it's presumed that she was named after her father. 
As the only child of Elvis, Lisa Marie had also been subject to media scrutiny since childhood, and she took care to give her children as balanced a life as possible under the circumstances. "She was like, 'I don't want you growing up like another Hollywood celebrity daughter,'" Keough explained to Nylon magazine in 2016, per Just Jared. "She didn't really put attention on it. It was there. We'd get photographed doing stuff, but I didn't see a tabloid until I was 15." During these years, whenever Keough was mentioned she was referred to as Danielle, her given name. Once she embarked on an acting career, however, she contemplated a name change.
Riley Keough is her stage name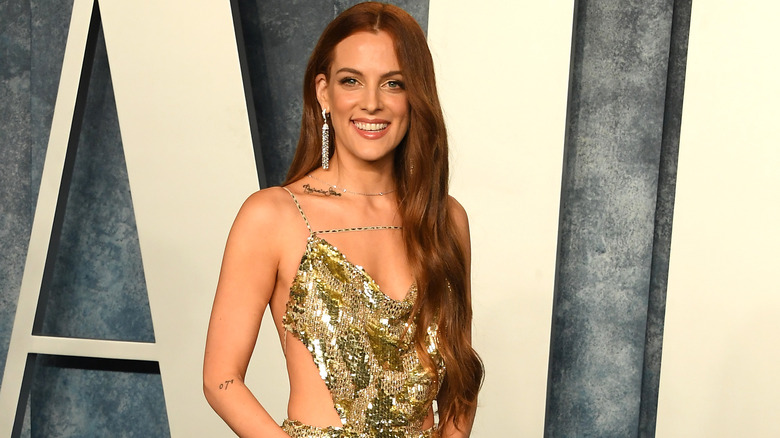 Steve Granitz/Getty Images
Riley Keough wanted a career in the entertainment industry since she was a child. "At [age] nine, 10, 11, I was making movies all day," she told InStyle in 2021. She intended to pursue acting as an adult even though she felt a little intimidated. "I also had this thing where, when you grow up in L.A. and everyone's acting, I felt this sense of, oh gosh ... I was a little bit afraid to fail." As she sought out roles, Keough stuck with her father's lesser-known name instead of using Presley. Even so, it was well known that she was related to an iconic rock 'n roll dynasty. "Amazing opportunities! I walked into agencies, met with agents," she acknowledged to The Guardian. Despite this ease of connection, she felt there was a significant downside, noting, "I felt that I wouldn't be taken seriously."
When Keough earned her first role in the 2010 film "The Runaways," she opted to use Riley Keough as her stage name, dropping Danielle. Despite her musical heritage, Keough played the sister of one of "The Runaway's" bandmates. "I think it's good I didn't play a musician because then it wouldn't look like it was a coincidence," the actor explained to Women's Wear Daily at the time. When she was later cast in the Amazon series "Daisy Jones and the Six," a combo of voice lessons and intense practice with her castmates helped Keough carry on her family's musical legacy.
Riley Keough's approach to acting is inspired by her famous mom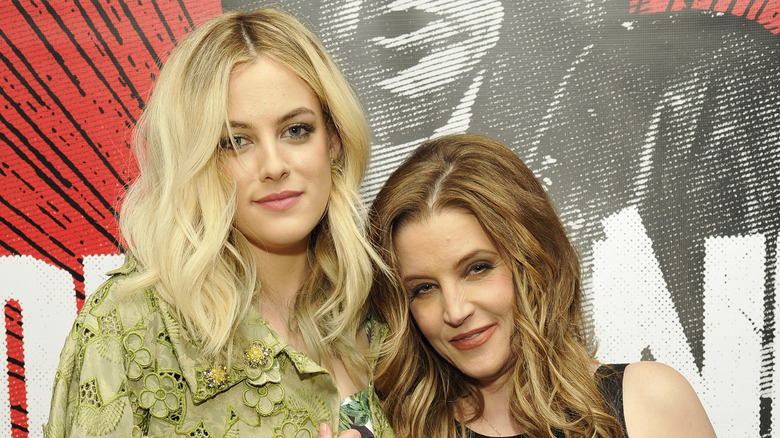 John Sciulli/Getty Images
In her acting career, Riley Keough has been influenced by the teachings of her mom, Lisa Marie Presley. "I grew up with my mom saying, 'Anything you do in life, you're going to have to take it seriously, and work really hard at it, and be really good at it. Don't just dip your toes into things,'" the actor informed InStyle in 2021. Despite her famous family, Keough has impressed journalists and directors with her down-to-earth demeanor. She's willing to keep trying, and has been candid about all the roles she hasn't landed. "I don't care if I fail," Keough shared with The New York Times. "I have this attitude of, 'Well, then I'll just do better.'"
When she was cast as the titular character in Amazon's "Daisy Jones and the Six," Keough drew on Lisa Marie's life for inspiration. "I was raised by somebody who did their own thing and didn't really care what other people thought. She was definitely inspirational to me," the actor told People in 2022, emphasizing that Presley was "a very strong, smart woman."
After Lisa Marie's heartbreaking death following a cardiac arrest, Keough wrote a letter to her mom, which her husband, Ben Smith-Petersen, shared at the singer-songwriter's funeral. "I remember how safe it felt to be in your arms," wrote Keogh, per ET. "I remember that feeling as a child and I remember it two weeks ago on your couch."