Like It Or Not, Y2K's Frosted Eyeshadow Look Is Back In A Big Way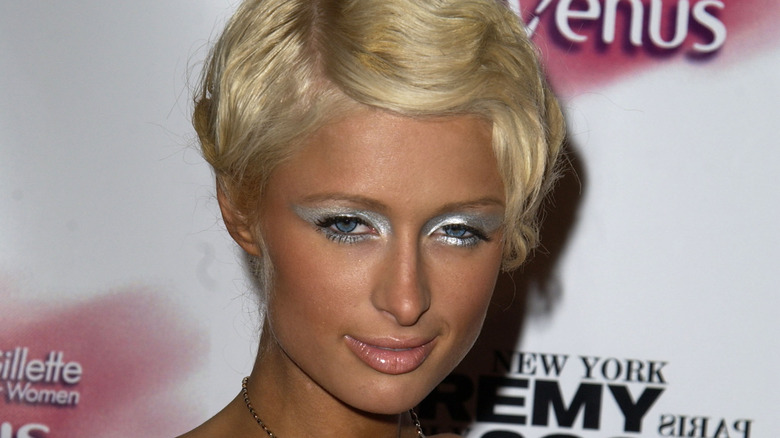 Steve Granitz/Getty Images
In fashion, we see the same looks recycled over and over, bringing back past styles. Recently, one of the biggest returns in fashion is the '90s and early 2000s. Slip dresses, graphic tees, and ripped jeans are just some of the Y2K staple pieces your wardrobe needs. Then, of course, there are the more eccentric comebacks such as the glittery butterfly hair clips and fuzzy everything. The world of beauty is following suit with trends to match rather than clash with this '90s and early 2000s return.
Beauty in the '90s and early 2000s was wildly outrageous, and looking back you either love it or hate it. From standout lip liner and bold blue eyes to sticky lip gloss, Y2K beauty was always vibrant and fun. One of the best Y2K beauty trends seems to be back and hotter than ever: Frosted eyeshadow has hit the scene again in every color imaginable. 
Frosted eyeshadow, if you aren't familiar, is a look that typically uses cooler, icier shades of blue, lilac, pink, silver, and green all the way up to the eyebrow, creating a gradient sort of look. Stars such as Paris Hilton, Britney Spears, and Christina Aguilera all dazzled us with this frosty look between 1997 and 2005, and chances are they'll be rocking it again if they aren't already. 
Celebrities rocking frosted eyeshadow
Frosted eyeshadow didn't just make a comeback, it came back hard with some of the top celebrities and fashion icons donning frosty greens, blues, and pinks. Hailey Bieber and Selena Gomez (surprise, surprise) have both been caught wearing dramatic frosty looks; Hailey with pink and Selena with green. Dua Lipa was ahead of the time, opting for a frosty cobalt blue at the 2020 Grammy Awards as well. Now, she's playing around with the same color but in different shades, and of all of Dua Lipa's looks, this stands above the rest. Zendaya has also been on board with the look and has been showcasing an icy purply-pink on her lids for everyone to see.
With all of these big names rocking the frosty look, it's no wonder that TikTok is exploding with video tutorials of how to get this iconic '90s look. Even fan-favorite beauty brands are jumping in by releasing new frosty palettes to attract followers of the Y2K trend. Tarte Cosmetics Sweet Tarte Frosted Eyeshadow Palette is one of the most popular for the ultimate icy look. 
How to get the perfect Y2K look
With the help of top beauty brands surrendering to the frosty Y2K trend, getting the look yourself is easier than ever. One of the most important parts of making this look work is to use an eyeshadow primer. This will ensure that your look stays and the glimmer lasts all day or night. It also gives the eyeshadow an ideal canvas. It's also vital to pay attention to how you're applying the eyeshadow. Tommy Napoli, a makeup artist in New York City told Allure, "Pressing, not rubbing, will ensure maximum glitter pay-off and minimum fallout." 
When it comes to color, there are so many to choose from. Greens, pinks, blues, metallics, and purples are all great choices. To achieve the best look with any of these, place the heaviest amount of eyeshadow on your lid and drag it upwards to create the gradient effect that the look is known for. You can opt to pair it with a complementary bold lip or go totally Y2K and add some gloss for an all-around shiny lewk.