If You Wear Glasses, A Smokey Eye Probably Isn't For You - Here's Why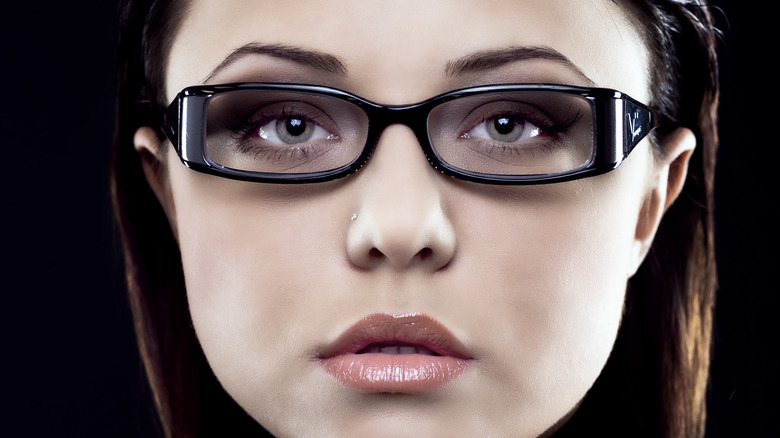 Seriousmax/Getty Images
When it comes to eye makeup, there's nothing quite like a smokey eye. However, if you have glasses, there are a few reasons to avoid sporting this classic look.
This trendy-yet-vintage application looks good on virtually anyone for several reasons. A smokey eye can complement every eye shape. It can also be worn at every age. A smokey eye can be customized too, you can do a light version with barely there cat-eye, or no cat-eye at all for daywear, or you can go full-on dramatic with long and dark cat-eye for nighttime events.
For those who wear glasses, eye makeup can require an extra layer of thought. You must not only consider how makeup will appear without your glasses, but also how it will look from underneath the frames. A smokey eye can pose a bit of a challenge from behind lenses, but before you toss away your glasses and opt for contacts, there are some things you should know.
A dramatic smokey eye can look strange with glasses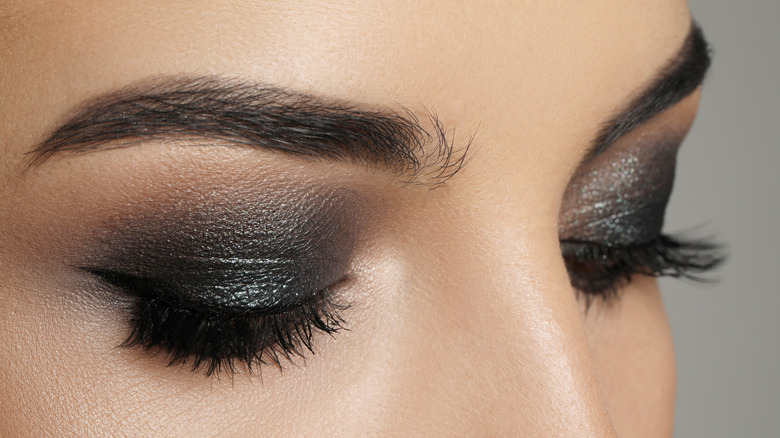 New Africa/Shutterstock
When wearing frames, a good section of your eye area presents an obstructed view. Consequently, if you wear too much of a smokey eye look, it can look like you're wearing a mask underneath the frames, as per Glamour.
A smokey eye using the traditional dark gray/black will be very difficult to pull off without looking like you're ready for a costume party. This will also obstruct the beauty of your natural eyes while also being a bit off-putting for people who are talking to you and might be silently deciphering what is going on with your eyes.
Yet if you are committed to wearing a smokey eye and refuse to give it up for the sake of your eyewear, you can create a very subtle version that will look appropriate to wear under a pair of frames. The key is not to go for dark colors for your smokey eye. Try a blue or green look to bring your eye to life and make a distinction between shadows formed by the glasses and your actual makeup.
How to wear eye makeup with glasses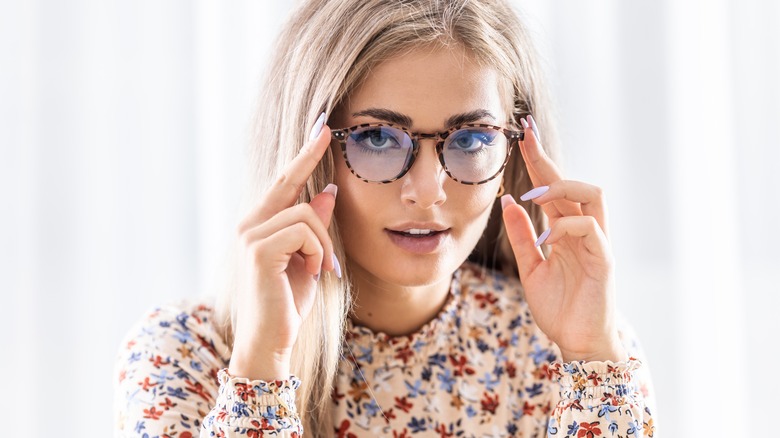 Marian Weyo/Shutterstock
Wearing makeup underneath glasses doesn't have to be a list of don'ts. You can have great fun with eye makeup and frames. The key is to pair the two, so they complement each other.
"When deciding on eye makeup options if you wear glasses, it's very key to take in consideration the style of frames you are wearing," says makeup artist Pablo Rodriguez, via Marie Claire. "The eye makeup look should go with the overall look, including hair, lip color, and outfit you are wearing." In addition, eyeshadow should be used sparingly, but you can go harder with eyeliner. A nice burst of color in eyeliner will make your eye stand out behind the frames.
In the end, since frames are already an added accessory, you don't want to do much all at once. "Less is definitely more," he says. "Don't use too many different eyeshadow colors, keep lashes clean and defined, apply eyeliner outside the lash line, not in the rim of the eye."