Here's What Happened To Dermovia After Shark Tank
"Shark Tank," the reality show that offers entrepreneurs a chance to pitch to investors (known as "Sharks"), has helped launch several buzzed-about beauty products — ever heard of Glow Recipe and its fruity skincare product that went viral on TikTok? Or how about the super popular Sleep Styler?
Dermovia set out to become another big-name beauty brand when it appeared on a Season 9 episode of "Shark Tank." According to its website, the company was first launched in 2014, founded by Anita Sun and Mariella Scott. The women aimed to popularize a new take on the classic beautifying face mask. As Sun and Scott explained during Dermovia's "Shark Tank" pitch, their goal was to create a mask that wasn't slimy and that didn't slip off the face or into the eyes. This spawned their Lace Your Face mask design, made of a lacy cotton fabric and complete with ear hooks to keep it in place. The mask comes already saturated in skin-friendly serums, similar to many other sheet face masks on the market.
The Dermovia founders requested $350,000 from the Sharks in exchange for 10% equity in the business. Even though they weren't able to secure their proposed deal, they've still managed to find success after their "Shark Tank" feature.
Two Sharks battled for a Dermovia deal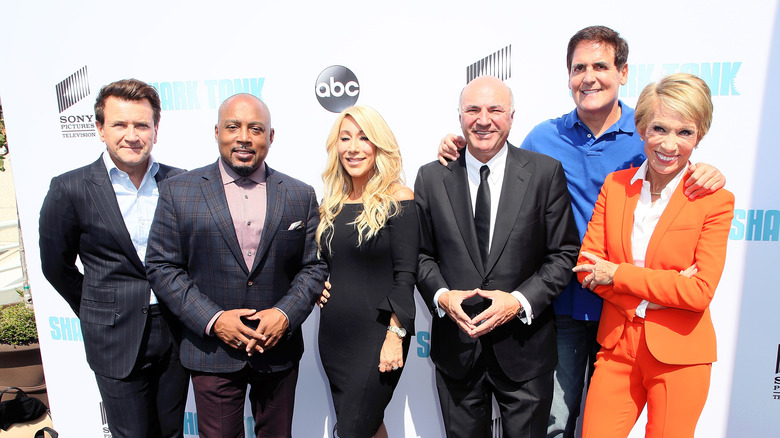 David Livingston/Getty Images
During Dermovia's 2018 episode of "Shark Tank," the Sharks, along with guest Shark and the mastermind behind the Skinny Girl empire Bethenny Frankel, giggled at the appearance of the Lace Your Face product. However, when it came time to talk business, they were largely impressed with Dermovia's success. During the year the episode was filmed, Anita Sun and Mariella Scott claimed the company was on track to make $750,000. Lace Your Face was also already available in major department stores and had secured multiple patents.
This intrigued Frankel, who offered $350,000 for a 30% stake in the business, despite being concerned about the price of the product (four-piece packs retailed for $55 and single sheets were available for $15). The founders held off on accepting the offer, eventually sharing that Dermovia had recently secured an impressively large order from a beauty box supplier.
In the end, the entrepreneurs suggested a deal of $350,000 for 15% equity, and Shark Lori Greiner swooped in to accept, trumping Frankel's first offer. "Lori was who we wanted to begin with, and we couldn't be happier," Sun exclaimed on the show after the deal was done.
Dermovia continues to sell its lacy face masks
While Dermovia's Lace Your Face masks may have not made the list of the most successful products from "Shark Tank," the invention has still seen success. The product's founders posted a video to YouTube one year after filming their "Shark Tank" episode to give an update. "Since then, a lot of great things happening and we completely sold out everywhere," Mariella Scott explained. The pair also noted that they've continued to work with Lori Greiner.
The Lace Your Face line is still available and its masks are among the best-selling products listed on the Dermovia website. The company has also expanded its offerings with a face cleanser, moisturizer, jade roller, and other skincare staples. Dermovia also hasn't changed its retail price points, despite the Sharks' worries that they were too high.
While Dermovia has yet to revolutionize the sheet mask market, the beauty brand continues to grow and, per RocketReach, had an estimated value of $5 million as of 2023. Dermovia is also distributed outside the U.S. in Jamaica and the Caribbean and has plans to retail in India soon.