How Bethenny Frankel Built The Skinny Girl Empire
Shutterstock
It's no secret that Bethenny Frankel knows how to succeed in business. The self-made businesswoman cut her teeth in 2003 with BethennyBakes, a business focused on making healthy meal deliveries within New York City. She then appeared on "The Apprentice: Martha Stewart" in 2005, where her business was featured. She ultimately was a runner-up in the competition but not the overall winner. While BethennyBakes did eventually go out of business, things would change forever for the star when, in 2008, Frankel was cast in the series "The Real Housewives of New York City." This began her flourishing career in reality TV, starring in various spinoff series over the years as a result of her clear penchant for the genre, per Bravo.
Frankel then made the decision that she credits for her "financial independence," per InStyle. In 2011, she started Skinnygirl, known for its low-calorie alcoholic drinks. "You have to either be very diligent in saving or investing, or have what I call an event, like a transaction, which is what my Skinnygirl deal was," Frankel told InStyle about the start of her business. "By the same token, though, it's expensive to continue to grow a business after your one hit. ... So you've got to rocket to the launch and stay on. Or, once you become really successful, you can cash out and not work anymore."
But how did Bethenny Frankel master the art of entrepreneurship to find such incredible success? Keep reading.
She sold part of her business for $100 million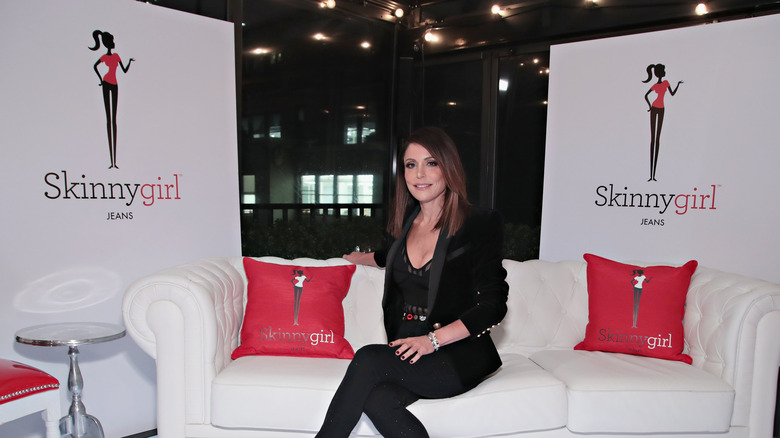 Cindy Ord/Getty Images
Bethenny Frankel attributes her success to her negotiation skills. "I'm not overly aggressive; I'm extremely fair," she explained to InStyle. "Everyone should be taking a risk but also having a reward. I'm a very straightforward negotiator with buying houses and doing business. I know what I want, the number I want, and that's what I say."
Indeed, it's this business prowess that led her to finally sell part of her Skinnygirl business. While she struggled to decide if this was the right decision, it ultimately gave her creative control of the brand while still maintaining her position as the face of the company. Frankel confessed to People that this deal helped her regain control of her life after being so wrapped up in the business. "I don't have time to drink water," Frankel said. "I need a break. I'm realizing, I'm taking on too much and I'm burnt ... I need some support and help."
Frankel ended up collaborating with Beam Global, selling part of Skinnygirl for $100 million. While she has kept the company following its original mission statement, it has significantly grown, considering it once offered alcohol exclusively, per Women's Health. It has since expanded to include dressings, popcorn, coffee, supplements, and even hair and skincare products, according to Showbiz CheatSheet. As for what comes next, only time will tell.